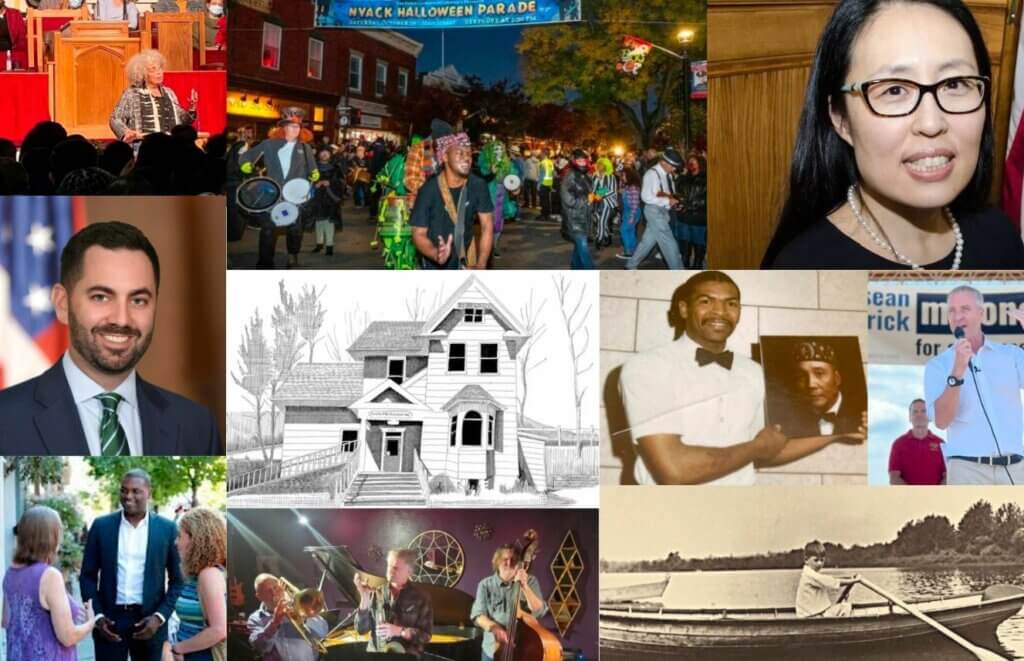 This week in the Villages: We take a look back through the biggest, most popular, most interesting and most impactful news stories of the year in our Nyack-centric coverage area. Plus, other local news, your 2023 year-long weather prediction, a Covid update, upcoming meetings and much more. Thanks for being here!
My Year Exploring "The Villages" of Rockland
In February 2022, I quietly started writing "The Villages" column here at Nyack News & Views as part of my new role as editor — a job I'd agreed to fill in December but was procrastinating on starting.
Writing anything for public consumption is hard. Editing a newspaper, no matter the size (or actual "paper"-ness), is even harder. And when things get difficult, when challenges appear on the near horizon, most of us tend to procrastinate. It's easier that way. At least in the moment.
But the key to avoiding procrastination and tackling any tough task is to start doing it, even if you don't feel "ready" or "good" about it.
You take one step. You rake one leaf. You write one word.
Coming into the year, The Villages was one of the pillars holding up NNV's contributions to the local conversation — along with Mike Hays' indispensable "Nyack People & Places", Bill Batson's inimitable "Nyack Sketch Log" and our Weekly Recommendation for entertainment and events.
My primary goal at the beginning of (what I needed to believe was) this hero's journey — as NNV founder Dave Zornow (the Yoda to my Luke Skywalker) reminded me often — was to "keep the lights on."
So, I started my journey as editor by writing one edition of The Villages. It included a brief roundup of news from other local outlets (a special holiday thanks, Lohud, especially Steve Lieberman and Nancy Cutler, for continuing to cover Rockland County!), a Covid update and updates on the civic affairs (meetings, notices, announcements, etc.) from local municipalities (aka "the villages").
This first step served twin purposes.
One, it helped keep the lights on. Light is very important when it comes to covering local issues. The Washington Post morbidly, but correctly, reminds its readers on its masthead that "Democracy Dies in Darkness" and I agree wholeheartedly.
Two, the Villages helped me learn (and hopefully others) about the Nyacks and their place in our larger community — Rockland County.
Here's what I learned in a year writing the Villages in 2022:
Rockland County racial demographics nearly mirror those of the entire United States, which is cool.
And just like in the larger U.S., Rockland still struggles with racism, as evidenced by the racist taunting of Nyack's high school athletes of color by fans from Pearl River — not cool. (I also learned this type of behavior isn't new. In fact, it's deeply engrained in the county's fabric.)
Nyack is working hard to address racism, racial diversity and racial equity issues in its schools, but also lost (under questionable circumstances) three high-profile leaders (all people of color) over the span of just a couple of months. Update: In May, Nyack voters rejected a school board candidate who was running in opposition to the district diversity and equity plan. This past month, the Nyack school board hired a new superintendent, Susan Yom, who emphasized her (and the school district's) commitment to address racial diversity and equity issues.
When a gunman went on a racist killing spree in Buffalo, Rocklanders rose up to raise the alarm: this could happen here.
Rockland's 1,267 Ukrainian-born residents and another 2,212 Rocklanders with Ukrainian ancestry found support from neighbors and government officials alike after Vladimir Putin chose to upend the world and start a war in February. Update: the war is approaching it's one-year anniversary with no end in sight. Untold thousands of soldiers on both sides and Ukranian civilians have been killed.
South Nyack ended its 144-year-old life as a village at the end of March with a bunch of unfortunate debt drama. Now, Spring Valley might also be contemplating its own demise.
Unfortunately, that old scourge — polio — resurfaced right here in Rockland after a 9-year absence from the United States.
Chaos with New York's redistricting process led to a dramatic Democratic primary and a national spotlight on Rockland's hotly contested 17th congressional district race.
Rockland's county legislature is also going through its own redistricting rumble, even after new districts were approved in November.
No, our beloved french bakery, Didier Dumas, is not closing. But it is for sale.
Despite being outnumbered in terms of registered voters, Republicans have taken control of key government positions through Rockland's ballot boxes.
We finally received a glimpse inside the new Hasidic community emerging on the former campus of Nyack College. Unfortunately, it involved multiple building violations that are currently being addressed.
Flying in the face of opposition, there is still room for "radical" ideas in Rockland.
That's a lot of learning and illumination.
We'll keep tweaking the format and trying new things in this space in the year to come. We'll try to be more consistent and interesting. But mostly, we will be doing our best to keep the lights on and shining in 2023! One word at a time!
Stay tuned …
NNV's Top 5 Most Popular Stories in 2022
These are our top stories by traffic this year:
1. "The Surprising Story of the Ku Klux Klan in Rockland County"
2. "Rockland Election Results Too Close to Call"
3. "Ex-Coach Calls Out Nyack School Officials"
4. "Two People Shot in Nyack, Hello Week and Other Local News"
5. "School Board Race Amid Partisan Backdrop"
Fun with NNV traffic stats
More than 114,000 people visited more than 346,000 pages on Nyack News & Views in 2022.
Quote of the week
Video of the week: my favorite new year's song right now
In other relevant news:
Clarkstown supervisor George Hoehmann is seeking to overturn term limits legislation, which he previously voted for in 2014, so he can run for office again in 2023, according to Lohud. Others who have recently tried to overturn term limits: Mike Bloomberg, Xi Jinping.
Read Dan Cohen's lovely trip down into Maureen's Jazz Cellar for open mic night
Check out our latest Nyack Schools Report with notes from the December Nyack School Board meeting, including details about Nyack's new culturally responsive teaching plan.
From a while ago, but worth the read: Lohud's Steve Lieberman reports on a new 161-page lawsuit filed against Rockland County's new legislative redistricting plan, which was recently approved by the legislature and County Executive Ed Day. According to Lieberman, the lawsuit, by Preserve Ramapo activist Michael Parrieti, claims: "The redistricting process was flawed from the very beginning and produced a blatantly gerrymandered map whose primary purpose is once again to grant a disproportional share of political power to Hasidic leaders and protect their favored incumbents." The county has until Dec. 20 to respond.
ICYM NNV's weekly features: Bill Batson's latest "Nyack Sketch Log"; Mike Hays' most recent "Nyack People & Places"; and our coverage in last week's "The Villages"; Jessica Goodman's latest Nyack Schools Report. If you haven't read it yet, please check our vision for the future of Nyack News & Views and how you can help build our coverage and capacity.
Weather prediction (through 2023)
Without any scientific rationale, I'm predicting a snow-filled January, but less frigid February, followed by an earlier start to spring and a super sweltering summer that will last until late September. Fall foliage will continue to procrastinate its way into late November and even December. [Click here for the National Weather Service's latest 7-day forecast for the Nyack area.]
Covid Update! (threat level: High)
According to CDC data of recent hospitalizations and cases, Rockland's community level of Covid-19 is now considered "High." With a high designation, the CDC recommends wearing masks indoors while in public and on public transportation. (CDC stats updated 12/29/22 — back on 12/4/22 the threat level was considered "medium".)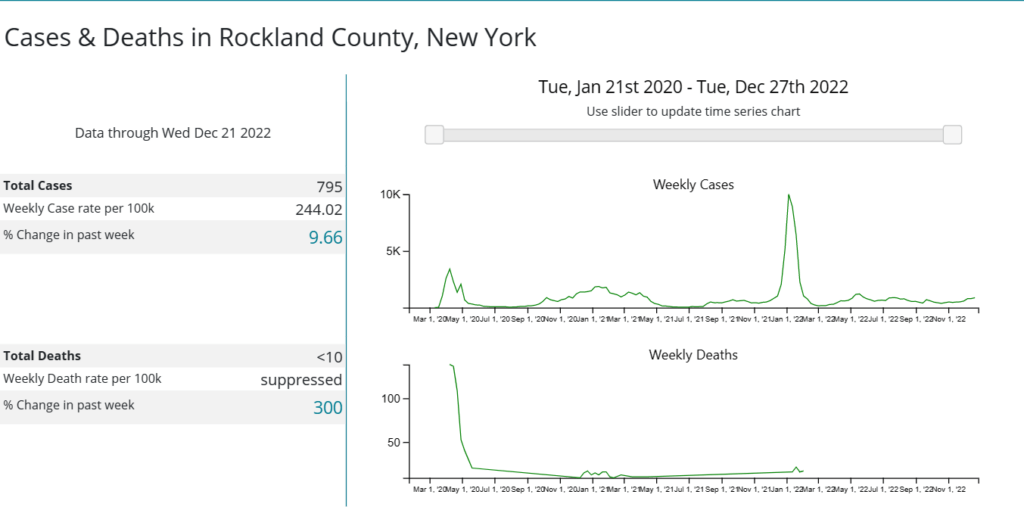 To find out what case and hospitalization trends look like in your town, click here.
Here's the CDC's data on Rockland.
Testing Info
More than 82.4% of eligible people in Rockland County are vaccinated with at least one dose. To schedule an appointment for a 1st dose, 3rd dose (for immunocompromised), or booster COVID-19 vaccine from any Rockland County Department of Health Clinic visit rocklandgov.com/departments/health/. To search for additional COVID-19 vaccination opportunities nearby visit vaccines.gov.
Find a COVID-19 testing site near you, by visiting coronavirus.health.ny.gov. Individuals who have questions regarding eligibility or access for testing should call the New York State COVID-19 Hotline at 1-888-364-3065 or visit the NYSDOH website covid19screening.health.ny.gov.
Village updates
Nyack
Drop off humanitarian aid for victims of the war in Ukraine (including first aid, painkillers, blankets, baby food, diapers, non-perishable food, antibiotics and more, at Village Hall, 9 N. Broadway (or at the Orangetown town hall, 26 W. Orangeburg Rd.).
Upper Nyack
South Nyack
Due to reader request, we have re-added South Nyack, which dissolved as an official village earlier this year. Please send us info about what's going on in South Nyack at info@nyacknewsandviews.com.
Orangetown
Clarkstown
The Technical Advisory Committee, which "evaluates the technical adequacy of land development applications and decides their readiness for Planning Board review," meets most Wednesdays, including this Wednesday, from 10 am to noon, in the town hall's Historic Map Room.
For a calendar list of all Clarkstown meetings and events, click here.
Other Local Updates
South Nyack advocates have filed a petition with the town of Orangetown seeking to show support for a new Elizabeth Place Playground — the grassy play area and dog park just south of 87 and right off the Esposito trail. After South Nyack dissolved in March, the town found the playground equipment at Elizabeth Place was unsafe and not compliant with ADA regulations and removed it. A new ADA compliant park has been proposed and advocates want to see the proposal approved and implemented. Click here to read and/or sign the petition.
Nyack Schools
Rockland-wide
A rare polio case was recently discovered in Rockland County. Here's some info on how to protect yourself:
New Yorkers can pre-register for a free polio vaccination appointment here or call 845-238-1956 to schedule. Walk-ins will also be accepted.
Vaccines are also available through local healthcare providers, including Federally Qualified Health Centers.
For more information on polio including symptoms and spread, visit NYSDOH's page here.
New Yorkers can learn more about the polio vaccine available in the U.S. at CDC's page here.
The Reviving Rockland Restaurants Grant Program will reimburse businesses between $5,000 and $25,000 for past expenses or fund future expenses for eligible outdoor dining COVID-19 mitigation equipment. Eligible entities include restaurants, food stands, food trucks, bars, saloons, lounges, taverns, bakeries, delis, cafes, breweries, wineries, and other similar places of business. For more information and to download an application visit rocklandgov.com.
Fill out this survey to help the county provide better digital services.
Connect with Nyack News and Views
Note to readers: We want to hear from you and welcome your input! What do you think we should be covering in your Rockland County village? Let us know at info@nyacknewsandviews.com. Send us story ideas, issues to investigate, letters, reviews, photos, videos, feedback and news tips. And read about our vision for delivering high-quality, hyper-local journalism and how you can help us fulfill our mission going forward.