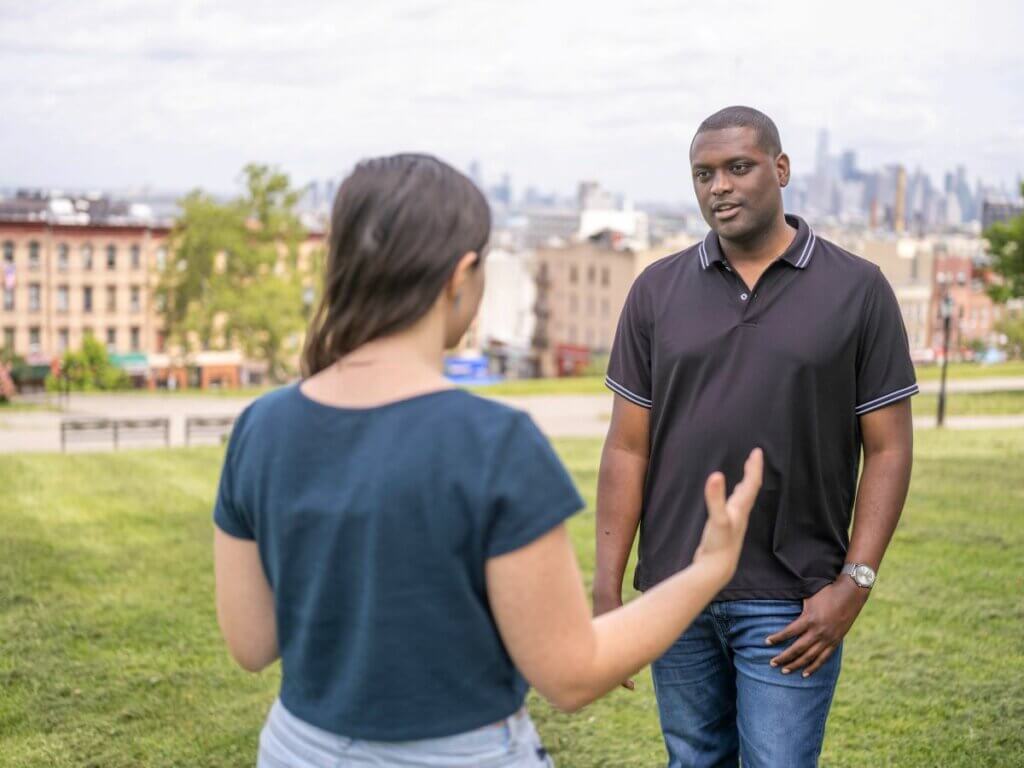 Redistricting smacked New York with a wave of political chaos this year. Now, with primaries coming Tuesday, August 23, politicians state-wide are scrambling to secure their positions on a suddenly altered local playing field.
In the wake, Nyack and lower Hudson Valley residents face an interesting slate of elections – including a fiercely competitive race for State Senate District 38 and an unexpectedly dramatic Democratic primary for the NY-17 congressional seat that will undoubtedly be followed by a tight general election.
Editor's note: Early in-person voting for the primaries began Saturday and will continue almost every day up until election day on Tuesday, August 23. Click here for specific dates, times and locations.
Change is already here
Most immediately, the redistricting drama means that NY-17, which crosses over adjoining counties along the Hudson River, is losing Mondaire Jones as its representative, regardless of the election results this fall.
A popular freshman congressman who grew up in Rockland County and won handily in 2020, Jones now finds himself in a crowded field of candidates vying for an open seat that includes some of the trendiest parts of Brooklyn and lower Manhattan.
Jones made the switch from NY-17 after Representative Sean Patrick Maloney, a powerful multi-term congressman who also happens to run the Congressional Democratic Campaign Committee, announced his candidacy there.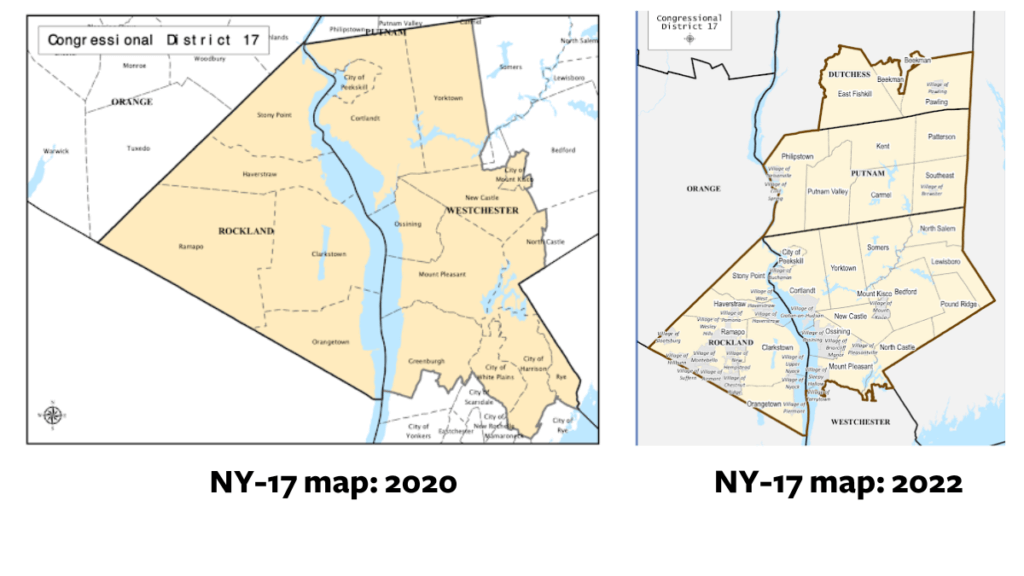 Maloney now finds himself flanked on the left by State Senator Alessandra Biaggi, the liberal state senator who famously beat out Jeff Klein for a Riverdale seat a few years ago. Rocklanders know Klein from his cynical team-up with other conservative Democrats, including Rockland's David Carlucci, to form the Independent Democratic Caucus, which held back progressive legislation in Albany for years.
Meanwhile, Orangetown's state assemblyman, Mike Lawler, is the frontrunner for Republicans. In a reconfigured NY-17, a Democratic win is now far less of a sure bet, and Republicans have a renewed drive to win the district as nothing less than control of Congress is at stake.
This turmoil comes at a moment of political turmoil nationwide, with the overturn of Roe V. Wade, the beginning of a recession, and a wave of mass shootings.
In an interview with Nyack News and Views, Biaggi said "voters are incredibly confused" by redistricting, upcoming elections, and the options that lie in front of them. "It's a problem because it is going to lead to voters not coming out to vote in August, because they might not know."
How did this all happen? What does it mean for voters?
We've done some digging on the maddening and chaotic process of redistricting, as well as the candidates running to fill the newly constituted districts, to figure out how it all went down and what to expect in the coming weeks leading up to the primary on Tuesday, August 23, and general election in November.
Redistricting, a stalemate saga
Redistricting occurs nationwide every ten years, based on information about population shifts derived from the census. Congressional districts and state legislative districts are redrawn across the nation, usually by the party in power. Local governments like Rockland County's that operate with a representative system redistrict around this time as well.
This cycle, New York was one of a small handful of states where political competitiveness increased, rather than decreased, through its newly drawn maps. This was an unexpected turn for a state with a Democrat supermajority in its legislature that had other plans.
A convoluted string of legal battles produced the final result, but a few key events in the process reveal how we ended up here.
This was New York's first round of redistricting under a new system, established via constitutional amendment by former governor Andrew Cuomo in 2014, where an Independent Redistricting Commission composed of equal numbers of Democrats and Republicans assumed responsibility for drawing up district maps.
Within this system, the commission proposes maps, and the legislature votes on them. If the legislature votes down two commission-proposed maps in a row, the responsibility to draw maps is then delegated to back to the legislature.
According to Democrats on the committee, their Republican counterparts refused to meet with them to deliberate and draw up a map, creating a deadlock. Republicans have fired back that Democrats had no intention of creating a fair map from the start. No map was produced by the committee.
There was no provision in the creation of the new redistricting process for what should happen in such a scenario — although many predicted from the start that this was inevitable. The Democrat-controlled legislature moved forward with passing a map on their own, following a state law previously signed by the governor establishing that they were entitled to do so.
A Republican-backed lawsuit arose, arguing that this move was partisan and unconstitutional.
While it was widely believed that the Court of Appeals (New York's highest court) would have agreed with delegating the responsibility of drawing maps to the legislature in such a situation, they did not. Instead, they stated that the legislature never had authority to take over the process, and ruled that the law which enabled them to do so was unconstitutional.
Ultimately, the court appointed a special master named Jonathan Cervas, overseen by one conservative judge in Steuben County, to fulfill the task. Thus, the Democratic legislature lost control of the districts entirely.
The result is a controversial, compact, and competitive new set of districts.
Reactions have been mixed. Representatives from the city have slammed the new maps for diluting the voting power of certain Black and Brown communities, while others feel that Cervas was receptive to the massive amounts of input that came his way in drawing the maps.
State Senator Elijah Reichlin-Melnick reflected on the chaos in an interview with Nyack News and Views. "The whole thing is very bizarre… we heard from lawyers, the legislature — they did not view this outcome as likely, because it is such a strange decision."
He recalled that the majority opinion of the court was that, instead of pushing ahead with map-drawing, the legislature should have tried to replace the members of the deadlocked commission. "I feel like that would have been a rather huge political scandal," he said.
New district, more competition
So what about us?
Nyack's congressional district, NY-17, has been redrawn to absorb large swaths of territory on the East side of the Hudson that once belonged to neighboring NY-18. While for the past ten years we have included only Rockland and nearby areas of Westchester, we will now house all of Putnam county and two and a half towns from Dutchess county – this added territory, as a whole, leans Republican.
Additionally, we now house all territory in Westchester that lies northeast of Mount Pleasant and North Castle – namely Somers, North Salem, Lewisboro, Bedford, and Pound Ridge. We have lost territory south of Mount Pleasant – White Plains, Harrison, Rye, and Greenburgh. Though all of Westchester leans Democratic, this is an exchange of territories described as "strongly" or "moderately" liberal for those described as "somewhat" liberal.
Those of us from its old configuration will make up 70% of the new District 17 population, the remaining 30% being residents of what was once NY-18.
This redistricting renders NY-17 a far more politically competitive district; John Gromada, Chair of the Rockland Democrats, even calls it a "battleground district."
Gone are the days where a Democratic victory can be assumed.
It's a new era for a new district.
Editor's note: Early in-person voting for the primaries began Saturday and will continue almost every day up until election day on Tuesday, August 23. Click here for specific dates, times and locations. The regular "Villages" column will return next week!