This week in the Villages: The former head coach of the Nyack High School football team, who quietly resigned in March, is now speaking out about what he considered racist disciplinary steps taken by the school last fall. Meanwhile, a state supreme court justice overseeing Rockland retired last week after an investigation into improper political activity came to light and Alyssa's Law, championed by a Nyack student, became actual law. Plus, more news, your weekly weather prediction, Covid updates, upcoming meetings and much more!
Ex-Coach Calls Out Nyack School Officials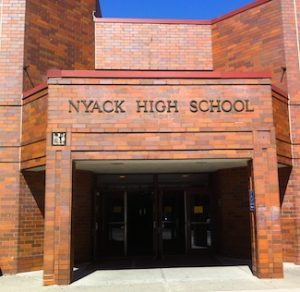 Back in October, Jerell Jones, the well-respected and mostly successful head football coach at Nyack High School since 2017, was called into a meeting with his two bosses, Principal Nicole Saieva and Athletic Director Joseph Sigillo.
According to an explosive new report from LoHud, they weren't interested in discussing Jones' performance as coach — the team was struggling after losing a raft of players to graduation and Covid protocols — or as a tenured gym teacher. Instead, they accused Jones of cursing at his players and using the N-word on a bus ride back from a game against Clarkstown North on Oct. 1.
Even though Jones, who is Black, says he denied using that type of language with his players, Sigillo said they had video evidence of a voice that sounded Black using the N-word on the bus. Jones wasn't allowed to watch or listen to the video until later. When he did, Jones says it was clear Sigillo had made a mistake. He says the voices he heard were of a combination of an assistant coach and another player, not his own.
"They made an assumption that was wrong. They made a mistake; mistakes happen. Things should have been salvaged. I love Nyack."Jerell Jones, ex-Nyack H.S. football coach and teacher
Despite his "emphatic" denials and protests over what he thought was underwhelming, if not outright racist, evidence against him, Jones said that Saieva told him a letter would be added to his personnel file saying Jones did, in fact, used the N-word and other curse words with his players.
Jones says he sought support from relatively new Nyack Superintendent Eudes Budhai, who has been a leading voice in condemning racist language directed at Nyack student-athletes over the past several months. But, according to Jones, Budhai said, basically, some rendition of this is how society works, it is what it is, my hands are tied, etc.
The entire experience rubbed Jones the wrong way and made him re-think his place at Nyack.
After the season ended in November, Jones took a soul-searching three-week break.
In January, Jones approached administrators one more time to ask for resolution and was rebuffed yet again. In March, he decided to resign and retain his right to speak out. He said he tore up a non-disclosure agreement and tossed in a trashcan outside of Budhai's office.
Jones says he agreed to remain quiet for the remainder of the school year so he wouldn't be a distraction, but that he was speaking out now because he wanted to clarify the record as students, staff and parents were hearing conflicting reports about why he had resigned.
Sigillo, Saieva and Budhai did not respond, specifically, to LoHud. Without going into detail, a district spokesperson told LoHud they "disagreed" with Jones' accusations and wouldn't comment further because of pending litigation.
Jones says he is not suing the district, but he did file complaints with the district's human resources department and the state's Division of Human Rights, which could lead to financial penalties for the school or could lead to training requirements.
Several parents spoke to LoHud on behalf of Jones, saying he was a strong leader, mentor and will be missed.
Jones himself is moving on and will take over as head football coach at Poly Prep in Brooklyn, starting in July. He will be replaced at Nyack by long-time assistant coach Dan Berkowitz who is also a gym teacher in the district.
Jones chalks the incident up to a system that reinforces racist practices. "They accused me of doing something I didn't do — something like that — and a person like me doesn't get the benefit of the doubt because of what I look like, how I talk, where I grew up."
He hopes speaking out will lead to a better experience at Nyack for someone who looks like him. "I just want current and future employees in Nyack, and kids of color, to have a different experience than I did."[LoHud]
Quote of the Week
In Other Relevant News
Weather Prediction
Following a wet Monday, clear skies and sunshine will rule the rest of this week, with temperatures climbing into the mid-90s by Friday. We could be looking a thunderstorms on Saturday and Sunday. [National Weather Service]
Covid Update
Severe cases and hospitalizations in the greater Nyack area remain relatively low. As of June 21, the CDC is classifying Rockland County at a "low" Covid threat level.
The "early warning" detector for Rockland is showing that the percentage of positive tests per day is now 4.55% (down from 7.47% last week), with 41 new cases per 100,000 people, up from about 30 cases per 100K as measured last week.
Still, the severity remains low with 1.53 gross hospitalization per 100,000 people (down from 1.76 last week).
Hospital capacity is not threatened.
A total of 14 people (down from 22 last week) in Rockland county were hospitalized for Covid related issues; 5 out of 14 of those patients were symptomatic.
With four new deaths added over the past week, Rockland's Covid-related death total is now 1,189.
To find out what case and hospitalization trends look like in your town, click here.
Here's the CDC's data on Rockland.
Testing Info
More than 81% of eligible people in Rockland County are vaccinated with at least one dose. To schedule an appointment for a 1st dose, 3rd dose (for immunocompromised), or booster COVID-19 vaccine from any Rockland County Department of Health Clinic visit rocklandgov.com/departments/health/. To search for additional COVID-19 vaccination opportunities nearby visit vaccines.gov.
Find a COVID-19 testing site near you, by visiting coronavirus.health.ny.gov. Individuals who have questions regarding eligibility or access for testing should call the New York State COVID-19 Hotline at 1-888-364-3065 or visit the NYSDOH website covid19screening.health.ny.gov.
Village Updates
Nyack
Drop off humanitarian aid for victims of the war in Ukraine (, including first aid, painkillers, blankets, baby food, diapers, non-perishable food, antibiotics and more, at Village Hall, 9 N. Broadway (or at the Orangetown town hall, 26 W. Orangeburg Rd.).
Upper Nyack
Orangetown
Clarkstown
The Technical Advisory Committee, which "evaluates the technical adequacy of land development applications and decides their readiness for Planning Board review," meets most Wednesdays, including Wednesday June 29, from 10 am to noon, in the town hall's Historic Map Room.
For a calendar list of all Clarkstown meetings and events, click here.
Other Local Updates
South Nyack advocates have filed a petition with the town of Orangetown seeking to show support for a new Elizabeth Place Playground — the grassy play area and dog park just south of 87 and right off the Esposito trail. After South Nyack dissolved in March, the town found the playground equipment at Elizabeth Place was unsafe and not compliant with ADA regulations and removed it. A new ADA compliant park has been proposed and advocates want to see the proposal approved and implemented. Click here to read and/or sign the petition.
Nyack Schools
Masks are currently optional for all students and staff in all Nyack district schools.
Rockland-wide
The Reviving Rockland Restaurants Grant Program will reimburse businesses between $5,000 and $25,000 for past expenses or fund future expenses for eligible outdoor dining COVID-19 mitigation equipment. Eligible entities include restaurants, food stands, food trucks, bars, saloons, lounges, taverns, bakeries, delis, cafes, breweries, wineries, and other similar places of business. For more information and to download an application visit rocklandgov.com.
Fill out this survey to help the county provide better digital services.
Connect with Nyack News and Views
We want to hear from you! Send thoughts, ideas, news tips, as well as meeting and events announcements to us at info@nyacknewsandviews.com.