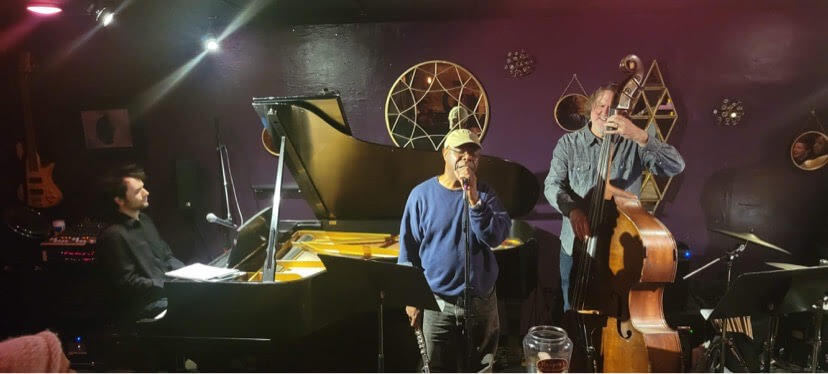 Let's start with a simple premise.
Open mic nights are the spiritual wellspring from which all music flows.
They can be hit or miss affairs, sure, but at their heart they contain the purest essence of the musical impulse, that desire to connect, to share a part of your soul, to share beauty.
And if open mics are the source of all music, then Frosty's Open Mic Tuesdays at Maureen's Jazz Cellar in Nyack is the template of all open mics everywhere.
First, there's Maureen's itself, an unassuming room reached through a non-descript door near the corner at the very center of Nyack. You descend down a staircase. Nothing is revealed until you turn and find yourself in a cozy bar, walls painted some wine-dark red to give it the appearance of a grotto, a secret cave, the very beating heart of Nyack night life. The lovely Fiona offers to get you a drink. The night begins.
The musical inspiration at Maureen's is sourced through David Budway, the man the myth the trickster the savant, the wellspring himself, who sits behind the capacious grand piano in the tiny room like the Wizard of Oz, running the loosely run proceedings, setting the mood with tasty interstitial music, calling up the next performer and those on deck, introducing each performer with a hushed reverence you think he'd reserve for Bach or Ellington or Jerry Garcia.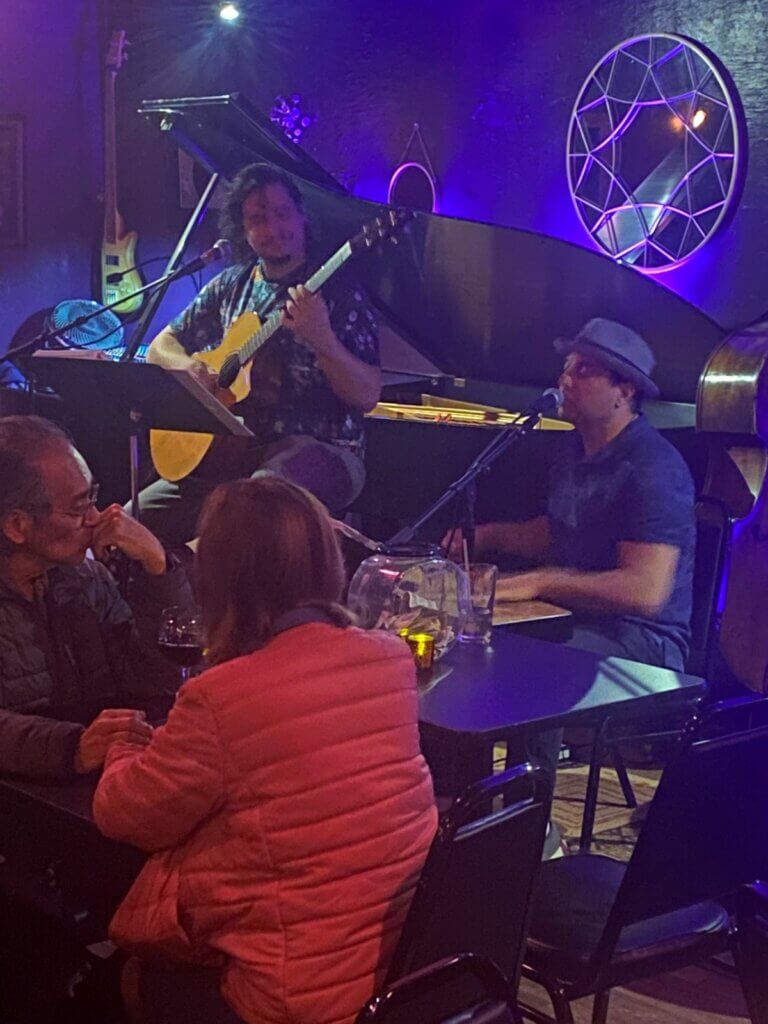 Budway maintains a like level of respect, a childish excitement, for everyone who's had the courage to sign up to sing that week. They're all brave souls, they're all worthy of your ears. He'll remind you repeatedly that Maureen's is a 'listening room,' meaning don't talk while the performers are performing. But he mentions it casually, respecting the audience like it's self-evident. He's not so much laying down the law as letting you in on a little cool cat secret.
Just listen, bro.
Another unique trait of Frosty's is the house band of Budway, Jim Donica on upright bass and Frank Colonnato on drums. Go there knowing the words and odds are they can play it, sight unseen, including intro and solos and trading eights and a tag. Budway's one of those pianists that it's hard to stump.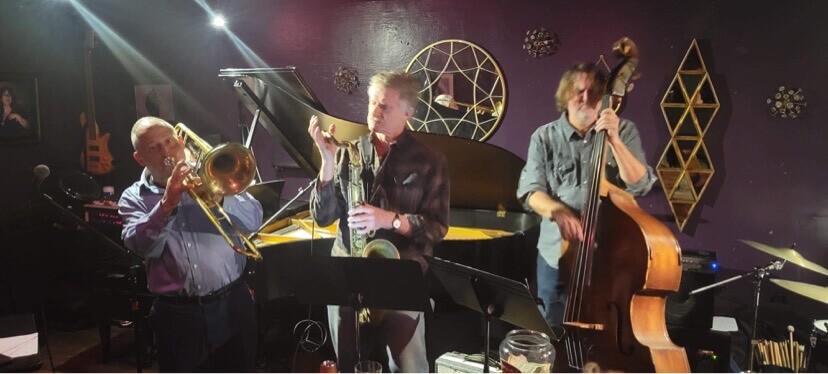 You suggest Sunny.
"No worries," he smiles.
He'll run it down at warp speed while throwing in a playful reference to The Sunny Side of the Street (both the Chaplin and the Pogues), then manage a fugue on a theme from Softly as in a Morning Sunrise, then come in for a landing with Here Comes the Sun.
All in about fourteen seconds. You look down at your own sad little hands that once wanted to play piano. Then he'll tell a truly terrible joke of his own devising whose punchline he never gets quite right. So there's hope.
Hold off on your gloomy default open mic assumptions, for they are to be subverted in surprising ways. It's not all scruffy singer/songwriter types here at Frosty's, for one thing. Oh they show up, of course. Good for them.
But also, an unassuming, slightly stooped older gentleman looking like he may have just come from work at a dry cleaner's played careful arrangements of The Police on acoustic guitar. An exceedingly white bongo player sang out a heartfelt version of Lets Stay Together. An elegant black man with long, tapered fingers sang contemplative, original love songs on just two chords, his girlfriend (sister?) providing bashful backing vocals.
And the crowd went wild.
A sax player who charmed us with a lovely rendition of the Lee Morgan classic Ceora, one of my all-time favorite jazz tunes. And there was Sandy. A slight, bright eyed woman with salt and pepper hair, understatedly chic in a long, beaded, black and white sort of vest/muumuu. She had to be a school guidance counselor or librarian. Sandy enchanted with not one but two Joni Mitchell songs, including All I Want, one of Jon's more complicated tunes, with a swooping, skittering vocal line at the end that Sandy sang pitch perfect and with her own sort of rough justice.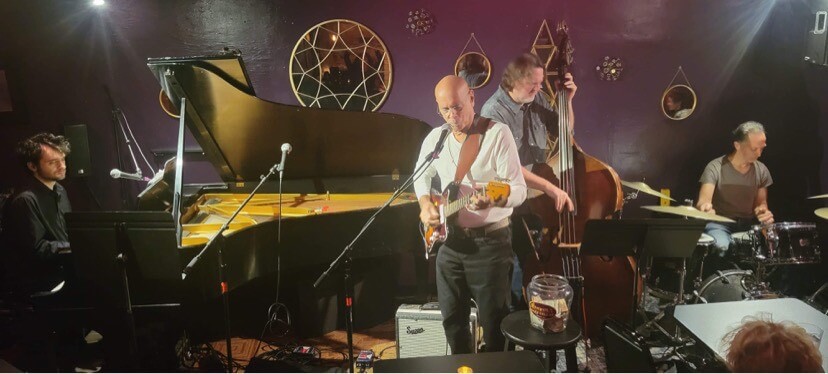 The last thing you should know about Maureen's is that it is downstairs from Turiello's Pizzeria at the corner of Main St. and North Broadway.
You can buy a pie at open mic night — though not the garish slices they serve upstairs — no, it's pizza a la Maureen, a signature personal-size Turiello's pizza creation with the thinnest of crusts, a crust so delicate that one more mushroom, one more whisper of parmesan could break it apart. You don't so much chew it as let it dissolve on the tongue. Another pizza served downstairs is entirely made of salad—no sauce, no cheese. Just onions, arugula, tomatoes and perhaps a sprinkling of balsamic vinaigrette. It sounds impossible and yet even that works.
Such is Maureen's magic.
Author's note: Frosty's Open Mic Night are on Tuesdays at Maureen's Jazz Cellar. Sign up begins at 7:30 pm. Alternate host Christian holds down the fort admirably when Budway's away. Plus you learn a chant in Tagalog—Hai! Hai! Hai! Just do it. The fear is temporary. But the memory lingers on.
Editor's note: Maureen's Jazz Cellar is located at 2 N. Broadway, Nyack, NY 10960. (845) 535-3143. www.maureensjazzcellar.com