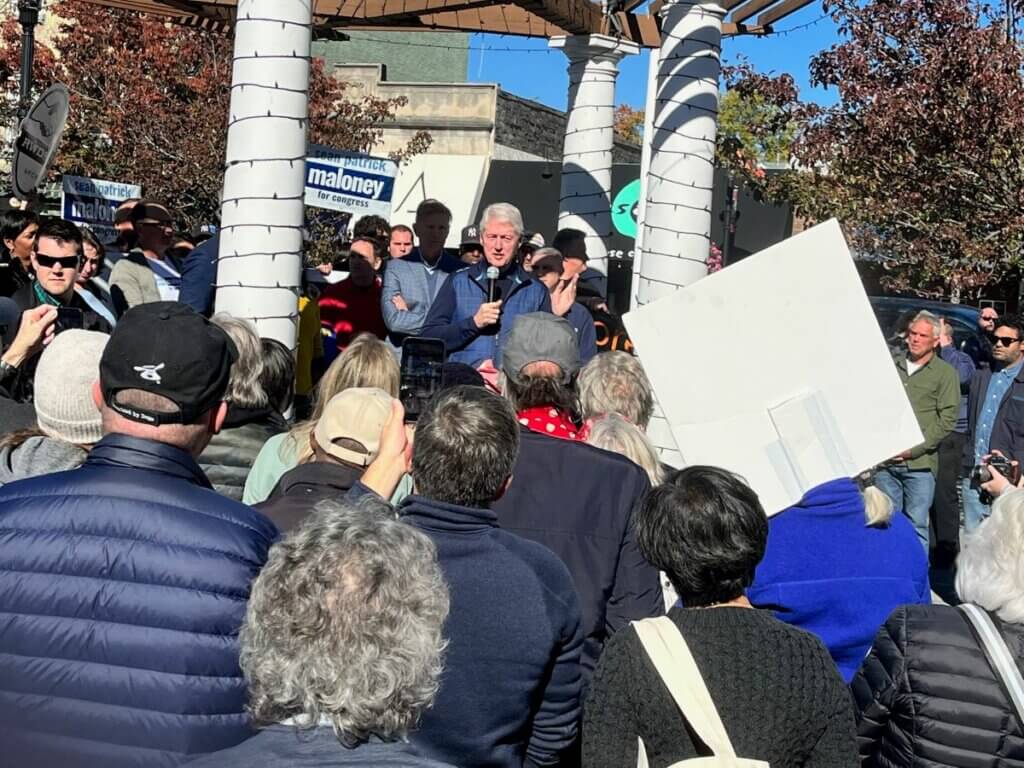 This week in the Villages: After Rockland losses, local Democrats do some soul-searching and find the enemy within. Plus, more local news, your weekly weather prediction, health updates, upcoming meetings and much more. Thanks for being here!
Diving In: Big-ticket no-shows for Dems lead to Republican takeover in Rockland
With dust settling after a raucous run to the end of the midterm general election cycle, Republicans have laid claim to the political hearts and minds of Rockland County.
Republicans now control the county executive office, roughly half the county legislature, most of the Rockland-representing seats in Albany and our sole voice in Congress.
These results, of course, seem weird, given the Democrats' healthy numbers advantage in Rockland, which shows they outnumber registered Republicans nearly two to one.
So, what happened?
In a word: politics.
Consider the case of State Senator Elijah Reichlin-Melnick.
ERM, as he is known by at least one Rockland writer, is by all accounts, an active and conscientious public servant, as well as a pretty nice guy.
Whatever you think about his policy views, the dude shows up and does the work.
After winning a come-from-behind nail-biter against Republican Bill Weber two years ago, ERM and Weber faced off again in a rematch with new district boundaries. This time, a notch from Westchester was removed from the 38th district, making it entirely a battle to woo Rocklandians.
In the end, the new district lines and new Democrats heading the top of the ballot — Kathy Hochul replacing Andrew Cuomo for governor and Sean Patrick Maloney replacing Mondaire Jones for Rockland's 17th Congressional District seat — were too much for Reichlin-Melnick to overcome.
He lost to Weber by about 2,200 votes (out of around 100,000) or a little less than 3 percent. Surprisingly, or maybe not, ERM performed better than most Dems in Rockland.
Maloney, the head of the Democratic Congressional Campaign Committee tasked with holding onto the Dems majority in the House, lost to Suffern native son Mike Lawler in Rockland by nearly 10 percent.
Hochul, who pulled out a slim statewide victory, lost in Rockland by more than 11 percent.
Letitia James, the incumbent Democratic Attorney Gehneral, also won statewide, but lost in Rockland.
While Maloney was quick to blame the left wing of his own party for pushing unpopular public safety policies like "defunding" police departments, ERM had another take: Democrats took Rockland for granted.
While ERM was one of the most visible political candidates in the county, his up-ballot mates, especially Hochul, were ghosts.
In an expansive Twitter thread, Reichlin-Melnick laid out the case:
"Why the disastrous results here? Simply put, the Governor's campaign was completely absent. No public visit to Rockland County from the Gov. or LG. No high profile surrogates in the county. No organizers on the ground. No field team knocking doors.
"No one to organize or recruit volunteers. No one making phone calls. No outreach that I'm aware of to Black, Latino, Asian, and other minority communities. I've heard second hand reports that some voters may have received mailings, but I never saw any of them."
In other words, for whatever reason, Democrats took Rockland for granted.
Rockland, probably for good reason, didn't appreciate it.
And now Republicans run Rockland.
Stay tuned . . .
Quote of the week
Video of the week: Happy ending for missing hiker
In other relevant news:
The Institute of Christian Doctrine gifted 8 acres of land under the shadow of Hook Mountain to the Friends of Rockland Lake & Hook Mountain for use as a nature preserve. [Hudson Valley News]
Learn how Nyack became a "port-of-call" on a Hudson River cruise line for this fall and beyond. [Rockland Biz Journal]
ICYM NNV's weekly features: Bill Batson's latest "Nyack Sketch Log", Mike Hays' most recent "Nyack People & Places"; and our coverage in last week's "The Villages". If you haven't read it yet, please check our vision for the future of Nyack News & Views and how you can help build our coverage and capacity.
Weather prediction
A chill, sunny Tuesday will give way to rain and higher temperatures mid-week with a return to chill sunniness later in the week. Possible rain over the weekend. [Click here for the National Weather Service's latest 7-day forecast for the Nyack area.]
Covid Update
According to CDC data of recent hospitalizations and cases, Rockland's community level of Covid-19 is considered "low." (Updated 11/27/22)
Testing Info
More than 82.4% of eligible people in Rockland County are vaccinated with at least one dose. To schedule an appointment for a 1st dose, 3rd dose (for immunocompromised), or booster COVID-19 vaccine from any Rockland County Department of Health Clinic visit rocklandgov.com/departments/health/. To search for additional COVID-19 vaccination opportunities nearby visit vaccines.gov.
Find a COVID-19 testing site near you, by visiting coronavirus.health.ny.gov. Individuals who have questions regarding eligibility or access for testing should call the New York State COVID-19 Hotline at 1-888-364-3065 or visit the NYSDOH website covid19screening.health.ny.gov.
Village updates
Nyack
Drop off humanitarian aid for victims of the war in Ukraine (including first aid, painkillers, blankets, baby food, diapers, non-perishable food, antibiotics and more, at Village Hall, 9 N. Broadway (or at the Orangetown town hall, 26 W. Orangeburg Rd.).
Upper Nyack
South Nyack
Due to reader request, we have re-added South Nyack, which dissolved as an official village earlier this year. Please send us info about what's going on in South Nyack at info@nyacknewsandviews.com.
Orangetown
Clarkstown
The Technical Advisory Committee, which "evaluates the technical adequacy of land development applications and decides their readiness for Planning Board review," meets most Wednesdays, including this Wednesday, from 10 am to noon, in the town hall's Historic Map Room.
For a calendar list of all Clarkstown meetings and events, click here.
Other Local Updates
South Nyack advocates have filed a petition with the town of Orangetown seeking to show support for a new Elizabeth Place Playground — the grassy play area and dog park just south of 87 and right off the Esposito trail. After South Nyack dissolved in March, the town found the playground equipment at Elizabeth Place was unsafe and not compliant with ADA regulations and removed it. A new ADA compliant park has been proposed and advocates want to see the proposal approved and implemented. Click here to read and/or sign the petition.
Nyack Schools
Rockland-wide
A rare polio case was recently discovered in Rockland County. Here's some info on how to protect yourself:
New Yorkers can pre-register for a free polio vaccination appointment here or call 845-238-1956 to schedule. Walk-ins will also be accepted.
Vaccines are also available through local healthcare providers, including Federally Qualified Health Centers.
For more information on polio including symptoms and spread, visit NYSDOH's page here.
New Yorkers can learn more about the polio vaccine available in the U.S. at CDC's page here.
The Reviving Rockland Restaurants Grant Program will reimburse businesses between $5,000 and $25,000 for past expenses or fund future expenses for eligible outdoor dining COVID-19 mitigation equipment. Eligible entities include restaurants, food stands, food trucks, bars, saloons, lounges, taverns, bakeries, delis, cafes, breweries, wineries, and other similar places of business. For more information and to download an application visit rocklandgov.com.
Fill out this survey to help the county provide better digital services.
Connect with Nyack News and Views
Note to readers: We want to hear from you and welcome your input! What do you think we should be covering in your Rockland County village? Let us know at info@nyacknewsandviews.com. Send us story ideas, issues to investigate, letters, reviews, photos, videos, feedback and news tips. And read about our vision for delivering high-quality, hyper-local journalism and how you can help us fulfill our mission going forward.