"Goosetown against the world," goes the old slogan of Upper Nyack's Empire Hook and Ladder Company. In the same spirit, Upper Nyack held a Goosetown Block Party to honor Upper Nyack's 150th Anniversary on October 1 in the face of a forecast of cold rain and wind. Not to be daunted, the 150th Anniversary Committee pivoted the block party from a mostly outdoor activity to a mostly indoor event. The rain gods listened, and rain stopped just as the event kicked off.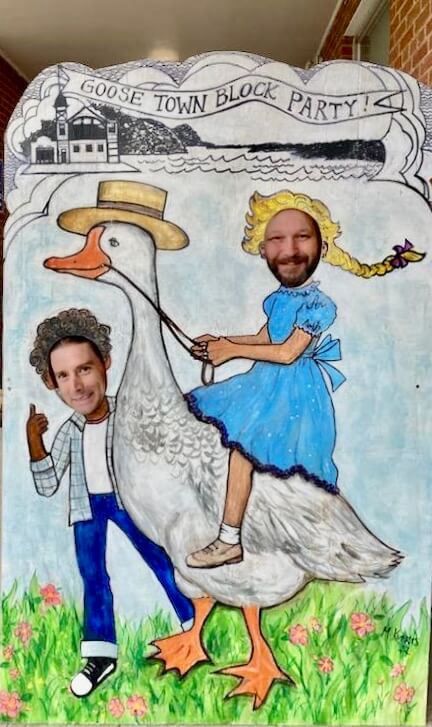 Did anyone not come because of the weather? Thankfully, not. Bongo Davis in his orange wagon ran out of French fries. Salonniere went through their supply of exquisite sandwiches in no time. Kids of all ages didn't want to leave including long-time 94-year-old Upper Nyack resident Izzy Cohen.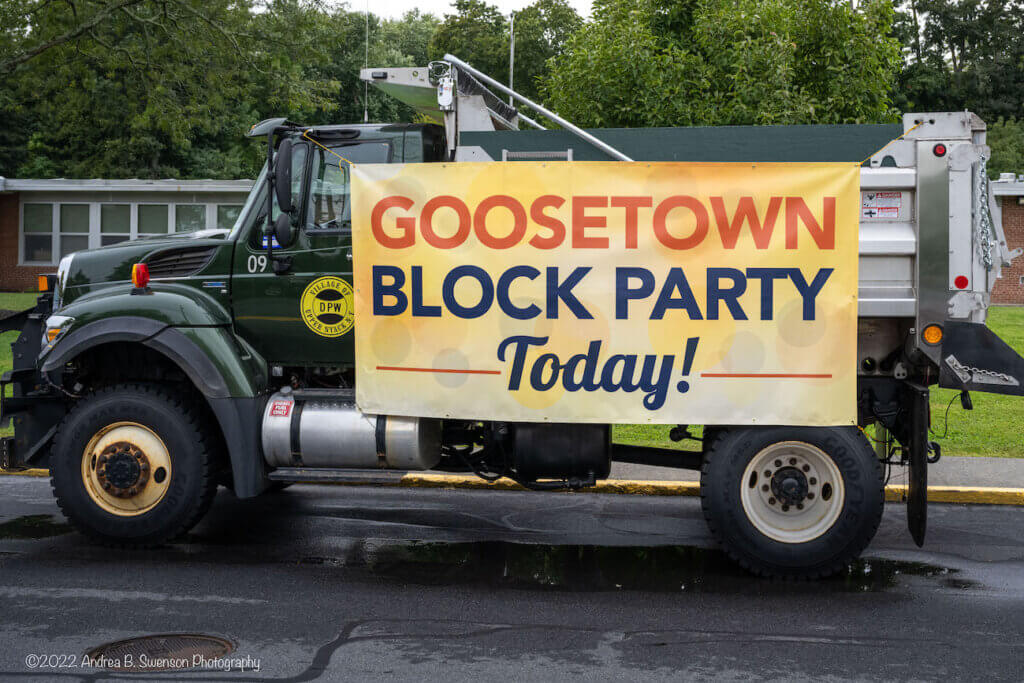 Opening Ceremony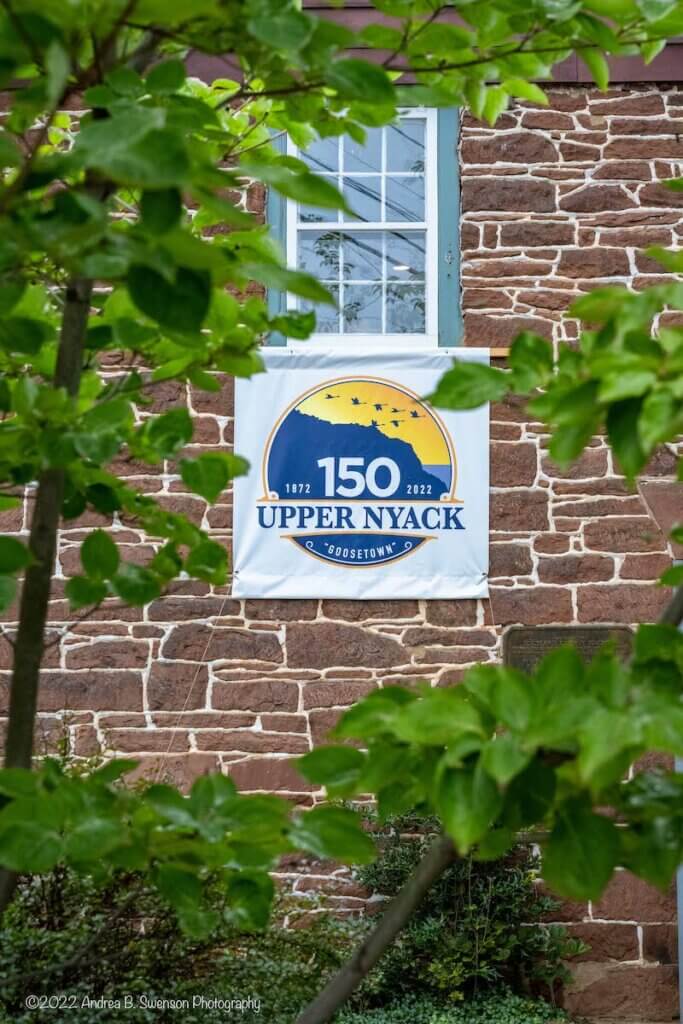 Local politicians introduced by Upper Nyack Mayor Karen Tarapata spoke briefly in the Old Stone Meeting House. George Hoehmann, Clarkstown Town Supervisor and Michael Graziano, Councilman for Clarkstown Ward 2 that includes Upper Nyack spoke passionately about the village. Elijah Reichlin-Melnick, NYS senator for the region mentioned that he lived only a stone's throw from Upper Nyack. Long-time Assemblyman Ken Zebrowski completed his talk while holding his two-year son. Reichlin-Melnick and Zebrowski both presented proclamations to Tarapata commemorating the village sesquicentennial. Both spoke of new grants for Upper Nyack improving the Old Stone Meeting House and the River Hook Preserve.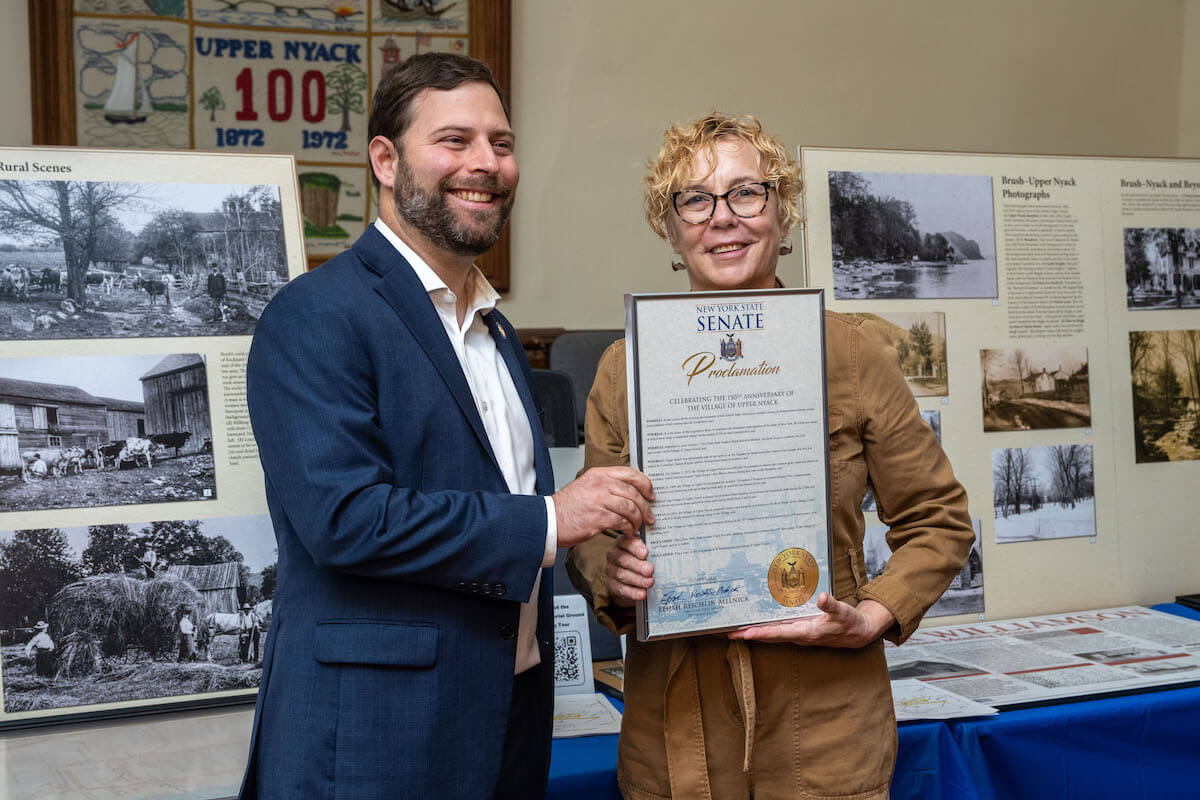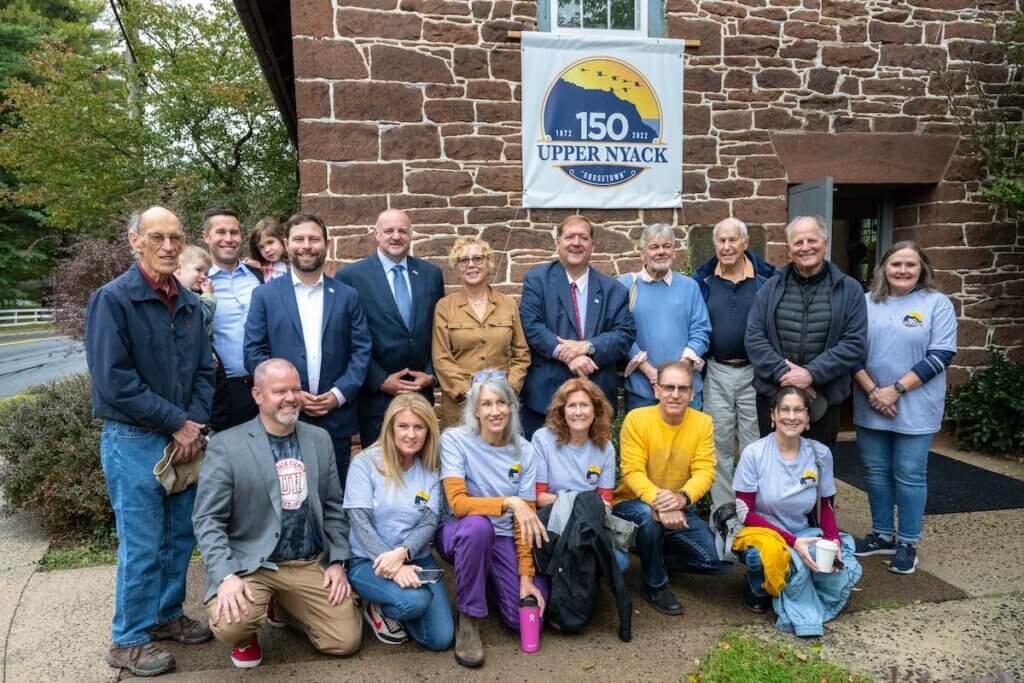 Upper Nyack Elementary School Events
Most of the outdoor events were moved into the Upper Nyack Elementary School Gym using the gym floor and the stage. On stage, Craig Dreves, Principal of Upper Nyack Elementary School was a crowd pleaser when he brought forth a time capsule created by students.
Tables filled the gym floor, where children and families engaged with Strawtown Studio's "Colors of the River" art activity. Participants painted the river down the center of a piece of driftwood collected at Nyack Beach and then applied sand on either side that had been collected from each side of the Hudson River. The gym was abuzz with excitement.
Then music groups took the stage. Billie Schloss started if off with her amazing solo act. Bus 11, a hard rocking local band of teenagers got everybody moving. Bobbie Deitch Band closed the music for the day.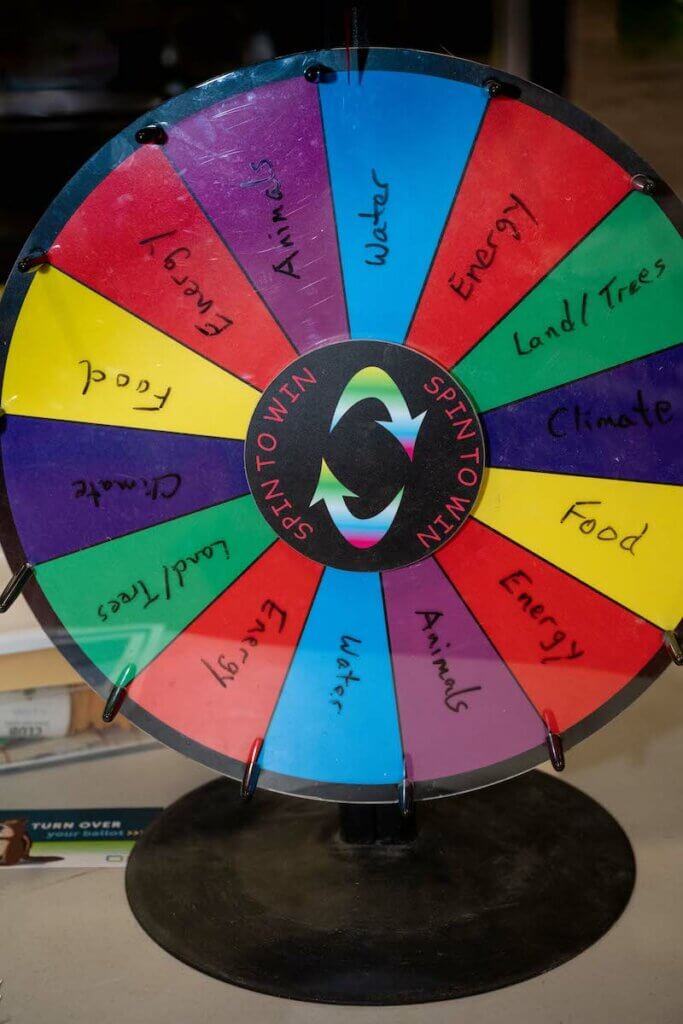 Many stopped at the Upper Nyack Green Committee tabletop exhibit. Of most interest, were questions about invasive plants, composting, lantern flies, water conservation, and, of course, gas leaf blowers.
T-shirts, coffee mugs, and travel mugs featuring the 150th logo were available for purchase and can still be bought at Village Hall during regular hours 9-12.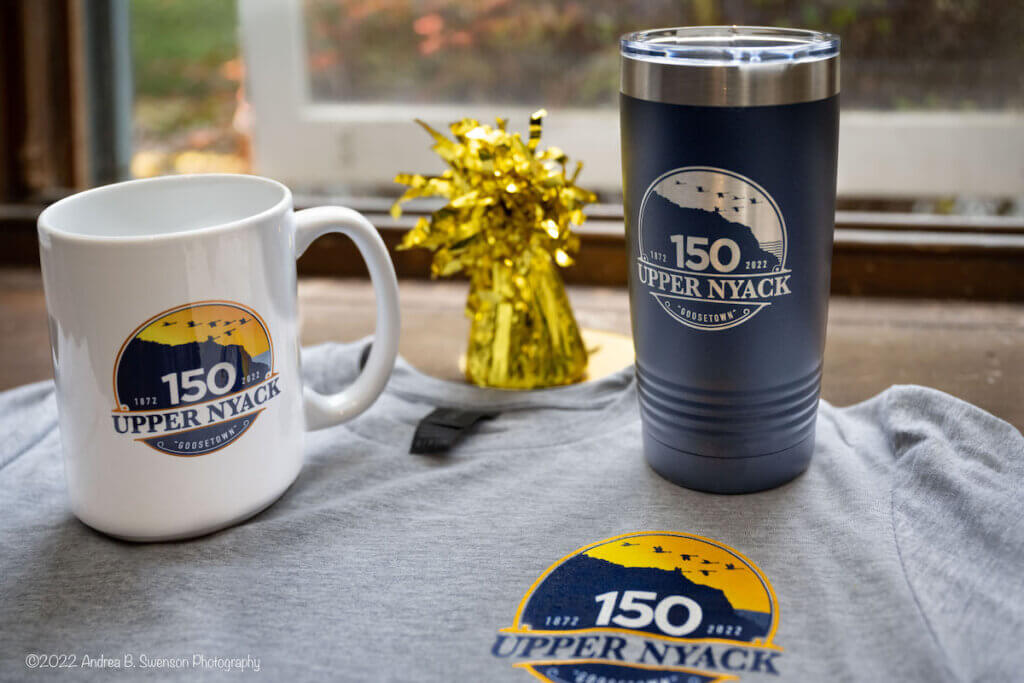 Outdoor Activities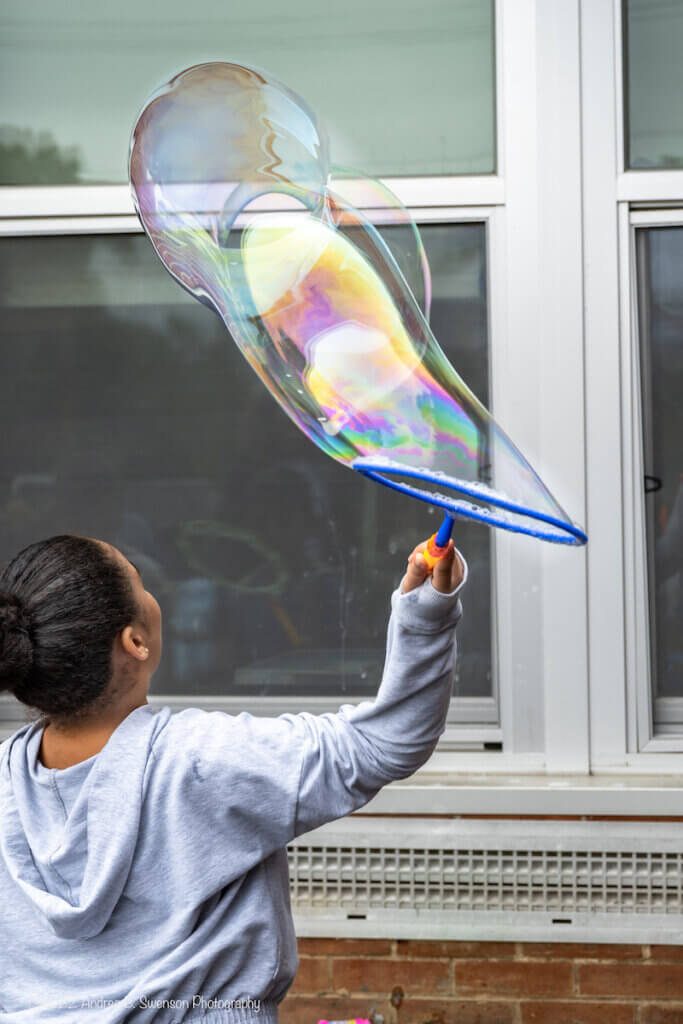 What is a block party without bubbles? Kids created giant bubbles in the lawn outside the school. Pictures were taken in a photo board of a goose being ridden by children. Chalk drawings lined the sidewalks. When it was certain the rain was gone, cornhole games started up. Adults played too. Nearby Bongo Davis set up his orange French fry stand. There was always a line until, alas, no more fries.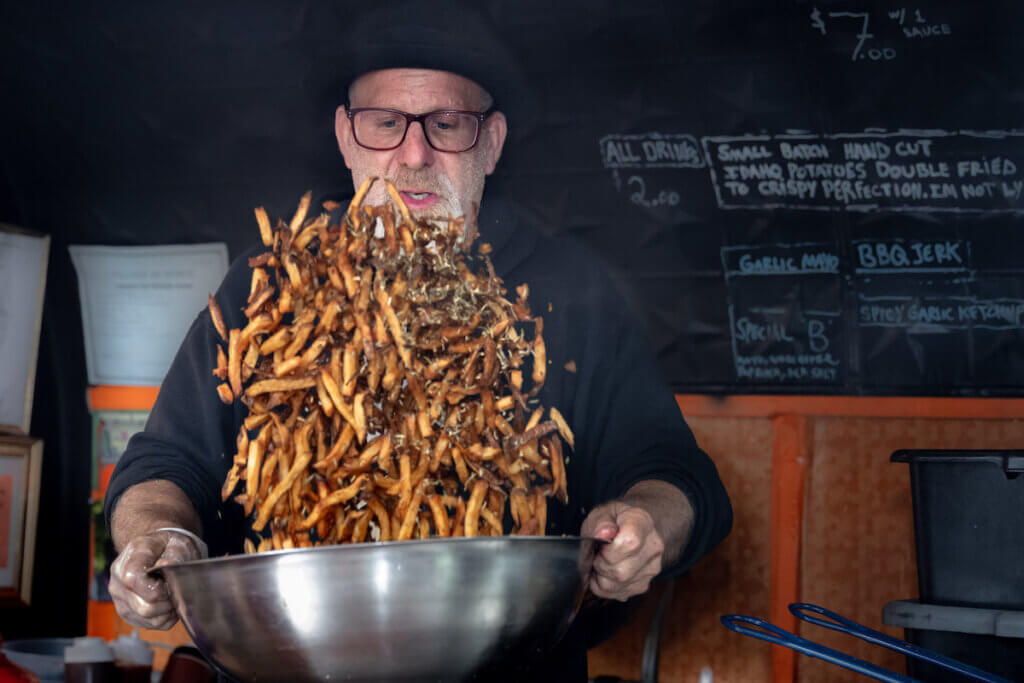 In an appropriate Goosetown moment, animals from the Summit School were paraded for people to pet and say hello. Goats, Sawyer and Scout, and pigs Arnold and Eleanor Pigby made their very own Goosetown parade.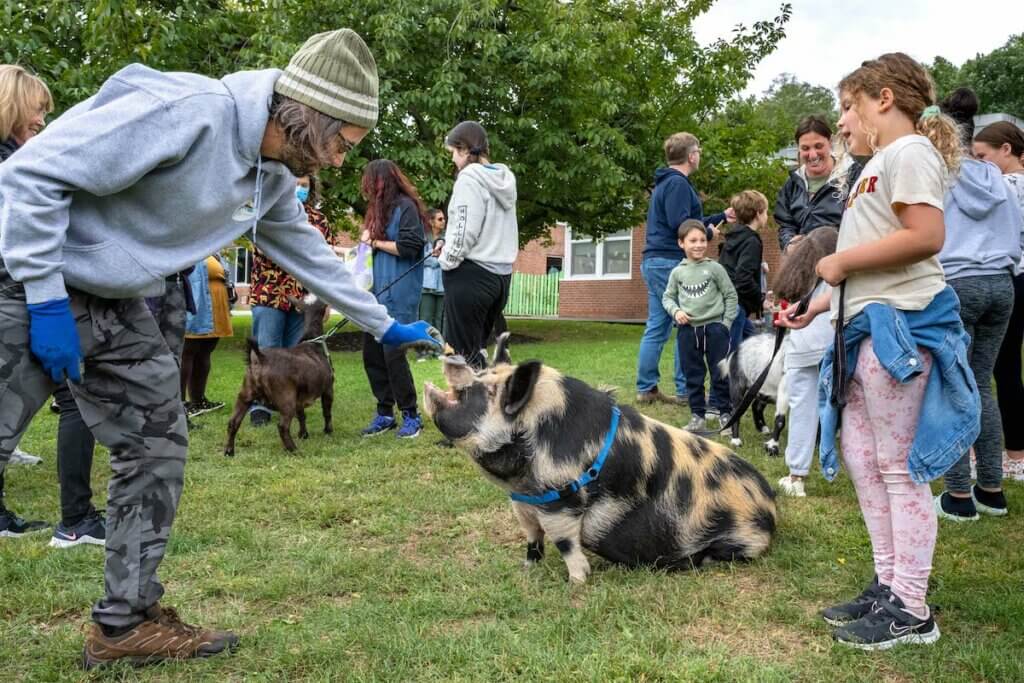 History Exhibit in the Old Stone Meeting House
A quilt made by children for the 100th anniversary was hung in a place of honor on the north wall. Historical maps were laid out on tables and two exhibits of historical photos from over 100 years ago of Upper Nyack by Upper Nyack resident Frank Brush sponsored by the Historical Society of the Nyacks were displayed. Three photos of an old-time farm from the area caught everyone's attention.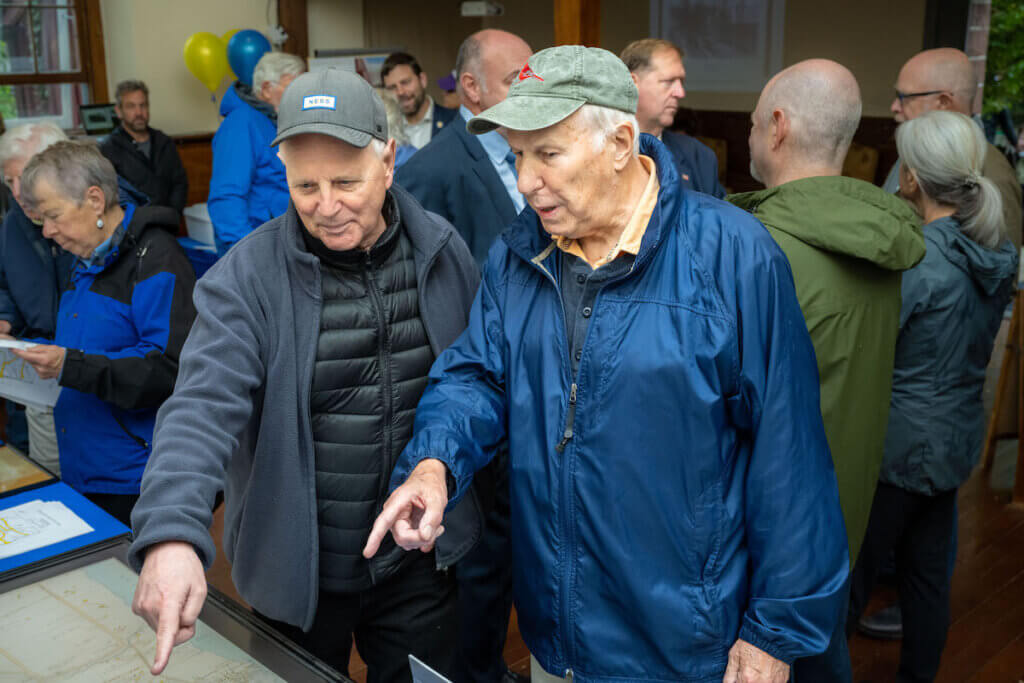 An interactive historical map and a series of then-and-now photographs with an interactive slider were kept busy most of the day. Both can be found at the Upper Nyack 150th web site.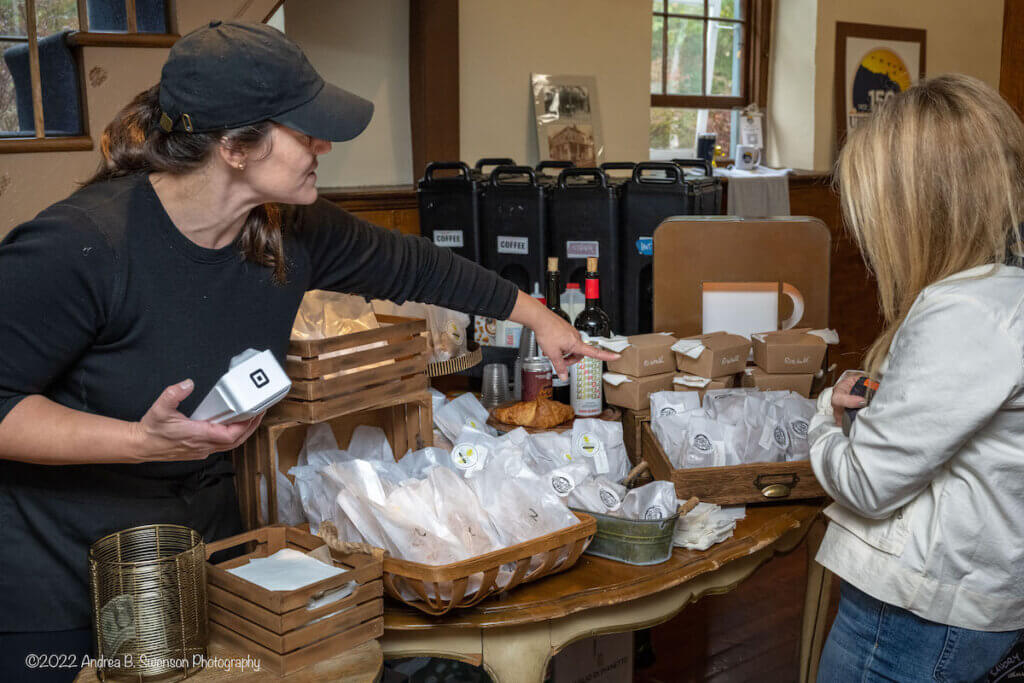 Paul Curley, president of the Friends of River Hook, manned a booth and raffled off honey made at River Hook.
A tent with two picnic tables outside the Old Stone Meeting House proved a great place to eat a Salonniere sandwich with coffee or a glass of wine. It was a memorable Goosetown event that brought villagers together to share stories and have fun. And it's only a start. The sesquicentennial lasts a whole year. Look for more fun events.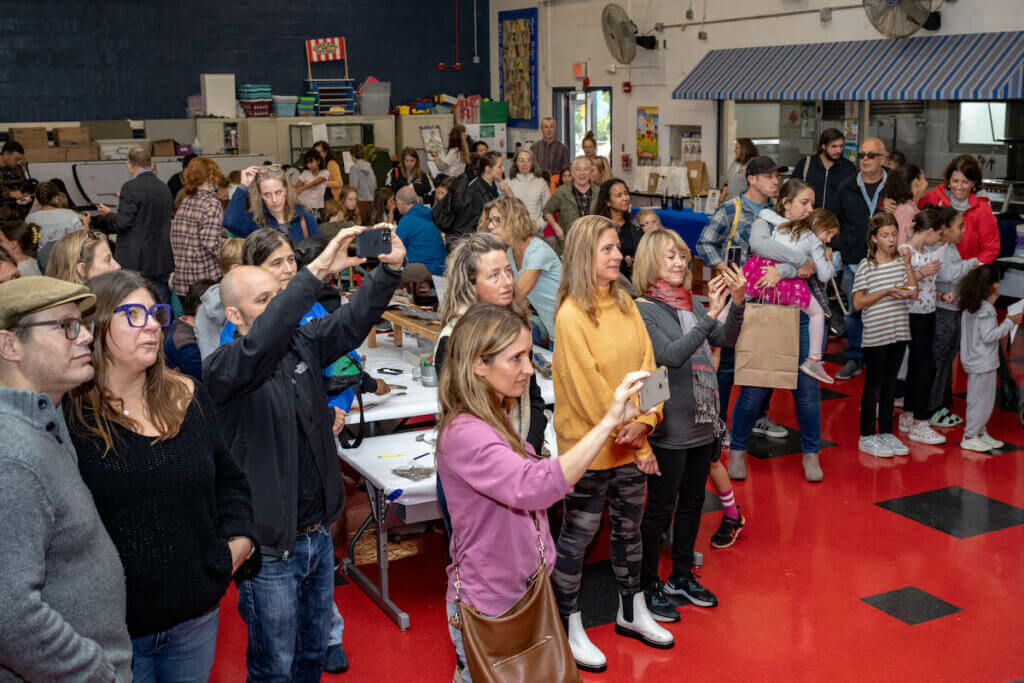 Photos by Andrea B. Swenson, @andreabswenson, unless otherwise indicated
A Look Back at 1872
A short history of Upper Nyack's incorporation in 1872 follows.
Upper Nyack is the Oldest of the Nyack Villages
Upper Nyack was the first village to incorporate on September 28, 1872, just 25 days before Nyack. Garret Sarvent became the first village President, as the mayor was then called. Garret was the 4th generation from the original large Sarvent family farm that abutted the southern boundary of the village. The Trustees were Charles Fellows, William Jersey and Peter Voorhis, Isaac V. Smith was Treasurer, William Kipp was Collector and D. M. Clark served as Clerk.
The same group was reelected on March 19, 1873, at the date of the first village election. The election was held in the store of James P. Vorhis, a store immortalized 75 years later in Edward Hopper's famous painting, Seven A.M. At the time, Vorhis was the owner of the shipyard at the foot of Van Houten's Landing. The board approved an increase in taxes almost immediately to the total tax for the village of $1,500 (a relative income worth of $287,000 today). In 1874, only 30 Upper Nyack villagers paid the $1 poll tax to vote. Sarvent continued as village President until 1889.
Sarvent was followed as President by a retired industrialist, Colonel Richard Vose, a man who was known to drive his geese from his estate on Highmount Terrace to the Hudson River. Vose is often thought to have been the origin of Upper Nyack being known as "Goosetown." The term "Goosetown" is probably a derogatory one given to Upper Nyack villagers because they incorporated first. The senior, elegant military leader marching geese across Broadway must have been an amusing sight. Now "Goosetown" is a name which Upper Nyack villagers are proud.
How Did We End Up with so Many Different Nyacks?
Local incorporation wars began shortly after April 20, 1870, when the New York State Legislature voted in a general act for the incorporation of a village, meaning a village could be incorporated easily and levy taxes. The first vote for incorporation on July 6, 1871, included all of Nyack, Upper Nyack, and South Nyack. Incorporation was soundly defeated with only 75 voting in favor, 292 against.
Local business leaders in downtown Nyack looking for ways to spruce up the village did not give up. During the next year, public meetings were held to discuss the issue. However, there was a hidden agenda. According to Frank Green, author of the History of Rockland County, Garret Sarvent obtained positive proof that the leaders of incorporation planned .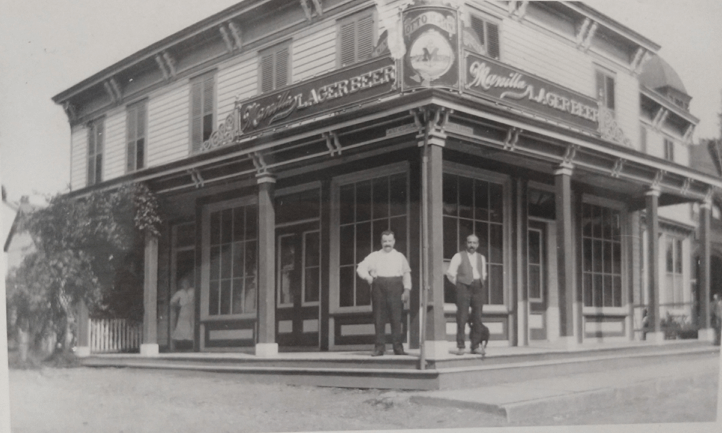 Upper Nyack Decides to Go Its Own Way
Villagers in Upper Nyack reacted rapidly and secretly to initiate their own incorporation. Incorporation notices were posted in public on August 13, 1872 as required by law. The list of places where the notices were posted is interesting. Posters went up in Upper Nyack's few shops; the shoe store of Abram Pitt on N. Broadway and Van Houten, Peter Williamson's candy store near the Old Stone Meeting House (Williamson was the last living person born into bondage in Rockland County), and at the store of James Voris. A poster went up at the corner of Hook Road (N. Broadway) and Old Mountain, one on a telegraph pole at the side of Midland Ave., and one at the old school on Old Mountain Road just to the east of Midland Ave.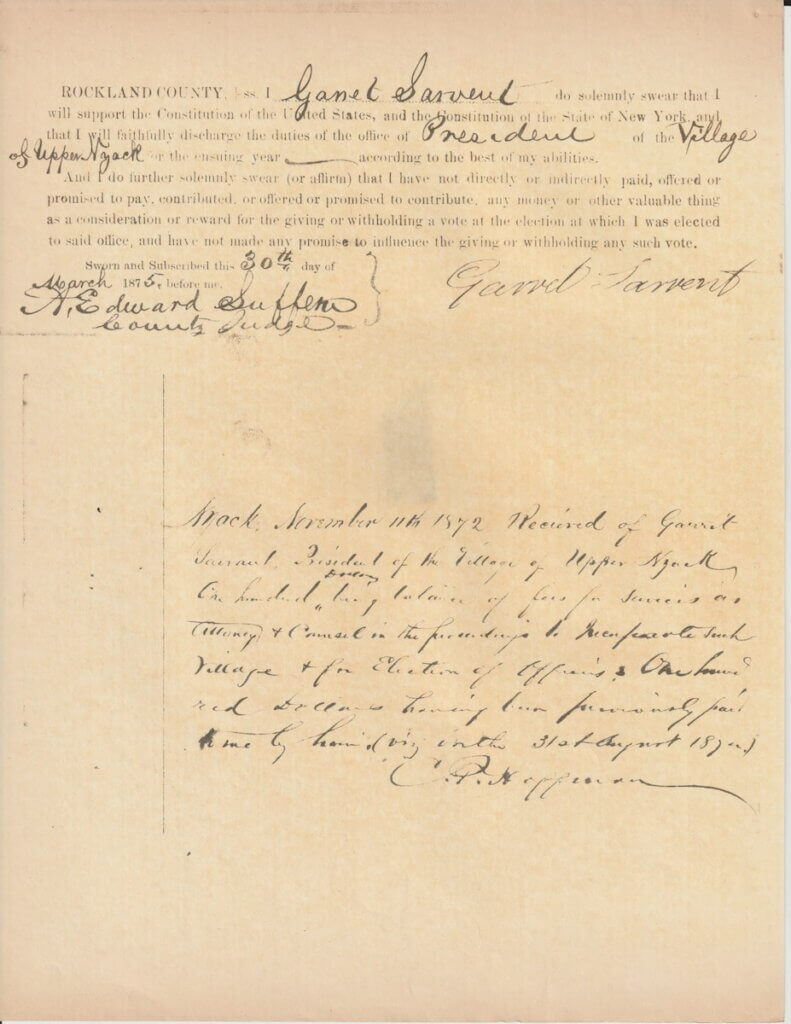 As noted previously, Upper Nyack incorporated on September 28, 1872. Then Nyack incorporated on October 23, 1872.
But Wait, It's not Over
hold a referendum on whether Nyack should remain a village. By a vote of "almost four to one" according to the Centennial Booklet-Village of Upper Nyack. Nyack dissolved on February 7, 1878. South Nyack, its grievances similar to Upper Nyack, voted to incorporate on May 25, 1878. A border dispute, whether the northern boundary should be Depew or Cedar Hill Avenues was resolved by supervisors. Nyack reincorporated on February 27, 1883.Thus we ended up with three different riverfront facing villages, Central Nyack, then known as West Nyack, remaining unincorporated.
While a historical discussion of the incorporation wars is somewhat tedious, we all know how the subject re-emerged in 2022 when South Nyack voted to unincorporate.
Taxes & Roads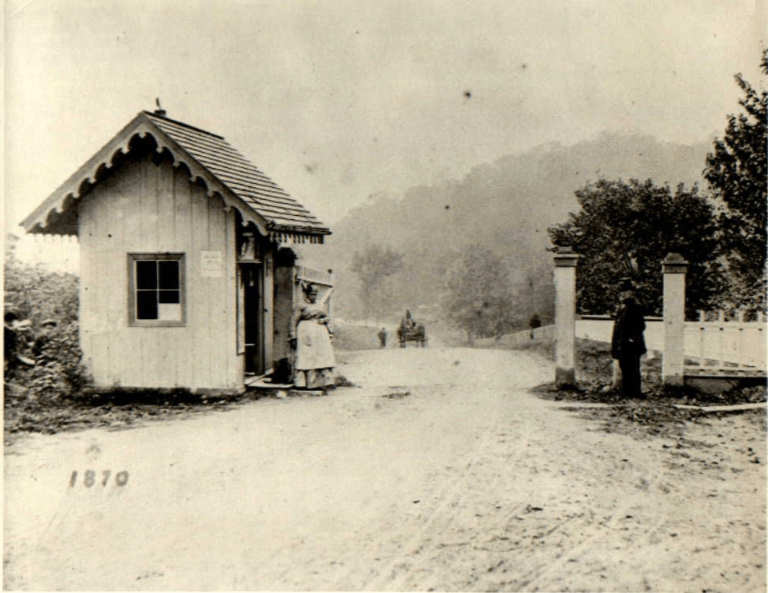 At the time of the various incorporations, an important concern was that village roads were dirt, dusty in summer, rutted and frozen in winter, muddy in between, and dark at night. Local taxes were needed. Incorporation became a model of political action especially in Upper Nyack. By 1879, the local newspaper noted that 100 families of Upper Nyack were able to grade Broadway from the Orangetown line to Hook Mountain, macadamize it, sink its ditches where it crossed roads with imperishable drain pipes, keep ditches free from grass, and build and repair sidewalks.
It took Nyack much longer to macadamize Broadway from Upper Nyack to Hudson Ave. where Broadway then stopped.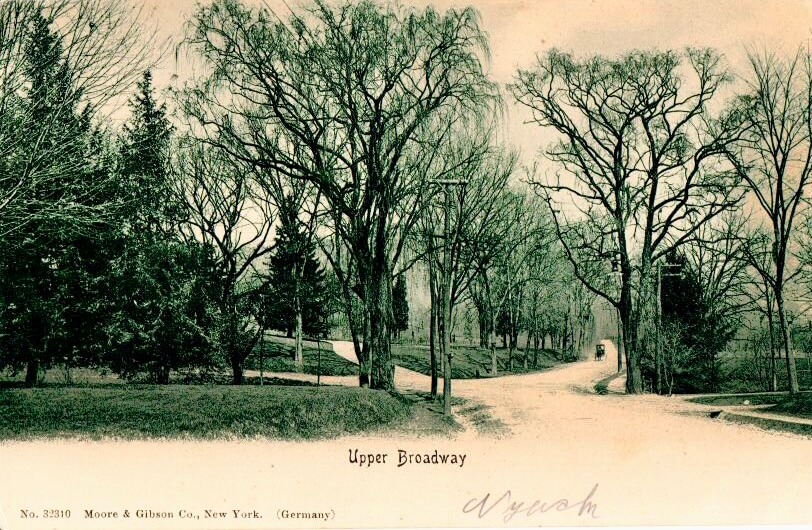 What the Heck Is Macadam?
Macadam was an ingenious method of road construction invented in 1820 by John Macadam, a Scottish engineer. In this method, crushed stone layers of decreasing size were compacted and covered with a layer of stone dust. The relatively level road performed very well without the use of large paving stones. When automobiles appeared, a layer of tar or tarmac was used as a road covering over the macadam.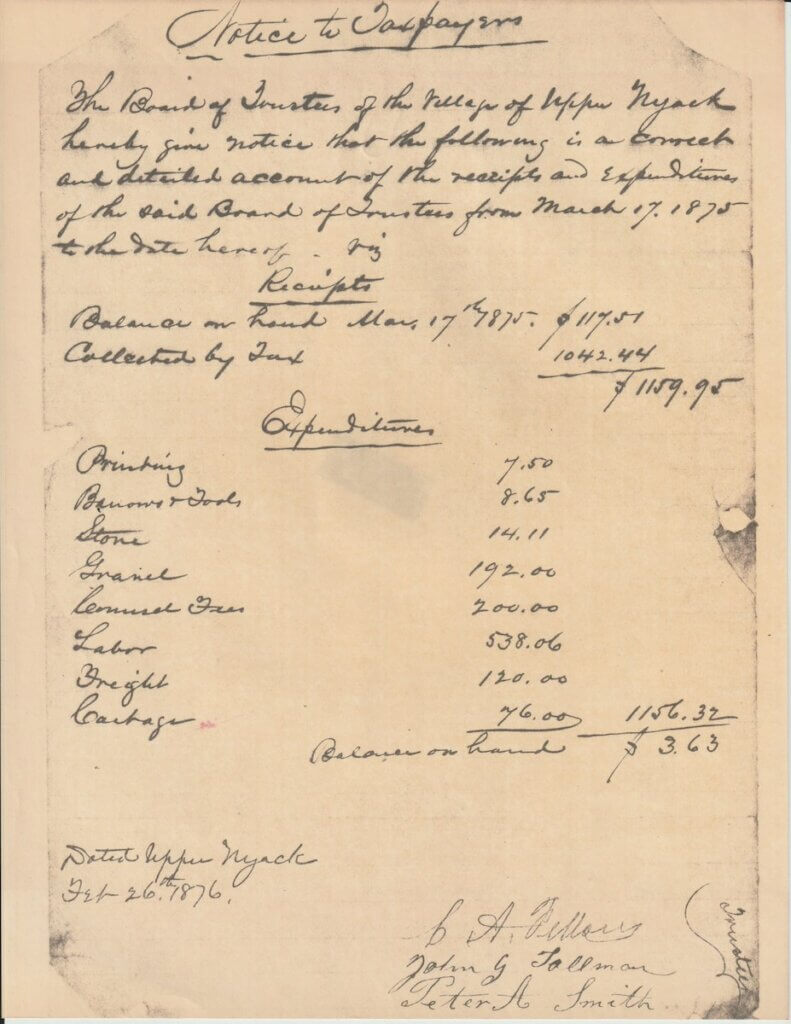 Upper Nyack's 100th
Fast forward 100 years to September 16, 1972. To celebrate, Upper Nyack held a large parade that featured a live goose riding in a cage on the hood of one of the village's dump trucks. Youngsters joined the parade on their bicycles. Tom Perry, now a Nyack High School teacher, won first prize for his bicycle decorated with a paper goose. Second prize went to the Biedersman girls who dressed their little sister as a goose. At noon, Bimbo the clown performed.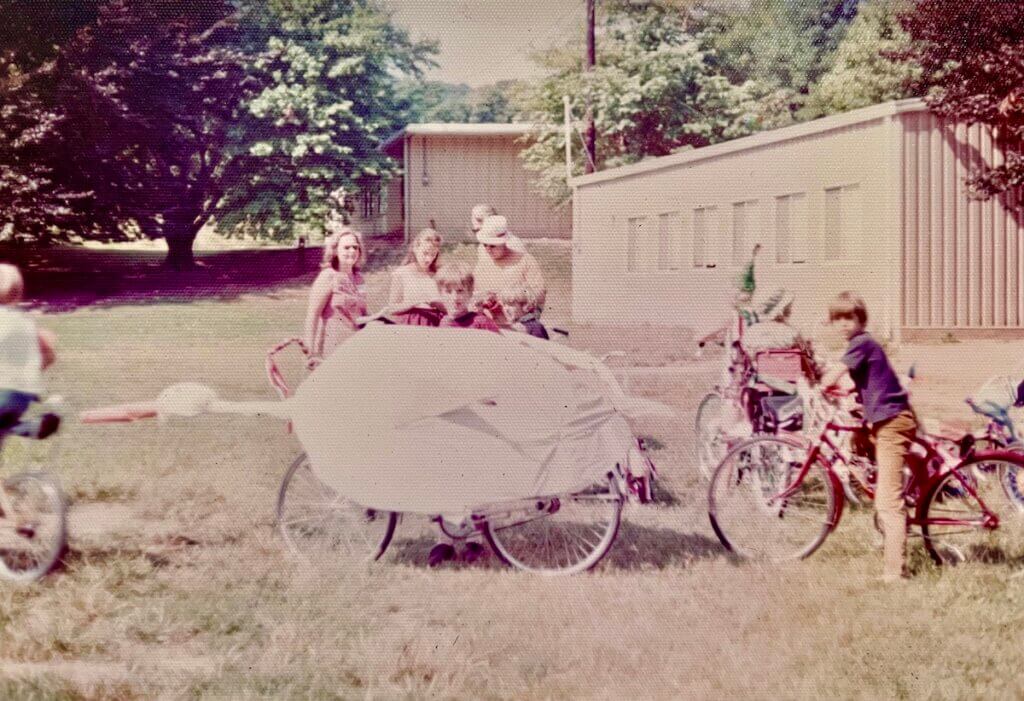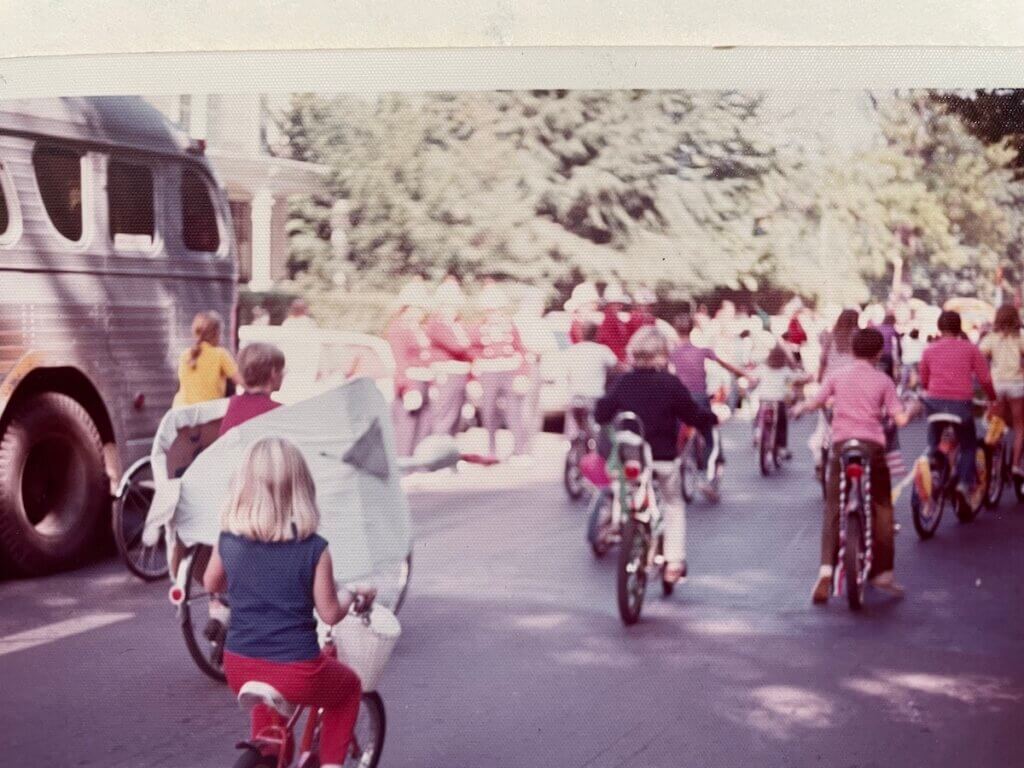 Later in the ceremonies, Empire Hook and Ladder was awarded a trophy topped by a golden goose for its 109 years of service to the village. Of special note was a beautiful quilt embroidered by nine Upper Nyack girls among whom were two daughters of Win and Betty Perry. The 100th anniversary quilt, gifted to the village, is on display during the 150th celebration at the Old Stone Meeting House.
Mayor Richard Jewett led the formal ceremonies. 690 box lunches were sold. A food truck stationed in front of the Upper Nyack Elementary school almost ran out of hot dogs and sandwiches. People picnicked under the beech trees that then grew on the school lawn or on the stone wall in front of what was once the home of J. DuPratt White and now the Summit School.
Exhibits at the 100th Celebration
Among the exhibits in the schoolhouse was a display of historical photos that attracted a lot of attention. Many of these photos are on display during the 150th celebration in the Old Stone Meeting House. Walking tours were held including the Old Stone Meeting House and the old Palmer Burial Ground on Old Mountain Road.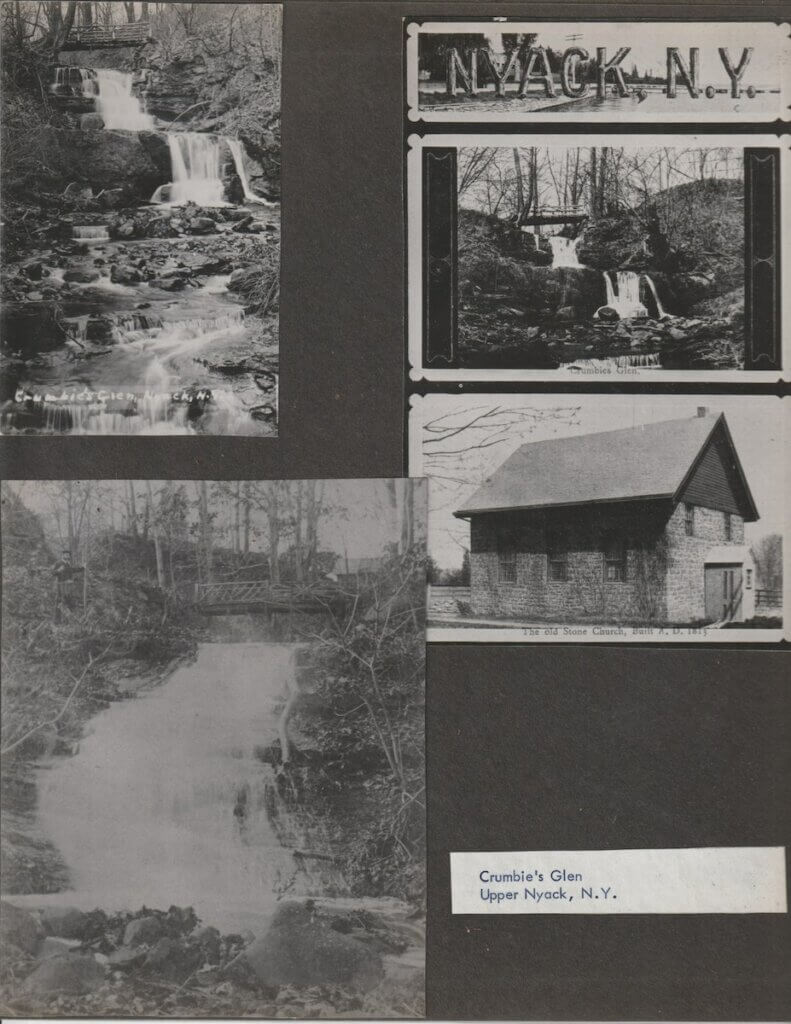 During the evening, you guessed it, a block party was held featuring square dancing on N. Broadway in front of Village Hall.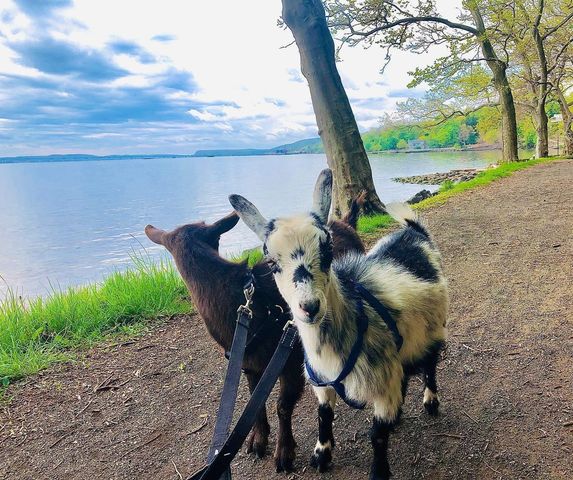 Michael Hays is a 35-year resident of the Nyacks. Hays grew up the son of a professor and nurse in Champaign, Illinois. He enjoyed a long career in educational publishing with Prentice-Hall and McGraw-Hill. He s currently president of the Historical Society of the Nyacks and vice president of the Edward Hopper House Museum & Study Center. Hays is an avid cyclist, amateur historian and photographer, gardener, and dog walker. He has enjoyed more years than he cares to count with his beautiful companion, Bernie Richey. You can follow him on Instagram as UpperNyackMike.
Nyack People & Places, a weekly series that features photos and profiles of citizens and scenes near Nyack, NY, is brought to you by
Sun River Health
, and
Weld Realty
.