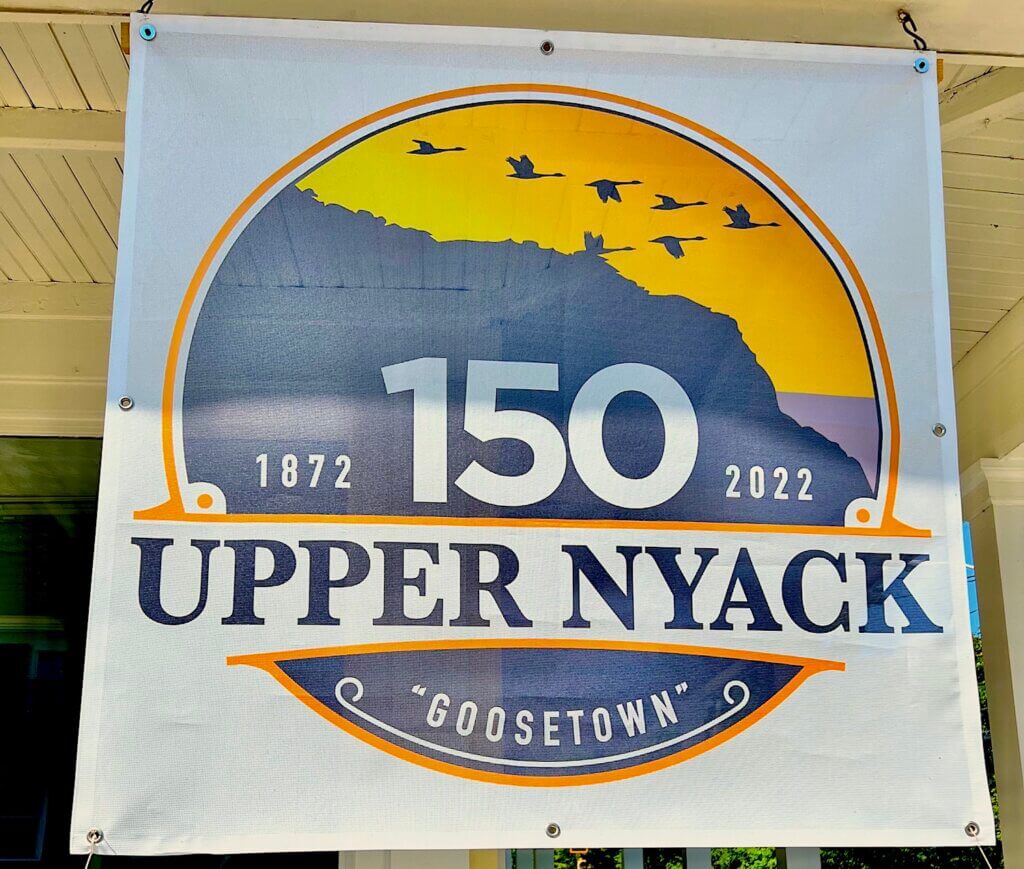 It is a mental picture you won't forget. An elegantly dressed 60-year-old man driving a herd of geese from the grounds of his large, magnificent turreted mansion on a hill in Upper Nyack to the Hudson River daily. His rather comical image stuck in local memory and is said to be the reason Upper Nyack was called "Goosetown", a term immortalized by the Empire Hook and Ladder Company during the 1909 Hudson-Fulton parade and later memorialized as "Goosetown against the world" on their 150th anniversary poster atop the fire station today.
Who was this geese drover named Colonel Richard Vose? Why would this be thought unusual in a farming community? Is the legend true? Was this how "Goosetown" got its name?
Colonel Richard Vose
Colonel Richard Vose was already a legend before coming to Nyack. He was an orphan, inventor, soldier, officer, businessman, and mayor. His home, "Vose Villa" on Highmount Terrace was, in the words of the New York Times, "one of the most beautiful homes along the lower Hudson" owned by "one of the wealthiest and best-known residents of Nyack." This is his story.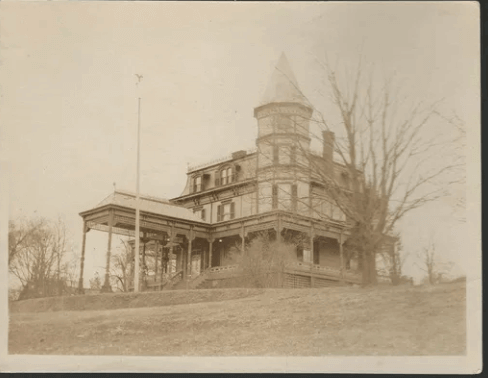 Early Life
Richard Vose was born September 2, 1830, in Whitesboro, a small town outside Utica, New York. Orphaned at the age of 13, Vose supported his four younger siblings by going to work for one of the leading stationers and printers in New York, Francis & Loutrell. He worked at a variety of jobs, married at age 22. In the 1860 census he was living with his wife, a son named Frank, two servants, and his mother-in-law, Sarah Bullock.
Businessman & Inventor
Vose found his calling when he took a position as the superintendent of the manufacturing department of the Metallic Car Spring Company. Soon, he became an expert in making car springs for the booming rail, streetcar, and wagon markets. He took out over 60 patents mostly for car springs.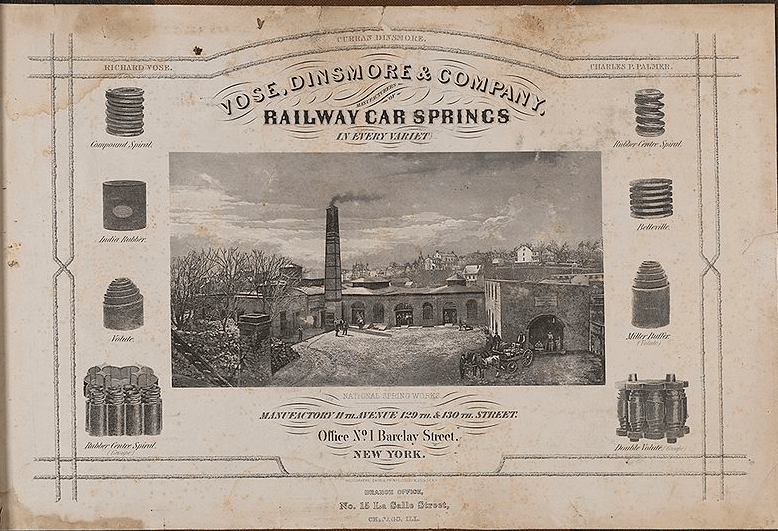 By 1868, Vose started his own company, Vose, Dinsmore and Co., with headquarters and manufacturing in New York City. In 1876, he became President of National Car Spring Company where he developed an efficient spring for city roads that was practically in universal use during his lifetime. But it wasn't all roses for the millionaire. In 1878, he filed for bankruptcy, probably because of the Panic of 1873 affecting the Mutual Benefit Savings Bank, where he served as Vice President.
Even after moving to Nyack around 1886, manufacturing was still on his mind. The Rockland County Journal reports that Vose leased the Smithsonian Hall, a large hotel and meeting hall on lower Burd St. in Nyack for a factory. Whether he produced goods there is not recorded.
A Noteworthy Military Career
Vose enlisted as a private in the National Guard at the age of 26 in 1856 in the 7th Regiment. The 7th was known as the "Silk Stockings" or 'Blue-Bloods" because of the many elite New Yorkers among its ranks. By the outbreak of war in 1861, he earned the rank of lieutenant in the 22nd regiment. The regiment served in the first Battle of Bull Run, aiding retreating soldiers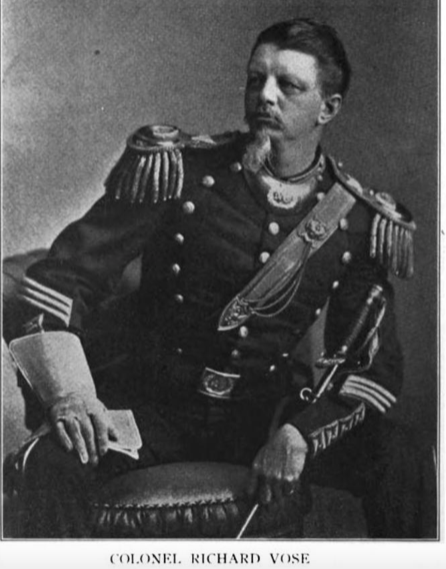 Vose continued to serve after the Civil War while maintaining a busy career in manufacturing. He was elected colonel of the 71st Regiment of the National Guard in 1872. The National Guard was quite visible, parading in the city and handling ceremonial duties. Colonel Vose is cited over 1,200 times in the New York Times.
He is credited with arranging a Mission of Peace for the Regiment to New Orleans in 1881 to draw together the South and North. Being that it was Mardi Gras, Vose was presented at a speaking engagement by a man masked as a Napoleon courtier with a banner showing the French colors and a staff surmounted by a silver globe.
Vose Moves to Nyack
In 1881, Vose endured both highs and lows. His wife died in August soon after his his stellar performance in New Orleans. Shortly after, he married again in 1883, this time to the 71st Regiment Paymaster's daughter, Jane Guibert. It may have been a bad choice in brides. In 1884, under accusations of financial mismanagement by Colonel Vose, 15 company-grade officers resigned. Colonel Vose blamed the problems on the Veterans Association. Everything came to a head, and Vose resigned. Soon after he found his way to Nyack.
Vose Villa, the Mansion on the Hill
In 1888, Vose purchased a large old-fashioned house on the old Sarvent farm on a hill near Highmount Ave (then labeled "High Mount"), with a view overlooking the Hudson River. Owned for many years by R. P. Eells, a real estate and insurance agent in downtown Nyack, the house was somewhat isolated from the rest of Upper Nyack. Only the elegant 1868 John B. Pomeroy house was nearby. Most of the village of Upper Nyack was then clustered around the old boatyard and the intersection of Castle Heights and Broadway; Upper Nyack was mostly fields.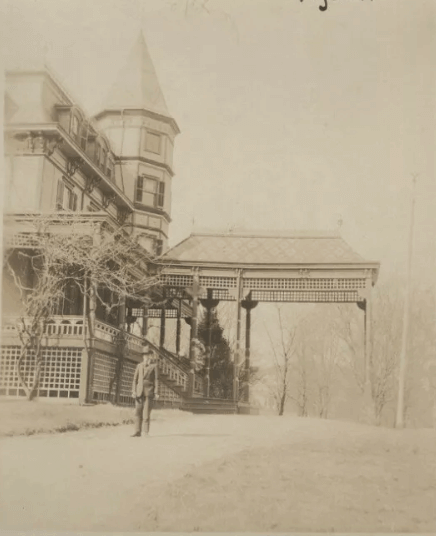 Vose Villa Design
The house was entirely redone into a mansard-roofed Second Empire-style house designed by the builder, William E. Blauvelt. The ground floor contained the kitchen and laundry. The first or main floor had double doors opening out onto a 10-foot piazza that ran around three sides of the house with magnificent eastern views of the Hudson River. Inside, the first floor had a mahogany-finished parlor, library, butler's pantry, and dining room. There were four bedrooms on the second floor and another three on the upper floor (plus a billiard room and a sewing room). The Colonel saved the best room for himself: his bedroom was at the top of the 72-foot-high tower.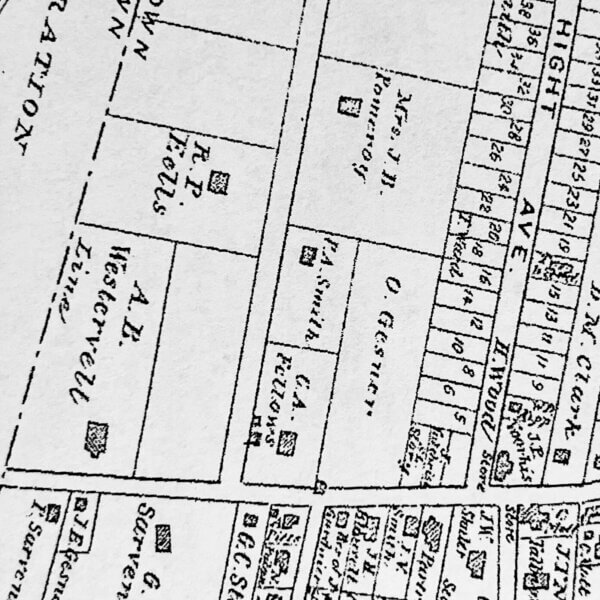 The house used the latest technology. It was heated by a furnace and had gas lights. Each floor had a fire hydrant to which a hose could be readily attached. The electric system included a burglar alarm connected to each window and door. The alarm indicator was in Vose's bedroom. The large yard was fully landscaped, and a U-shaped driveway circled the house and led to a barn.
Vose Villa Today
Today, Vose Villa still stands, though much-changed, on Highmount Terrace. Except for the mansard roof, the double-bracketed mansard cornice, and the rounded tops to the mansard dormer windows, the second empire details are gone, along with the tower, windows, chimneys, porch, and roofed front stairway. Village Historian Win Perry, who grew up across Highmount Ave, remembers seeing the owner in an old car pulling down the 72-foot tower.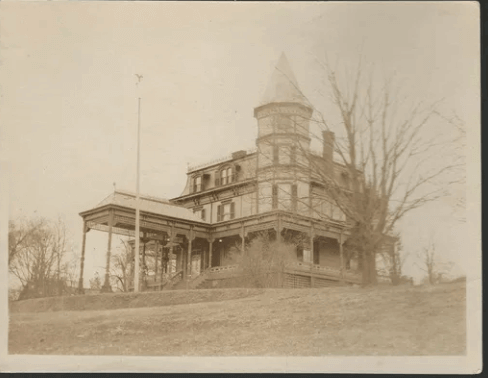 A Great Place to Party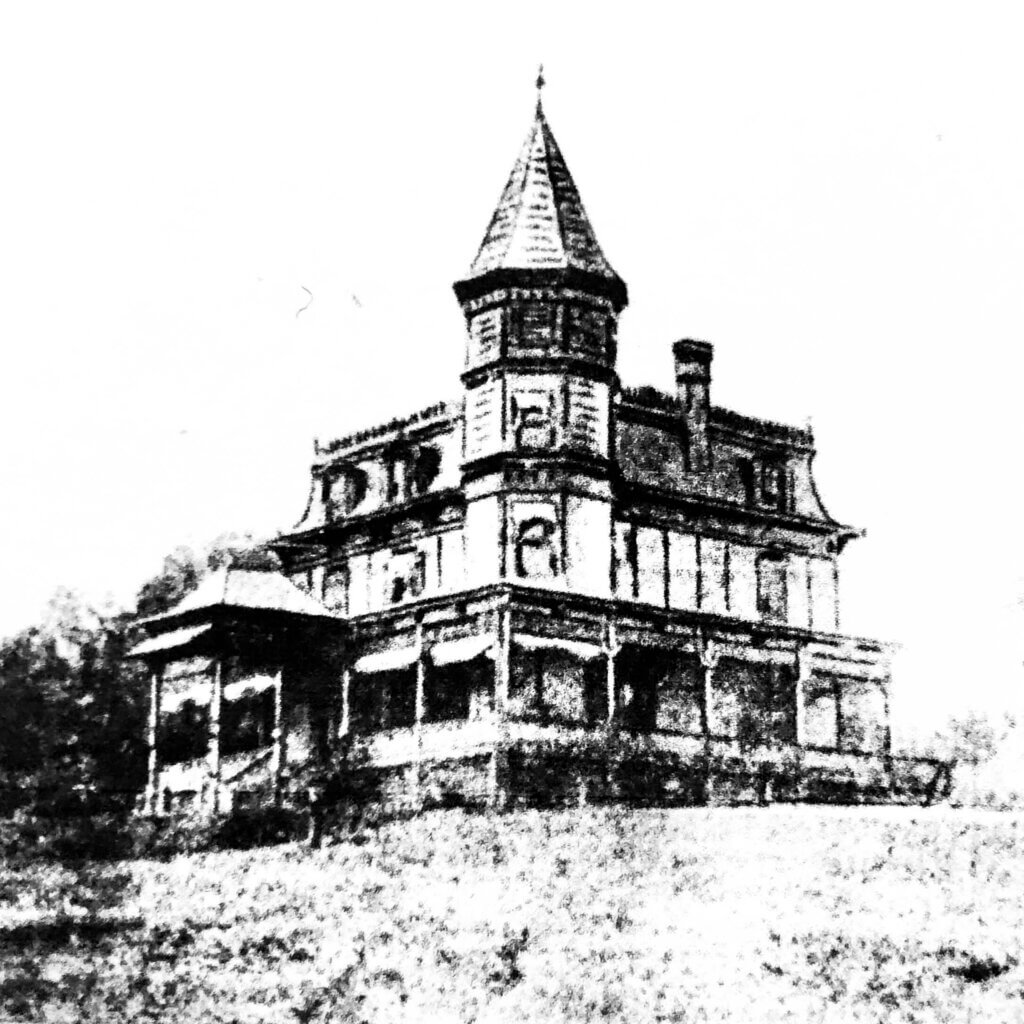 The mansion hosted many large parties, including a drama and music reception in January 1890 for 40 guests. The party's guest book reads like a Gilded Age who's who of Nyack. Senator Clarence Lexow and his wife, Arthur Tucker who lived in Larchdell, a mansion near Hook Mountain on Broadway; and other Upper Nyack estate holders, like the Brush and Chapman families attended. Miss Amy Vose played Rossini's Overture to William Tell, others performed banjo solos, duets, and sketches in character, and sections from Bulwer Lytton's popular play The Lady from Lyon. Colonel Vose sang the Irish ballads, "The Low Back Car" and "The Widow Macheree," all in costume. As an encore, Vose recited John Hay's poem Little Breeches. Flowers, dancing, and a collation (light meal) rounded out the evening.
Man About Town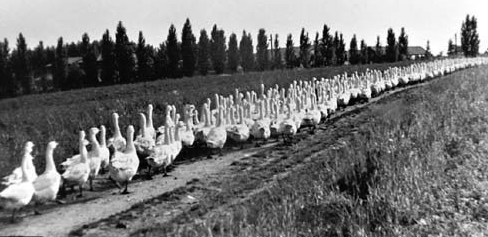 Vose was a prominent man in Upper Nyack, serving as Upper Nyack's second mayor (then called President). Vose was an active sportsman. He chaired the Nyack Rifle and Gun Club meetings, including dinner at the St. George Hotel. At least once while living in Nyack, he summered for 6 weeks fishing at the Thousand Island home of railroad magnate George Pullman with whom he had many business dealings.
Daughter Makes the News
Vose's daughter Sarah Amelia, known as Amy, was secretly married in 1892 to Richard Crane of Brooklyn. Many Brooklyn newspapers and the Rockland County Journal carried the story. Brooklyn Life labeled Crane a gold digger. Apparently, they were engaged three years before. As Crane was a "mere" clerk at Lawyers' Title Insurance Company, Vose demanded that they wait until Crane could support Amy in the way she was accustomed. Crane's father, who was not a millionaire, agreed.
The couple decided to elope and were married secretly in January. When Vose was recovered from an illness in April, Amy made a tearful confession. As the newspapers said, "being a sensible millionaire" Vose notified the newspapers and his new father-in-law and sent off Amy with his blessing.
Vose & Goosetown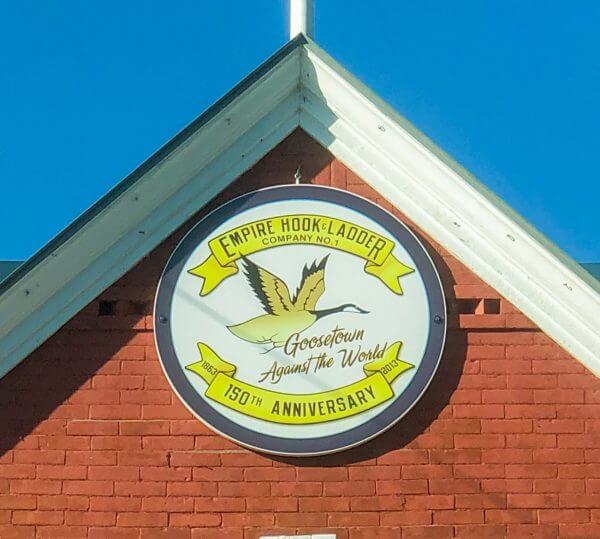 Vose & His Goosewalk
Vose's tenure at Vose Villa was brief. He lived in the house but a little over three years before he died at the age of 62 in 1893. The elegantly dressed Colonel who cut a large swath through the community, was remembered for driving geese from his house to the river. This goose walk was not insignificant in distance (about .3 miles) and Vose was probably often observed in passing as he crossed Broadway.
It's a great image and a great story behind the moniker "Goosetown" for Upper Nyack. "Goosetown" became a colorful shorthand term to describe Upper Nyack.
The legend of the colonel and his geese has been so resilient over time that it appeared on the first page of the Centennial History of Upper Nyack in 1972.
First use of "Goosetown"
In reality, the usage of the term "Goosetown" preceded Vose's move into his Highmount villa. In a letter to the editor to the local newspaper, a writer opposed to a new trolley line running down N. Broadway uses the term "Goosetown" to mean Upper Nyack.
Still, it is fun to consider one of Nyack's wealthiest residents walking his geese to the Hudson River.
Michael Hays is a 35-year resident of the Nyacks. Hays grew up the son of a professor and nurse in Champaign, Illinois. He has recently retired from a long career in educational publishing with Prentice-Hall and McGraw-Hill. Hays is an avid cyclist, amateur historian and photographer, gardener, and dog walker. He has enjoyed more years than he cares to count with his beautiful companion, Bernie Richey. You can follow him on Instagram as UpperNyackMike.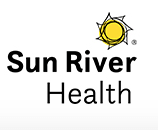 Nyack People & Places, a weekly series that features photos and profiles of citizens and scenes near Nyack, NY, is brought to you by
Sun River Health
 and
Weld Realty