Miramare is the eighth edition of Nyack People & Places' Barons of Broadway series, tracing how Upper Nyack farmland was converted to large estates by the nouveau riche of the Gilded Age. The series looks at the estates along the Hudson River and the people who built them.
by Mike Hays
Unlike most who built mansions on N. Broadway in Upper Nyack from 1880-1925, Justin DuPratt White was a locally born, self-made baron of Broadway. The White family mansion, Miramare, still stands as the main administration building at the Summit School across from the Upper Nyack Elementary School at 339 N. Broadway. Except for losing an election as judge after graduating from Cornell, DuPratt White was a successful leader of every organization he was involved with, including starting a global Wall Street law firm that is still in operation.
Wealthy but modest, White was an astute judge of people, making him an effective dealmaker and fundraiser for many worthy organizations. As a founding member and then president of the Palisades Interstate Park Commission, White, an environmentalist before his time, was largely responsible for the modern park-filled, green landscape of Rockland County.
Justin DuPratt White
Justin DuPratt White, or DuPratt White, as he was known for most of his life, was born on July 25, 1869 in Middletown in Orange County, the third of 4 children of Charles and Elizabeth White. By the time of the 1880 census, the family lived in Passaic, NJ. His father is identified as a merchant. The family later moved to Suffern where DuPratt White attended private school. The family moved to Nyack where White went on to attend Nyack High School, graduating in 1885, the first class to receive state diplomas.
With an excellent academic record at Nyack High School, White obtained a state scholarship to Cornell University, from which he graduated in 1890. He served as editor of the Cornell Daily Sun, took part in college debating societies, and was a member of Alpha Tau Omega fraternity. In 1892 he was admitted to the bar.
White & Case
White was a staunch Republican and interested in politics. In 1894, just out of college, he spoke at a dinner for Senator Lexow, then the leading Republican in Nyack. Around this time, he was defeated in a nomination race for Rockland County Judge. His loss was a turning point in his career for he decided to pursue law rather than politics. He was aided in getting started in New York City with the help of his friend Henry P. Davison of J.P. Morgan & Co. He formed a partnership with Henry Coggeshall, a long-time prominent state senator from Oneida County.
In 1901 White formed White & Case, in partnership with George B. Case. They opened a 2-room office on Nassau St., later moving to 14 Wall Street. White was involved in a number of important court cases and was on the board of several companies. On the banking side, he was active in the Farmers Trust Company, the First National Bank of New York, and Liberty National Bank.
In 1915, White & Case was hired by J. P. Morgan & Co to help Great Britain and France purchase war materials in the United State. DuPratt White was made a Chevalier of the French Legion of Honor for the company's role in this effort. Case was later appointed to the War Council of the Red Cross by Woodrow Wilson. In 1926, the firm opened its first non-US office on Place Vendome in Paris. Case & White remains one of the largest international law firms.
For over 40 years, White commuted from Nyack via the Northern Railroad flyer. He was known to drive down 2 or 3 stations before boarding the train in his open-air convertible in summer and winter.
Anita Bradley Lombard
White and Anita Bradley Lombard of New York City were engaged in 1895 and married in 1898. Lombard was born in Georgia in 1873, the daughter of a mining engineer. The Whites had one daughter, Anita Crosby White, born in 1902.
In 1900, the Whites lived in Orangetown, but soon White purchased an empty 10-acre tract, once part of the large Maxwell estate east of N. Broadway along the Hudson River. The Old Stone Meeting House abutted the northwest corner of the property. Near the church, just inside the property near Broadway, was a small parcel, the home of Peter Williamson, the last person born into slavery in Rockland County. It is unknown if the Williamson house still stood when White acquired the property in 1900. At the time, the Nyack Country Club was across the street with tennis courts, a 9-hole golf course, and a clubhouse, formerly the Maxwell home.
Miramare
The Nyack Evening Journal reported that on July 11, 1903, ground was broken on the Whites' new house. It was built by the local firm of M H. & D. DeBaun at a cost of $14,000. The house was redone shortly after being built as it was not to Anita Bradley White's liking according to a half-remembered story told to long-time Upper Nyack Historian Win Perry by his father. One photo of the original house exists in the Village of Upper Nyack archives. It is quite a contrast to the house that was totally rebuilt, enlarged, and redesigned in a Tudor style to suit Mrs. Bradley. The Summit School lists 1927 as the date the house was rebuilt.
The White home, leaning on Anita's Italian heritage, was named Miramare, meaning "to gaze at the sea," combining the Italian word "mira," or gaze at, and "mare," or sea.  Miramare is a popular hotel name on the Italian coast. Miramare is built in the Tudor Revival style, of which there are many New York examples. The first floor was granite imported from a quarry near Ithaca, NY. The second floor on the south end is stucco with exposed faux wooden beams. Anita had a built-in Aeolian pipe organ that she played for annual meetings of the Morning Music Club. The library was in the northern end of the building, later named the Bok room for its supposed resemblance to the Bok Tower and home in Florida.
Over time, many outbuildings were added in the same Tudor-revival style, including a stable, greenhouse, and caretaker quarters. White added to the property, buying property south, including a strip straddling Perry Lane, and a strip along Broadway reaching all the way to Castle Heights Ave. The property had a spring-fed swimming pool called the Glen. Along the front of the property was a row of Linden trees. In 2018, the Summit School removed the trees in front of its property after a storm brought down several of them. A few of White's Linden trees remain along Broadway south of the Summit School property.
Sportsman & Traveler
White was an active sportsman. As a member of the Nyack Country Club  at age 22, White participated in an event known as "tennis extraordinary." For the event, 6 men played tennis in drag. White dressed as a Grecian girl.
White was a member of the Nyack Rowing Association and was elected Coxswain. After forming his law firm, his only form of relaxation was a weekly round of golf at the Rockland Country Club that opened in 1906 in Sparkill, an organization of which he was also president.
The Whites did find time to travel. They went to Europe in 1909 and 1928 and to Hawaii in 1921.
White & Founding of the Palisades Interstate Park Commission (PIPC)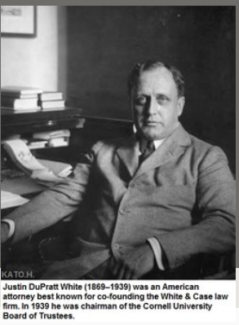 White was a founding member of the Palisades Interstate Park Commission serving as Secretary of the Board and later as its second chairman in 1937, succeeding George Perkins. There wasn't a single detail of the commission that White wasn't involved with, whether it was soliciting huge sums for land purchases from J. P. Morgan, the Rockefellers, and the Harrimans, or approving tent camping for small groups in the newly formed parks.
White was responsible for negotiating the transfer of acreage for Bear Mountain from the Harriman family. Crucial to that deal was moving a prison that had been started at Bear Mountain. Locally, he found money to purchase the Hook Mountain Trap Rock Company in 1911, worked on the donation by Stephen R. Bradley of 212 acres on South Mountain including the Bluefields camp, and in 1927, the purchase of the quarry at Tallman from the Standard Trap Rock Co. with $100k donations from Rockefeller and Harriman. As always, land holders argued about the value of land for PIPC purchases.
White was smart enough to keep the reins of conversation well in hand with those, including Robert Moses, who were more than ready to "develop" parkland beyond what it is now. White negotiated a donation of 700 acres from John D. Rockefeller for what later became the Palisades Parkway. White also saw to it that Depression-era relief programs benefited the park. Many of the 1930s-era buildings remain. One capstone project that White oversaw was dedicated to George Perkins, the first President of PIPC.  Perkins Drive reaches all the way to the top of Bear Mountain. A 60-foot observation tower was built at the end of Perkins Drive. The Perkins Highway and Tower have been enjoyed by millions seeking stunning mountain top panoramas.
White was a fair-minded ecologist and preservationist. Rightly so, he was opposed to development that would destroy the very park that was being created. Accessibility to nature was his goal
Rockland County Court House
In 1930, White and Supreme Court Justice (and neighbor) Arthurs S. Tompkins waged a successful campaign for building a new million-dollar Art Deco Rockland County Courthouse in New City. The old brick and combination jail and Court House was no longer adequate. The new Art Deco design made of white granite and trimmed in bronze had many detractors who thought it too large with the appearance of a mausoleum. However, White was right. The county administration soon outgrew the building
Cornell University Board of Trustees
White was an active alumnus of Cornell from 1913 until 1939. In 1919, as chairman of the sesquicentennial, he generated $6M for the university. He chaired the committee to choose Ezra Day as president in 1937. From 1927 on, he was a part of the joint administration of the newly combined Cornell and New York Hospital medical schools. He helped arrange funds for a new chemistry and law school buildings and scholarships for the engineering school. In 1939, just before his death, White became Chairman of the University Board.
End of an Era
DuPratt White suffered a series of strokes over a 4-month period in 1939 and died at home on July 14, 1939. He was survived by his wife Anita, his daughter Mrs. Harold Lawrence Taylor, a sister, Sarah White, and 3 grandchildren.
His funeral services were attended by many leaders in education, banking, and law. Services were held in Grace Episcopal Church and some 70 members of the PIPC police formed a guard of honor from sidewalk to church. White was buried in Oak Hill Cemetery as were his parents.
In his will, White made a special provision for his longtime assistant Miss Margaret Clarke, formerly of Nyack, to be retained for a period of one year and given a trust as "she has been my faithful and helpful secretary." Other trusts were set up for his daughter, his sister, and other friends and relatives. The family chauffeur was also named. He made a bequest to the PIPC of an east-west strip of land he owned along the foot of Hook Mountain so that no one could build or deface the southern exposure of Hook Mountain.
Anita Bradley White lived at Miramare after White's death for a few years before moving to her daughter's home in Scarsdale and then selling the property to the Nyack Boys School, also called the Nyack Junior School, a private school formed in 1934. In 1972, Miramare was sold to the Summit School.
Always Ready to Help
In a eulogy to White, the president of Cornell University  stated, "He was a modest man, living simply and sincerely, abhorring sham and hypocrisy, and with unusual ability to appraise his fellow man. He never withheld his help from those who sought him when in difficulty or need."
We won't find a memorial to White among the 1,400 acres of nearby parkland at Hook Mountain, Nyack Beach, and Tallman Mountain State Parks, but it was his efforts that preserved these properties from complete destruction. The "green bookends" that surround Nyack give the village its distinctive geographical charm. Miramare doesn't catch the eye as many Upper Nyack estates do since it sits below grade. Miramare's modesty is a testament to the modest man who lived in Nyack for 50 years and shaped our landscape in a way we all can appreciate today.
See also:
Michael Hays is a 35-year resident of the Nyacks. He grew up the son of a professor and nurse in Champaign, Illinois. He has recently retired from a long career in educational publishing with Prentice-Hall and McGraw-Hill. He is an avid cyclist, amateur historian and photographer, gardener, and dog walker. He has enjoyed more years than he cares to count with his beautiful companion, Bernie Richey. You can follow him on Instagram as UpperNyackMike.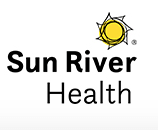 Nyack People & Places, a weekly series that features photos and profiles of citizens and scenes near Nyack, NY, is brought to you by
Sun River Health
, and
Weld Realty
.