by Mike Hays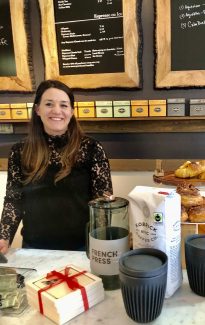 Salonniere noun. French. (1) A woman who hosts a salon. (2) Nyack's newest coffee shop.
Marcella Mazzeo's choice of an exotic name for her new coffee shop, Salonniere Coffee Shop (located at 79 S. Broadway) is extremely purposeful. She has an affinity for the time in Europe when women led intellectual conversations with the leading artists and minds of their day. The fusion of an au courant salon with a coffee bar, packaged in a delicious, relaxing space has been a long-time dream for Mazzeo.
A short history of Salons
The salon was an Italian invention that the French elaborated on, especially in the 17th and 18th century. Salons were places where people went to discuss art, literature, and philosophy. In fact, the period when salons were dominant is referred to as the Age of Conversation. The salonniere, the host and discussion leader, was always a woman. It makes sense that women hosted social intellectual discussions because talented women were excluded from most of the public arts of their day. In fact, it could be said that the concepts of liberty, fraternity, and equality were products of the salonnieres.
The sound of hissing steam in her DNA
In the 1970s, Mazzeo's parents owned Café Venice in Williamsburg, Brooklyn. Mazzeo grew up in Tappan, and the stories her parents told about the coffee bar–where artists, writers, and factory workers would gather–became mythic in her mind. Years later, while working her way through Stevens Institute of Technology, she worked for a short stint at Mola Coffee, a coffee bar in the just-emerging, but not yet gentrified Hoboken. She watched as a community grew from a few to many, making at Mola Coffee their central hub. She finally understood what her parents did, and it changed the trajectory of her career.
Her dream wasn't always just coffee
Early on, Mazzeo wanted to be a plastic surgeon who helped burn victims. She would look at the grocery store Pennysaver to search for acres of land in upstate New York where she could build a clinic. In turn, her childhood dream turned to an interest in osteopathic medicine and studying Chemical Biology at Stevens with intentions on continuing her education in medicine.
Her work at Mola Coffee in Hoboken, created a new dream: that of owning a coffee bar. She wanted to create a place for community to gather over a warm cup of coffee. Mazzeo made a decision to not pursue an advance degree in medicine. She was still determined to grow a career within the medical industry while pursuing her goal to own a coffee bar.
She is currently a professional in the Bio/Med Tech industry, handling change management within organizations, in addition to running Salonniere.
Setting up shop in Nyack
Mazzeo was raised in Rockland County and even while living and studying abroad she knew she would end up in Nyack. Since she moved to Nyack nine years ago, the idea of owning a coffee shop kept bubbling. The store at 79 Broadway always caught her eye. She inquired first at a time when the landlord wasn't interested in having food sales. After the close of a bakery distributorship in 2018, she sought the lease.
The size and layout were perfect with a front room for a coffee bar and a small comfortable room in the back for a salon equipped with easy chairs and a portrait of Madame de Pompadour in the back. Painted in dark hues of plum martini and French macaroon, the salon is a quiet space that invites conversation.
Coffee, coffee, coffee
Mazzeo currently serves Parlour Roast a special blend selected for Salonniere and roasted by Kobrick Coffee Co., a 4th generation hand-roasted coffee maker. Mazzeo remembers the roaster from her days at Mola in Hoboken. Mazzeo plans to hold coffee tastings to provide awareness of our Hudson Valley small batch roasters.
Coffee, like wine, is a combination of terroir, fruit (coffee is actually the seed inside the fruit), and preparation. Each of us has a different palate, and therefore, like wine, a specific roast may not be for all. For this reason, in addition to the Parlour Roast, Salonniere will rotate and feature Hudson Valley's small batch roasters. In an effort to highlight the artisans of the Hudson Valley, Salonniere will also rotate baked goods and coffee-ware made by local artisans. With the exception of some products sourced from Italy, Salonniere intends on procuring locally–including non-dairy milks, baked goods, and coffee-ware.
Along with a rotating list of local-sourced roasts, Mazzeo sells a modern-style Huskee coffee mug fashioned from coffee husks, ceramic tumblers, and SoBro 10960 tumblers handmade by a Vermont based potter. Salonniere encourages customers to use reusable cups by offering a discount when customers bring their own cup, and they participate in HuskeeSwap.
More than coffee
In addition to coffee, the list of rotating pastries has an Italian-French flair: nicely packaged and just the right size. Cornetti, sticky buns, monkey bread, and Kougin-amann are perfect accompaniments throughout the day. In addition to sweet baked goods, Salonniere also offers savory scones and panini. A kombucha bar, yogurt, and sparkling drinks complete the menu.
In the back room, comfortable seating along with a wall of paintings and a vinyl record player complete the salonniere. Whether in a rush for take-out coffee or in a café mood, Salonniere is a conversation in waiting.
Michael Hays is a 30-year resident of the Nyacks. Hays grew up the son of a professor and nurse in Champaign, Illinois. He has recently retired from a long career in educational publishing with Prentice-Hall and McGraw-Hill. Hays is an avid cyclist, amateur historian and photographer, gardener, and dog walker. He has enjoyed more years than he cares to count with his beautiful companion, Bernie Richey. You can follow him on Instagram as UpperNyackMike.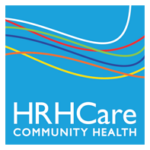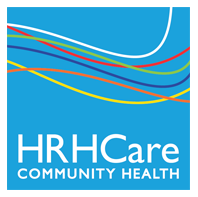 Nyack People & Places, a weekly series that features photos and profiles of citizens and scenes near Nyack, NY, is brought to you by
HRHCare
and 
Weld Realty
.