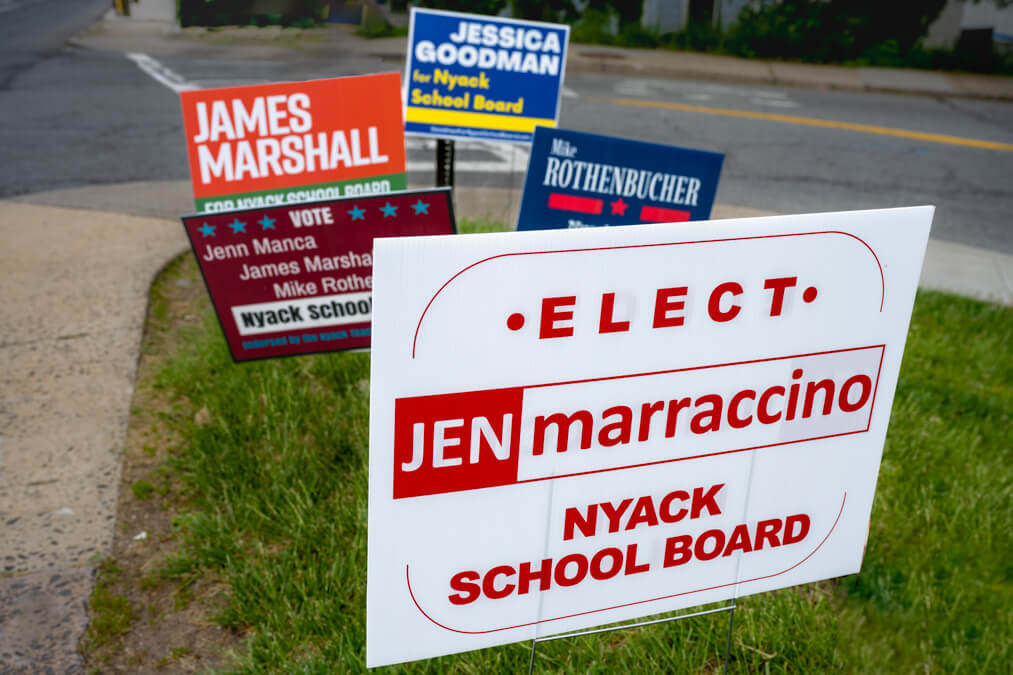 This week in the Villages we examine the legal and ethical battle over New York City's plan to house recent migrants in Hudson Valley hotels and introduce you to new members of Nyack's school board after last week's election. Plus, other local news, a weather prediction, quotes and videos of the week, a Covid update, upcoming meetings and much more. Thanks for being here!
Hotels Push Back Against "Xenophobic" Opposition to Migrant Housing Plan
The saga over New York City's (mostly thwarted) plan to house thousands of recent asylum-seeking migrants in Hudson Valley hotels took at turn this week as hotels sued local governments, including Rockland County, because of their opposition to the housing plan.
In legal filings, lawyers for the owners of five Hudson Valley hotels, including the Armoni Inn & Suites in Orangeburg, accused local officials of "catering to xenophobic and political interests" and violating their Constitutional rights, as businesses, to make money after those officials, including our own Ed Day here in Rockland, blocked plans that would fill their vacant rooms with asylum seekers and provide them with revenue.
Check out lohud's story by Chris McKenna for all the details.
For those catching up on this story, here's a brief recap, complete with multimedia!
On May 6, Day declared a state of emergency after word leaked out that New York City was planning to house 300-plus asylum seeking migrants at Armoni. Check out the declaration below.
A judge upheld Day's executive order, blocking migrants they could arrive at Armoni, while others were allowed to stay in places like Newburg, Poughkeepsie and Yonkers while the litigation played out.
Mayor Adams and local advocate groups, including Rockland's Proyecto Faro, pushed back, directly accusing counties of anti-immigrant NIMBY-ism despite a clear need for additional housing.
Now, we're basically in legal limbo. Here's my attempt at summarizing the current situation here in Rockland, based on McKenna's excellent explanation from lohud:
The 300-plus asylum seekers remain blocked from staying at Armoni by the original court ruling upholding Day's court order. However, because of the new lawsuit filed by the hotels, a judge could rule, as early as next Tuesday or Wednesday, for an injunction that would, at temporarily, override the executive order and allow the migrants to stay at Armoni while the litigation plays out.
We'll be watching to see what happens.
Stay tuned and be in touch …
In other relevant news:
Meet our two newest school board members (Benny Vasquez and Jessica Goodman) and reacquaint yourselves with a returning incumbent (Jen Marraccino):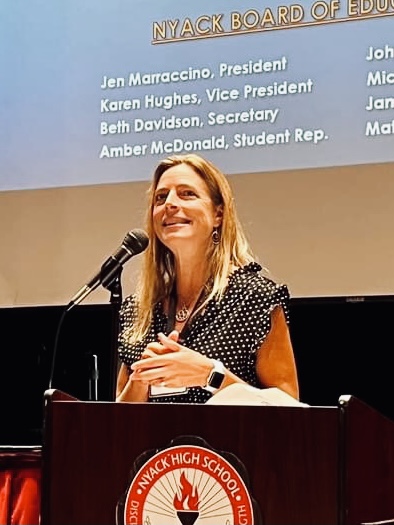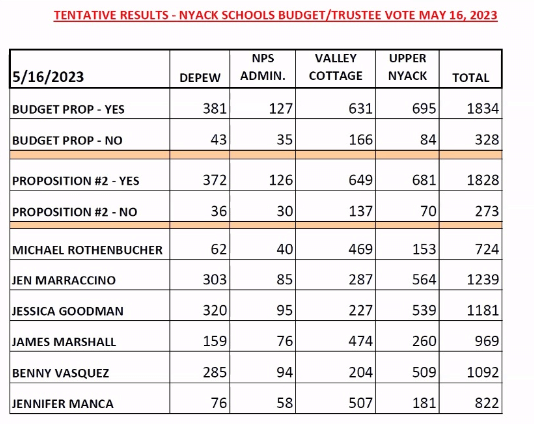 Had to get this clip in from Nyack rock star maker and performer, Mario the Magician:
In case you were wondering why 9W was inaccessible on Sunday morning . . .
Here's some cool footage of the GFNY from F. Rodriguez2411
Quote of the week:
Videos of the week: Congratulations Graduates!
Congratulations RCC graduate Jimmy Costin!
ICYM NNV's weekly features: Bill Batson's latest "Nyack Sketch Log"; Mike Hays' most recent "Nyack People & Places"; and our coverage in last week's "The Villages"; Our latest Nyack Schools Report. If you haven't read it yet, please check our vision for the future of Nyack News & Views and how you can help build our coverage and capacity.
Weather prediction (through Memorial Day weekend)
Looking good! Mostly sunny and clear, with temperatures gorgeously moderate (70s and low 80s) through the weekend. Enjoy! [Click here for the National Weather Service's latest 7-day forecast for the Nyack area.]
Covid Update! (threat level: still "low")
According to CDC data of recent hospitalizations and cases, Rockland's community threat level of Covid-19 is now considered "Low" after spending 6 weeks over the holidays in the "high" range and then dropping to medium throughout January. With a low designation, the CDC recommends getting tested if you have symptoms or have contact with someone who tests positive. Otherwise, live your life. (CDC stats updated 5/14/23)
Village updates
Nyack
Here's the list of all upcoming meetings posted for the Village of Nyack.
If you could use help paying your water bills, click here.
Drop off humanitarian aid for victims of the war in Ukraine (including first aid, painkillers, blankets, baby food, diapers, non-perishable food, antibiotics and more, at Village Hall, 9 N. Broadway (or at the Orangetown town hall, 26 W. Orangeburg Rd.).
Upper Nyack
South Nyack
Due to reader request, we have re-added South Nyack, which dissolved as an official village earlier this year. Please send us info about what's going on in South Nyack at info@nyacknewsandviews.com.
Orangetown
Clarkstown
The Technical Advisory Committee, which "evaluates the technical adequacy of land development applications and decides their readiness for Planning Board review," meets most Wednesdays, including this Wednesday, from 10 am to noon, in the town hall's Historic Map Room.
For a calendar list of all Clarkstown meetings and events, click here.
Other Local Updates
South Nyack advocates have filed a petition with the town of Orangetown seeking to show support for a new Elizabeth Place Playground — the grassy play area and dog park just south of 87 and right off the Esposito trail. After South Nyack dissolved in March, the town found the playground equipment at Elizabeth Place was unsafe and not compliant with ADA regulations and removed it. A new ADA compliant park has been proposed and advocates want to see the proposal approved and implemented. Click here to read and/or sign the petition.
Nyack Schools
Check out our latest Nyack Schools Report, a new regular feature we will post bi-monthly.
Find out what else is going on in Nyack-area schools at Home Page – Nyack Public Schools (nyackschools.org)
Rockland-wide
A rare polio case was recently discovered in Rockland County last summer. Here's some info on how to protect yourself:
New Yorkers can pre-register for a free polio vaccination appointment here or call 845-238-1956 to schedule. Walk-ins will also be accepted.
Vaccines are also available through local healthcare providers, including Federally Qualified Health Centers.
For more information on polio including symptoms and spread, visit NYSDOH's page here.
New Yorkers can learn more about the polio vaccine available in the U.S. at CDC's page here.
The Reviving Rockland Restaurants Grant Program will reimburse businesses between $5,000 and $25,000 for past expenses or fund future expenses for eligible outdoor dining COVID-19 mitigation equipment. Eligible entities include restaurants, food stands, food trucks, bars, saloons, lounges, taverns, bakeries, delis, cafes, breweries, wineries, and other similar places of business. For more information and to download an application visit rocklandgov.com.
Fill out this survey to help the county provide better digital services.
Connect with Nyack News and Views
Note to readers: We want to hear from you and welcome your input! What do you think we should be covering in your Rockland County village? Let us know at info@nyacknewsandviews.com. Send us story ideas, issues to investigate, letters, reviews, photos, videos, feedback and news tips. And read about our vision for delivering high-quality, hyper-local journalism and how you can help us fulfill our mission going forward.