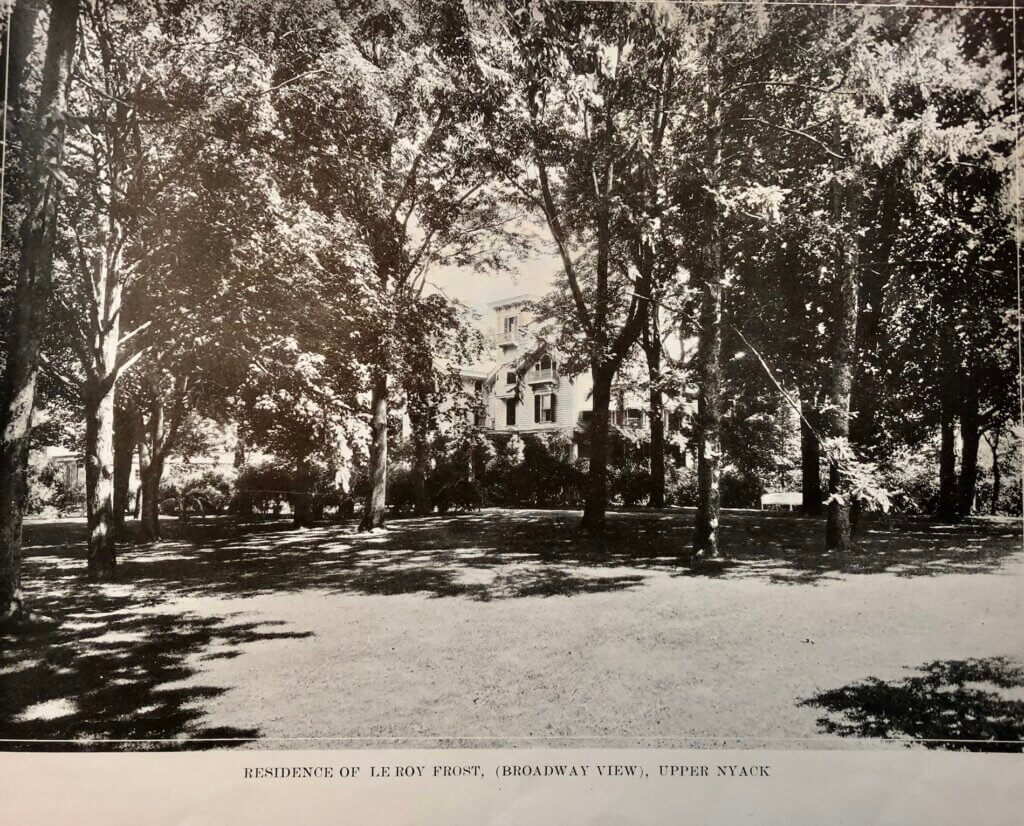 Leroy Frost made and lost several fortunes in the stock market in the early 20th century. One of his enduring assets was his riverfront estate called Widewater at 539 N. Broadway, Upper Nyack, which stood for over 100 years. Frost was a larger than life character. As a young man, he raced horses on North Broadway with Arthur S. Tompkins, a New York Supreme Court Judge and neighbor, commuted by speedboat to the train at Tarrytown, owned a 3,000-acre game preserve in the Adirondacks, purchased the first car in Nyack, fathered 7 children, served in World War I, and was a local philanthropist who donated, among other things, the land on which the YMCA was built.
Widewater, purchased in the 1940s by Harold MacCartney, became known locally for many years as the MacCartney house. In its final incarnation, Widewater was converted into a popular apartment building.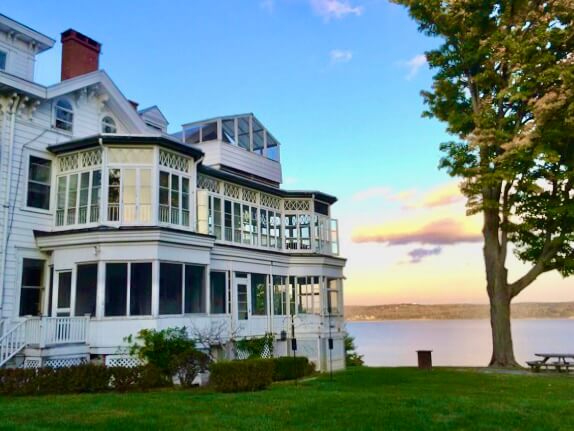 Beniah Young Frost
Leroy Frost was born of a wealthy father in Norwood, NJ in 1872. His father Beniah Young (or B.Y.) Frost was the cashier and manager at the W. S. Gurnee and Co. brokerage house located at 80 Broadway near Wall St. in NYC. The Frosts moved to Piermont from Norwood, and then in 1891 built a large house, called "BenMadge" (a combination of names of husband and wife Beniah and Margaret), on South Broadway at Cornelison Avenue in 1892. Local architect Marshall Emery designed the house. During this time, B.Y. Frost served as a South Nyack Trustee for four years.
In 1911, B.Y. built a summer estate on River Road in Grand View. He spent his summer months gardening, yachting, and golfing.
Leroy Frost
LeRoy married Marian Towt, daughter of Edwin and Anne Towt of a longtime Nyack family, on June 18, 1896. The first of their 8 children, Anna, was born the next year and died as an infant.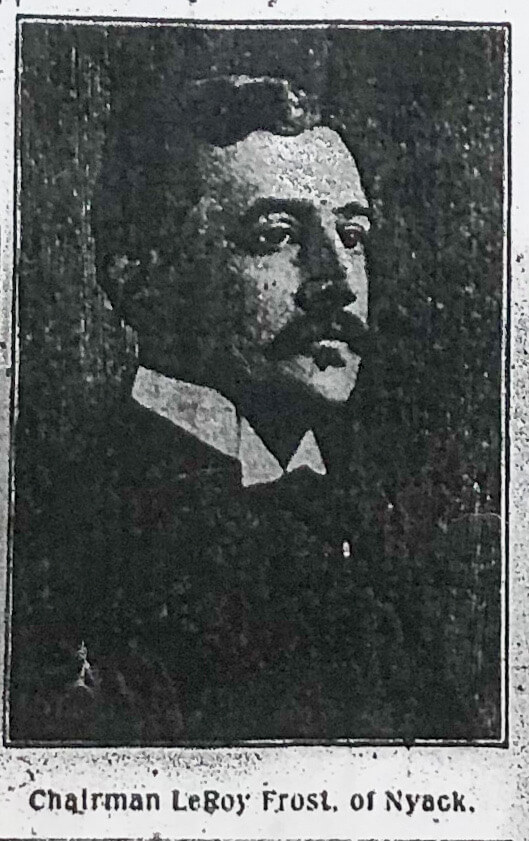 LeRoy became a runner on the New York Curb Exchange (later known as the American Stock Exchange) at his father's company. In 1900, LeRoy obtained a seat on the NYSE. In 1904, his father became owner of the company and it became known as B. Y. Frost and Co. LeRoy took over control of the company upon his father's death in 1926. He served as one of the Governors of the Exchange.
Widewater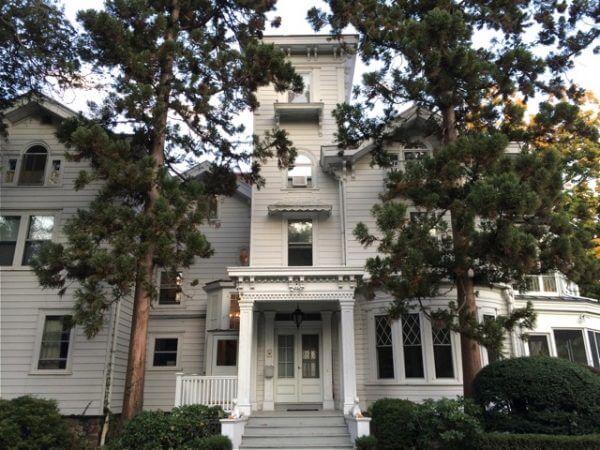 In 1906, Frost acquired the northern section of George Green's farm. George was the scion of John Green, an early Nyack entrepreneur. Green's Italianate-style home east of Broadway was built circa 1850 and was known as Greenland. Frost expanded and renovated Green's house by 1908. Green's barn at 545 N. Broadway served as Widewater's carriage house.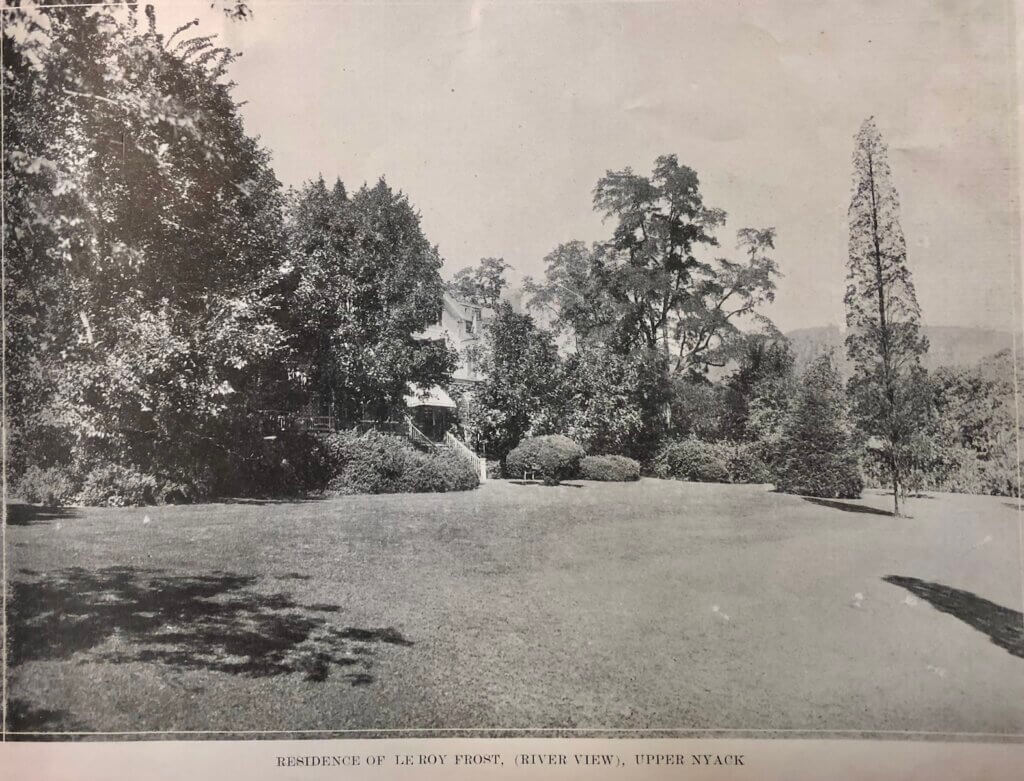 Frost hired Charles Leavitt, a famous landscape designer known for his naturalistic settings, to design the ground of the 3.5 acre-property around the house, including what was once a vineyard and a nursery for Green's fruit trees. Leavitt designed the approach roads for Kykuit, the Rockefeller estate in Westchester, and the Untermeyer home and gardens in Yonkers.
Leavitt's work must have been appealing. Wilson Foss, quarry owner and a Nyack multi-millionaire, hired Leavitt to design his chateau-style home just north of the Frost home. The Foss home, now a coop apartment building called River House, still stands.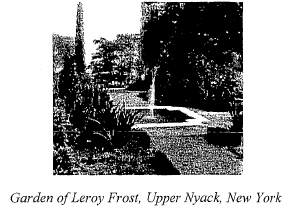 Frost the Sportsman
Frost's bought Nyack's first car, a 1899 Stevens-Duryea. He was a bit of a daredevil in his car. After receiving a letter in 1906 complaining about his speeding, Frost promised not to exceed the speed limit of 10 miles per hour. In the winter, Frost raced his car on the frozen Hudson River.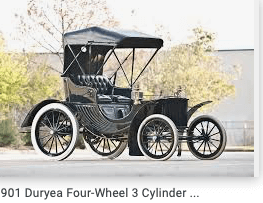 He took great pride in his guns and dogs, some of which cost thousands of dollars. In 1911, while hunting with neighbor George Chapman in the mountains west of Haverstraw, he bagged a wildcat that measured over three feet long. As reported by the New York Times, Frost won an invitational trap shooting contest for members of the NYSE in Westchester.
Frost the Yachtsman
Frost had a number of speed boats at his Widewater docks. In 1927, Frost had built a speedboat called the Ojai at the Peterson boat yard. Built of double-planked mahogany, Ojai was said to hit 45 mph according to Captain G. A. White, who managed Frost's boats. Frost commuted by boat to Tarrytown when the river was not frozen, parking at the Tarrytown Boat Club, where he was a beloved member. When he returned from the city on what is now the Metro North, his pilot would have the boat ready for him.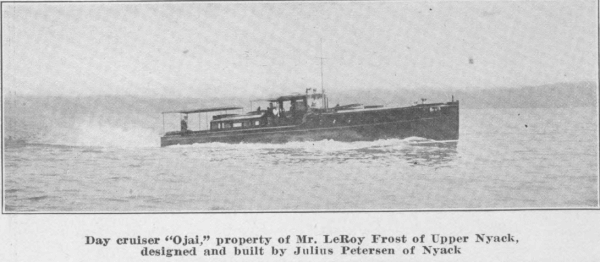 Frosts in WWI
Frost served in the US Navy in WWI. He was 47 at the time of his discharge. His oldest son, Leroy Frost Jr., served in the ambulance corps for 18 months, returning home in April, 1919. Frost Jr. was in the thick of the fighting and was under fire several times. He received 3 decorations, including the Croix de Guerre.
Philanthropists and Socialites
The Frost family contributed generously to local causes. They were one of the large donors to Nyack Hospital, Nyack YMCA, Nyack Library, and the Nyack Chapter of the Red Cross. After Leroy's death, his neighbor and executor, J. DuPratt White, revealed that it was Frost who was the anonymous donor of the land for the Nyack YMCA.
LeRoy and Marian were active in the Grace Episcopal Church as a members and donors. Marian remained active in the church after LeRoy's death. She hosted church events, such as a spring music festival, on their back porch overlooking the steps and lawn that served as a stage for the church choir. She also hosted interpretive dancers from Brooklyn.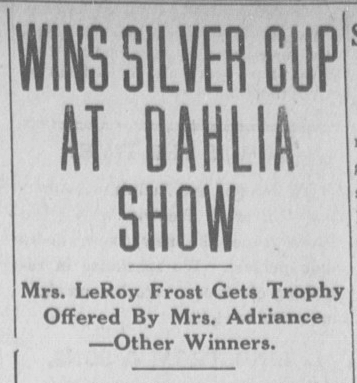 The Frosts entertained at home. On one occasion in 1920, they hosted a lawn party with musicians from New York City for about 100 friends with food catered by the St. George Hotel in Nyack. They were early members of the nearby Nyack Country Club that included all the elite of Upper Nyack. Marian was an active member of the Nyack Garden Club, frequently winning prizes for her dahlias.
The Children
LeRoy Frost, Jr. graduated from Harvard in 1923 after serving in WWI and went on to work as a stockbroker in NYC following in his father's footsteps. He married Elena Pavlova of Moscow.  Leroy Jr.'s brother Floyd married Henrietta Brockenbrough of S. Nyack in 1932 at the height of the Depression. The bride wore a gown of chartreuse velvet trimmed with mink and a brown velvet hat. Daughter Nancy married the son of Arthur Tompkins, a friend of LeRoy Jr., who lived in a large estate called Glen Iris near the Frosts at 401 N. Broadway.
Death of Leroy & Marion Frost
Leroy died suddenly in January 1931 following an operation performed by specialists at Harbor Hospital in NYC. In his will, handled by neighbor and attorney J. DuPratt White, Leroy left his estate to his wife, Marian Towt Frost. Unfortunately, LeRoy lost much of his wealth just before he died in the great stock market crash. I
n 1932, Marian sold the hunting lodge and acreage in the Adirondacks. Dr. Pierre Bernard, the Great Om, creator of the Clarkstown Country Club, and founder of yoga in America purchased the land west of Broadway. Bernard already owned a number of estates in Upper Nyack, including the old Maxwell property, the Moorings, and the Rossiter's home on Midland Ave. (now the Nyack Field Club). Frost had once sided with Mayor Frank Crumbie in opposing Bernard's activities in Upper Nyack.
Marian Towt Frost died on February 8, 1944. She left the contents of the house, garage, and boat house to her 5 surviving children, her jewelry to her daughters, and a special bequest to her sister and neighbor, the wife of Frank Crumbie.
The MacCartney House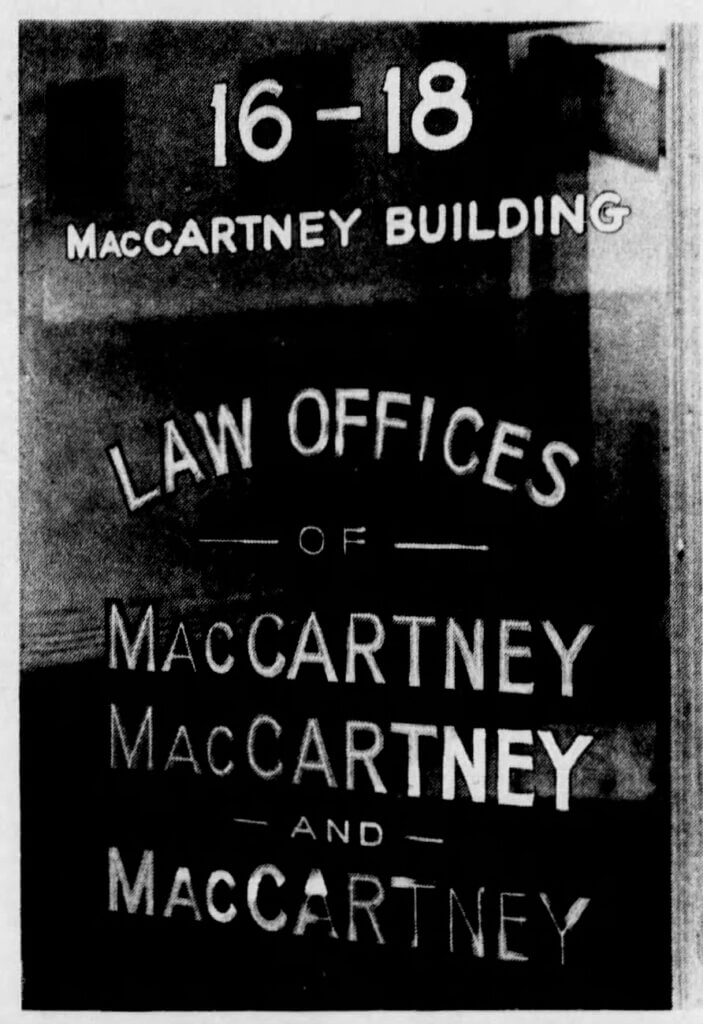 In 1944, Harold Y. MacCartney, Sr. an attorney living in Grand View, bought Widewater and its 3.5 acres. The MacCartneys also purchased the section west of Broadway owned by Pierre Bernard. MacCartney and his three sons, Harold Jr., John, and Barry owned the house through two generations. Harold Sr., Harold Jr., and John had a law practice on North Broadway for many years. Villagers began to refer to Widewater as the MacCartney house. By the 21st century, the house was a 6-room apartment building managed by Barry MacCartney, who occupied one of the the apartments.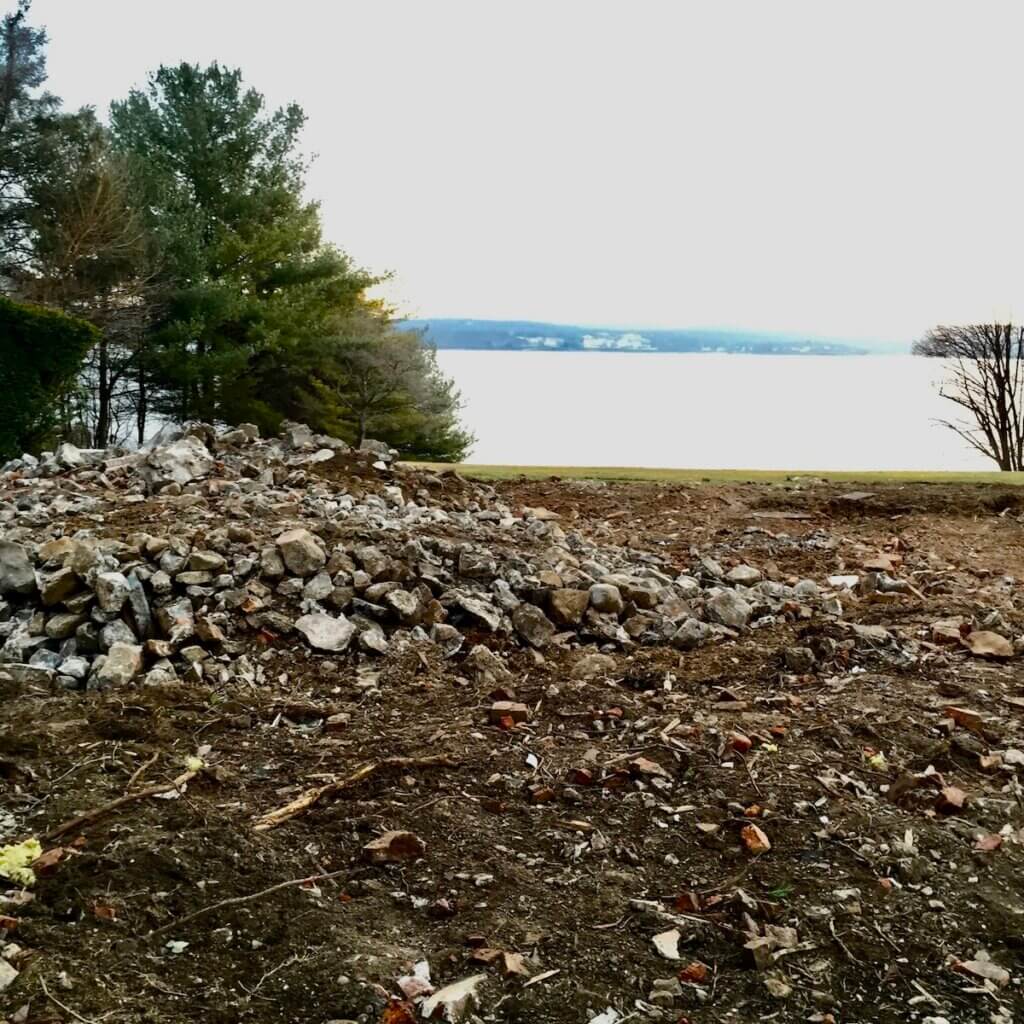 New owners demolished Widewater in 2016 replacing it with a large chateau-style house. They kept and renovated the MacCartney garage. Extensive new landscaping replaced the aging design of Charles Leavitt.
Widewater Legacy
The Frost legacy in Nyack is all but lost today. Much has changed since the quiet era when Leroy Frost (and others) converted Upper Nyack farms like Greenland and its vineyards into summer estates. LeRoy Frost, a friendly and generous risk-taker who won and lost several fortunes, made a dramatic entrance as one of the richest Barons of Broadway. All that remains of the original Widewater today is a stonewall with a plaque bearing the name "Widewater."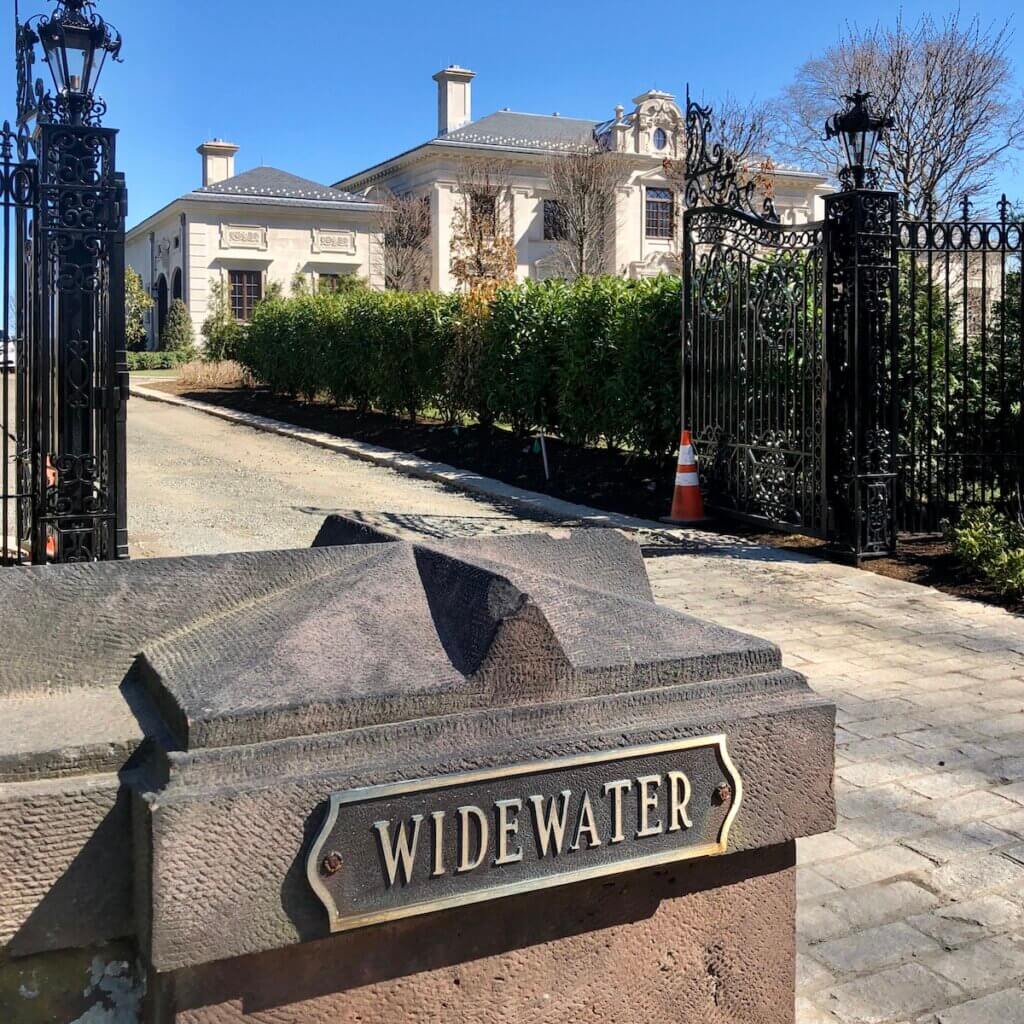 Michael Hays is a 36-year resident of the Nyacks. Hays grew up the son of a professor and nurse in Champaign, Illinois. He has recently retired from a long career in educational publishing with Prentice-Hall and McGraw-Hill. He is an avid cyclist, amateur historian and photographer, gardener, and dog walker. Hays has enjoyed more years than he cares to count with his beautiful companion, Bernie Richey. You can follow him on Instagram as UpperNyackMike
Nyack People & Places, a weekly series that features photos and profiles of citizens and scenes near Nyack, NY, is brought to you by
Sun River Health
.