Mayor Thinks Ferries Are Nyack's Best Bet For Commuting In the Future
by Max Cea and Dave Zornow
Here's the case against ferries: They're expensive. They pollute. If one were to be successful, it would bring traffic to Nyack's downtown. And they're not hoverboards; it's hard to get excited about a method of transportation that was being used here in the 19th century.
But yet — people ARE getting excited about ferries. Shortly after this story was first published on Nov 1, an online petition was started. It was quickly followed by the launch of  NyackNeedsAFerry.com, a one stop shop for ferry fans. The petition, which asks NYS Governor Andrew Cuomo to push the MTA to go All In on the ferry initiative, garnered over 180 signatures in its first 24 hours.
Despite ferries' imperfections, for Nyack, a village that seems so close to Manhattan and yet so far, ferries might be the future. At least, Nyack's Mayor, Jen Laird-White, thinks so. Laird-White says a lot has changed since the last regularly scheduled ferry served Nyack 75 years ago (Climate change, future Tappan Zee Bridge tolls over $13, and changing attitudes about driving cars). Ferries have made a comeback connecting Manhattan east and west of the city in areas such as Haverstraw, NY and Edgewater, NJ.

Last winter, a team of Columbia University graduate students studied the prospect of a ferry service linking Nyack to Tarrytown or New York City. "They analyzed the potential ferry users within a 10-15 minute car ride to the Nyack pier, for trips to Tarrytown as well as  the 39
th
street pier in Manhattan," according to Floyd Lapp, the Columbia students' project director. "We found that based on time/cost considerations, the ferry was the best transit mode to both locations."
The Columbia students' work won support beyond student planners and water taxi enthusiasts. "I think the ferry makes sense because you can't have enough transportation options," said Matthew Carmody, a senior technical director at the environmental, planning and engineering consultant AKRF. Although initially skeptical of ferry feasibility, he was impressed by the students' findings and think ferries are worthy of further investigation. "Today's travelers demand choices. Having the option of only taking a car over the Tappan Zee Bridge with limited bus options between Nyack and Tarrytown will soon be a thing of the past. [The TZ-Express's replacement, the] 
Lower Hudson Transit Link
(LHTL) will be providing better bus service and a shared use path will allow cyclists and pedestrians to travel from Nyack to Tarrytown. Why stop there? A ferry also provides redundancy in case of emergencies on the bridge crossing."
Not convinced?  We sat down with Mayor Laird-White for a more detailed conversation about why she thinks ferries are the best option to address Nyack's commuting woes.
Why does Nyack need a ferry?
Nyack needs to create more ways for people to commute to and from job centers. The TZ Express isn't sufficient — and its future replacement, the Lower Hudson Transit Link (LHTL) will solve many East/West commuting problems but won't improve North/South commuter problems to the city or how hard it is for tourists to get to us. We sit next to a giant river that was a major regional transportation route for centuries until it was displaced by cars and trucks. Manhattan is full of new ferry services because people have discovered ferries don't stop running when the weather is bad. They're also environmentally clean, relatively speaking. It's silly to waste the transportation possibilities of this incredible waterway.
How much more efficient would a ferry actually be, versus driving or driving to Tarrytown and then taking the train?
A team of Columbia grad students looked at all commuter methods as part of a ferry study they conducted for [the Village of] Nyack. They looked at the area we would pull ridership from, and they looked at the economics of a ferry. And they came to the conclusion that ferry service, whether to Tarrytown for a Metro North connection, or all the way to Midtown Manhattan, would be the fastest and cheapest form of transportation. It was roughly a 40-minute direct ride to Midtown and a 50-minute trip via ferry to Tarrytown and then via Metro North to Manhattan.

So the ferry, given the proposals that we're talking about, would mainly benefit local commuters?
I think a lot of home buyers look at Rockland County as a nice place to live but reject it because it's inconvenient to get to work in New York City. That wonderful "inconvenience" has shaped our community in a lot of positive ways; it's part of what makes us a very creative community — many residents don't commute or don't commute during standard commuter hours. However, if you assume that sustainability means the ability to attract and keep millennials and young families, it also hurts us if young people won't live in a place where they can't commute. If young families don't move here for that reason, then I think that limits us in the future.
The price we pay to ride Metro North is not the price it takes to operate Metro North, because it is subsidized. With that in mind, should there be subsidy going to funding ferry services?
Yes! Ferry service is a wonderful way of getting people out of their cars, transporting a lot of people to a commuter area, putting them on a train. The MTA is always trying to increase their ridership. So I think we're an excellent, excellent subsidy recipient.
There are skeptics who say a ferry isn't feasible unless it can stand on its own without subsidies. Fair enough. But remember, the MTA is heavily subsidized. And those roads on which we drive are mostly paid for with tax dollars too. Ferries, if priced right, can be a viable alternative to cars, buses and trains for getting to the city.
And if you were to have a 10 minute ferry to Tarrytown you would likely need a subsidy to make it successful. Haverstraw's ferry service is subsidized. Weehawken to Manhattan ferry routes are not subsidized because they have substantial ridership. But given the climate change world, the desire to get people out of their cars and into public transportation, the desire for the MTA to get people onto their trains, given that we pay MTA tax and don't get our fair share, Nyack is an excellent candidate to receive a subsidy.
Ferry Nice?
Mass Transit Task Force says, "Not So Much"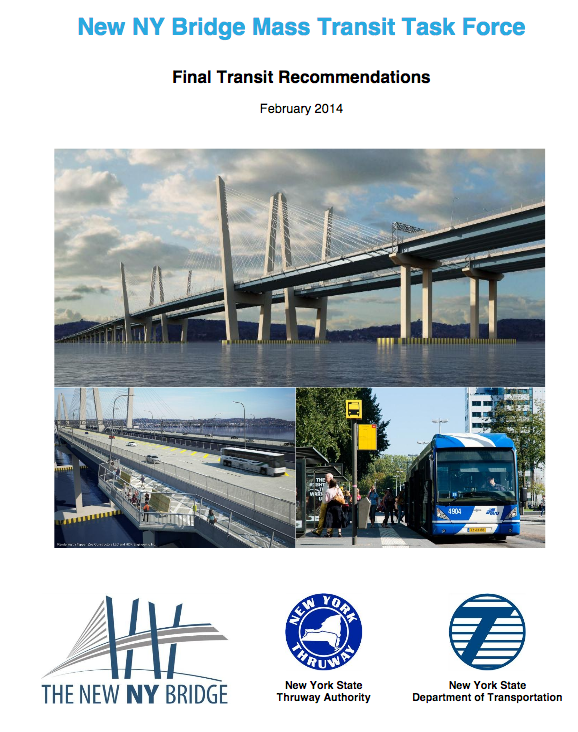 Governor Andrew Cuomo's Mass Transit Task Force for the New NY Bridge wasn't very optimistic about the success of a new ferry service as a mass transit alternative.
The MTTF discussed the possibility of introducing ferry service between Nyack and Tarrytown or New York City as a means of removing cars from the NNYB and providing a direct connection between Rockland County and key destinations on the east side of the Hudson, like the Tarrytown MNR station and/or New York City.
However, ferry service and any related planning activities were eliminated from further consideration by the MTTF for several reasons including historic low ridership, high fuel costs, high government subsidies, and cold-climate service interruptions.
The MTTF reviewed past studies and examples of local ferry service. In 1996 NYSTA commissioned a study of Nyack-based ferry service. One proposal was to run peak hour service with 30-minute headways between Nyack and West 38th Street in Manhattan, with one stop in Yonkers. Parking was required in Nyack to support riders, but a proposal to build a parking garage was rejected due to local opposition.
In September 2007, New York Water Taxi began offering trips from Haverstraw to Pier 11 in Lower Manhattan, with a stop in Yonkers, but the service was abandoned after less than two years. While the ferry offered a "one-seat ride" to Manhattan with passenger amenities (complimentary coffee, flat-screen TVs, etc.), ultimately high fuel costs, low ridership, and reliance on an unsustainable subsidy from local governments led New York Water Taxi to discontinue the service in May 2009.
Currently, the only Rockland-based ferry still in operation is the Haverstraw – Ossining service run by NY Waterway, which provides a connection to MNR's Hudson Line in Ossining.
MTTF member and Nyack Mayor Jen Laird-White did her part to champion this cause, which would benefit Rockland but had very little in it for Westchester residents, and therefore, never received any support from anyone on the commission outside of Rockland County.
Source: New NY Bridge Mass Transit Task Force final report,
How many people would we be able to potentially get off the roads? Has their been an environmental cost-benefit analysis?
They haven't done that, though they should do that. It is the Hudson River, which we do want to protect; we don't want it to get damaged in any way. Current ferries do use a lot of fuel and they can be rough on the marine life so it has to be done properly. Those kinds of analyses will need to be done. It is also important to understand traffic in and out of Nyack. I will say that I don't know that much about it, but my sister in law works on green initiatives for the Norwegian government, and she's working with a company that's developing hybrid ferries now. She and I have had some preliminary discussions about maybe being the first American hybrid ferry pilot program. These would be water taxis, too, which are smaller ferries [that carry about 40 people], and are more fuel efficient.
If 1996 was the last time a ferry was being seriously considered in Nyack, and it was contentious then, what's changed? Why are we looking at this now? What's changed in Nyack?
I don't know if it's what's changed in Nyack, but what's changed in the world. We live in world where the climate is change is having significant impacts around the globe. Most reasonable people accept that as true. We can't drive everywhere. We need to reduce our substantial dependence on fossil fuels.
Our attitude toward driving has changed, too. We have endless statistics saying that young people and young families don't want to drive their cars, they want to live somewhere they can commute.
Another change from 1996 is that this idea is coming from the community rather than it being a project shoved down the village's throat — which was the perception 20 years ago. [Former Nyack Mayor] Terry Hekker loved [the idea of a ferry] and championed it, but it really was the Thruway's idea and she could never overcome the perception that it was great for them but not so for the village. The Thruway and Nyack Waterway saw a great opportunity. They knew they wanted a ferry up here and saw Nyack as the perfect location to place a ferry stop. If this is to succeed in the future, it would have to have support from the community. The community would have to agree that this is a good idea and this is something that was important to them.
During Terry Hekker's attempt to get it here, the discussion was a 500 car parking lot proposed adjacent to the Claremont Condominiums at the foot of Main Street. And the concerns at that time were a perceived increase in traffic, that the parking garage was an enormous public structure stuck in the middle of a residential neighborhood, that it would only benefit the ferry company and the state, not the downtown. Those kinds of things. Some of those concerns absolutely still exist and must be studied, primarily the impact on traffic in the village and where to park people. But I think solutions exist. For instance, I would not propose a giant parking structure in a residential neighborhood. I would propose a hybrid trolly that ran from Sneeden's to Upper Nyack. All the time. So that local commuters could leave their cars home and travel between our river villages, not just to commute. I would propose encouraging biking to the ferry and I would propose congestion pricing for any parking structure so that if you insist on driving it will cost you. But those are my suggestions. Experts who understand these kinds of tings will certainly have different and more tried and true ideas.
Is a ferry also more plausible now because some of the other commuting options that were explored turned out not to be doable?
Well I certainly think that once you had a bridge with no train on it you had to start thinking of other things. And I think the BRT is a big solution for traveling east-west. But I also think that regardless of what happens on the bridge we do have this giant river which we should use. We should protect it, but part of protecting it is actually being able to enjoy it. And most people in Nyack, unless you're part of the boat club, never get out on the river. Wouldn't it be great if we had a way for them, as part of their daily work commute or as part of what they do on the weekends, to get out on a boat on the river, and see why it's important to protect?
Ferry Across The Hudson: An Old Idea That's New, Again
This article is the final installment in a three part series about bring a ferry service back to Nyack. Here are links to all three articles:
Special thanks to Dr. Floyd Lapp, FAICP and the team of Columbia University graduate students who prepared this study: Yixiao Fang, James Gerken, Hyun Seung Lee, Patrick Li, Lia Soorenian, Taylor Young and T.A. Andrea Forsberg. In the Acknowledgments section of their final report, the students recognized the contributions of the following individuals to the 100 page report presented to the Columbia University planning faculty on May 6, 2016: Nyack Mayor Jennifer Laird White and Nyack Village Planner Bob Galvin, BFJ Planning, Appleseed, COWI, MTA Metro-North Railroad, the New York City Economic Development Corporation, Arthur Imperatore and New York Waterway, Hornblower Cruises and Statue Cruises, Tarrytown Mayor Drew Fixell, former Nyack Mayors John Shields and Nancy Weber, the New York Metropolitan Transportation Council and Inna Guzenfeld.
Here's some additional background on the study as provided by Dr. Lapp:
We analyzed the potential ferry users in the Nyack catchment area defined as a 10-15 minute car ride to the Nyack pier for trips to Tarrytown as well as  the 39th street pier in Manhattan. Based on time/cost considerations, the ferry was the best transit mode to both locations. However, trips to Lower Manhattan are not  feasible at this time.
The most challenging and intriguing aspect of this project was to identify space near the potential ferry pier at the Nyack waterfront to fit parking ,especially since there are two restaurant/catering facilities at this location. We found the we could site a parking terrace into the slope of land that rises west from the waterfront, less obtrusive than a parking structure, with the commensurate parking spaces.
Led by Mayor White and their  consultant at BFJ Planning, we explored the weekend potential for excursions from the 39th street ferry pier using Nyack as the gateway to the lower Hudson Valley and the tourism potential. If successful, this project will provide multi-purpose results-journey to work access on weekdays and recreational activities on the weekends which could also stimulate the local economy. Unlike MTA subsidized ferry services between Haverstraw-Ossining and Newburgh-Beacon, which only provides journey to work access to Metro North, this ferry service could also provide access to New York City,  and the major growth of jobs existing and prospective at the far west side, but also stimulate reverse recreational weekend trips. — Dr. Floyd Lapp, FAICP
Here are links to the complete study. Please note that these pdfs are quite large and are best viewed on a desktop or a tablet…over WiFi (not cellular) connection.
See also: