Bardin's Famous Gilded Age Restaurant
Recap
In the heyday of Nyack, if you sought the pulse of the town, the St. George Hotel was the epicenter. Dating back to 1885, when Nyack was a favored summer retreat for affluent urbanites, this establishment, owned by the French-speaking George Bardin, offered the most exquisite cuisine in the area.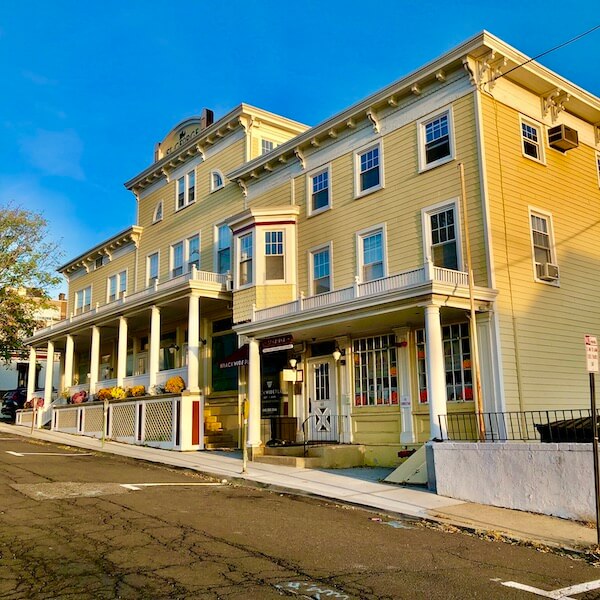 Nestled on Burd St., a stone's throw from the Nyack Ferry, it became a cherished pitstop for travelers journeying upstate and day-trippers from the Big Apple. Even long after the hotel rooms had seen better days, the restaurant continued to be the focal point for countless civic gatherings and banquets up until the 1960s. Later, in the 1980s, a renovation transformed the hotel into a hub for ten antique shops during Nyack's era as the antique capital of the Hudson River Valley. Subsequently, a 2004 renovation, which converted the space into offices and retail units, earned the establishment a Historic Preservation Merit Award.
Despite being the sole surviving relic of the Gilded Age, the St. George now sits slightly on the fringes of Nyack's bustling restaurant and shop scene. While lower Burd St. was once a vibrant thoroughfare, today it exudes echoes of countless life stories — from Presidents to charlatans — that graced its floors.
Hotels in Nyack in 1885
Unlike today, finding accommodations in 19th century Nyack was a far less arduous task. The St. George Hotel, upon its inauguration, filled a void among the seven hotels that dotted Nyack at the time. At the upper echelon were three grand summer resorts catering to affluent city-dwellers. The Tappan Zee House on the river in South Nyack, the Prospect House on S. Mountain in South Nyack, and the Pavilion off Main Street at the end of Catherine St. eclipsed the St. George in both scale and capacity. For instance, the Prospect House boasted no less than 150 rooms and a dining hall large enough to accommodate 225 guests.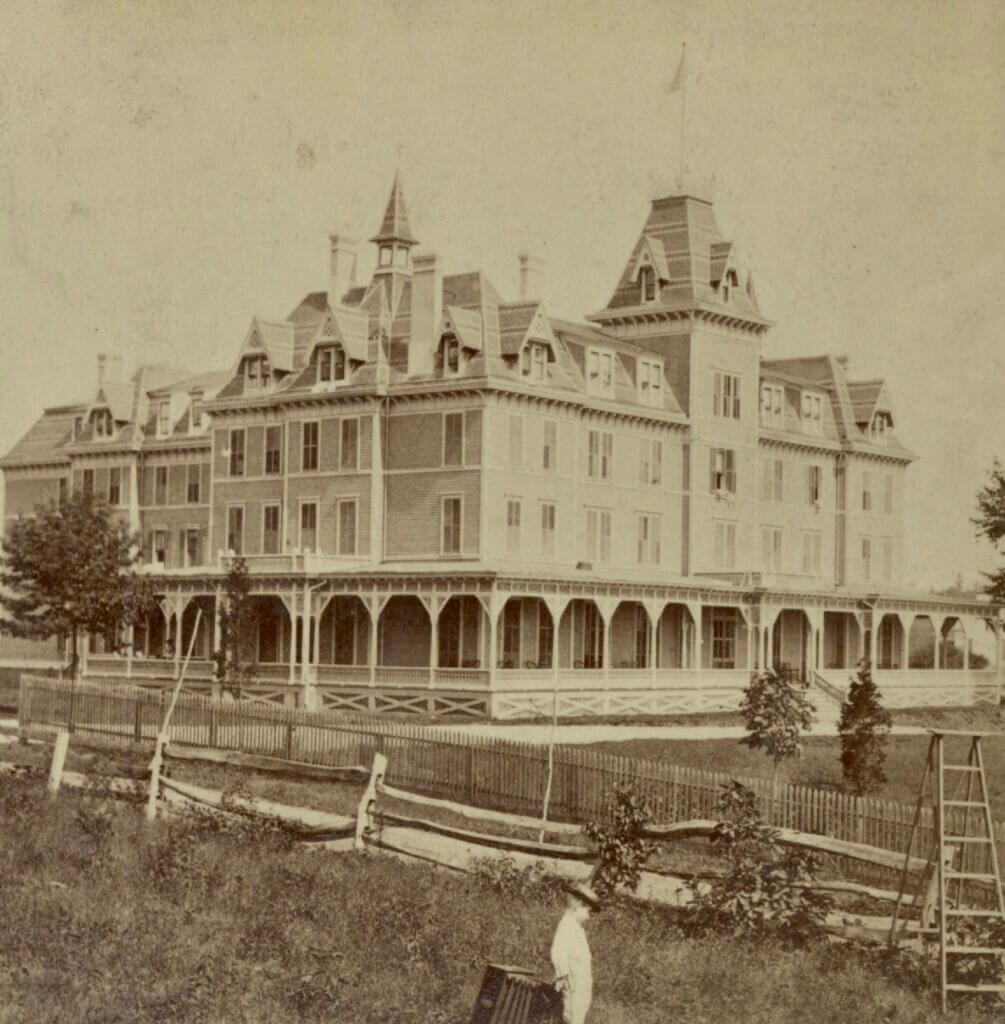 In the heart of downtown Nyack, four hotels catered to transient travelers arriving via ferry, steamboat, or train. Two perched near the waterfront: the Smithsonian, once managed by Bardin himself, and the timeworn York House on lower Main. In close proximity to the St. George stood the Rockland County Hotel, while at the intersection of Broadway and High, now the site of Nyack Village Hall, the Broadway Hotel held court. Near the Nyack train station, one could find the Franklin House at Franklin and DePew, which was linked to a capacious meeting hall known as the Opera House.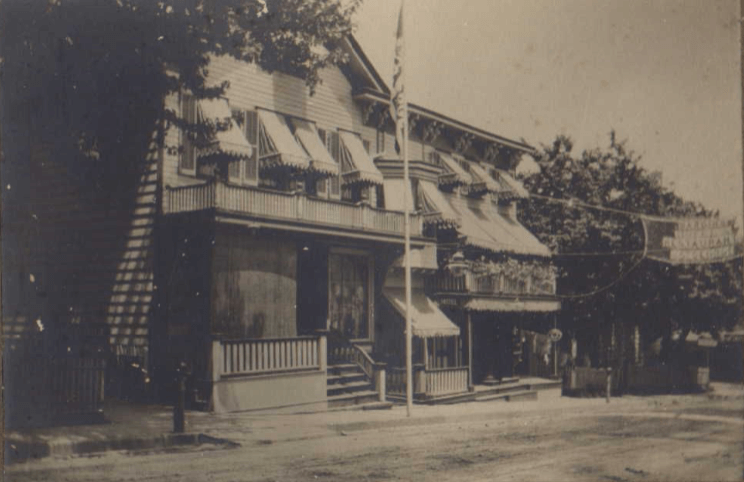 All of these establishments offered meals, but only one swiftly gained regional acclaim for its exceptional service and the scrupulous attention of its proprietor, and that was the St. George. For the ensuing seven decades, the restaurant remained the St. George's main attraction.
George Bardin
George Bardin was the consummate hotelier celebrated for his culinary finesse at both the Tappan Zee House and the Smithsonian before embarking on his venture with the St. George in 1885. A native of Belgium, Bardin arrived in America in 1868. Following a stint as a caterer for the Erie Railroad office on 23rd St. in NYC, he established a residence to cater to railroad executives and oversaw a sizable boarding house at 81 5th Ave. Managing the Tappan Zee House in South Nyack during the summer months, where it served as the Rockland Female Institute during the school year, was another feather in Bardin's cap. He also presided over the Smithsonian Hotel on Burd St., near the ferry terminal.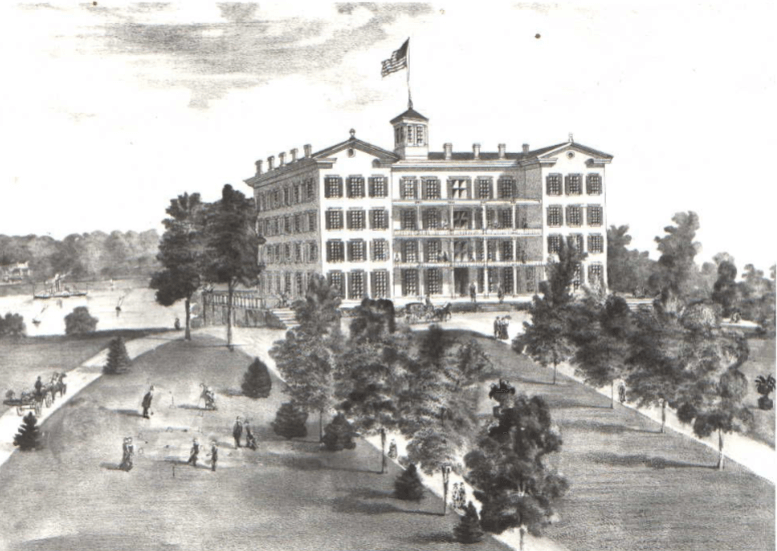 In 1885, he unveiled the St. George Hotel, swiftly solidifying its status as a favored way station between New York and Tuxedo. Bardin's gastronomic creations garnered renown, with many patrons making the pilgrimage solely for his delectable offerings. Advertisements lavished praise on oysters prepared in every conceivable manner, alongside steaks, chops, Welsh rarebit, game, and fish, all complemented by an extensive selection of wine, liquors, and cigars.
George Bardin, a Consummate Host
Bardin was an affable host, and his conviviality earned him a special invitation to dine opposite President Grover Cleveland at a summer clambake hosted by a rival establishment, the Prospect House. He also played host to members of the Gould and Vanderbilt dynasties, as well as President Benjamin Harrison. Notably, he once orchestrated a live musical broadcast from the restaurant to the village via telephone, instructing the operator to dial all Nyack numbers.
Following a brief illness, Bardin passed away in 1909, leaving his son George, Jr., daughter Tillie, and wife Helen to divide his estate. George Jr., who managed the New City Hotel, assumed control of the St. George until its eventual sale to Felix Fieger. Tragically, in 1910, George Jr. took his own life, leaving behind a wife and two children.
Dining at the St. George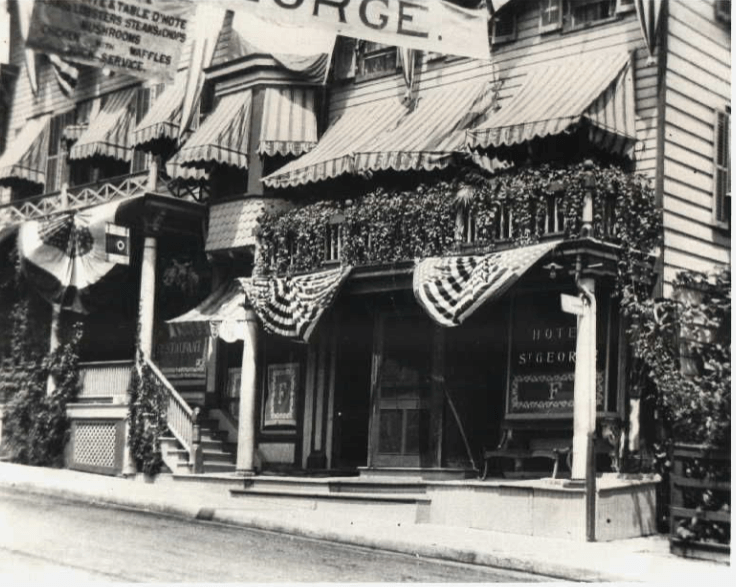 Gilded Age diners exhibited hearty appetites, with affluence often measured by corpulence. Prosperous men sported a portly figure as a symbol of their success. Women embraced a more ample silhouette. Diamond Jim Brady, for example, ate colossal feasts, indulging in copious amounts of oysters, soup, crabs, followed by duck, steak, lobster, fish, and dessert. Presidents Cleveland and Harrison were no exception to this trend of conspicuous consumption.
Bardin's menus, however, tended towards a more restrained elegance, adhering to a culinary model prepared ala francaise. Commencing with starters like oysters, turtle soup, and celery paired with blue cheese, the menu progressed to dishes such as braised salmon with Hollandaise, Parisian potatoes and tomatoes, followed by roast local quail with Rockland County grape jelly, or chicken croquettes, and steak accompanied by peas, radishes, and lobster salad. Desserts encompassed an assortment of cakes, fruits, and ice creams, complemented by liqueurs, concluding with coffee.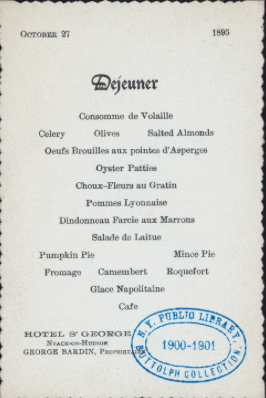 ---
Given the lavishness of his offerings, it's no surprise that Bardin was well-prepared to host a Presidential dinner.
Former President Benjamin Harrison Comes for Dinner
Benjamin Harrison, who had been out of office for a year, arrived at the St. George on July 28, 1894 (only five years after Grover Cleveland visited Nyack), via the yacht Vamoose . Aboard the yacht, former President Harrison was joined by, among others, his grandson and the niece of his first wife, Mary Scott Dimmick, a woman 25 years his junior and who, two years hence, would become his second wife. Despite his request for minimal fanfare, word of his arrival spread, drawing a procession of curious onlookers.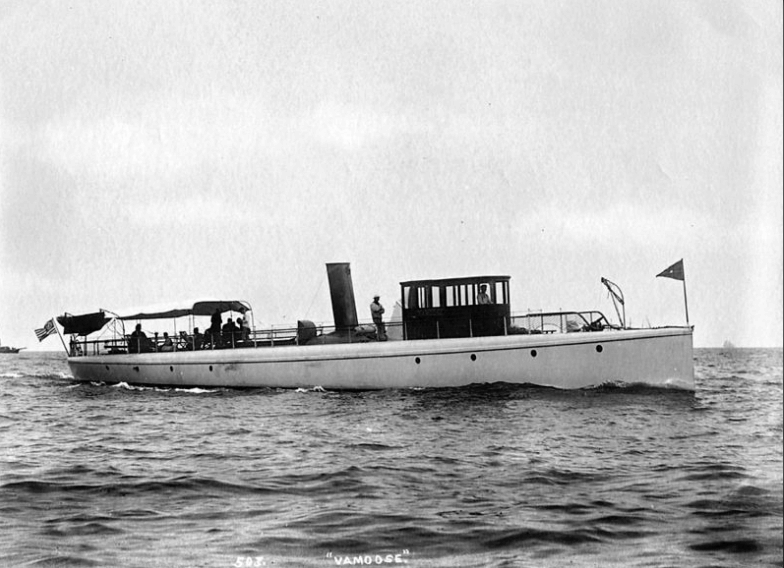 ---
Bardin had meticulously prepared a sumptuous French menu for the occasion. Clams, anchovy toast, salted almonds, and celery comprised the first course, followed by turtle soup and a timbale of ox tongue accompanied by Amontillado sherry. Halibut in black truffle sauce, served with potatoes duchesse and sauternes, was the fish course. The main courses featured sweetbreads, roasted filets with braised carrots and onions, and English peas. Poulet de Grain au Cresson (chicken en papillote with watercress) followed, accompanied by Chateau Lafite and Chateau Pontet Canet wines from Bordeaux.
A salad preceded dessert, which consisted of a pineapple cake soaked in a wine sauce, crowned with whipped cream, and served alongside Perrier Jouet, fruit, coffee, and cigars. One can only wonder how this lavish feast concluded by 9 p.m. when the party departed, leaving the moon to rise over the Hudson River.
Today's Nyack Restaurant Mecca a Legacy of the St. George?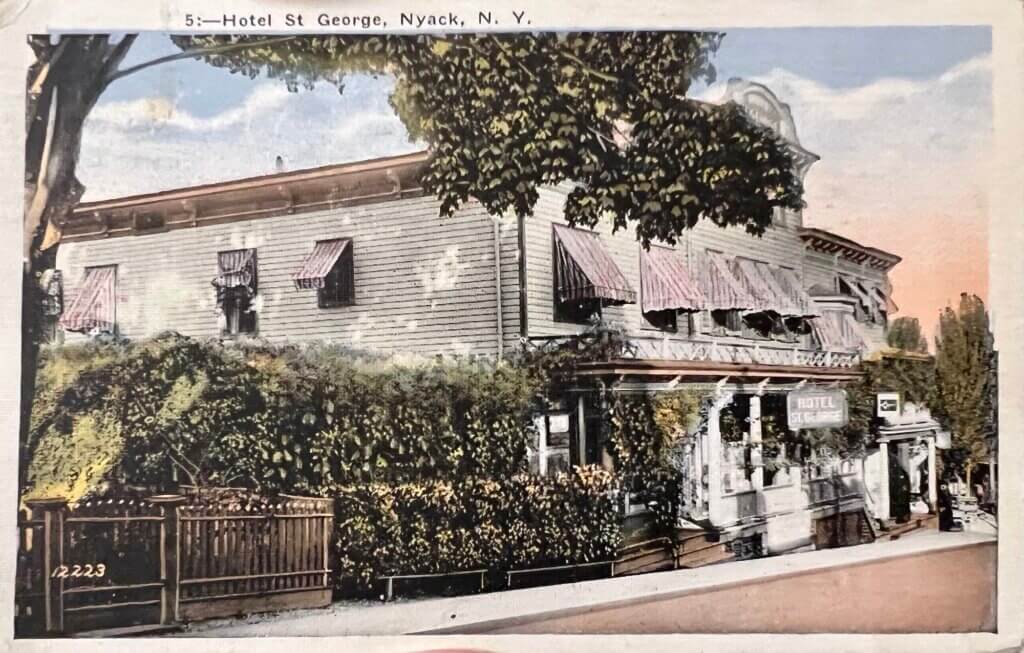 Today, Nyack stands as a veritable mecca for diverse culinary experiences set within historic venues. It could be argued that this legacy traces back to the renowned restaurant at the St. George Hotel, a magnet not only for locals but for epicures from far and wide.
In the next part of Rediscovering the St. George Hotel, we take a look at life at the hotel.
---
Michael Hays is a 35-year resident of the Nyacks. Hays grew up the son of a professor and nurse in Champaign, Illinois. He has retired from a long career in educational publishing with Prentice-Hall and McGraw-Hill. Hays is an avid cyclist, amateur historian and photographer, gardener, and dog walker. He has enjoyed more years than he cares to count with his beautiful companion, Bernie Richey. You can follow him on Instagram as UpperNyackMike
Nyack People & Places, a weekly series that features photos and profiles of citizens and scenes near Nyack, NY, is brought to you by
Sun River Health
.