Most of us give little thought to two adjoining block-length structures that we have passed thousands of times on Main and Bridge Streets in Nyack. Whether you have been in Herb Lack Paints near one end or Kavos, a Greek restaurant at the other end, or countless other businesses over time, have you ever taken a close look at the design of this Second Empire style, 4-story building between Bridge and Park Streets? Ever spent time contemplating the beautiful symmetry of the multi-colored cottages in a row on Bridge Street?

 If not, now is the time to consider these 150-year-old marvels that remain architecturally much like when they were originally built. Onderdonk Block on Main Street is arguably the finest example of 19th century commercial architecture in the village and Cottage Row is one of the only two examples of row housing in old Nyack. Both were developed and built by John V. Onderdonk, a man who was a brilliant carpenter and extremely clever real estate developer but whose life was fraught with foreclosures, physical assault, libel, and self-made enemies. 
As we will see, in a second story, he was horse whipped by two women for insulting them. However, first, here is the story of the builder and his buildings.
John V. Onderdonk, (1823-1887)
The Onderdonk family is a name long known in Rockland County from the days of the early Dutch settlement. One branch of the family built and lived in a historic Dutch-style sandstone house built in 1737 in Piermont. The British navy shelled the house during the Revolutionary WarOnderdonk first attempted to obtain supply from Lydecker's springs near 9W. The springs later became the source of the Nyack Ice and Skating Pond. Litigation (one of the countless lawsuits in which he was involved) with Lydecker eliminated that source. Today, an historical marker on Piermont Avenue marks the location of the house. Onderdonk's father was born in this house.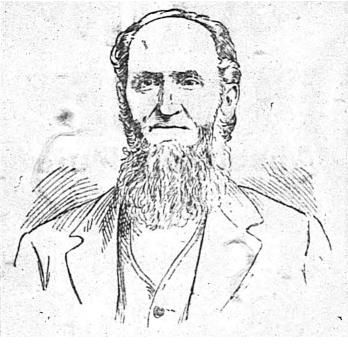 John V. was the son of Daniel and Rachel C. Onderdonk, one of eight children born in a new house on River Road in Grand View, the site of the family quarry. He was baptized in the Piermont Baptist Church. As a child he worked in a grocery store where liquor was sold and was often required to fill a flask for his father. He developed such a distaste for liquor that he packed his bags and moved to New York City. He never drank alcohol and would not enter a business or dwelling that sold or used alcohol. Forever after, Onderdonk was an ardent proponent of the temperance movement.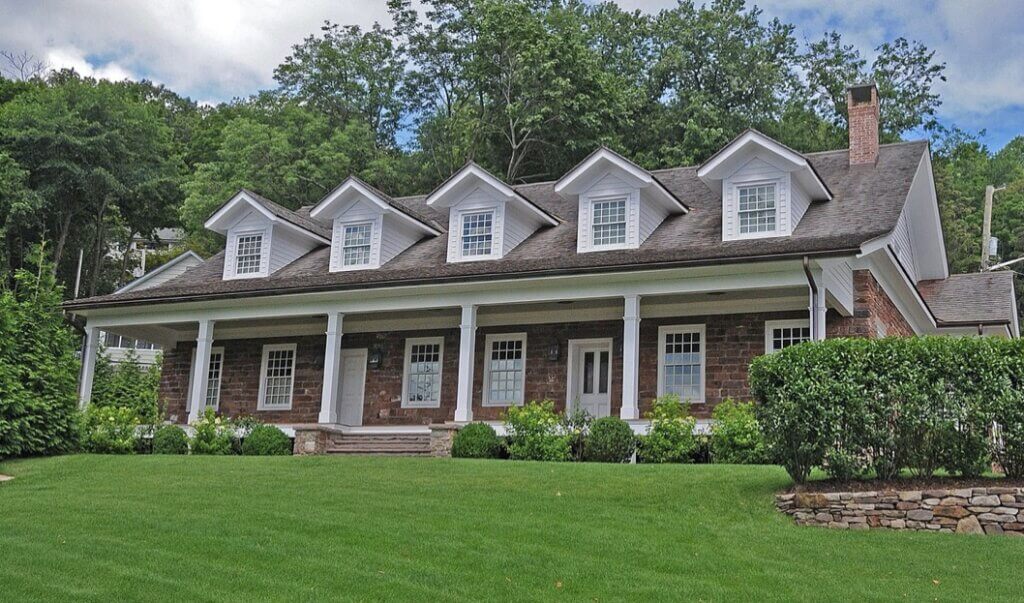 Learning the Building Trade
Liman Hinkley and James H. Smith. The latter was the brother of W.H. Smith, a South Nyack architect who designed several buildings in Nyack including Arthur Tucker's Undercliff on N. Broadway. John Onderdonk built some 97 houses, two churches, and numerous barns and stables over five years in New York City. While there, Onderdonk sponsored the Baptist Mission Sunday School on Eighth Avenue and 54th Street, later merging with another church to become the Central Park Baptist Church.
Onderdonk married twice, first to Eliza Jane Foley in 1848. They had one son and one daughter. Mrs. Onderdonk died in 1857 at age 29. One year later, Onderdonk married a woman from Michigan, Harriet M. Robson. Like his first wife, she preceded him in death. After this marriage, the couple moved to South Nyack. They joined the First Baptist Church in Nyack. Onderdonk died on February 7, 1887, after a long disease. Onderdonk is buried in Oak Hill Cemetery.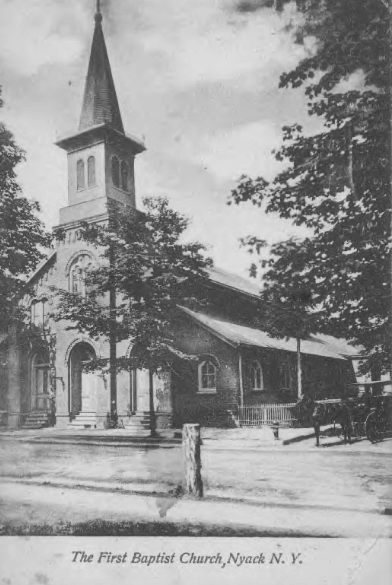 Nyack Real Estate Developer
Onderdonk developed over 30 Nyack houses. He started with several large houses in South Nyack in 1861 on Piermont Avenue near the Rockland Female Institute (later the Tappan Zee House). He then built most of the private dwellings on Washington St in South Nyack west of the newly opened grain station. For a time, this street was known as Onderdonk Avenue.
The houses were described as elegant homes of 10-15 rooms with mansard roofs available at a yearly rent of $500-1,000. For many years, Onderdonk lived in one of these houses, selling it in 1874 for $7,500. He also developed many of the houses on Hillside Ave from the Prospect House down to the rail line (the area where the thruway is now located.) Consequently, much of Nyack moved to the south.
Onderdonk went on to develop several iconic Nyack buildings that still stand, Including Onderdonk Row, the first brick commercial building in the village, and the Bridge Street row houses.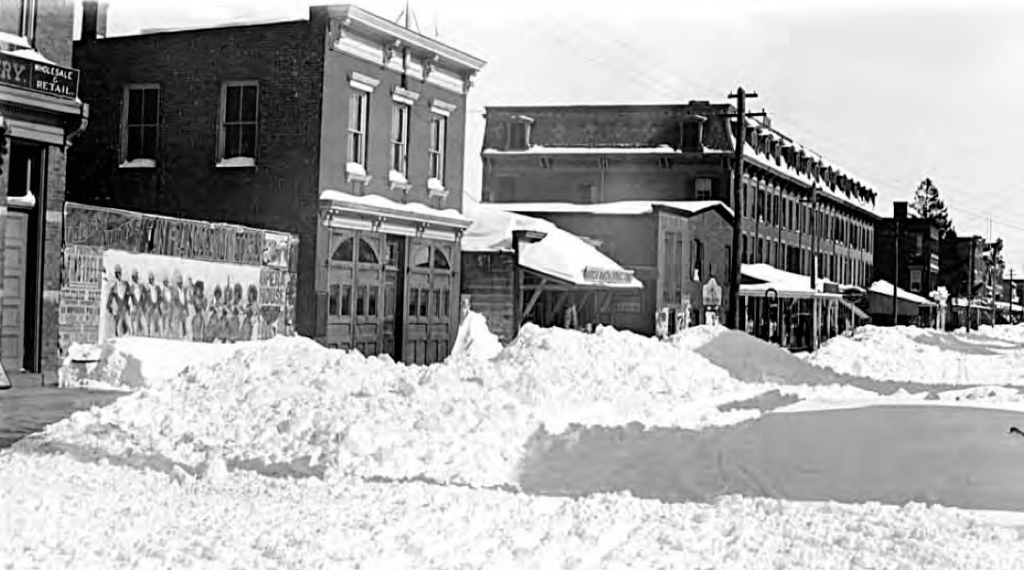 Isaac P. Smith's Property
Isaac Peter Smith, as a steamboat captain and part-owner of the D.D. and T. Smith Steamboat line in Nyack, built a glorious, large Italianate mansion on Main Street, east of Park. The house later became a restaurant and hotel called the Mansion House, the second such named hotel and restaurant in Nyack. Smith owned much of the property between Main and New streets from Park to Franklin Streets.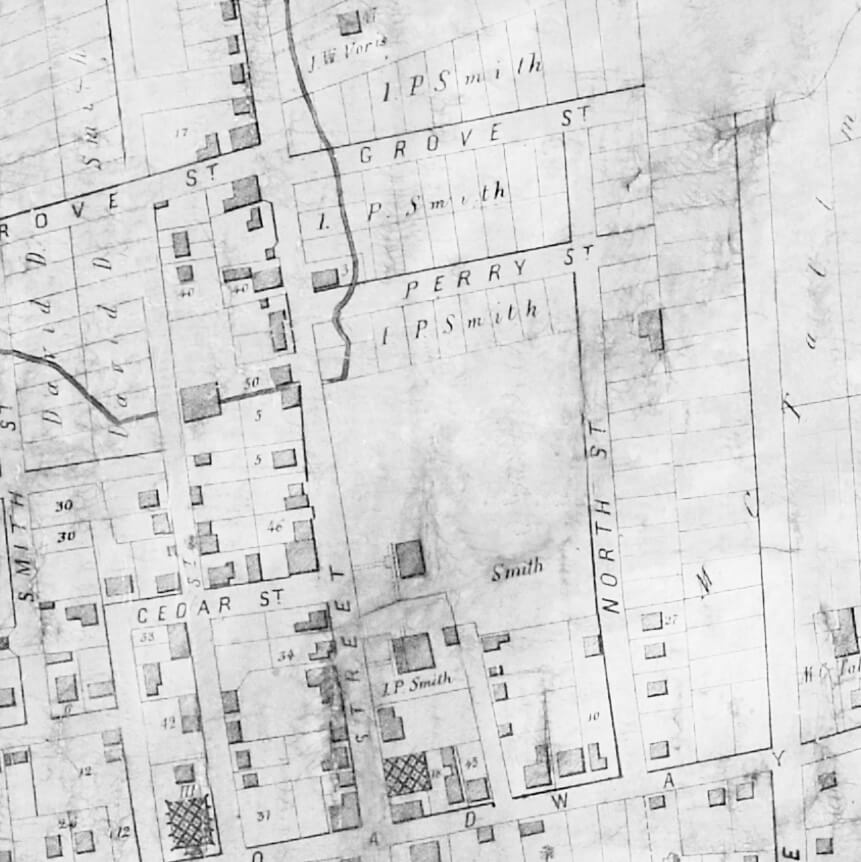 By 1854, the western part of the land was subdivided into building lots along Perry Street (now Bridge Street) so named after Smith's wife, Catherine Perry, and Grove Street (now known as Franklin). After the passing of Isaac Smith, his son, Tunis took over sales of the subdivided property.
Onderdonk's Brick Block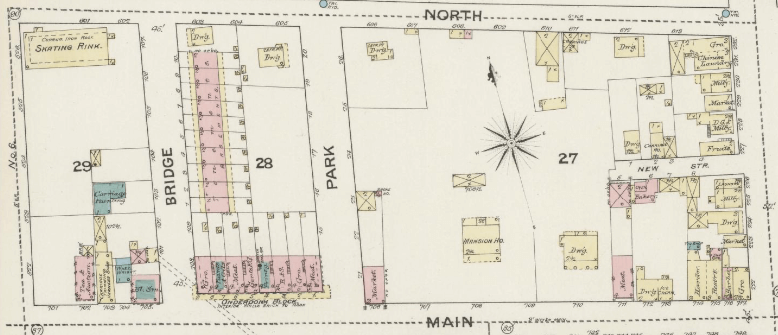 In 1871, Onderdonk began buying lots from Tunis and his wife, Charity Smith. Tunis Smith may have partnered with Onderdonk in financing the development. From 1871 to 1873, he erected a brick commercial building along Main Street.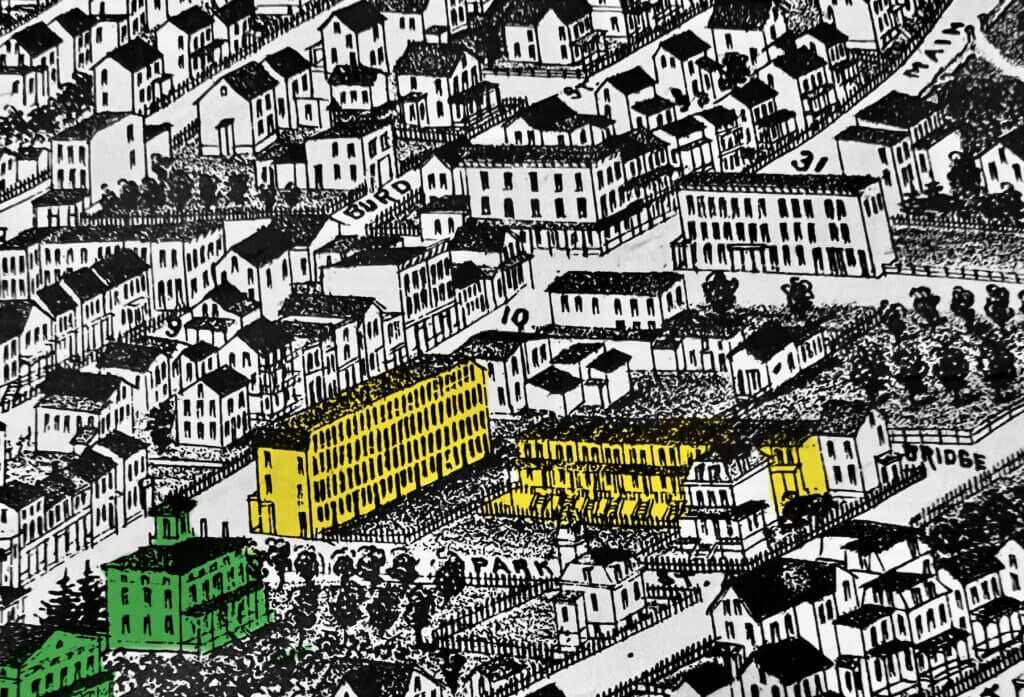 The block consisted of a series of eight connected 4-story brick units. Each had a retail shop on the first floor and apartments above. The 4th-floor windows project through the slate mansard roof. A double-bracketed cornice at the top of the third floor unites the row of buildings as did a single cornice above the first floor, now mostly obscured.
"A fashionable, reserved building…based on a decidedly sophisticated urban model, whose construction marks the high point of Nyack's greatest building boom." Survey of Historic Buildings, Village of Nyack 1988-1989
Onderdonk designed his block with a 20-foot set-back from the road, most unusual in Nyack. Most, commercial buildings were built much closer to the street. The set-back gave the area an open, urban feel. Over time, building fronts have been added to the front of the first floor, lessening the sidewalk space and changing the street-level ambience.
Early Businesses at the Onderdonk Block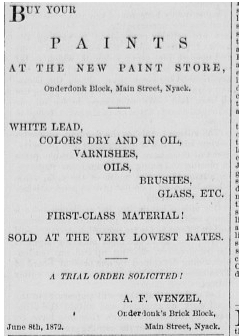 By 1877, the block was fully subscribed, although all the units were no longer solely owned by Onderdonk. From east to west the block consisted of the bakery of Mr. Ackerson, a ladies millinery store run by Mrs. M. A. Blauvelt, Charles Riley's boot and shoe store, W. H. Hinton's book and stationery store. Onderdonk's office occupied the fifth shop north. To the west of Onderdonk, was Daniels meat store, George W. Baker's paint and oil store, approximately at the location of what was to later become Herb Lack's paint store. The last store was a grocery store of T. F. Odell.
Piped Water Comes to the Block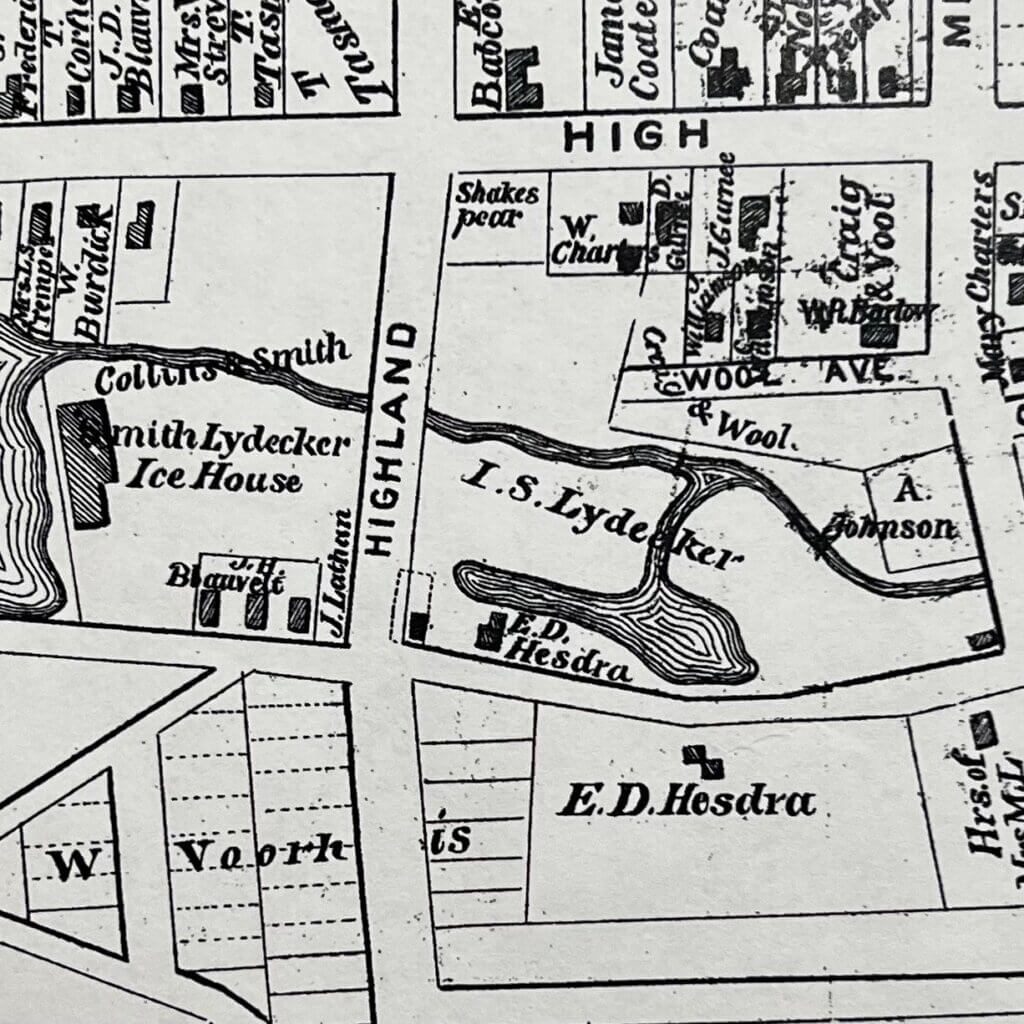 One interesting innovation that eventually changed the entire village was the solution to water supply. Homes and businesses once used private, often shared wells. The risk of water-borne diseases in a growing community was high. Onderdonk solved the supply to his new block of buildings by running a pipe along the Nyack Brook.
Onderdonk then leased water rights from Edward Hesdra, widow of Cynthia Hesdra, the richest African American in Rockland County and the purported lead local engineer on the Underground Railroad. The Hesdras owned a spring near a house at the intersection of Main and Highland Ave. (Route 9W). This spring fed into Nyack Brook. Upon reaching agreement with Hesdra, Onderdonk ran a lead pipe from the spring to his development on lower Main. Later, Onderdonk obtained a license to build a reservoir on Hesdra's land. The reservoir, visible on early maps, became one of the first public supplies of piped water in the village.
Cottage Row on Bridge Street
shaped land he purchased from Smith, Onderdonk built an extended series of cottages. At the intersection of Bridge and Main Street, the Nyack Brook makes a 90-degree turn south to cross Main St. A bridge over the brook probably was in place in Nyack's earliest days, certainly by the time when the Nyack Turnpike was complete around 1830. Bridge St. meets the Main St. bridge; hence, the name Bridge St.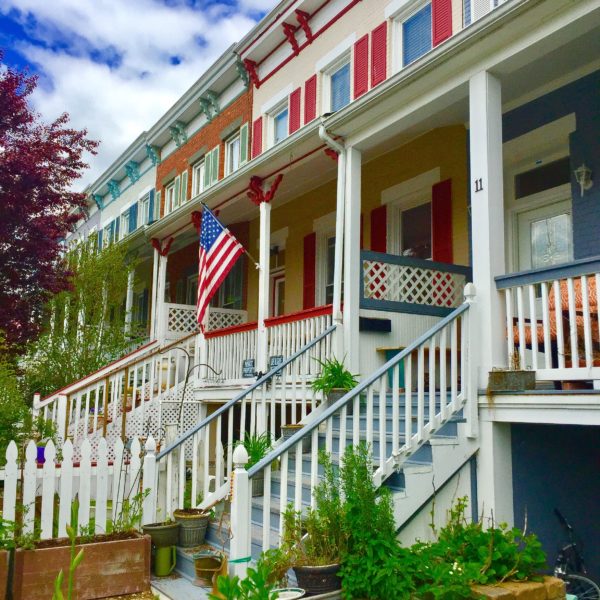 Row houses, more often found in cities, were an unusual architectural choice in Nyack. School Street in Upper Nyack also has a series of row cottages. Cottage Row features 10 consecutive 2 ½ story buildings with raised basements and covered porches. The windows and doors are arranged in a three-bay rhythm. Double brackets support the cornices, and three slender posts hold up each porch.
Onderdonk intentionally set the houses back from the street (as was the buildings on Onderdonk Row) forming a small front yard. Front additions to numbers 8 and 9 have changed the symmetry. Architecture and Design of Nyack to reintegrate the push out with the period design.
The row must have been complete in 1876 because William Price, a physician and surgeon, advertised that his office and residence was located a #3 Bridge Street in that year.
The Onderdonk Water Company
William Voorhis started the Nyack Water Works in 1873 about the same time as Onderdonk piped water to Onderdonk Row. The first reservoirs were on Hillside Ave. and near the Prospect House. These being insufficient, a third reservoir, either owned by or developed by Onderdonk on leased Hesdra land was utilized. The reservoir was to factor in the dispute of the Hesdra inheritance, a lengthy and convoluted legal battle. Onderdonk established a small water company serving about 200 customers, later run by Onderdonk's daughter's family, the O'Dells. The water company eventually merged with the Nyack Water Company.
Temperance Troubles
nderdonk used the office of the Orangetown Excise Tax Commissioner and his newspaper, The Advertiser, as temperance vehicles. His strident public condemnation of others earned him scores of enemies. He was sued for libel, physically assaulted twice, and was constantly in court battles. A follow-up article investigates the strange story of Onderdonk being horse whipped. In his later years, he appeared to have concealed the will of Edward Hesdra to maintain a water lease for his company. The will was found in his desk after his death in 1887.*
Architectural Legacy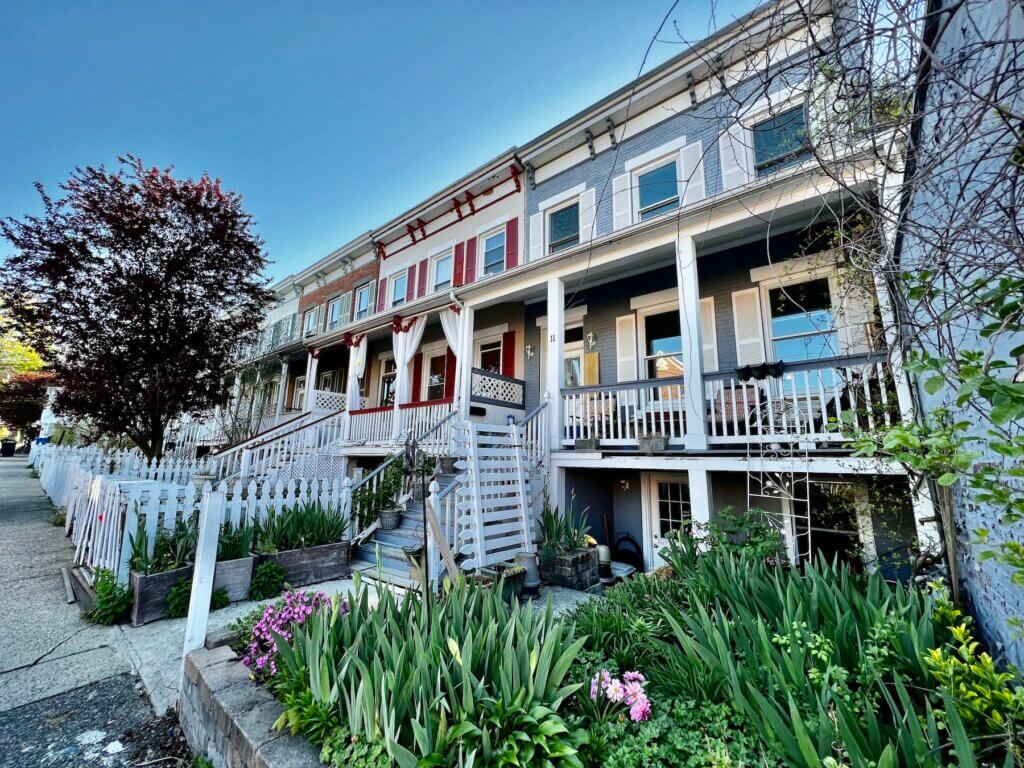 As a positive byproduct of Nyack's destructive urban renewal in the 1950s and 60s, the entire south side of the block is now seen full-on. Now as then, the block bustles with activity from early in the morning until late at night with restaurants, a nightclub, a salon, and, as it was in the very beginning, a paint and hardware store, called Herb Lacks for so many years. Onderdonk Block and cottage row remain as a testament to a man who may have been Nyack's most unusual real estate developer.
---
*For an excellent detailed study of this case see, The Ex-Slaves Fortune: The Story of Cynthia D. Hesdra by Lori Martin, 2006
---
Michael Hays is a 35-year resident of the Nyacks. Hays grew up the son of a professor and nurse in Champaign, Illinois. He has recently retired from a long career in educational publishing with Prentice-Hall and McGraw-Hill. Hays is an avid cyclist, amateur historian and photographer, gardener, and dog walker. He has enjoyed more years than he cares to count with his beautiful companion, Bernie Richey. You can follow him on Instagram as UpperNyackMike.
Nyack People & Places, a weekly series that features photos and profiles of citizens and scenes near Nyack, NY, is brought to you by
Sun River Health
, and
Weld Realty
.