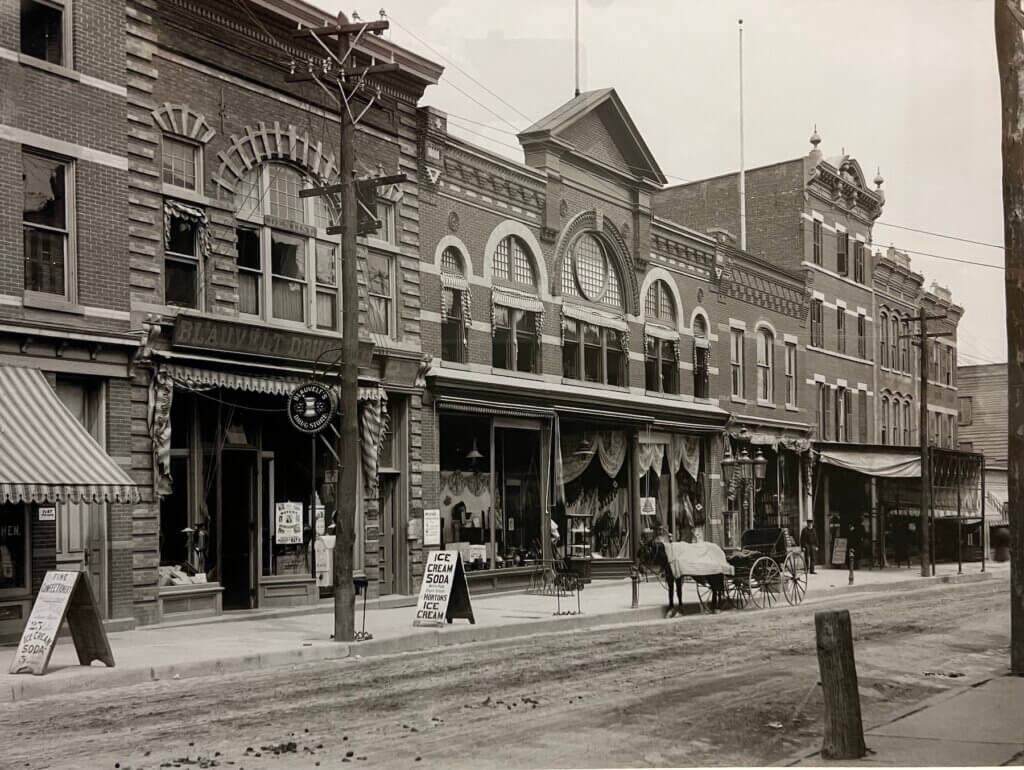 As flames and smoke blitzed downtown Nyack, a loud crash and roar boomed out as a two-ton safe crashed through two floors and landed in the basement. The fire was hot enough that paint blistered on fire trucks and on buildings across Main Street. Businesses in downtown Nyack closed for the day. Harrison & Dalley, the largest department store in Rockland County from 1890 to 1933, was destroyed on October 13, 1915. Like a phoenix, the department store that advertised itself as "a city store in the country", the equivalent of the Palisades Mall in its time, returned almost immediately and lasted until Woolworth's Five and Dime replaced them in 1933 at 92-94 Main St.
It was one of the worst fires in Nyack history with more fire departments on the scene than any other fire in Nyack. To protect the downtown, local fire houses summoned additional help from Central Nyack, Suffern, Pearl River, Piermont, Spring Valley, Congers, and Haverstraw. Ladders reached the upper floor on Main and High Streets. Twenty streams of water fought the fire. Heavy smoke and escaping gas caused twelve firefighters to lose consciousness. Throngs of people lined Main and New Streets to watch the contest between firefighters and fire.
In Part One, we examine the people who made Nyack a shopping destination and what the store was like. In part Two, we investigate the dramatic 1915 fire, its aftermath, and impact on Nyack.
Who Were Harrison & Dalley?
John W. Harrison (1837-1907) and John W. Dalley (1856-1927) were born in Rochester, County Kent in England. Lifelong friends and business associates, they emigrated to American together in the 1870s. Harrison worked in the woolen business in Brooklyn and then in a business in Newport, RI. It is likely both were engaged in the same business for in 1887 they moved to Nyack and established a new business called a Boston Store. Harrison and Dalley are buried together in a common plot with a single tombstone in Oak Hill Cemetery that also includes their wives and two children from the Dalley family.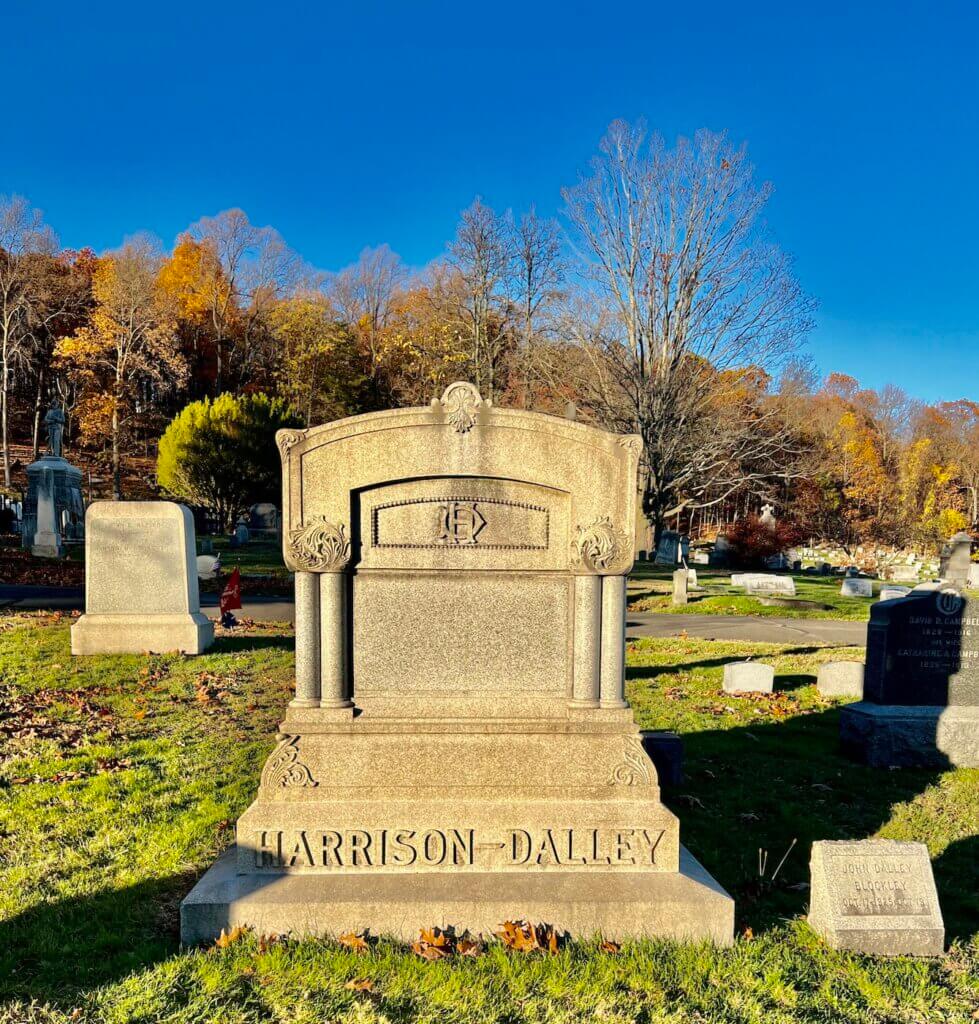 John W. Harrison
Harrison married some time before 1900. John and Maria Harrison built a house at a corner of Franklin Street and Third Ave. They had no children. A niece, Etta Harrison, lived with them for years before she married and moved to Philadelphia. Tragically, her husband died one year later. Etta returned to live with Mrs. Harrison after her husband's death. Harrison was known as a quiet man but ever courteous, agreeable, and cheerfully obliging to customers. He was afflicted with rheumatism in his later years. Seeking a cure, the Harrisons traveled for many years to Colorado Springs for his health. In July 1906, shortly after arriving in Colorado Springs, Harrison died.
John W. Dalley
John W. Dalley was a distinguished businessman in Nyack. In addition to managing Harrison & Dalley he served as a director of both the Nyack National Bank and the Rockland Savings and Loan Company. He was a lifelong member of Mazeppa Engine Company. As a major proponent of the ill-fated Nyack Trolley, the fire company gifted him a toy trolley at a Christmas party. He married Asa Onderdonk in 1893 in Harrison's house, then located on Jefferson Street. His son John Jr. died tragically in 1917.
Dalley died in his sleep on May 5, 1927. Out of respect, black crepe draped Harrison & Dalley and the Nyack National Bank. During his funeral, many businesses in Nyack closed. Numerous villagers turned out for the funeral at Grace Episcopal Church of which both he and John Harrison were members.
Their First Store in Nyack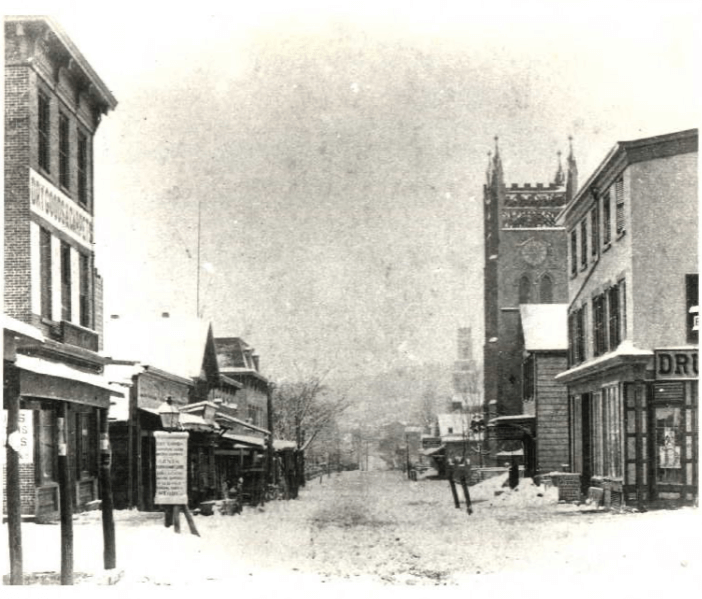 In 1887, Harrison and Dalley joined with a Mr. Aston to open the Dalley, Ashton Company in the Ziegel Block, a row of new three-story brick buildings on the east side of N. Broadway between High and Lydecker Streets. Two years later they bought out Ashton and purchased a dry goods and carpet store owned by Abram Merritt on the SE corner of Main and Broadway that was formerly a dry goods and carpet store. Harrison & Dalley named the store a Boston Store.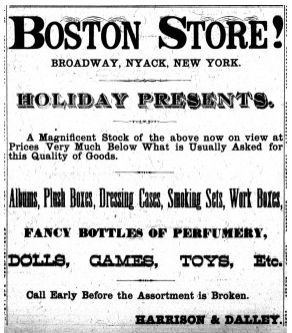 What Was a Boston Store?
Boston Stores were common in America at the time. Famous Boston Stores anchored the downtowns of Erie PA, Utica NY, and Milwaukee WI for much of the 20th century. A large Boston Store survived in Chicago until 1945. A Boston Store chain opened in California. The term "Boston" was used because Boston was considered cultured and fashionable in the American Gilded Age.
Harrison & Dalley – A City Store in the Country
Harrison and Dalley clearly knew their customer base. Within a year of opening at the Merritt store, they acquired part of the old I. P. Smith property on Main Street. Smith's colonial mansion was moved to the back of the lot to what became New Street and used as an overflow storeroom. Isaac P. Smith and his brothers ran much of Nyack's early steamboat business.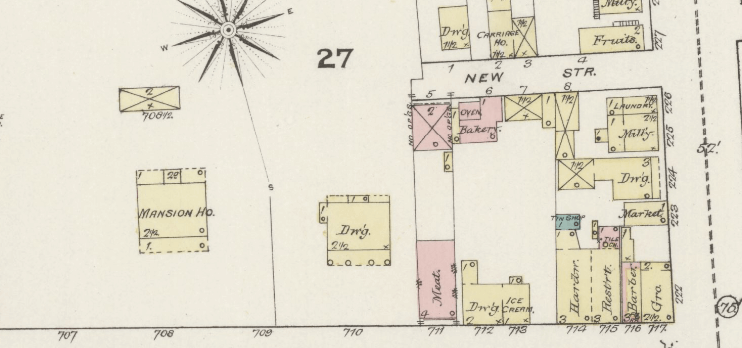 At the time, there were only two brick buildings on Main, the mid-block Kessler meat market, and the store at the corner of Main and Park Street. According to Isaac Neisner, an owner of a men's clothing store that dated back to 1898, boys would play ball in the vacant lots. Main Street was unpaved. Mud would be knee-deep in wet weather. Harrison & Dalley would install the first concrete sidewalk in 1903. Nyack downtown west of Broadway grew up around Harrison & Daley.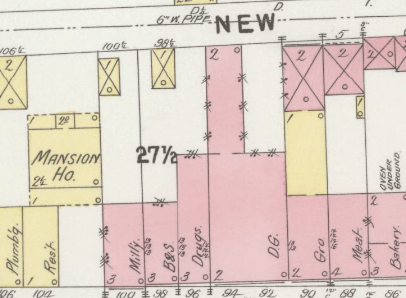 Store Designed by Emery Brothers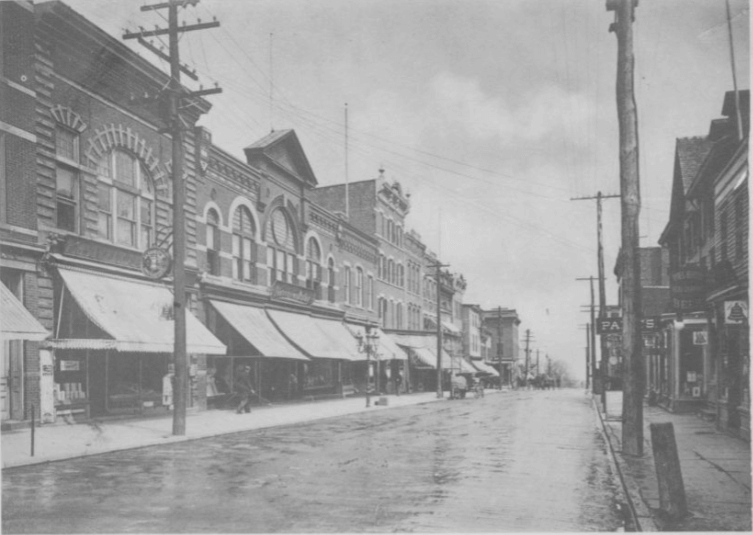 The famous local architecture firm of Emery Brothers designed the new department store that opened in 1892. The store front design was as handsome as the goods inside. Emery created a symmetrical structure with a door in the middle of 92-94 Main Street. A large triangular pediment topped the two-story brick building reaching to a height that equaled the height of the nearby Kessler building, a meat market at the time. The pediment sported a flagpole. Circular, small-paned glass lunettes topped the second-floor windows. Large paned street level windows highlighted merchandise. A glass showcase separated the twin front doors. Striped awnings shielded its southern exposure. Later, Harrison & Dalley expanded in the rear to New Street. The Harrison & Dalley garage still stands on New Street complete with their logo..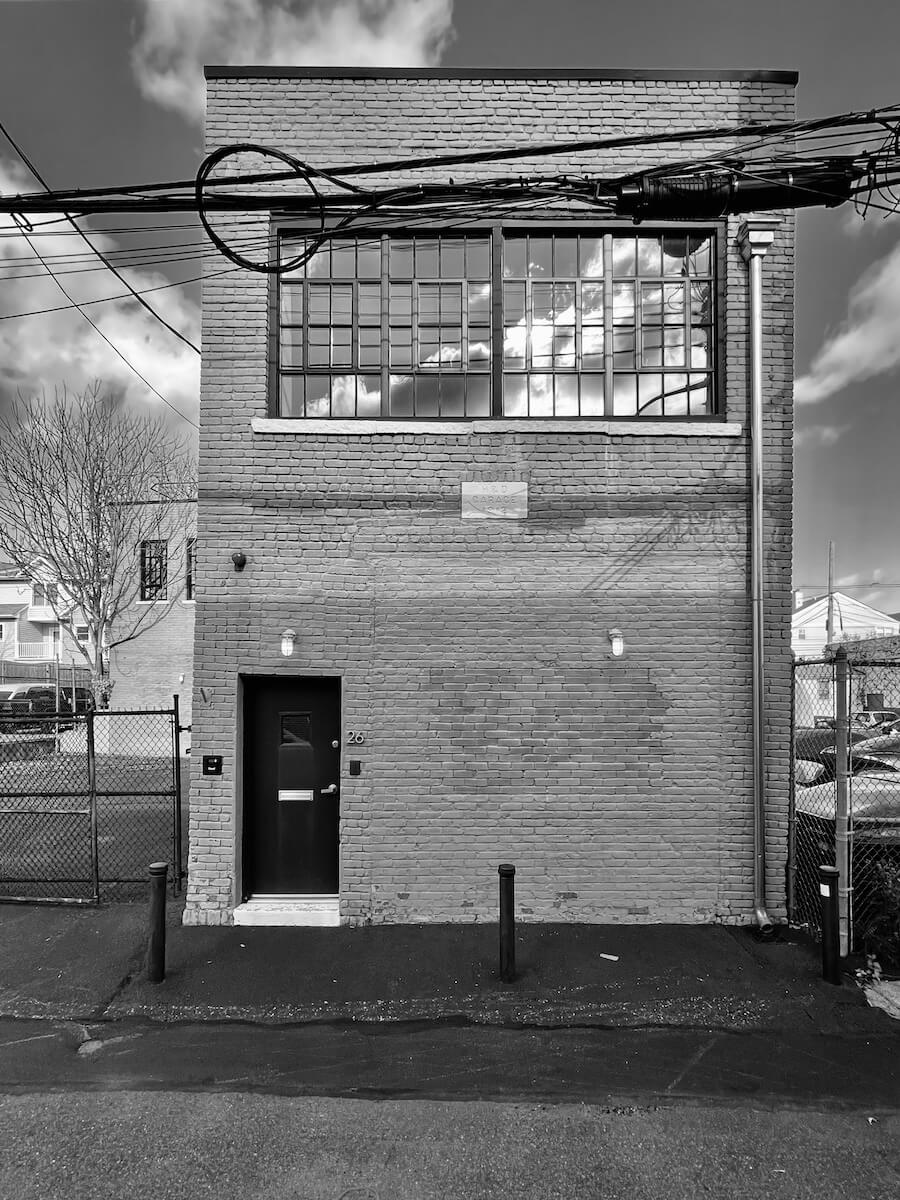 Harrison & Dalley incorporated in 1903 with Harrison, Dalley, and Walter Conklin as its directors. After Harrison's death,John W. Dalley became President, Mrs. John W. Harrison, widow, became vice president and treasurer, and W. E. Conklin served as secretary. Just before his death, Dalley sold his part of the business. The Dalley family retained ownership of the building until 1972.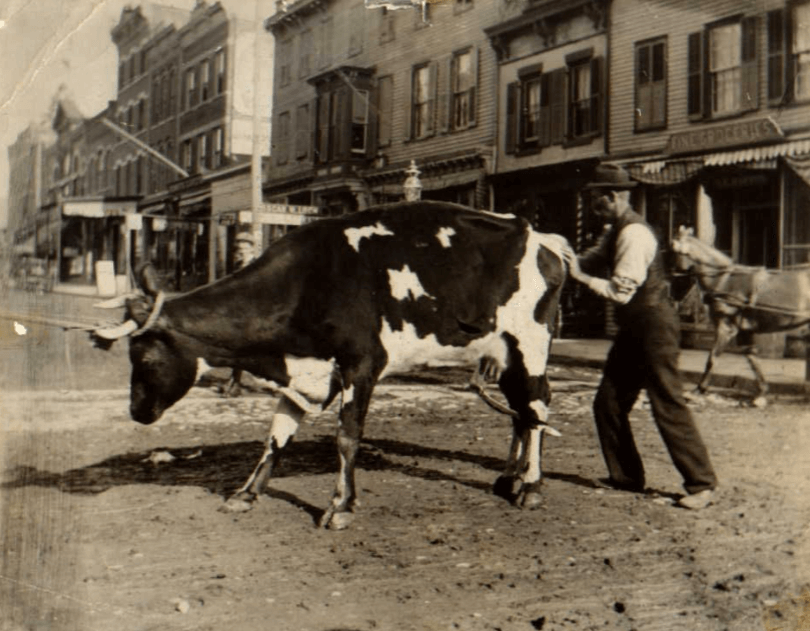 What Was It Like Inside?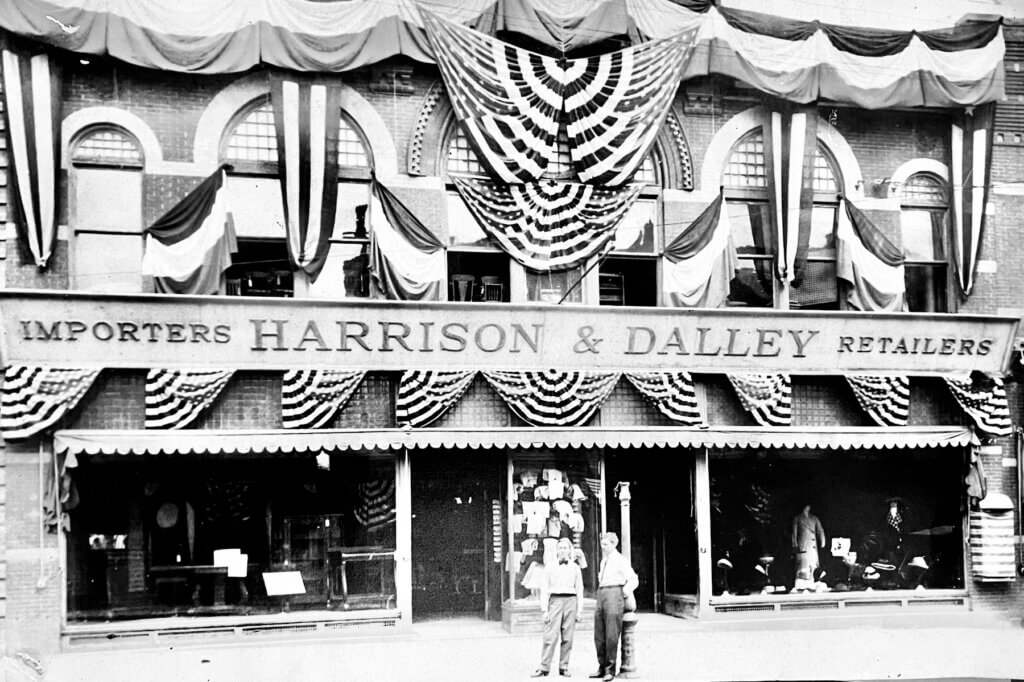 Harrison & Dalley followed the classic department store design with several separate 'departments" each specializing in a particular type of merchandise, including home furnishings, bedroom, parlor and dining room furniture, carpets, rugs, upholstery, and picture framing on the second floor and a millinery, women's clothing and accessories, perfume, jewelry, and other dry goods, children's clothing and toys, and men's accessories on the first floor. A knowledgeable clerk staffed each department. Countertops and glass cases held sample merchandise. Clerks would fetch the appropriate size or model of a selected product from cupboards lining the walls.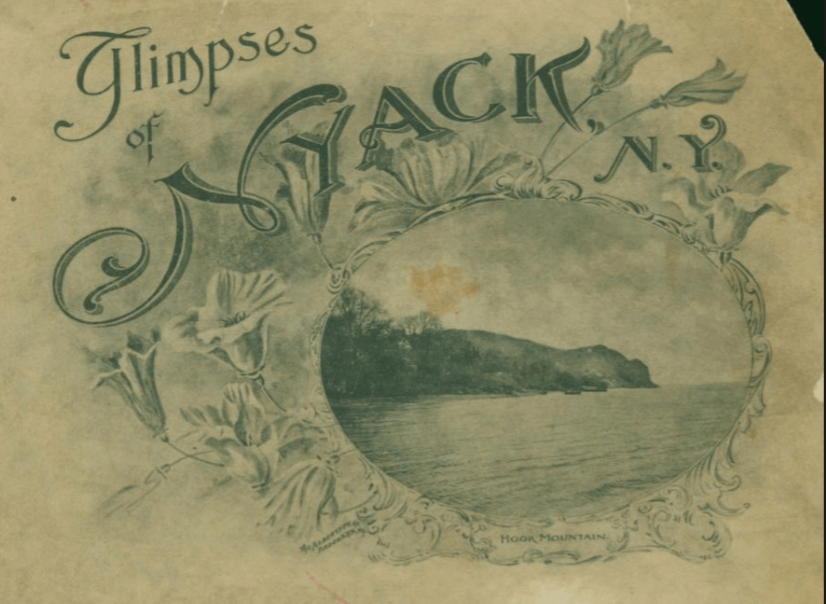 A Modern Store with the Latest Technology – Sailing in a Silver Boat
Many people remembered fondly the pneumatic tube system for cash exchange. It was a new retail technology. John Wannamaker employed the first pneumatic tube system in his eponymous department store in Philadelphia in 1887. Cash was sent via the pneumatic tube to a central location on the top floor. A receipt and change would be returned via a second adjoining tube. Children loved watching what was to them a miraculous exchange.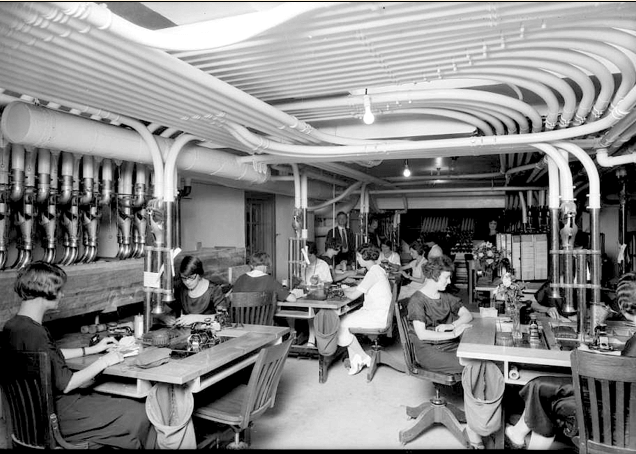 Florence Ripley Mastin, a teacher and poet from Piermont remembered the system in her poem, Old Nyacks' Department Store.
Upper Nyack resident Gene Brown remembers the same childhood fascination with the pneumatic tube during the 1930s. He remembers watching the tube zipping up on a track disappearing through a hole in the ceiling and returning."
Seasonal Displays
Harrison and Dalley had creative seasonal displays. The Easter 1903 display was unusually fine. "Never has the store been more beautifully decorated" stated the Rockland County Journal of one its best advertisers. At the opening, Harrison & Dalley served ice cream, cake, and coffee and gifted customers souvenirs in the shape of an Easter egg.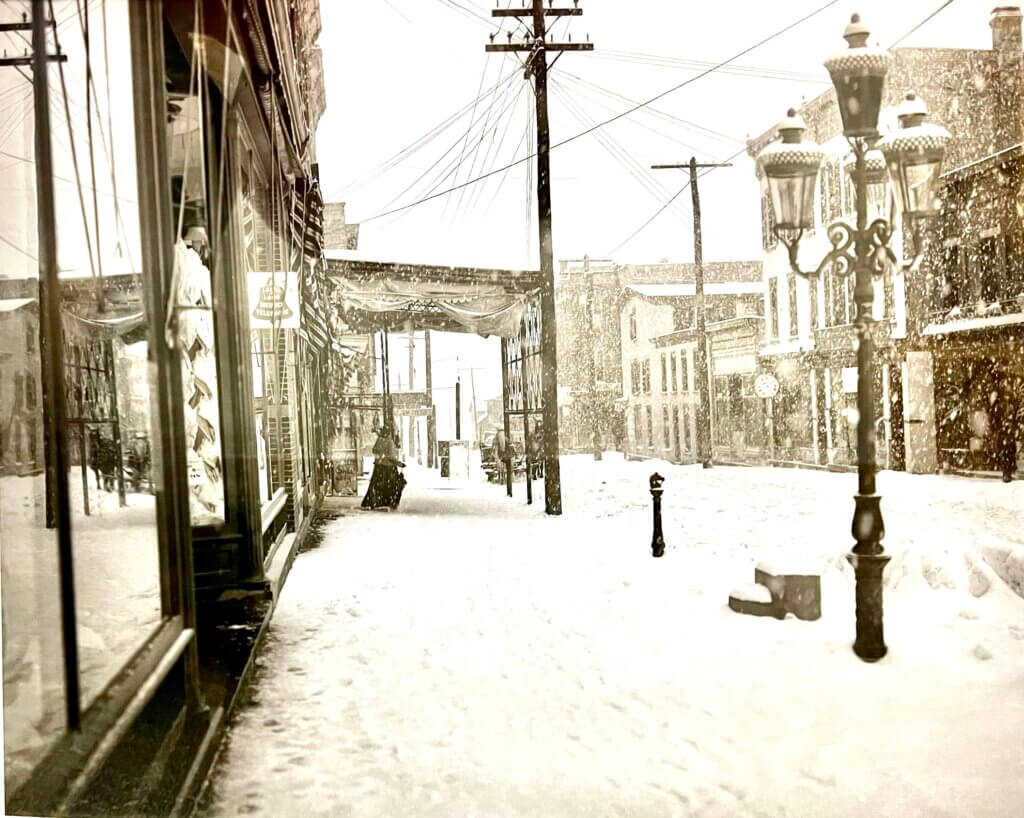 The store sported Nile green and white decorations. Strings of morning glories and apple blossoms hung throughout the store. Melodies of songbirds filled the air. The millinery department was especially busy. Miss Bombard presided over the hat department in an efficient manner. Hat styles that year were large and flat with small flowers.
The store was stuffed with an array of goods that made going to the city unnecessary. The front windows sported millinery. The east window displayed a child emerging from an Easter lily with doves hovering over her head and a background of apples trees in blossom. The west window featured dress goods.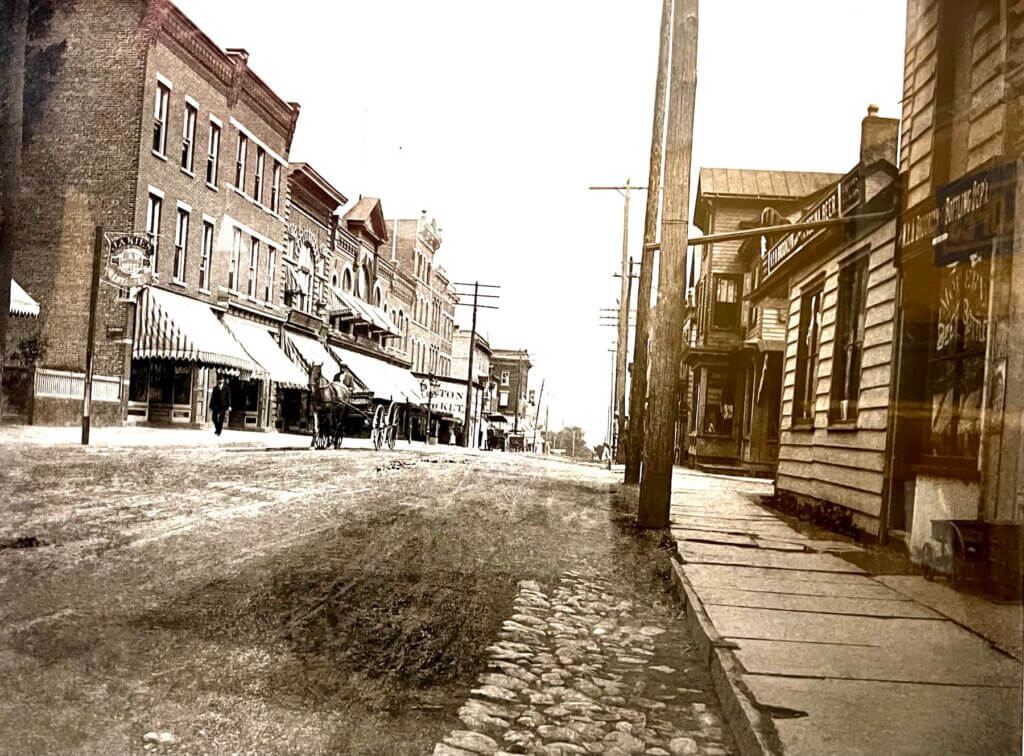 See Part 2: Harrison & Dalley Gilded Age Department Store – Fire and Its Aftermath
Michael Hays is a 36-year resident of the Nyacks. Hays grew up the son of a professor and nurse in Champaign, Illinois. He is retired from a long career in educational publishing with Prentice-Hall and McGraw-Hill. He is an avid cyclist, amateur historian and photographer, gardener, and dog walker. Hays has enjoyed more years than he cares to count with his beautiful companion, Bernie Richey. You can follow him on Instagram as UpperNyackMike.
Nyack People & Places, a weekly series that features photos and profiles of citizens and scenes near Nyack, NY, is brought to you by
Sun River Health
, and
Weld Realty
.