The Life of Forgotten Riv

er

Town Poet

,

Florence

Ripley

M

astin
by Mike Hays
Mostly forgotten today, Florence Josephine Mastin (or Ripley, as she chose to be called) enjoyed a career of teaching while writing hundreds of lyrical poems, many of which celebrate growing up in the lower Hudson Valley. Mastin published her first poem at the age of 14 in the Nyack Star, then publishing in the New York Times, Poetry magazine, newspapers throughout the country, authoring 4 books, and winning prizes along the way. She was a beloved teacher at Erasmus High in Brooklyn, remembered fondly by students like Bernard Malamud. At the end of her teaching career she moved back to her family home, Four Gables in Piermont, with her life-long partner Grace McCool. In her final years, she lived in South Nyack. Much of her later work is spare and spectacular, evoking William Carlos William imagism. The reader is wrapped in a warm cocoon of a simpler time before the World Wars, pandemics, and depression.
Florence Josephine Mastin
Florence Josephine Mastin was born on March 18, 1886 in Wayne, Pennsylvania. Her family moved to New York City and then to Piermont. She graduated from Barnard College in NYC and then taught for many years at Erasmus Hall High School in Brooklyn, retiring in 1952. In 1959, her poem "Freedom's Dream" was chosen by the New York State Commission on Historic Observances for the 350th Hudson-Champlain Celebration. The next year the poem was awarded the Freedoms Foundation Medal. Unable to maintain Four Gables in her later years, she moved into an apartment in South Nyack with a porch, garden, and view of the Hudson River. She passed away in 1968.
In her 20s, Mastin replaced her middle name with the more masculine "Ripley." Her friends referred to her as Ripley for the rest of her life. Ripley was an ancestral family name of which she was proud. Unitarian minister George Ripley was one of the founders of Brook Farm, a utopian transcendentalist community in Massachusetts. A student later mentioned that she might have been related to Robert Ripley of Ripley's Believe-It-Or-Not fame, although it is uncertain if that was true. She hung the Ripley coat of arms in her office.
Grace
B
.
M
a
cColl
Grace Beatrice MacColl was Ripley's lifelong companion and considered a member of the Mastin family. She was born in St. Albans, VT, where her father was a Presbyterian pastor there. They later moved to New Bedford, MA. She went to college prep at Horace Mann High School in New York City, graduated from Barnard second in her class with highest honors, and then earned a M.A. at Columbia. She finished with the top score for the New York Board of Education exams for high school and was appointed teacher of history at the age of 19. She went on to teach social sciences at Erasmus Hall High School in Brooklyn with a specialty in international history and current affairs. According to her obituary in the Journal News, she was beloved by both teachers and students for her wisdom, understanding, and brilliant wit.
While at college, Ripley's younger brother Robert, whom she was very close to, died. One day, while still grieving, she met Grace B. MacColl, then a Barnard track star. While running on the college track, Ripley passed Grace, something that never happened to Grace before. They talked. From that meeting, their friendship blossomed. Around this time, Mastin changed her name to Ripley. They both went on to teach at Erasmus Hall High School and lived together in Greenwich Village.
Her relationship with Grace was as public as was allowed at the time. They attended suffrage marches and traveled together. Letters were addressed to "Grace and Ripley" jointly. At one time in a student publication Ripley stated that MacColl "was a constant inspiration for my poetry. She had a keen, a brilliant mind, a broad understanding and a subtle and delightful wit. She was more of a realist than I…A more noble, true, and devoted friend never lived."
The couple were regulars at the Mastin home, and MacColl was thought of as family. After retirement, the couple moved from Greenwich Village to Four Gables. In 1959, MacColl passed away and was buried in the Mastin plot in Rockland Cemetery. In the final stanza of a memorial poem, "The Lost Hill," to Grace B. MacColl, Ripley writes,
Oh, that I could hear
That music still
With the one I love
On the lost hill.
Teacher
Ripley was a dynamic teacher. Nettie Tillevitz, a former student, wrote in a letter to the editor in the New York Times in response to an article about authors from Brooklyn that, "I, like Bernard Malamud, attended Erasmus Hall High School and found its English classes exciting and stimulating, especially those taught by the poet Florence Ripley Mastin." Pulitzer-Prize winning novelist, Bernard Malamud, himself said he found her classes "unusually exciting."
Poetry
Fortunate to be a poet in an age when poetry appeared in small town daily newspapers like the Decatur, IL, Herald and Review all the way to the New York Times, Ripley appeared in print frequently. She was mostly a delicate lyricist of nature. Much of her poetry, to its detriment, screams, I am a poem. At other times, she wrote pedestrian pieces such as "Bombers over Tokyo," with lines like "B-29s, within your towering strength/the lightning forms and thunder is your wake." Or in "To the Nyack Library": "Row upon row in twilight reverie, Each in its deathless world, the books await"
The Late Poems
Her later poems, collected in the posthumous Across Time's Fence: Portraits of Old Rockland County, are altogether different. Wrapped in Mastin's lyrical nostalgia, the language here is more direct and imagistic. The reader is not blasted with an emotion, rather participates fully in a completely drawn, small drama. In the "Old Piermont School":
My brother and I sat together.
The rooms smelled of chalk, woodsmoke,
Apples, and corduroys.
Miss Dunlap taught the first school
She was small, blue-eyed and firm.
She took bad children
Into the cloakroom
And whipped them with a ruler.
Mastin brings us back to the awe, wonder, and sensory awareness we feel as children. Even memories of visiting Harrison and Dalley's, once the premier department store on Main St. in Nyack, are immortalized in the poem, "Old Nyack's Department Store," where the poet watches cash put into a pneumatic tube, "sent sailing in a silver boat" to a central treasurer "with many wires converging to her hands and always humming." In "Sailing to Haverstraw," she remembers, "The wind laid its paws on the bay and furred it with silver" and "the boys rowed our dinghy ashore to buy water-melon."
Each free verse poem in this tiny volume is a tidy package of images that we see, smell, taste, and touch.
The night before she died, poet Helen Bryant (in whose house she then lived) tells the story that a visitor brought her crocuses, to which she recited from one of her poems:
If we sleep in frost-flower winter,
We shall wake with crocus.
Spring and I have a secret:
Death is hocus-pocus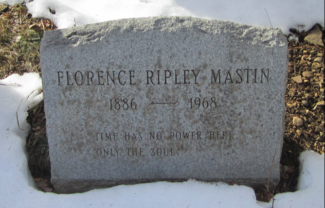 Ripley Mastin was a remarkable woman of the early 20th century who found a way to live life as she wanted, carving out a career, marching for suffrage, and making the study of English an exciting activity. Her decision to live as "out" as possible in an "in" culture required special strength. Her later poems, out of the many hundreds she wrote, are simple images that bring to life a simple world in Rockland County that is now long past.
Across Time's Fence: Portraits of Old Rockland County
The Historical Society of the Rockland County republished Across Times Fence with a foreword by Helen Bryant in 1978. The reprint is still available for $2.00. Current exhibit at the the museum is Inside Out: Women, Fashion, & the Right to Vote.
Michael Hays is a 30-year resident of the Nyacks. Hays grew up the son of a professor and nurse in Champaign, Illinois. He has recently retired from a long career in educational publishing with Prentice-Hall and McGraw-Hill. Hays is an avid cyclist, amateur historian and photographer, gardener, and dog walker. He has enjoyed more years than he cares to count with his beautiful companion, Bernie Richey. You can follow him on Instagram as UpperNyackMike.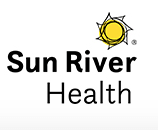 Nyack People & Places, a weekly series that features photos and profiles of citizens and scenes near Nyack, NY, is brought to you by
Sun River Health
and 
Weld Realty