Long lost Hook Mountain Beach, once nestled in Rockland Lake Landing, has been overlooked for too long, often overshadowed by its more renowned counterpart, Nyack Beach. But back in the mid 1930s, Hook Mountain Beach was a bustling recreational paradise with a covered riverside carousel, a spacious cafeteria, several steamboat landings, comfort stations, dance halls, sandy beaches, and well-appointed bathhouses complete with showers and lockers.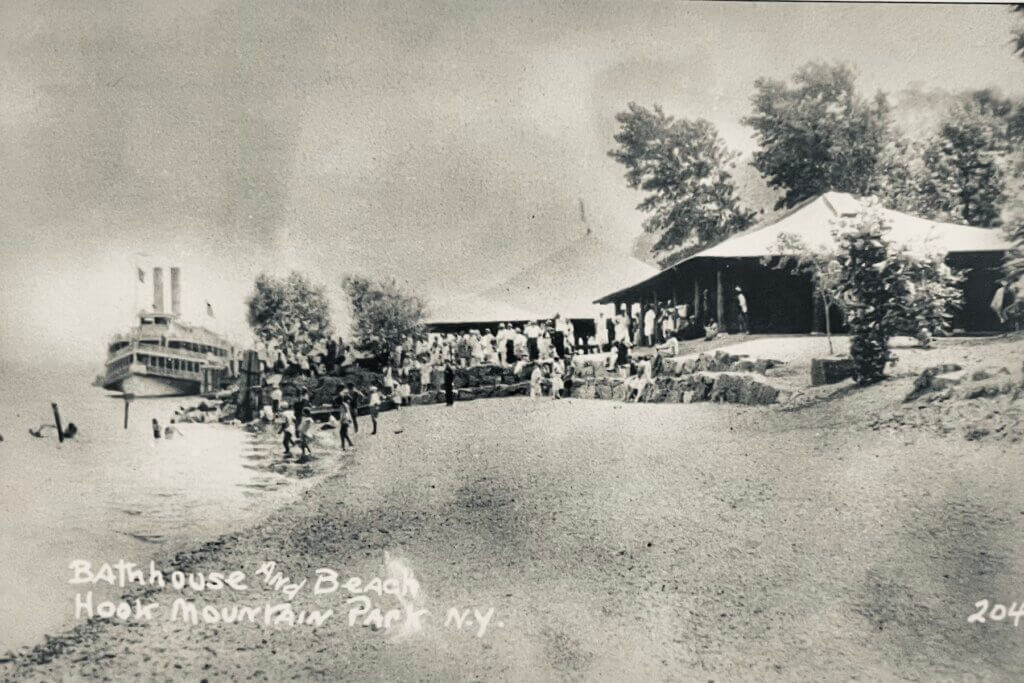 Before it transformed into the beloved Hook Mountain Beach, Rockland Lake Landing had a different role: a bustling industrial center boasting docks for both the Knickerbocker Ice Company and later the massive New York Trap Rock Company quarry.
The quarrying of trap rock, a sturdy igneous rock forming the Palisades, began earnestly in the 1880s, leading to the denuding and scarring of the beautiful Palisades along the Hudson River. Thankfully, a group of dedicated preservationists, along with the newly formed Palisades Interstate Park Commission, came to the rescue, halting further quarrying at Nyack Beach and later at Rockland Lake Landing.
Tragedy struck Hook Mountain Beach during Thanksgiving weekend in 1950, when a fierce Southeaster storm ravaged the amusement park and beach, leaving behind only memories.
Slaughter's Landing/Rockland Lake Landing
Slaughter's Landing, also known as Rockland Lake Landing, traces its roots back to 1711 when John Slaughter acquired a tract of land in the hills above Rockland Lake and built a riverside landing bearing his name. During the Revolutionary War, British forces frequently landed there during their raids into Rockland County. The area's first hotel, run by John Perry, marked the beginning of the Perry family's nine-generation presence near Hook Mountain.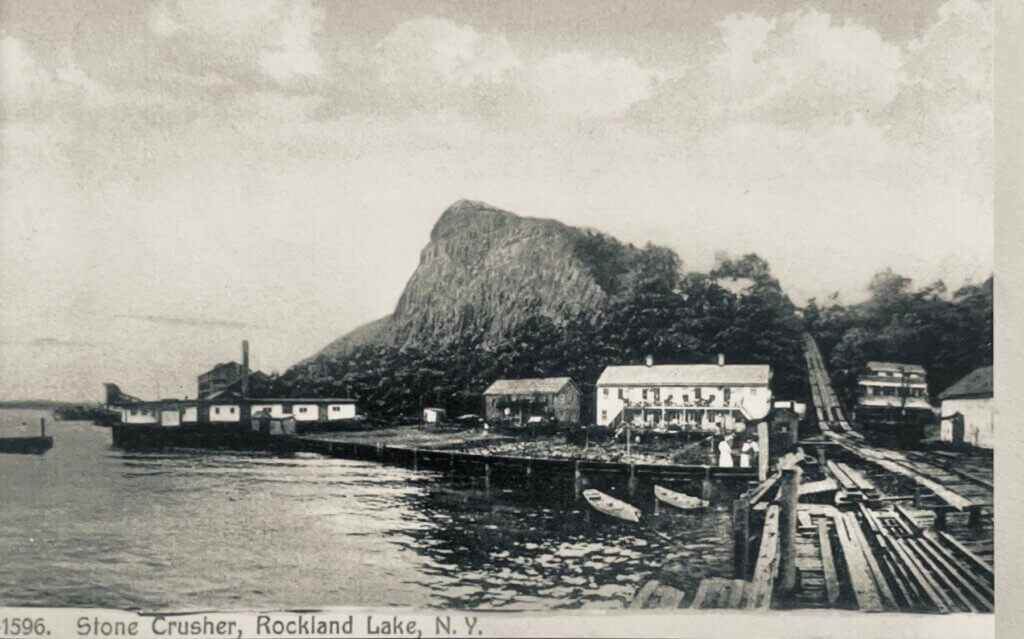 Over the years, the landing evolved into a major shipping dock for ice, with the Knickerbocker Ice Company playing a significant role in New York City's ice distribution. A gravity-fed ice train was constructed to expedite ice delivery, sourced from Rockland Lake, which was known for the purity of its spring-fed mountain waters. However, the rise of electrical refrigeration in the early 20th century led to the decline of the ice business.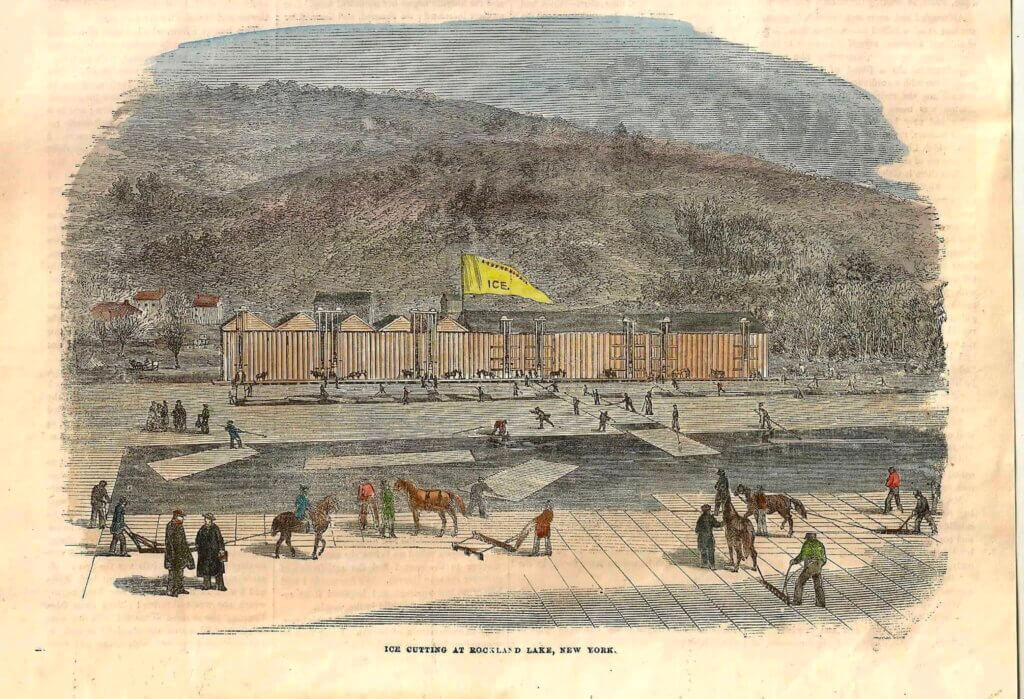 The Quarry at Rockland Lake Landing
The New York Trap Rock Company quarry was established in 1872 by John Mansfield, with trap rock serving as a vital component for railroad beds and roads during the railroad construction boom of the late 19th century. By the 1880s, the quarry expanded under Wilson Foss and his colleague, Jacob Concklin, with tram cars transporting dynamited rock from the cliff face to crushers and loading chutes, from where it was loaded onto waiting barges.

Preservationists rallied to save the entire stretch of the Palisades, thanks in part to the wealth and contributions of prominent figures like the Rockefellers, Harrimans, Carnegies, and Upper Nyack resident DuPratt White. The Palisades Interstate Park Commission was established to oversee the expanding park system, and in subsequent years, it acquired various quarries, including the Manhattan Trap Rock Company at Nyack Beach and the New York Trap Rock Company at Rockland Lake Landing.
Hook Mountain Beach

The transformation of Hook Mountain Beach from a dream into reality was a gradual process. Access to the landing was challenging, requiring visitors to scramble over talus blocks and wooded slopes. However, by the early 1930s, significant progress was made, including the construction of roads, steamboat docks, and recreational facilities with the aid of the Works Progress Association (WPA) and the Temporary Emergency Relief Fund (TERF). The excess blocks of talus removed to make the trail were reused to make fireplaces, fireplace nooks, stone tables, seats, walls, steps, and cabins.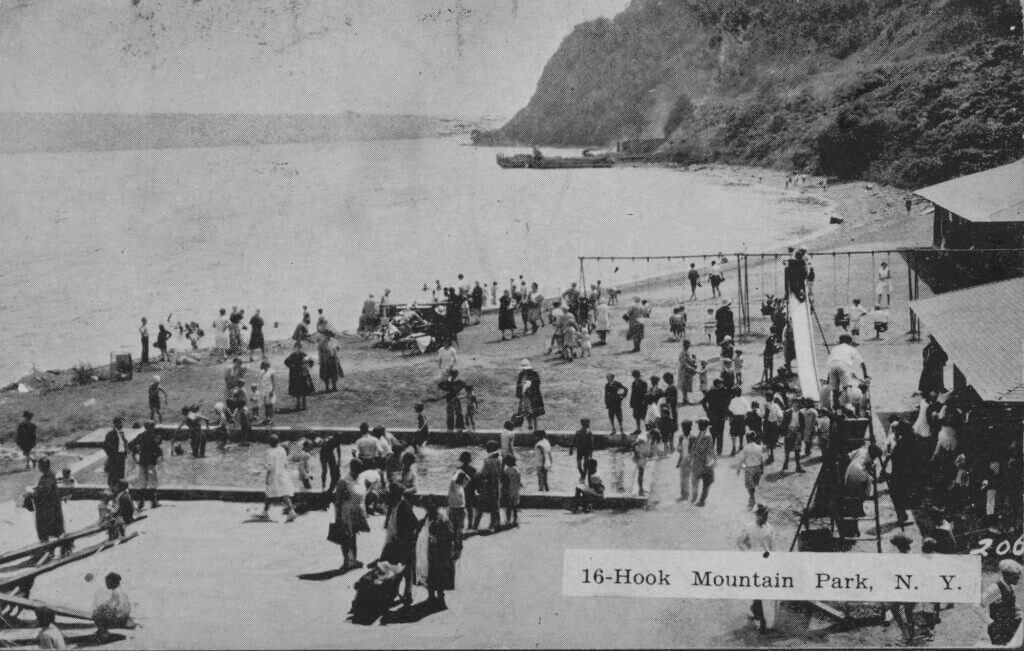 The old quarry floors, 100 feet or so above the riverfront, were made into playgrounds, ballfields, picnic grounds, and parking lots. Today the old picnic areas and ballfields are mostly overgrown at Hook Mountain. By contrast, the plateau at Nyack Beach, accessible by car, is a stunning reminder of what the larger quarry floors one looked like at Hook Mountain.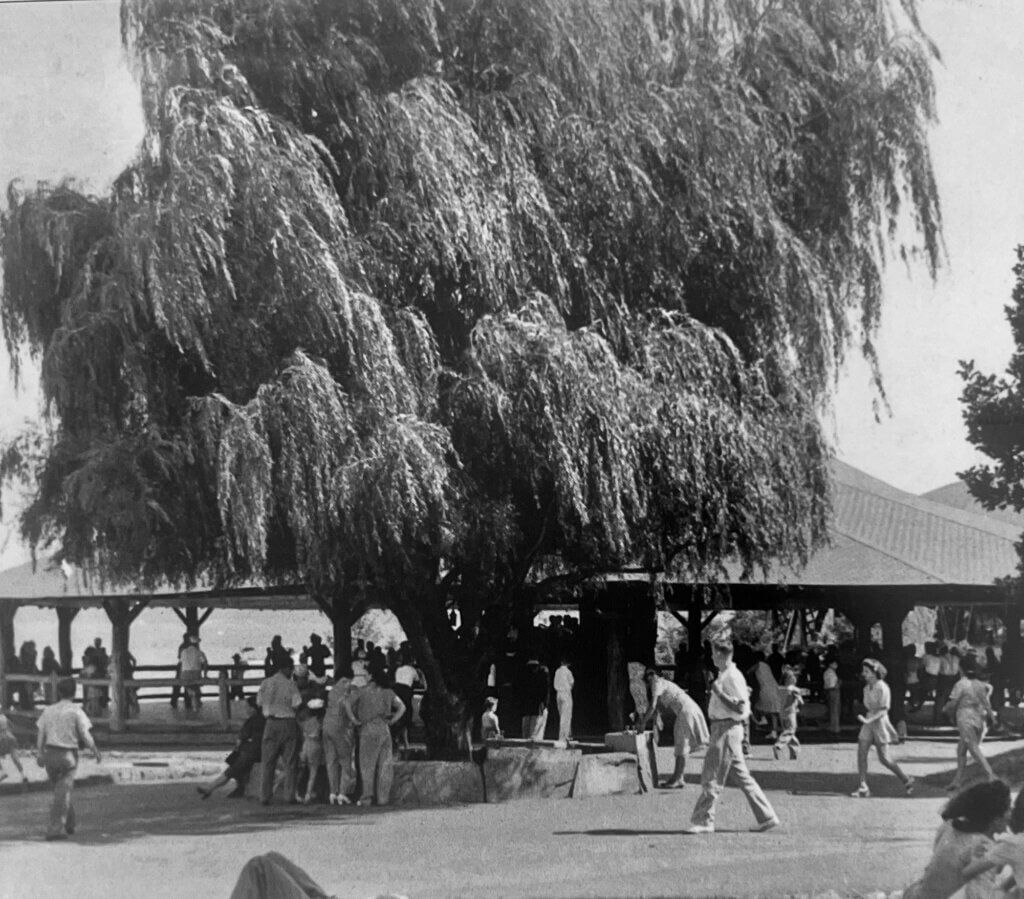 PIPC Separate-But-Equal Policy
Regrettably, a separate-but-equal policy for black Americans was maintained in the parks, despite objections from some. The north section of Hook Mountain Beach was designated for particularly for black people, avoiding potential clashes with the regular boat visitors.
"All agreed that they prefer to have especially colored parties go to the North Dock at Hook Mountain rather than to Bear Mountain or the South Dock at Hook Mountain…to relieve embarrassment…of having colored parties mixed with daily visitors from the regular boat." Letter from Frederick C. Sutro, PIPC Commissioner, 1935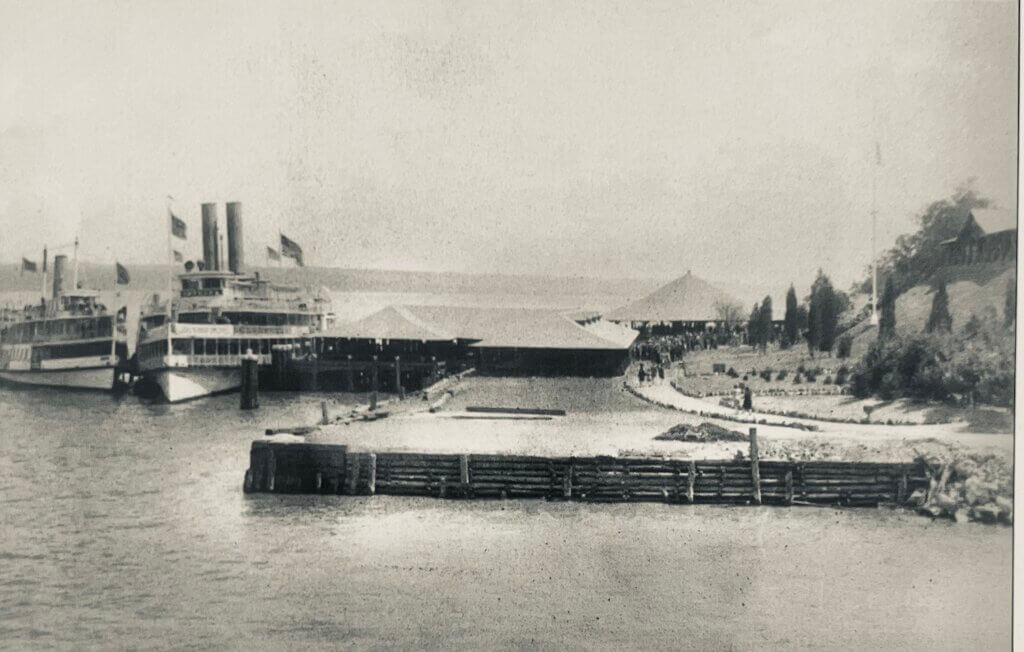 Even in 1957, Robert Moses sought to establish separate facilities for bathing and picnics at Rockland Lake State Park, but the Civil Rights Movement and budgetary constraints ultimately halted his efforts.
A Deadly Thanksgiving Storm
In 1950, a devastating Thanksgiving weekend storm, akin to Hurricane Sandy, wrought havoc along the Hudson River, causing extensive damage to riverfront properties, including Hook Mountain Beach. The storm destroyed all the shorefront facilities, and due to the waning demand for steamboat docks, the beach and its facilities were never rebuilt.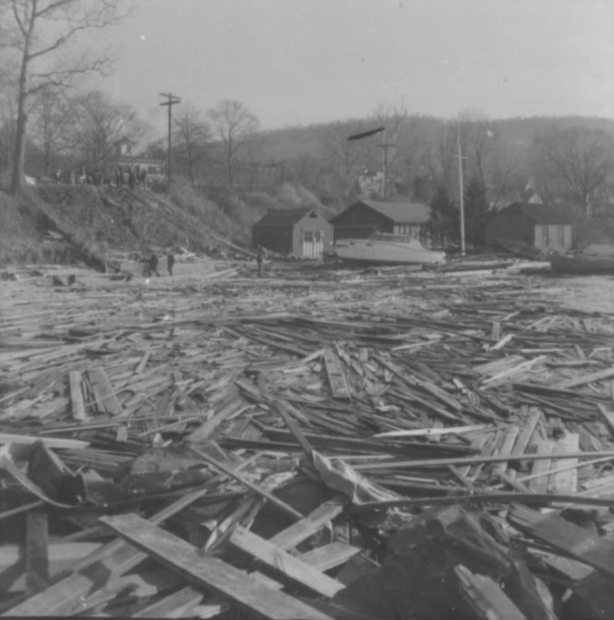 Hook Mountain Beach Today
Today, only remnants of the once-vibrant Hook Mountain Beach remain, concealed by the passage of time. Concrete pilings and steel structures can be spotted at low tide north of the landing, and the old cafeteria may have transformed into the ranger cabin at the end of road leading to Rockland Lake.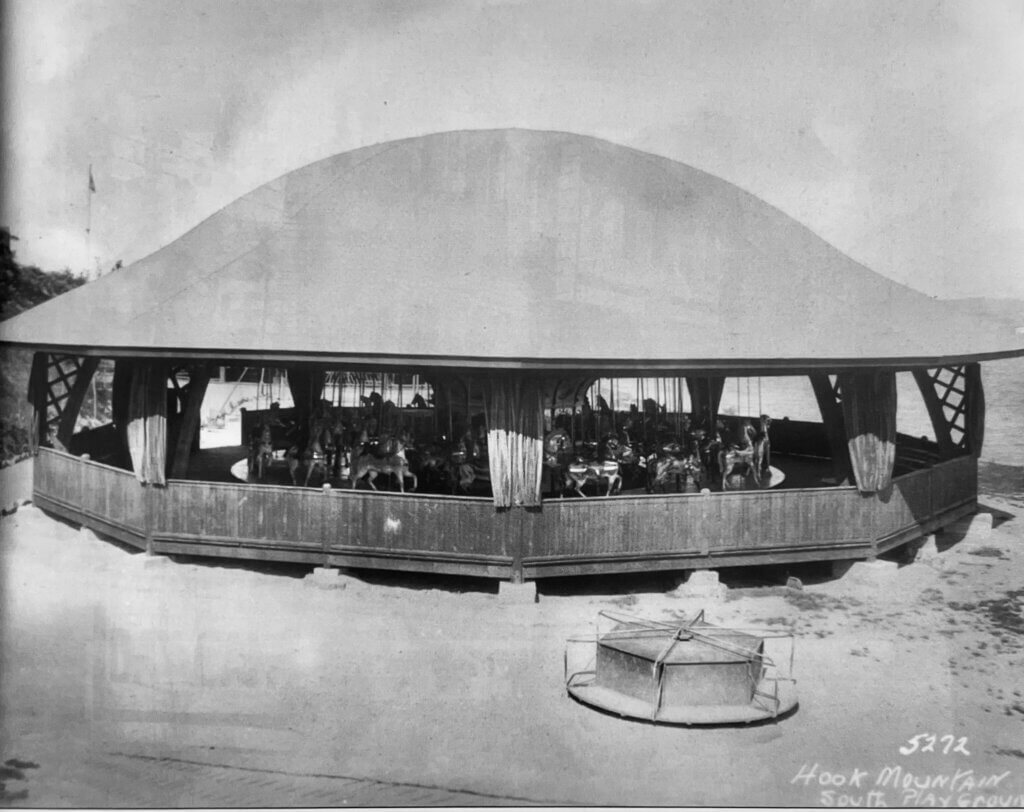 While thousands of visitors once flocked to Hook Mountain Beach via steamboats and cars during sweltering summers, those days are now a distant memory. How much fun this sounds!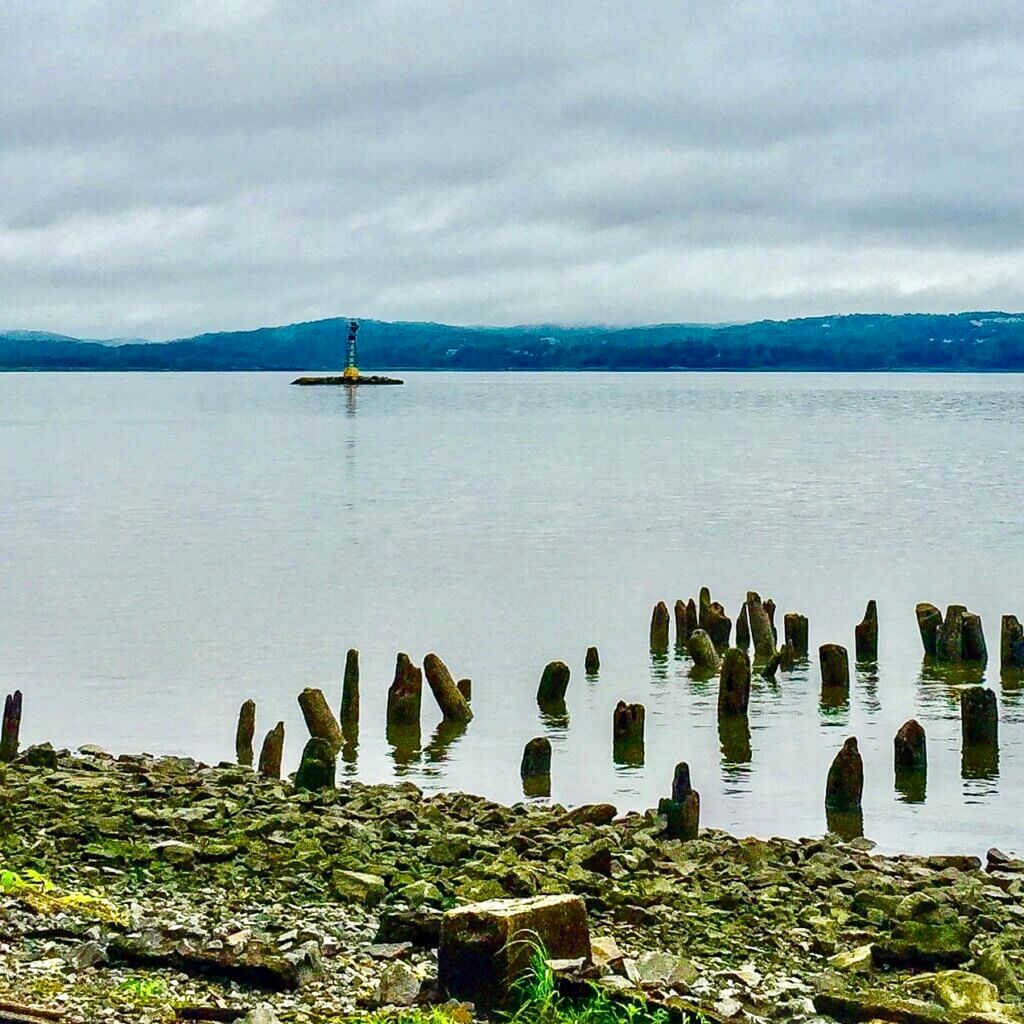 ---
Michael Hays is a 35-year resident of the Nyacks. Hays grew up the son of a professor and nurse in Champaign, Illinois. He has retired from a long career in educational publishing with Prentice-Hall and McGraw-Hill. Hays is an avid cyclist, amateur historian and photographer, gardener, and dog walker. He has enjoyed more years than he cares to count with his beautiful companion, Bernie Richey. You can follow him on Instagram as UpperNyackMike.
Nyack People & Places, a weekly series that features photos and profiles of citizens and scenes near Nyack, NY, is brought to you by
Sun River Health
, and
Weld Realty
.