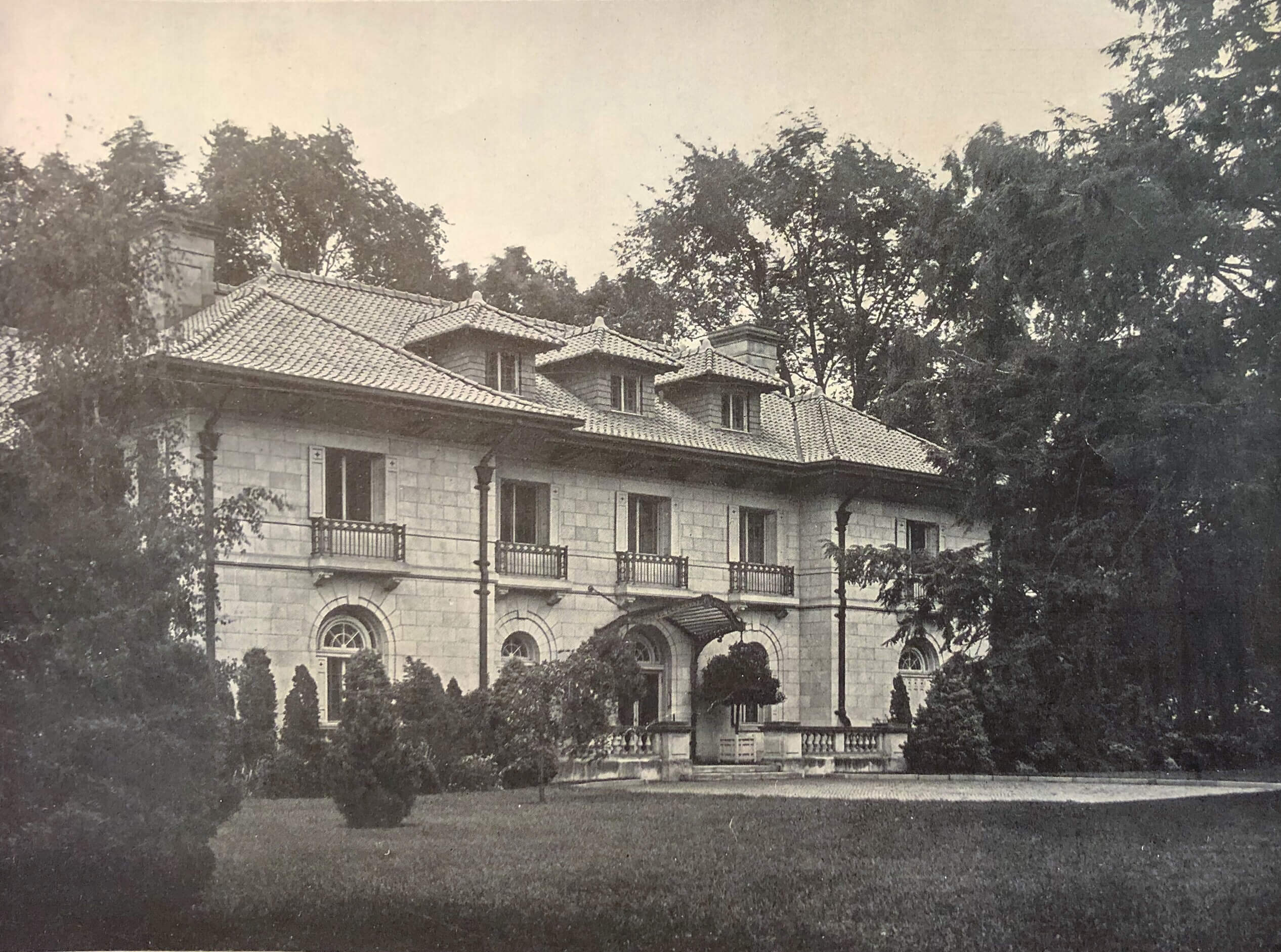 He was good at everything he tried including building Upper Nyack's most expensive riverfront estate that has survived and thrived until today. The name Wilson Perkins Foss is a name that no longer rolls off the tongue unless you live on Foss Drive in Upper Nyack. Yet in his day he knew and was known by everyone.
Foss was a self-made man who turned his knowledge of the then newly invented nitroglycerin into a quarry business at Hook Mountain that sold in 1917 for the equivalent of $1.6B today and another quarry business in Haverstraw that later became Tilcon. He was the first mayor of Haverstraw, a national billiards champion and a near international champion in Paris in 1904, a snowshoer who went over the Haverstraw mountains in a direct line, a dynamite salesman for the DuPont companies in Mexico, a yachtsman with the fastest boat on the Hudson River which was named Dashaway, and a winner of the American Seniors golf championship. He could read a story once and recite it almost verbatim. He was an astute collector of antique Oriental porcelain and jade, a tradition carried on by his son who donated items to the Metropolitan Museum of Art and the National Gallery. He traveled extensively to Europe and Asia. Whew!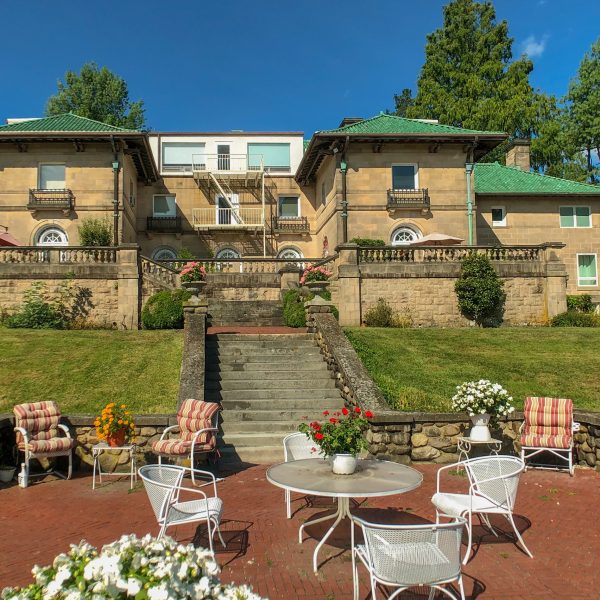 He was a fierce competitor who almost never lost a battle except once while Vice President of the Rockland Trust Company when he advocated for making the new building at the corner of Main and Broadway six floors high (it was built three-stories high as it is to this day). More often, he won. At age 74, he took his chauffeur to court for damaging his Cunningham limousine in Flushing, Queens, while Foss was at his Manhattan apartment. Foss sued for $2,000, the chauffeur countersued for $75,000 for the humiliation of being jailed. Foss's skill in court won the day, and the multi-millionaire was awarded the grand total of $613.36.
Wilson Perkins Foss (1856-1930) combined the salesmanship and drive of Steve Jobs with the intellectual skills of Ben Franklin. His riverfront home named by him Under Elms and now called River House at 531 N. Broadway in Upper Nyack is a lasting memorial for one of the Nyacks most remarkable people.
Teen Entrepreneur
Son of a cigar box factory owner, Foss was born in Fairfield, Maine, in 1856. It was said that he learned his skills in recitation while participating in dramas during the long Maine winters. At age 16, he left home with the Portland Fire Department to assist at the great fire of 1872 in Boston. Foss stayed on, working in a hardware store that specialized in dynamite and black powder while taking chemistry classes at night at MIT. Chemistry was his calling but for a time he detoured to Hartford to run a hat factory.
An Explosive Man
Learning that the West Shore Railroad was being built from Weehawken to Albany, Foss moved to Haverstraw for a job using his knowledge of nitroglycerin, a perfect explosive to "blow the tunnels." He was hired to build the 1,600-foot Haverstraw tunnel. He would make the nitro at various places along the river and transport it by boat to the work site.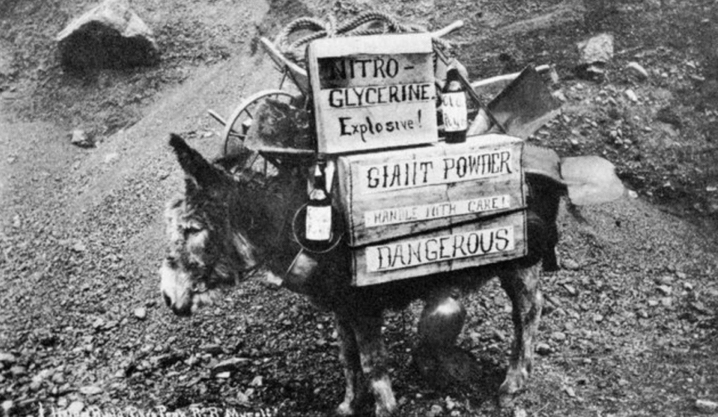 He took his first of many steps in buying and selling companies when he sold his nitroglycerin works to DuPont for cash plus a lifetime annuity. He also took a job with them as a dynamite salesman in Mexico. Within a year, he returned to America for a stint making explosives for an iron ore company in Plattsburgh.
An accident changed all that, and he returned to Rockland County, establishing the Clinton Dynamite Company in Haverstraw with a factory near Snedeker's Landing. His first contract was with the Rockland Lake Trap Rock Company located at the foot of the clove leading from Rockland Lake to the Hudson River.
Trap Rock Magnate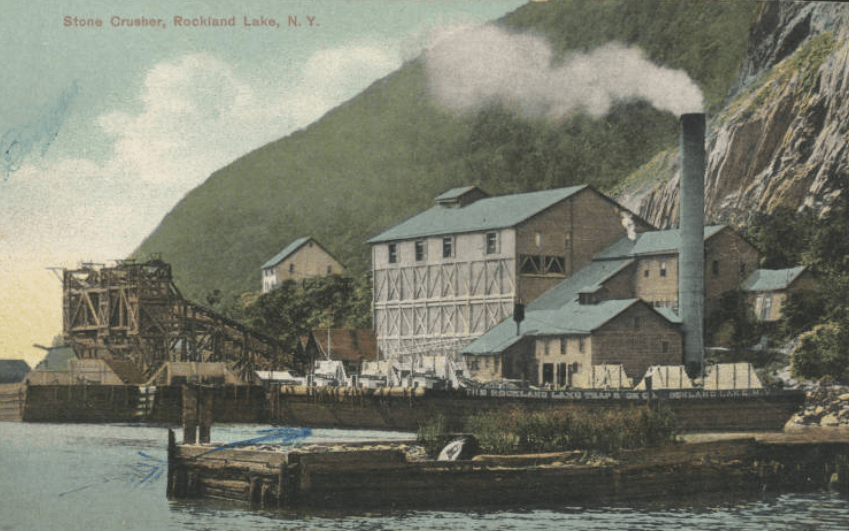 In just a few years, Foss bought the trap rock quarry and modernized it to produce trap rock faster, helping meet an increased demand for use in road paving and building as NYC grew rapidly at the turn of the century. Trap rock is hard, igneous rock, and the Hudson Palisades was a perfect source. The cliffs were dynamited, the rock was crushed, and then loaded into barges, which Foss also owned. Foss began buying up other quarries in the region forming the New York Trap Company that ended up with a controlling interest in the Manhattan Trap Rock Company that was busy blowing the face off Hook Mountain at the end of Broadway in Upper Nyack.
Other "barons" of the age living near the Palisades were upset. Weschesterites like the Rockefellers were unhappy that their view of the Palisades was being ruined. Colonel Pollock and Arthur Tucker, who owned mansions near Hook Mountain, sued based on noise and dust. Elsewhere, a preservation movement was underway, and the Palisades Interstate Park Commission (PIPC) was formed to buy old quarries. Foss fought them in the courts for a decade. One of his opponents, the head of the PIPC board, was Justin DuPratt White, who lived only a few houses south of Foss. In 1917, PIPC condemned the Rockland Lake quarries, paying Foss $2.4M.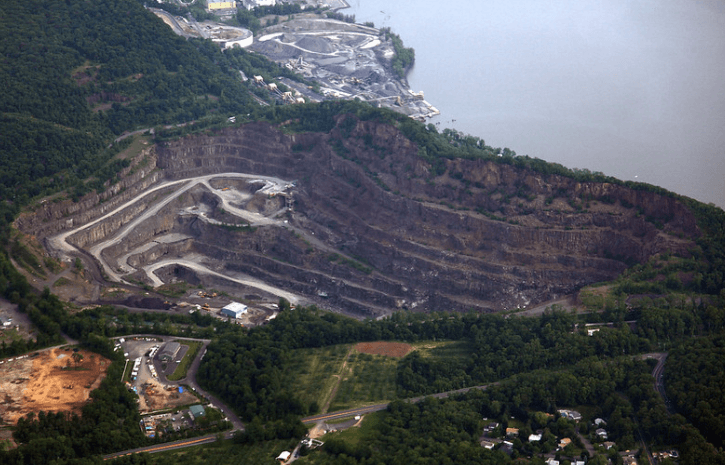 By 1921, Foss was back as CEO of a new corporation, the New York Trap Rock Corporation, which owned several properties, including the mine at the clove in Haverstraw, and acquired others, such as the Tomkins Cove Stone Works.
Deadly Explosions & a Stabbing
Like a cat, Foss was a man of many lives. Different accounts exist of Foss's survival from the first of two deadly explosions in Plattsburgh in 1886. Foss was in the nitro factory when an accident caused 900 lb. of nitro to explode, demolishing the building, killing two workers, and blowing Foss out of the building onto a frozen river. In one account, he was found shirtless with two broken legs and a broken arm. In another account he walked back across the frozen river to greet rescuers unhurt.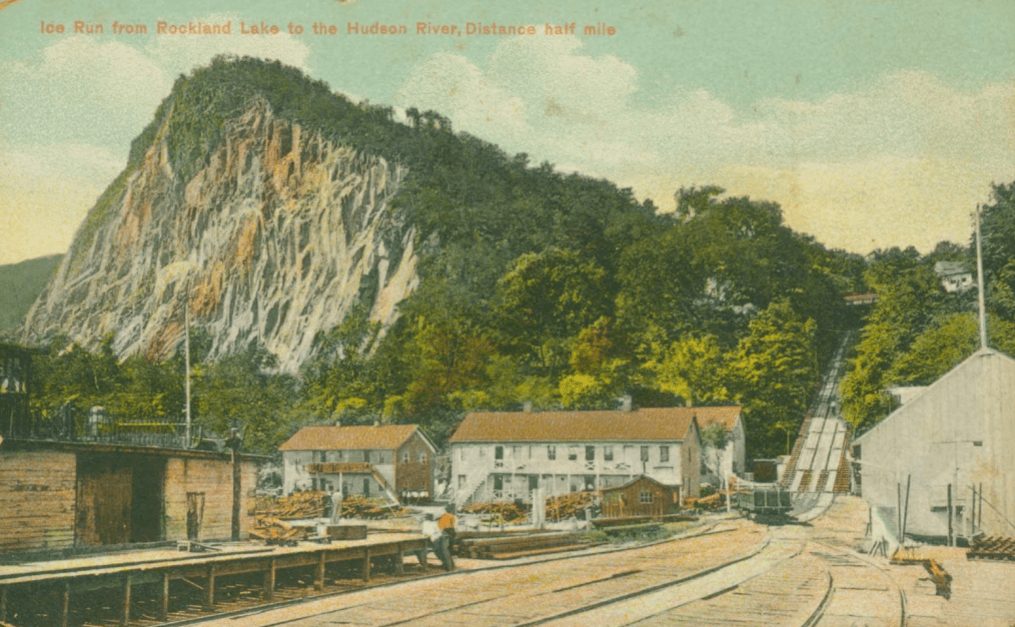 In 1891, the nitro works of the Clinton Dynamite Company exploded at Snedeker's Landing at the Clove in Haverstraw. Foss was in his downtown office at the time, which was lucky because all five people at the works were instantly killed, nearby houses were blown apart, trees were uprooted, and windows were blown out for miles around.
In 1902, while working in the Rockland Lake quarry office, an ice barge tied up at the quarry docks. William Sands, the captain of the barge, refused to move further down the dock. Foss took matters into his own hands, jumped on the barge, and started to loosen the lines. A fight ensued in which the amateur boxer Foss decked the barge owner. After completing the move, the barge owner came after Foss and stabbed him in the leg with a knife. Erickson jumped in a rowboat to escape cross river to Sing Sing. Foss chased him in a company skiff, catching him and knocking him out with an oar on the state penitentiary beach. Sands was to serve 10 months for assault.
Under Elms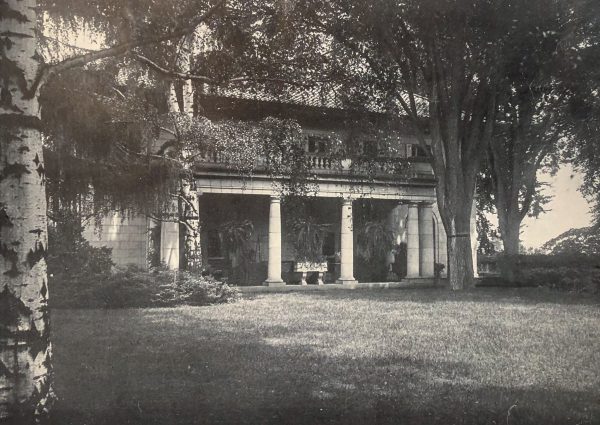 In 1908, Foss acquired 37 acres in Upper Nyack, a narrow strip 600-feet wide fronting the Hudson River and running west all the way to the top of the mountain. The eponymous Foss Drive that begins at Midland today runs through the middle of the original property. Foss had the existing house on the property moved across the street to the top of a rise that would later become the home of one of his daughters; it still stands today overlooking Broadway.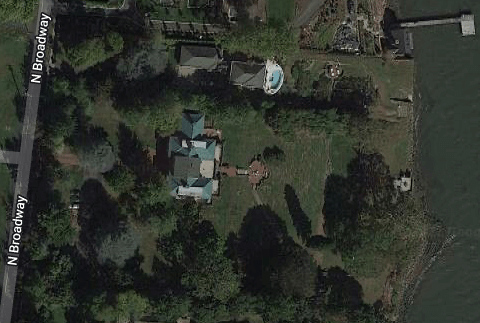 Aerial view
Aerial view of the elegant Under Elms/River House today. The sloping back lawn, patio, and remains of dock area can be seen. There is a small sandy beach area. Above the house is a much expanded carriage house, itself now an estate. The views of the Hudson River, Westchester Hills, and Hook Mountain is spectacular.
The builder of Foss's new home, E.E. Waite of White Plains, who had built mansions and hotels in Westchester, estimated the 21-room house to cost $117K and by adding the stable, garage, garden walls, pergola, a brick herringbone-patterned driveway, and boat house, the sum would be $250K, almost $7M in today's currency. Foss selected Indiana limestone as the primary building material, importing Italian masons to build it.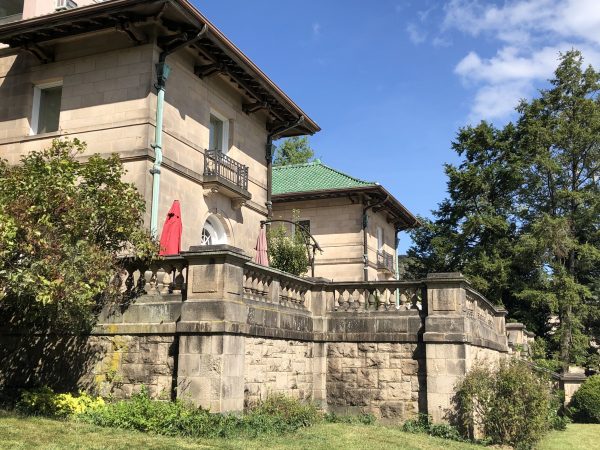 The finished house was huge, with 21 rooms, seven baths, three small apartments, an elevator, a three-car carriage house, a boathouse, a dock, all carefully manicured. Most barons of Broadway built street-side brick or stone fences in front of their mansions. Foss put in an iron rail fence that showed off the estate house for effect.
Foss, his wife Anna, five children, and five servants moved into the finished house in 1910 or 1911. A married couple listed as gardeners lived in the carriage house.
Charles Leavitt, Under Elms Architect & Landscape Designer
Charles W. Leavitt, an architect and landscape engineer, was hired to design Under Elms and its grounds. Leavitt designed Forbes Field in Pittsburgh, the grandstands at Saratoga Racetrack, and the Untermeyer house and gardens in Yonkers, among many other buildings.
Leavitt came to Foss's attention since he had just designed the gardens of his next-door neighbor, Leroy Frost. Ironically, Leavitt had been hired in 1901 as a landscape architect for PIPC, which Foss was fighting to prevent his quarries from becoming park land.
Foss Dies in 1930
Foss died in 1930 at his Upper East Side apartment where he was staying while seeing a specialist. Some obituaries list pneumonia as the cause, some heart failure, and in one case that illness was brought on by a fall while inspecting one of his mines. His wife, Ana Debaun Foss, and daughter, Ruth Foss, continued to live in the house until Ana's death in 1940. Two other daughters had already built homes on part of the property along Midland Ave. His son, Wilson P. Foss Jr., was named executor of the estate, valued at some $30M.
Legacy
Foss's son and grandson carried on the legacy of quarry owners finally selling the business to a forerunner of Tilcon. The son, ironically, became an ardent environmentalist donating land in Westchester and Nantucket. The art collections ended up at the Metropolitan Museum and the National Gallery.
Today Under Elms, the elms being long gone, is named River House, a 7-unit luxury coop. With minor modifications, the estate house and much of the landscaping remain as they in Foss's time. Just to the north, the old carriage house is now itself an estate house on a slim one-acre parcel.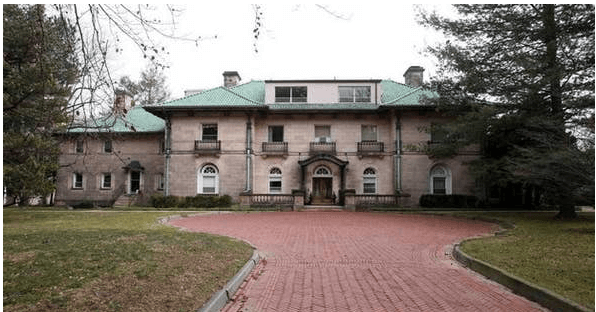 Sources
Special thanks to Tom Englert and Marie McGuire for their photos and property history; the privately distributed River House History, Beth Potter, 2007.
Michael Hays is a 35-year resident of the Nyacks. Hays grew up the son of a professor and nurse in Champaign, Illinois. He has recently retired from a long career in educational publishing with Prentice-Hall and McGraw-Hill. Hays is an avid cyclist, amateur historian and photographer, gardener, and dog walker. He has enjoyed more years than he cares to count with his beautiful companion, Bernie Richey. You can follow him on Instagram as UpperNyackMike.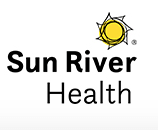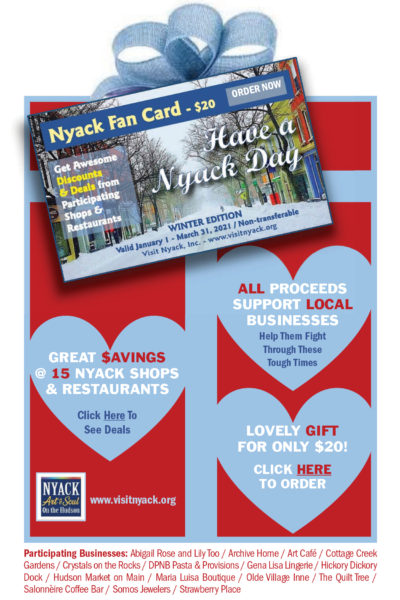 Nyack People & Places, a weekly series that features photos and profiles of citizens and scenes near Nyack, NY, is brought to you by
Sun River Health
,
Nyack Fan Card
, and
Weld Realty