Performing elephants, gaily garbed singers, flame-lit dancing near a rock grotto, lectures, piano recitals, and movies brought the 4th of July weekend in 1932 to life at the Clarkstown Country Club on S. Highland in South Nyack. The club, famously known for its yoga, wellness, and Eastern spirituality center led by Pierre Bernard, hosted a remarkable celebration on its South Nyack grounds.
Opening Night Performances
The festivities kicked off on a Saturday night, July 2nd, with a captivating after-dinner talk by Robert Tudor Hill. Hill was one of the pioneers of the adult education movement in America. Following his speech, club members and guests gathered in the club's theater room for a dance demonstration by Emily Hewet , the director of the Emily Hewett Studio of Dance, and her concert group.
Hewett showcased dance exercises that focused on core body movements, highlighting the fundamentals of dance. The program included a mesmerizing demonstration of folk dancing from Dvorak's Slavische Tanze. A captivating ritual dance invoking rain from the heavens concluded the program.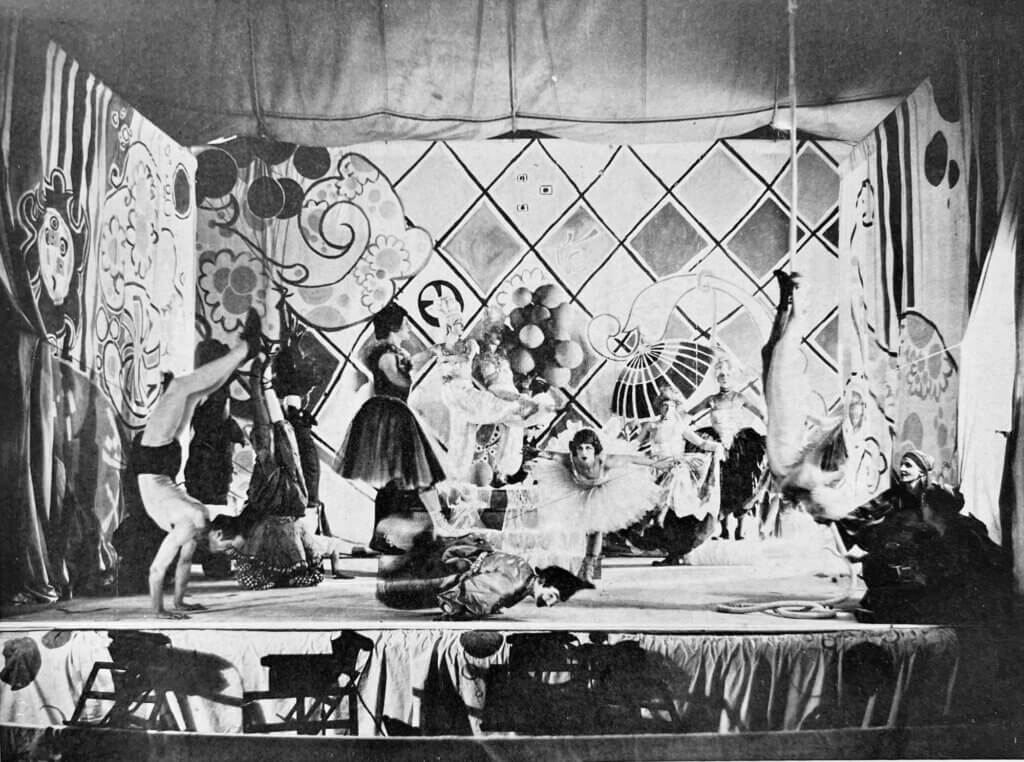 The evening program concluded with a magnificent performance by Martha Cantor, an acclaimed concert pianist and club member, playing selections from Scarlatti, Chopin, and Brahms on the piano.
Baseball
On Sunday afternoon, a baseball game between Congers and Blauvelt took place on the club's baseball field. Baseball held a special place in Pierre Bernard's heart. He would later open a large baseball stadium in Central Nyack on July 11. It is possible that the game was played on this new field before its official opening, or in a ballfield at the intersection of S. Highland and Terrace Drive.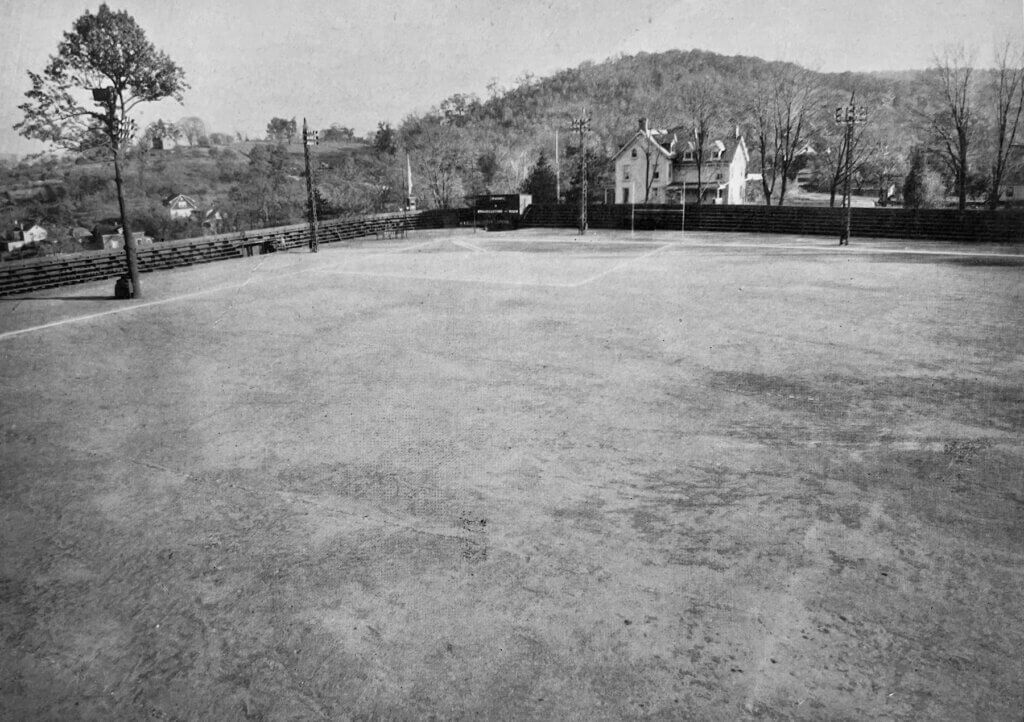 Singing & Dancing in the Lit Grotto
As night fell on Sunday evening, following movies in the theater room, club members and guests gathered in the club's enchanting grotto. A campfire, a cauldron mounted on a tripod, and red, white, and blue lights in the rock garden created a magical ambiance. Robert Frederick Freund, a prominent baritone and member of the Romany Club at Palm Beach directed club singers in a captivating folk chorus.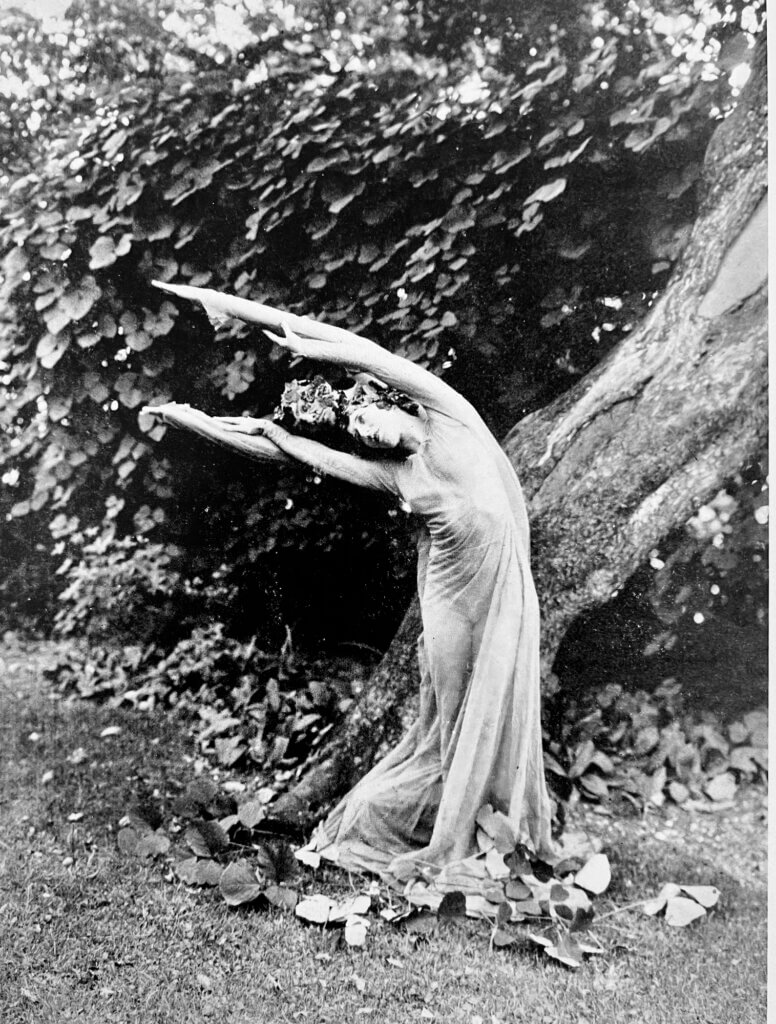 The audience joined in singing along to the melodies, including the popular Gypsy Love Song. Performances of Herbert's Moonbeams, Neapolitan Nights, and other songs added to the evening's charm. Claire Lea, a renowned Parisian dancer and club member, delivered an unforgettable performance including a passionate and lively Cha Cha dance.
The evening reached its climax with the Gypsy Trail Song by Rudyard Kipling. Singers carrying illuminated lanterns, ascended a stone path over the ledges of the grotto and disappeared into the darkness, creating an awe-inspiring finale.
Performing Elephants
The 4th of July evening began with guests and club members dressed in colorful folk attire. They gathered on the patio of the newly constructed hotel, known as the clubhouse (which still stands today). The chorus from the previous night was repeated, setting a festive tone.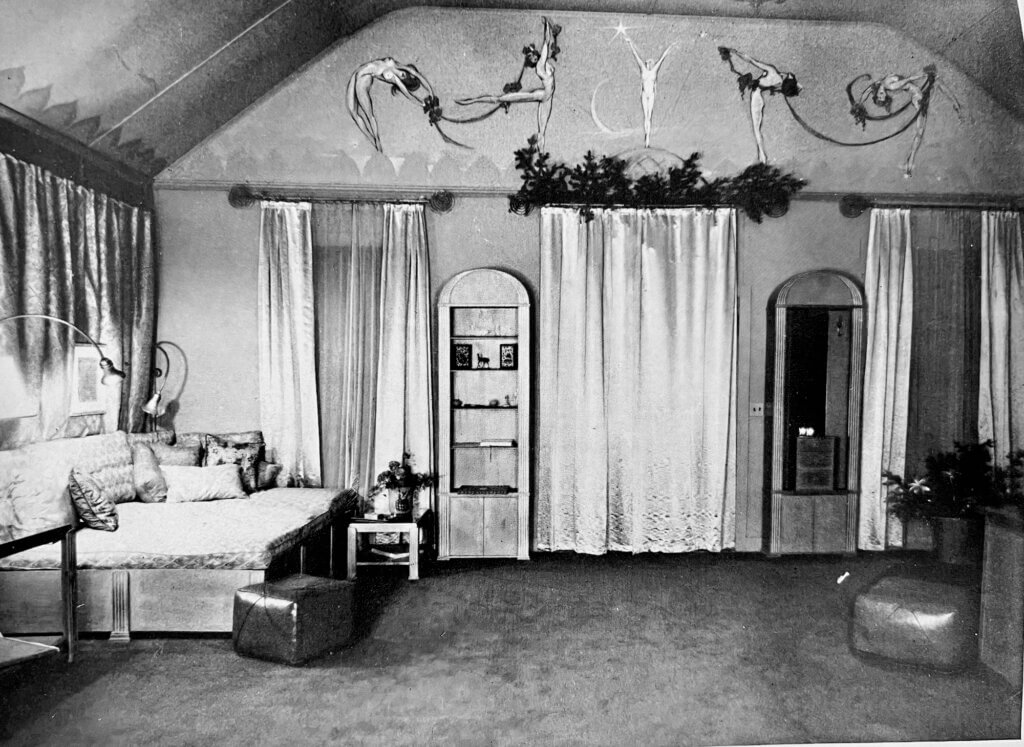 Everyone then proceeded to the outdoor elephant ring, where Bernard's five trained elephants, led by "Baby," showcased their impressive circus routines. The elephants played musical chimes with their feet, demonstrated boxing skills by wearing gloves on their noses, rode oversized bicycles, and even performed on tightropes, occasionally balancing on one foot. Their playful and skilled antics delighted the audience.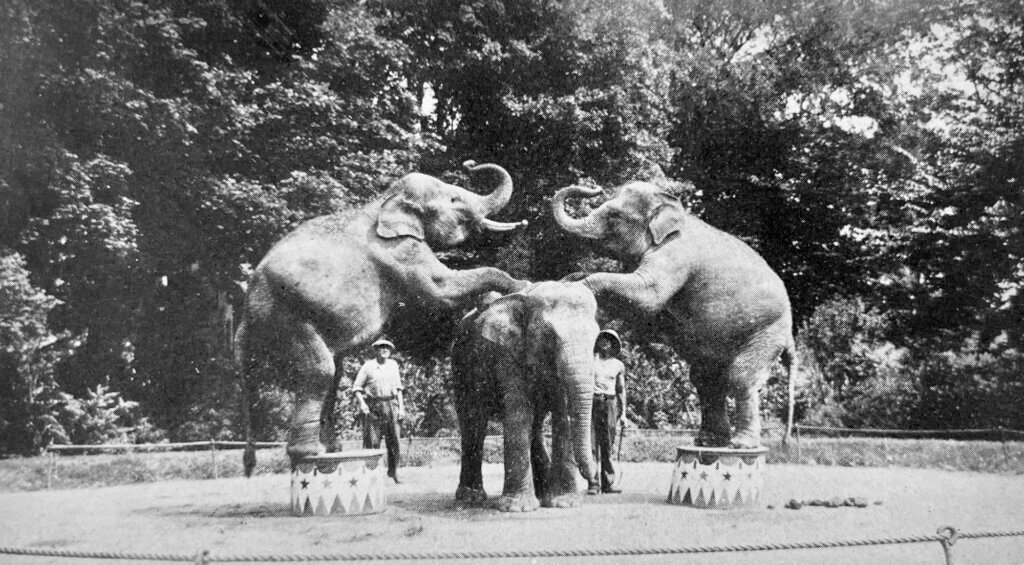 Music & Movies
Following the elephant performance, the guests went from the elephant ring to the theater. Fay Ferguson, a renowned concert pianist, filled the theater room with a piano recital.
The evening concluded with moving pictures featuring scenes from The White Hell of Pitz Palu, a 1929 silent German movie featuring Leni Riefenstahl. Short films showing scenes from Norway, the Hudson River, and Niagara Falls and others preceded a movie newsreel depicting Bernard's elephants performing tricks for John Ringling of the Ringling Brothers & Barnum & Bailey circus. Ringling had hired the elephants for a show at Madison Square Garden, making the only occasion he used performing elephants that he didn't own.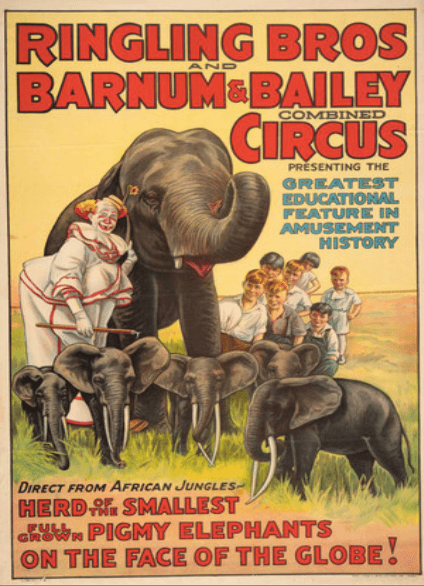 A Memorable 4th of July
Nyack, and perhaps the entire United States, has likely never experienced another 4th of July celebration quite like this extravaganza. The combination of art, Eastern spirituality, wellness, wealth, and sheer frivolity during the early days of the Great Depression remains truly astounding.
---
For more Clarkstown Country Club
Life at the Clarkstown Country Club, 1935. The Historical Society of the Nyacks offers for sale a reproduction of this 1935 memoir by a prominent club member. It includes a treasure trove of Clarkstown Country Club photos during their peak years in the early 1930s. To purchase, click here.
---
Michael Hays is a 35-year resident of the Nyacks. Hays grew up the son of a professor and nurse in Champaign, Illinois. He has retired from a long career in educational publishing with Prentice-Hall and McGraw-Hill. Hays is an avid cyclist, amateur historian and photographer, gardener, and dog walker. He has enjoyed more years than he cares to count with his beautiful companion, Bernie Richey. You can follow him on Instagram as UpperNyackMike.
Nyack People & Places, a weekly series that features photos and profiles of citizens and scenes near Nyack, NY, is brought to you by
Sun River Health
, and
Weld Realty
.