by Mike Hays
In the late 19th century, Nyack was visited by elephants, acrobats, and tightrope walkers. The village was a regular stop for circuses that toured the country by railroad in the late 19th century. The circus company would arrive, stay for a single performance, and then move on to the next town. Circuses would start in May, continue during the summer, but mostly were seen in September and October.
In the early 20th century, Nyack had its own circus after Labor Day, the Clarkstown Country Club Circus, with its own animal trainers and a professional acrobat school. Only open to the public once a year, and housed in America's largest privately-owned canvas tent, the circus was in a style unique to Nyack: individualistic, bohemian, artistic, and unpredictable.
Railroad Circuses Come to Nyack

Circuses were widely advertised in the Rockland County Journal from 1860-1900. Circuses such as the Union Circus and the New York Circus held shows in Nyack before 1870 when the Northern Shore railroad was opened in Nyack. But the railroad brought circuses to town more frequently.
The Circus Lot
The circus would parade from the train station, at the corner of Franklin St. and Cedar Hill Ave. to the circus lot, which for most of the early years was "near Mrs. Frewelling's house" at the corner of Midland and Depew Aves. At the time, Midland ended at Depew and a large open space now encompassing provided ample space for the circus.  Later, going into the 20th century, the circus lot was on Main Street across from the ice pond, roughly where the NYS Thruway crosses Rt. 59 now.
The circus lot was still in place in 1932. Hunt's Three Ring Circus, performed on the circus lot on Friday July 15th, 1932, for two shows plus a free street show. By that point, circuses were motor circuses, so there was no longer the circus parade from the train station.
The European-style Circus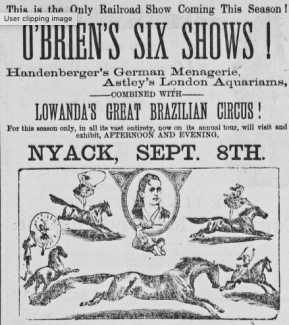 Nineteenth century circuses in America were modeled after the equestrienne circuses seen in Europe with acrobatic acts performed by horses and riders. Stone and Murray's Circus, advertised as a "chaste, elegant, and refined" circus, held two shows on August 27, 1870. The show included the daring funambulist M'lle Ellsler, who did a tightrope act; the great equestrian John Henry Cooke, who appeared with "six naked horses"; Mr. Wm. G. Franklin, the paragon of somersault equestrians; and various other acrobats, horses, and clowns.
By 1884, other animals besides horses appeared in the shows. O'Brien's Six Shows, along with Lowanda's Greater Brazilian Circus, appeared on September 8, starting with a parade with two bands, wide-open dens of savage monsters, and 100 royal marchers. Bareback horse-riding acts still seemed to dominate, but now with animals. Handenberger's German Menagerie and Astley's London Aquariums brought along wild birds, beasts, and reptiles, including the twelve-foot elephant, High Empress, and a hippo.
Van Ambugh's American and Japanese railroad show was performed on October 15, 1885, and featured a museum, aquarium, and menagerie with Quedah the elephant. Frank A. Robbins's two-ring circus in the same year, advertised 150 celebrated artists, 13 elephants (one of which was a ludicrous clown elephant, and others formed a musical elephant band).
The Clarkstown Country Club
Pierre Bernard and his group of yoga enthusiasts began buying property in Nyack just after WWI, first in Upper Nyack and then in South Nyack, where Bernard purchased the Stephen Bradley estate on South Mountain, that was to become a part of Nyack College and the Nyack Education Department. Their group became known as the Clarkstown Country Club (C.C.C.). Depending on one's perspective, Bernard was either the founder of yoga in America, a charlatan, a spiritualist, an entrepreneur, head of a commune, or all of the above. At various times, he was arrested and sued, owned an airport in Nyack, built a sports arena that seated thousands, had 300 resident members of the club, a lending library of 7,000 books, and a theater that seated 800. The club declined during WWII, and Pierre Bernard died in 1955.
C.C.C. Circus
Among the many unusual events on the Clarkstown Country Club campus was the circus. Bernard had collected several animals, including five Bengal and four Sumatran tigers, several lions and lion cubs, spotted and black leopards, bears, monkeys, a gorilla, a dwarf stallion, llamas, exotic birds of all sorts, and elephants that lived on the campus year-round except when sent on tour with other circuses. In keeping with a life-affirming philosophy, the club practiced humane animal training.
The Elephants
At one time Bernard owned as many as nine much-beloved elephants, including Mom, who lived to the age of 92. The elephants would also work at the club plowing fields, and they were loaned for parades in Nyack, leased for acts at the Ringling Brothers and other circuses, and appeared at the national Republican conventions. As we now appreciate, elephants and other circus animals suffered much abuse. If trained elephants had to be residing anywhere, their home at the C.C.C. was surely as good as any.
The Acrobatic School
For many years, along with teaching yoga and physical fitness as a pathway to spiritual health, Bernard ran an acrobatic school that was led by Edward Evans of New York City. Evans, who was known to be able to perform almost any known feat of acrobatics, had long been associated with circuses and vaudeville worldwide.
The main gym was in a building known as The Brick House on Broadway in Upper Nyack, once the home of Hugh Maxwell and the clubhouse for the Nyack Country Club. Mats were spread out in the casino that had been used for plays and dancing during the country club years. Over 200 acrobatic tricks were taught, from the elementary cartwheel to the triple conjunction porpoise dive.
During the summer months, the acrobatic club moved to the 15,000 square foot circus tent that allowed for the rigging of trapezes, flying rings, slack wires, and other aerial apparatus. Member of the acrobatic club could also use the glass-covered swimming pool, four of the best tennis courts in the county, and a "skinned" baseball diamond.
Annual C.C.C. Circus
A "formal" circus was held every year, usually after Labor Day. Many of the circuses were private; if you didn't have an invitation, you were turned away. In 1929, guards handled the gate and hundreds of automobiles, many with chauffeurs carrying fashionably attired women. The venue was the large canvas tent along with other tents used as dressing rooms and side shows. All the costumes and food were prepared by club members.
The performers, human and animal, were on-site club "members." The elephants were the big hit of the shows. Juno was dressed as a clown riding a tricycle, Bood walked a tightwire forward and backward and balanced on a four-inch beam. Elephants paraded over a prone woman without touching a feather on her costume. The trainer would put his head into the elephant's mouth. Pierre Bernard often would appear performing a dance with an elephant called "The Barber's Itch."
The Circus Then & Now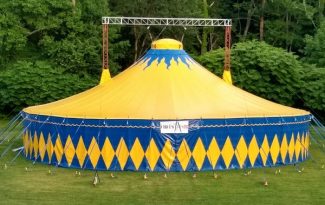 Circuses were a staple of village life for nearly 100 years. Times change but nostalgia for circuses hold sway in our imaginations.  For over ten years, through 2019, the Big Top Summer Circus Day Camp in Nyack taught gymnastic skills to children. The summer's final public performance brought back an era of 100 years ago when children and adults crowded into the big top and marveled at the death-defying skills of acrobats.
Michael Hays is a 35-year resident of the Nyacks. He grew up the son of a professor and nurse in Champaign, Illinois. He has recently retired from a long career in educational publishing with Prentice-Hall and McGraw-Hill. He is an avid cyclist, amateur historian and photographer, gardener, and dog walker. He has enjoyed more years than he cares to count with his beautiful companion, Bernie Richey. You can follow him on Instagram as UpperNyackMike.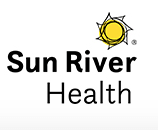 Nyack People & Places, a weekly series that features photos and profiles of citizens and scenes near Nyack, NY, is brought to you by
Sun River Health
, and
Weld Realty
.