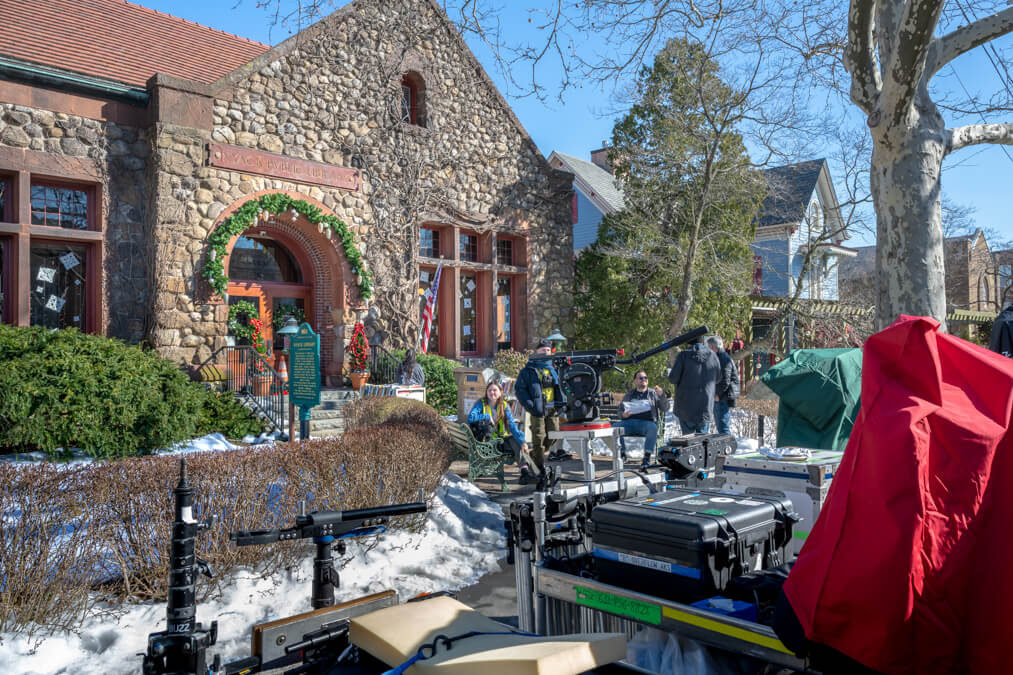 This week in the Villages: We take a look at Nyack's booming film industry. Plus, other local news, a weather prediction, quotes and videos of the week, a Covid update, upcoming meetings and much more. Thanks for being here!
Nyack Film Industry Breaks Out in 2023
A couple of months ago, I was driving up 9W, past Oak Hill Cemetery when, out of seemingly nowhere, I noticed a significant accumulation of snow covering the grounds and landscape of the Village Gate housing complex.
Normally, of course, the accumulation of snow wouldn't seem out of place in Nyack during winter months, but this New York winter has been particularly free of the white fluffy stuff.
Hence the significance of suddenly seeing snow.
"That's Severance," my carpoolmate, who lives near the unexpected snow, told me as we pulled into her driveway. She was, of course, referring to the stylistic dramedy produced for Apple TV that, unexpectedly, turned into one of my favorite shows of 2022 and included this amazing scene:
"Yep," my carpoolmate follows up, casually, gesturing to the enormous trailers sitting across from her home. "I saw [Severance Director] Ben Stiller the other day."
Hold on. Ben Stiller? Zoolander? Here? In Nyack? Does he get his coffee at Boxer or Didier? He probably doesn't get his own coffee, right?
Yep. Just another day in the life of a town consistently burnishing its Hollywood setting credentials.
In January, Severance was filming its second season on 9W.
In February, Law and Order took over a stretch of Main St., blacking out the early evening sun, to film a night scene next to Olive's.
In March, film crews gave Nyack Library the holiday treatment as the backdrop for a scene in a new Christmas movie starring Melissa McCarthy and Paapa Essiedu.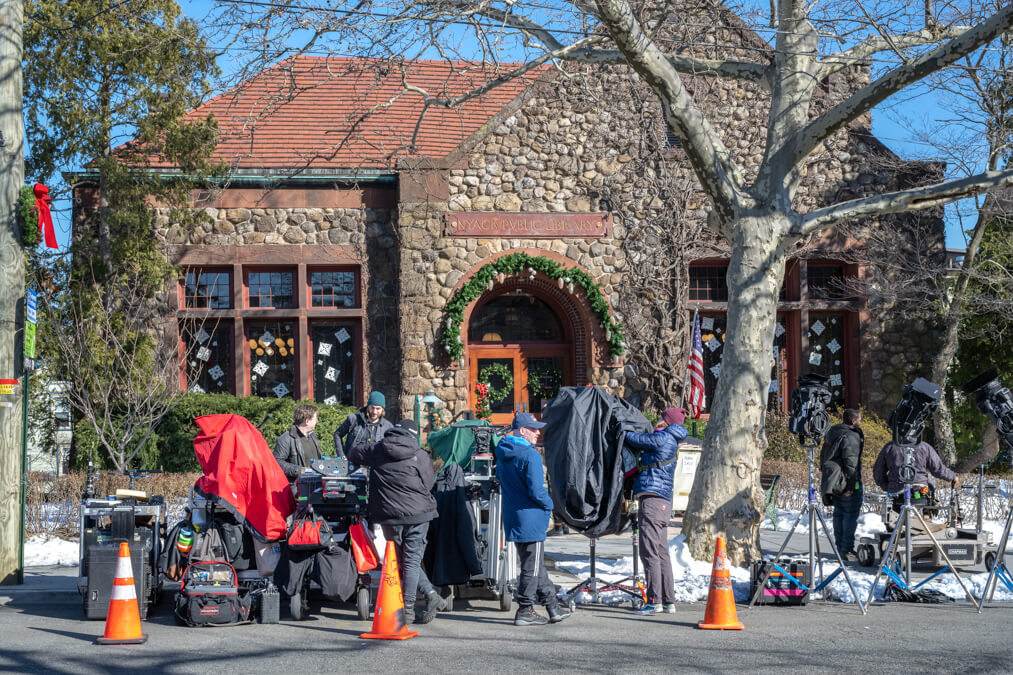 While Nyack doesn't actively solicit production, it's become a well-known and well-used location for movies, TV series and ads.
Right before I moved here in 2018, my brain almost exploded when I learned they shot a good chunk of The Leftovers, one of my favorite TV shows of all-time (right up there with The Wire, Mad Men and Breaking Bad, if you're keeping track at home — FYI: Severance and White Lotus were my two favorite shows of 2022). When I told my friend about The Leftovers connection, he said, "Dude, I can't believe you live in Mapleton (the fictional upstate New York town where much of The Leftovers takes place)."
Nyack is also the location where famous actor Liv Schreibner infamously got into an altercation with a photographer while filming a scene for Ray Donovan. (The charges were later dismissed in Nyack court.)
So, you get the good, the bad, and the ugly when it comes to filming. But it always brings in the money.
So far, just in 2023, the film industry has brought in around $80,000, according to Village officials. That's not a drop in the bucket for a village with $6 million budget.
Stretched out over the course of a year, that's nearly half a million dollars in revenue to help pave our streets and keep our water clean, to produce music in our parks and commission murals for our blank canvases.
Plus, I can now tell all my friends that I live in the "Severance town." (Dude! So cool!)
Stay tuned and be in touch …
In other relevant news:
Tweets of the week:
Ok, Redhawks. Let's go!
Love this, Nyack MS! Next move, kids: Bookmark Nyack News & Views!
Videos of the week:
First read Dianne Snyder's story on Anita Kopacz, then watch this interview from The Breakfast Club for more about her life, writing process and spirituality.
ICYM NNV's weekly features: Bill Batson's latest "Nyack Sketch Log"; Mike Hays' most recent "Nyack People & Places"; and our coverage in last week's "The Villages"; Our latest Nyack Schools Report. If you haven't read it yet, please check our vision for the future of Nyack News & Views and how you can help build our coverage and capacity.
Weather prediction (through April 9)
Spending Spring Break in Nyack will be a mixed bag with sunshine early on Monday and Tuesday with temperatures rising up to 70 and then clouds and rain expected Wednesday and Thursday. The weekend calls for cooler temps but more sunshine. [Click here for the National Weather Service's latest 7-day forecast for the Nyack area.]
Covid Update! (threat level: still "low")
According to CDC data of recent hospitalizations and cases, Rockland's community threat level of Covid-19 is now considered "Low" after spending 6 weeks over the holidays in the "high" range and then dropping to medium throughout January. With a low designation, the CDC recommends getting tested if you have symptoms or have contact with someone who tests positive. Otherwise, live your life.  (CDC stats updated 4/6/23)
Village updates
Nyack
Here's the list of all upcoming meetings posted for the Village of Nyack.
If you could use help paying your water bills, click here.
Drop off humanitarian aid for victims of the war in Ukraine (including first aid, painkillers, blankets, baby food, diapers, non-perishable food, antibiotics and more, at Village Hall, 9 N. Broadway (or at the Orangetown town hall, 26 W. Orangeburg Rd.).
Upper Nyack
South Nyack
Due to reader request, we have re-added South Nyack, which dissolved as an official village earlier this year. Please send us info about what's going on in South Nyack at info@nyacknewsandviews.com.
Orangetown
Clarkstown
The Technical Advisory Committee, which "evaluates the technical adequacy of land development applications and decides their readiness for Planning Board review," meets most Wednesdays, including this Wednesday, from 10 am to noon, in the town hall's Historic Map Room.
For a calendar list of all Clarkstown meetings and events, click here.
Other Local Updates
South Nyack advocates have filed a petition with the town of Orangetown seeking to show support for a new Elizabeth Place Playground — the grassy play area and dog park just south of 87 and right off the Esposito trail. After South Nyack dissolved in March, the town found the playground equipment at Elizabeth Place was unsafe and not compliant with ADA regulations and removed it. A new ADA compliant park has been proposed and advocates want to see the proposal approved and implemented. Click here to read and/or sign the petition.
Nyack Schools
Check out our latest Nyack Schools Report, a new regular feature we will post bi-monthly.
Find out what else is going on in Nyack-area schools at Home Page – Nyack Public Schools (nyackschools.org)
Rockland-wide
A rare polio case was recently discovered in Rockland County last summer. Here's some info on how to protect yourself:
New Yorkers can pre-register for a free polio vaccination appointment here or call 845-238-1956 to schedule. Walk-ins will also be accepted.
Vaccines are also available through local healthcare providers, including Federally Qualified Health Centers.
For more information on polio including symptoms and spread, visit NYSDOH's page here.
New Yorkers can learn more about the polio vaccine available in the U.S. at CDC's page here.
The Reviving Rockland Restaurants Grant Program will reimburse businesses between $5,000 and $25,000 for past expenses or fund future expenses for eligible outdoor dining COVID-19 mitigation equipment. Eligible entities include restaurants, food stands, food trucks, bars, saloons, lounges, taverns, bakeries, delis, cafes, breweries, wineries, and other similar places of business. For more information and to download an application visit rocklandgov.com.
Fill out this survey to help the county provide better digital services.
Connect with Nyack News and Views
Note to readers: We want to hear from you and welcome your input! What do you think we should be covering in your Rockland County village? Let us know at info@nyacknewsandviews.com. Send us story ideas, issues to investigate, letters, reviews, photos, videos, feedback and news tips. And read about our vision for delivering high-quality, hyper-local journalism and how you can help us fulfill our mission going forward.