Part 1 The History of Gedney Street in the 19th Century
For about 50 years, a small, shabby building, not much more than a shed, served as the village jail known as the Gedney Street lock-up. In 1891, a mysterious fire killed a transient Civil War veteran staying in the lock-up for the night. He wasn't a prisoner. His tragic death proved to be a goad for the village to build a new jail, firehouse, and village hall on Main Street.
The unfolding mystery of the death of John Harrington is a story no longer told in the village. His story is stranger than fiction. But first, a history of Gedney Street and the Gedney family.
Gedney Street Today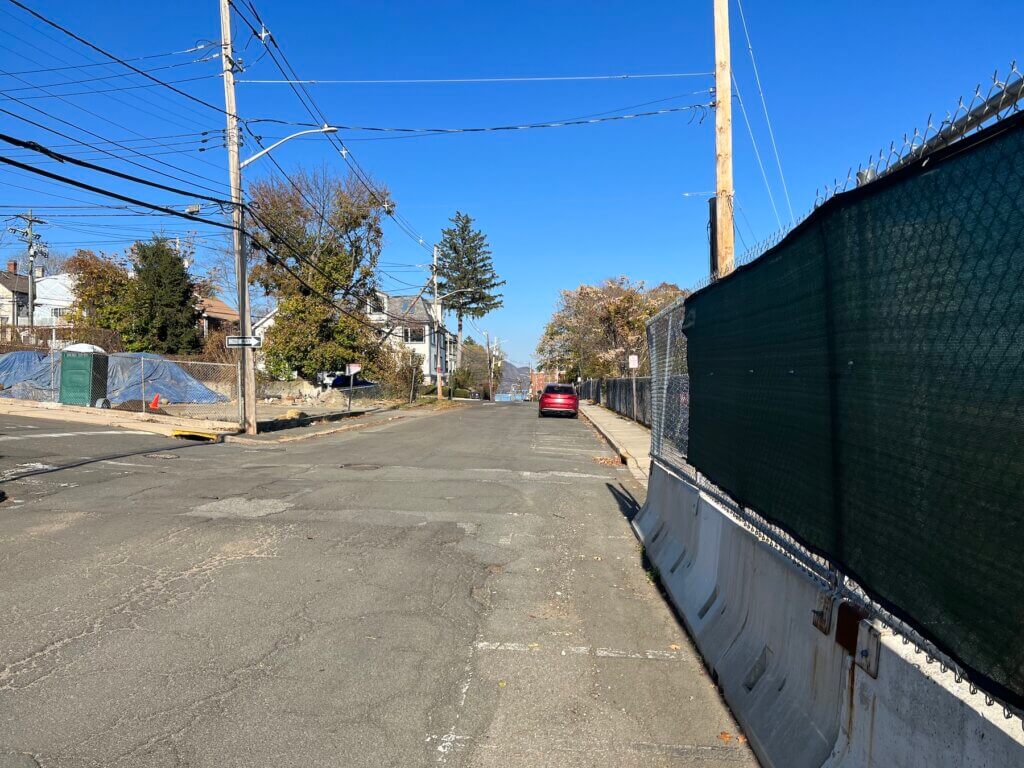 Gedney Street is today the most densely populated street in Nyack as the home to 4 large riverfront apartment buildings with river views and in one case a manicured green lawn. Yet the street itself is a sad spectacle. Jersey barriers sit on the sidewalk near Main St., the site of potential luxury apartments on a remediated gas-tank-storage brown field approved in 2017. Litigation among the partners seems to have doomed the project. A lonely, rusted end loader, a sorry monument, sits behind a chain link fence next to the lone remaining house on the east side of the street, now the Nyack Boat Club.
Gedney Street is an unpleasant place to drive, walk, or bike, despite being on the green-blazed state bike route 9 that bypasses downtown. It is narrow and full of potholes and paving patches. At the northern end, a chain link fence and no trespassing signs prevent access to Hook Mountain views. How did we end up with this mess?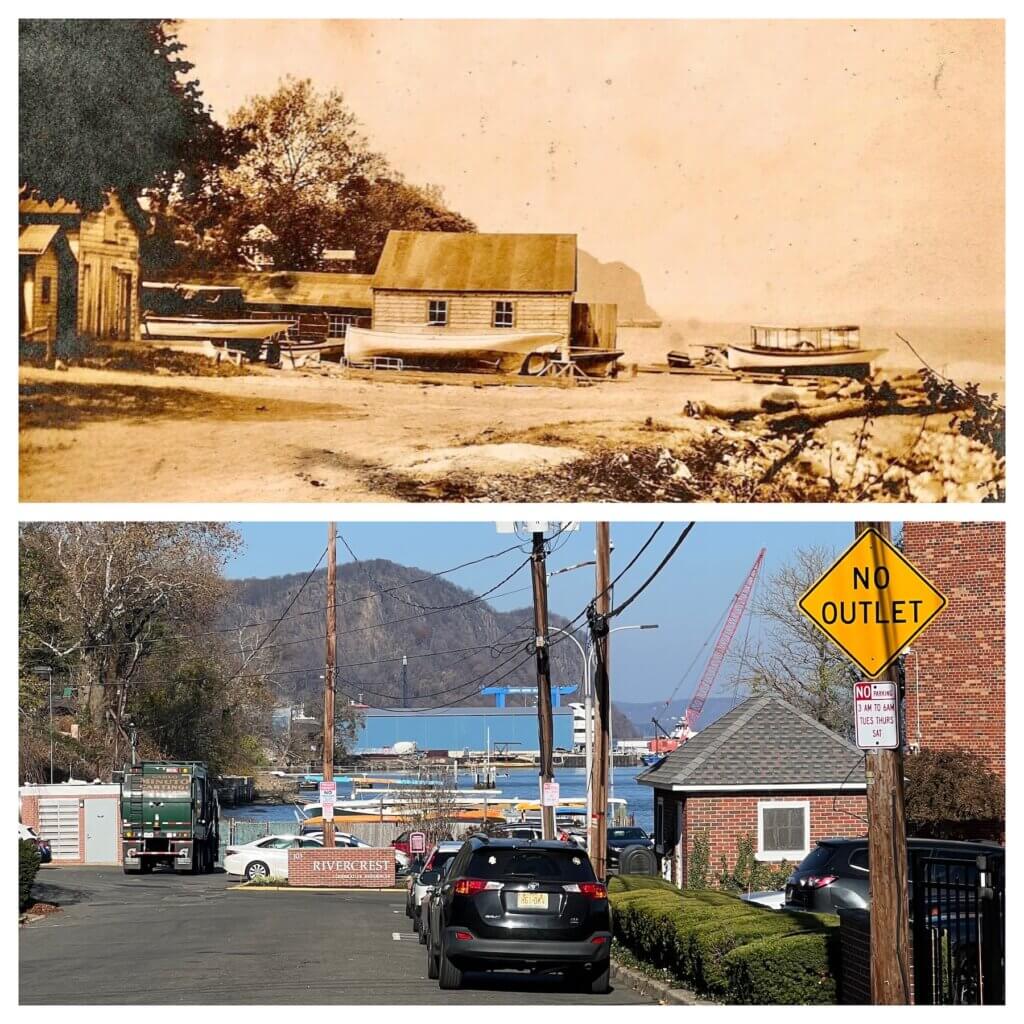 The history of Gedney Street is a checkered one starting from its very beginning.
When Gedney Street was a Dirt Lane Named Canfield Street
Nyack was a small, river-oriented village at the beginning of the 19th century. Its tiny commercial district clustered at the ends of Main, Burd, and Spear Streets. The opening of the Nyack Turnpike, now Route 59, enabled farmed and manufactured goods in Rockland County ready river access to New York City markets. Businesses sprang up near the river to support river trade. Hotels, shipyards, and food markets sprang up. Few shops existed west of Broadway.
Before 1838, a short dirt lane connected Main Street to the John Perry Shipyard. Some referred to the lane as Canfield Street because the Dry Dock Hotel, built by Samuel Canfield, occupied the spot just east of this juncture. Canfield served as Nyack's postmaster from 1836-1844. The hotel housed the post office. Just across the street, John Green ran one of the earliest general stores in the village and a lumber yard. The stone building is one of the oldest stone buildings in Nyack.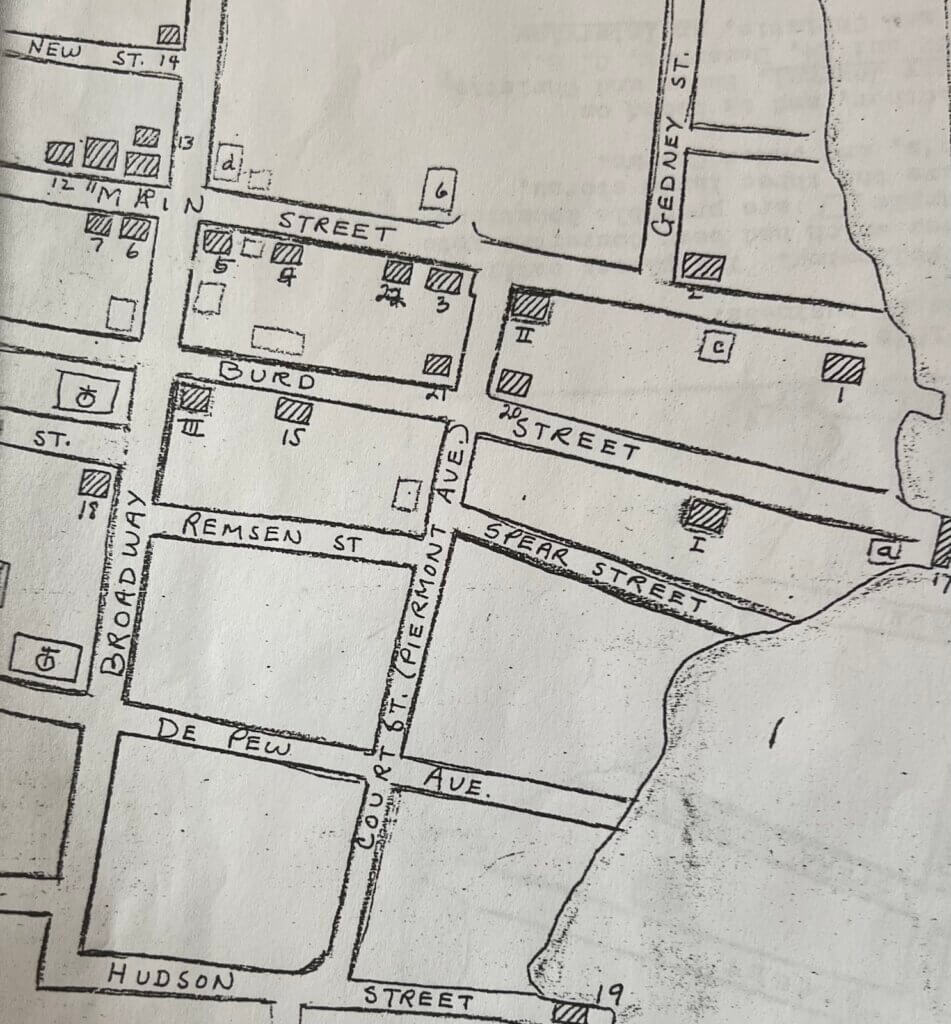 Just up Main Street from Perry's boatyard lane, Azariah Ross (who also built the Ross-Hand Mansion on Franklin St.) built Nyack's first brick commercial building at the corner of Court Street as Piermont Avenue was once called. The first store in the building sold groceries and drugs. Other stores opened leading to the docks on Burd Street and at the foot Smith Place, later Spear Street.
Steamboats Change Everything
The advent of steam powered boats made river transportation dependable. Nyack got into the act quickly. Several investors formed the Nyack Steamboat Association with a dock located at the foot of Main St. (later Burd St.) The first steamboat, the Orange, built by Henry Gesner in Nyack in 1828, became known as the "pot cheese" for its ugly shape, and as "the flying Dutchman" by others for its lack of speed.
Notwithstanding its shape and slow movement, the Orange prospered. Wagons would wait their turn to unload in a line sometimes extending to Franklin Street. Occasionally, the boat carried so many people and so much freight that water came within inches of the guardrail. Sloops, carried in tow, stowed extra freight. Huge piles of firewood lined parts of Main Street to fuel the Orange. By 1838, the Smith brothers (D.D., Isaac P., Abram P. and Tunis) all of whom became wealthy, built the Arrow to run from Nyack to New York city with a stop at the Erie Railroad terminal on the Piermont pier. The Arrow has its own long and checkered history.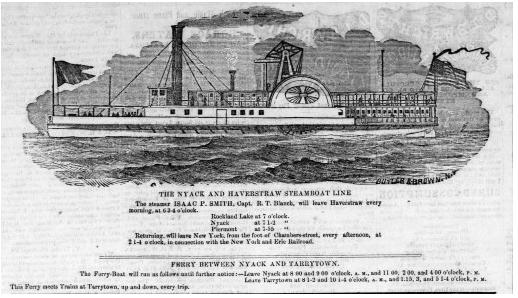 Increasing commerce using the Nyack Turnpike and Nyack's steamboats brought new jobs and with jobs, new residents. The stage was set for a developer to take advantage of this new market. The developer, G. W. B. Gedney, appeared at the right time, at the right place.
G.W. B. Gedney
George Washington B. Gedney, or G.W.B. Gedney as he styled himself, was a real-estate developer, entrepreneur, and inventor. Born in Manhattan in 1802, he made a foray into health resorts when he opened the Sharon Springs Pavilion in Schoharie County not far from Cooperstown. The hotel had a large columned porch advertising healthful spa water and baths in a gorgeous natural environment.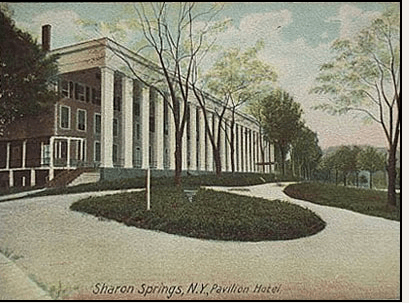 Gedney's 1838 Independence Day Speech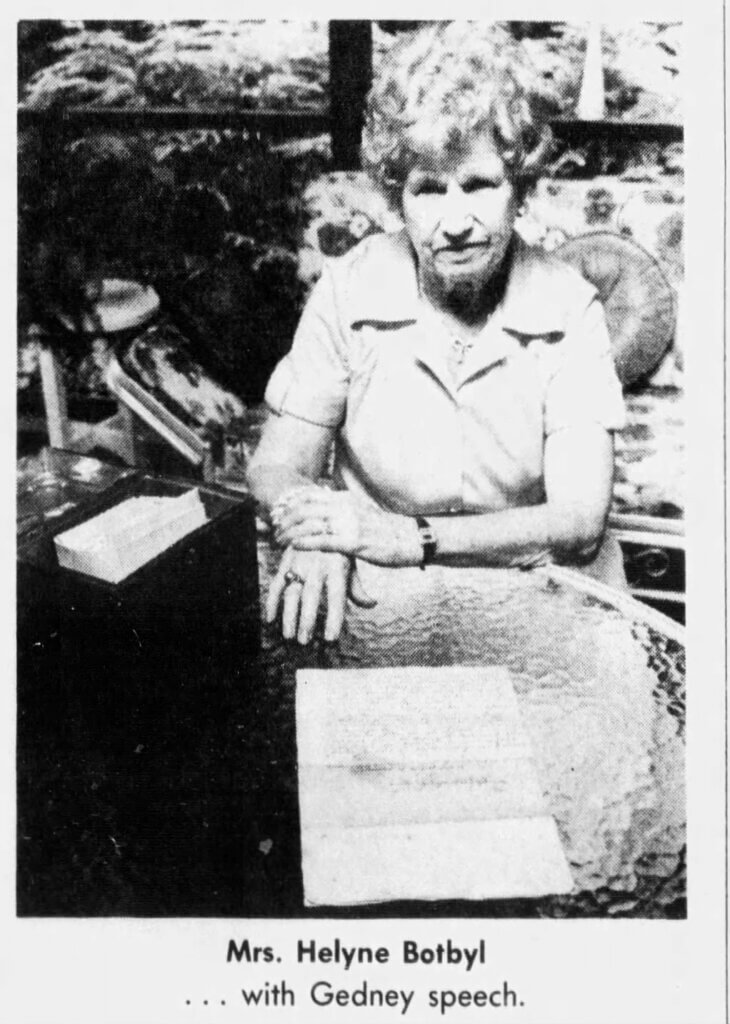 G. W. B. Gedney must have been a Nyack VIP. In 1838, he headlined the country's 62nd birthday celebration with a speech. A copy of his two-page speech re-appeared in 1983 when Helyne Botbyl of Upper Saddle River found it while cleaning her basement. The speech invoked themes of liberty and freedom. Gedney proclaimed that Rockland County was "the scene of the most important event that occurred during the Revolutionary War", namely, the trial and execution of Major John Andre, Benedict Arnold's contact among the British miliary. Gedney, whose family dated back to the early days of Salem, MA, and whose ancestor sat as a judge at the witch trials, hailed the ongoing fight for independence by Poland against the Russians.
The Nyack Ferry
In 1840, Gedney obtained a license to run the first Nyack-Tarrytown ferry. Gedney built a dock at the foot of what later became Third Avenue. Gedney made it large enough for his 16-ton sailboat. The dock was 80-feet wide and ran out 50 feet into the Hudson River. Rates to cross the river started at 50 cents per person, 75 cents for a horse and rider, 12.5 cents (half cents being a curious rate) for "neat cattle" and 3 cents each for sheep, calves, and hogs.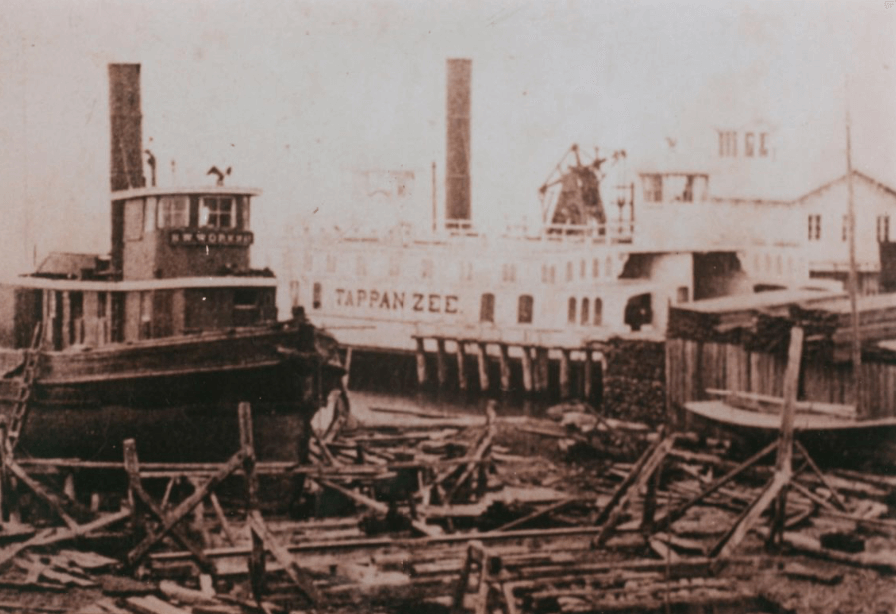 Gedney's 15-year license required the ferry to run from 5a to 9p April to December as the weather and ice permitted. Gedney didn't count on the Tappan Zee's fickle winds. Sailboats didn't adhere to schedules. A steamboat was the answer, but it took 12 years to hire one as a ferry.
Nyack's First "Suburb"
In the mid-1830s, Gedney acquired several properties in Nyack, the largest being 25 acres from Tunis Tallman, a prominent landowner whose ancestors first settled Nyack. Gedney moved to Nyack after the purchase and in September 1838 he filed a plan for a new subdevelopment on the Tallman property from the Hudson River to the Great Hook Road (now Broadway). At the time, the entire property contained just one house. That house, or least its old brick basement foundation may still exist in a home today at the corner of Gedney and Second Streets.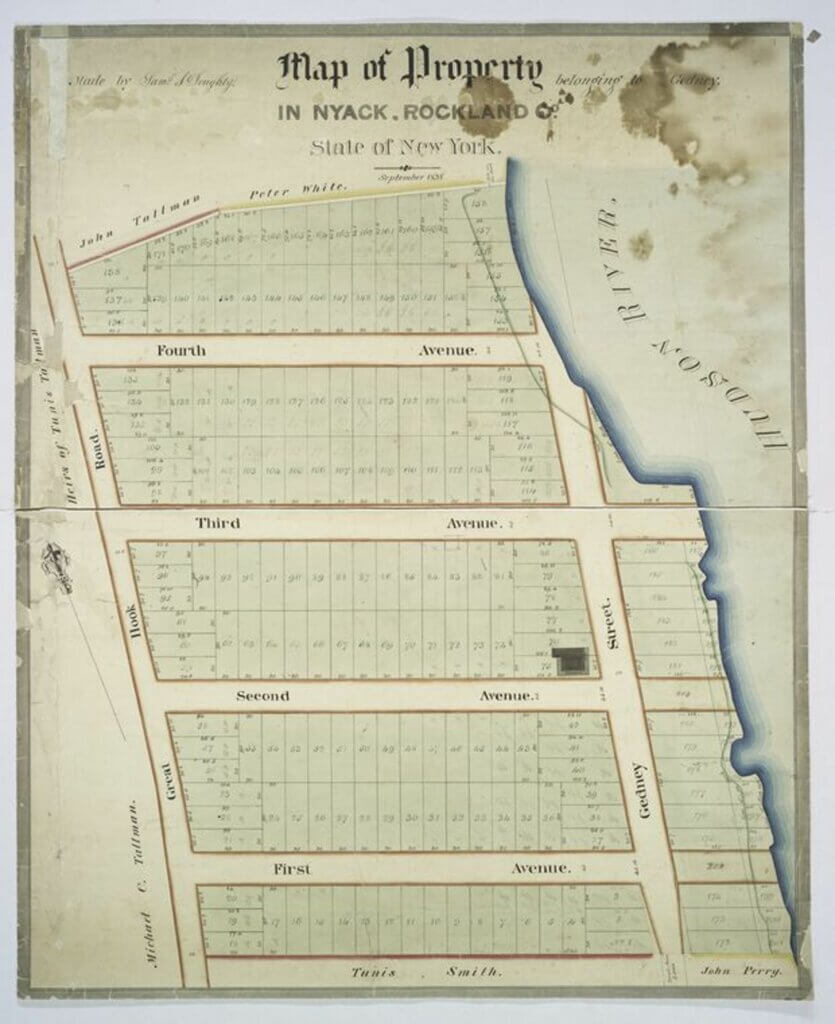 The property was divided up into 171 lots with a 30-foot frontage and a 90-feet depth. Some lots had an irregular shape. He plotted out new streets creating Gedney street, and First through Fourth Avenues. G. W. B. Gedney built a riverfront house on Gedney Street between First and Second Avenues.
Lots For Sale
G. W. B. Gedney sold his first lot in 1839 and then sold lots on a regular basis until 1857. Some were sold in the name of Hannah Gedney whom him married in NYC in 1847 and who may have died in 1850 (although the 1854 Nyack map shows Mrs. Gedney living in the house). They had one child named Edith.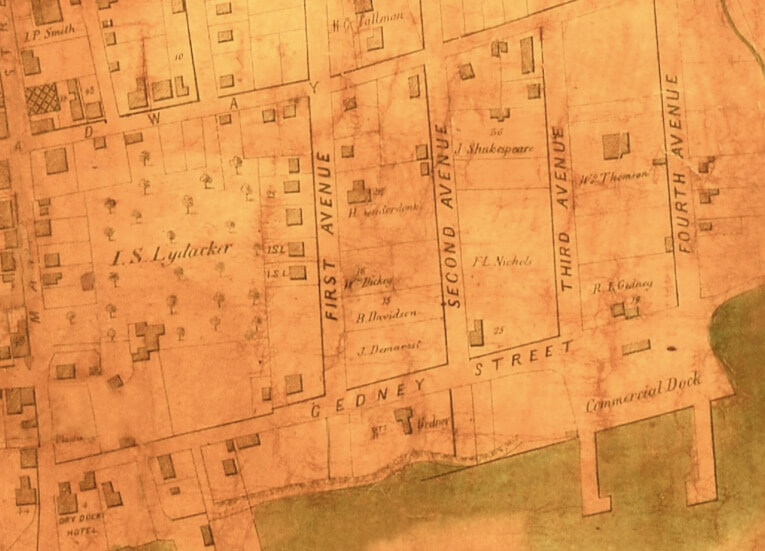 Presumably, G. W. B. Gedney was married once before Hannah, for his son Robert Lee, born in 1818 later became property administrator. From time to time, two Gedneys, perhaps siblings of Robert's, named Hercules W. and Emeline Gedney sold some of the lots. Lots were sold by the Gedney family heirs until 1897.
By 1857, Gedney had left Nyack for Manhattan where he filed and received several patents including one for a rotary spading machine, and one for an improved air gun.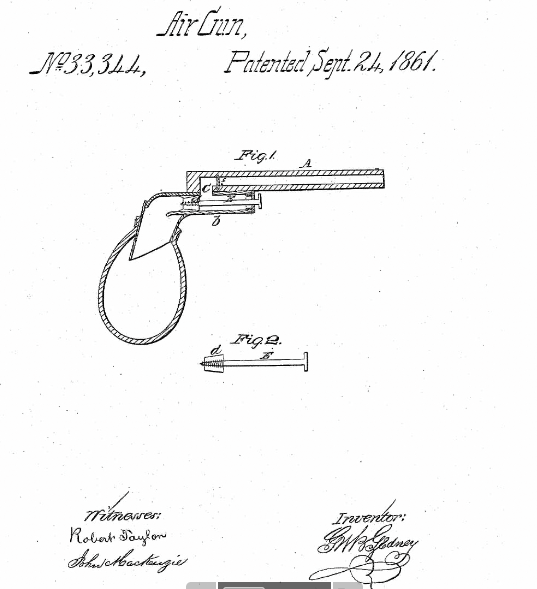 Robert L. Gedney
Robert Lee Gedney (1818-1885), or R.L. as he styled himself, purchased several lots from his father's development including lots 130-140 and 170-171 (facing Broadway on both sides of 4th Avenue) and the riverfront lots 152-159, riverfront property. By 1859, R.L. Gedney built a house on the riverfront property. His house faced the docks of George Dickey who built the famous Nyack steamboat, the Chrystenah, and purchased one of the first lots on First Avenue from Gedney. Gedney's house was well-known because the Rockland County Journal noted in 1881 that a night blooming cereus (cactus) opened with five beautiful flowers.
R.L. Gedney married Ann Elia Ackerman, daughter of a local family, who purchased several lots from G. W. B. Gedney and later became the namesake of the eponymous Ackerman Place. Ann had her first child at the age of 17 named Robert. Other children include Walter, Ferdinand, Mary E., and Zillah. In the 1860 census they had two Irish servants. Three children remained living at home at least until 1880, Robert, Mary, and Zillah along with a 16-year-old granddaughter Margaret.
R.L. Gedney, Piano Forte Worker & Retailer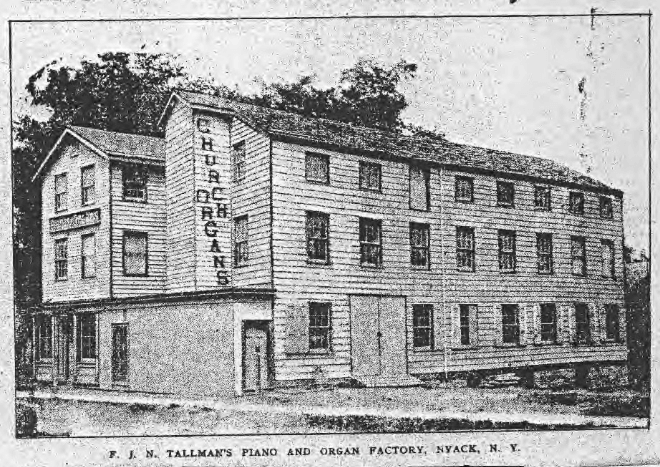 As age 32, R. L. worked as a piano maker at the nearby Sturtevant piano forte factory located at Broadway and Third Avenue. A few years later, R.L. Gedney worked in retail in a shop owned by steamship entrepreneurs, D. D. and Tunis Smith. By 1870, R. L. Gedney opened his own store on the corner of Main St. and Broadway selling groceries, flour, seeds, nails, cigars, and the "choicest foreign and domestic wines and liquors to be had in the county". He advertised wines and liquor in the Northern Railroad first timetable in 1870. Later, he moved the store into the old D. D. Demarest general store at the corner of Burd St. and Broadway. He branched out to selling hunting and fishing gear, groceries, and cigars.
R. L. Gedney died in 1885. Following his death, his son also named Robert, ran the store. Later, Robert Gedney converted his store from retail to real estate.
A Proposal To Make Gedney Street Another River Road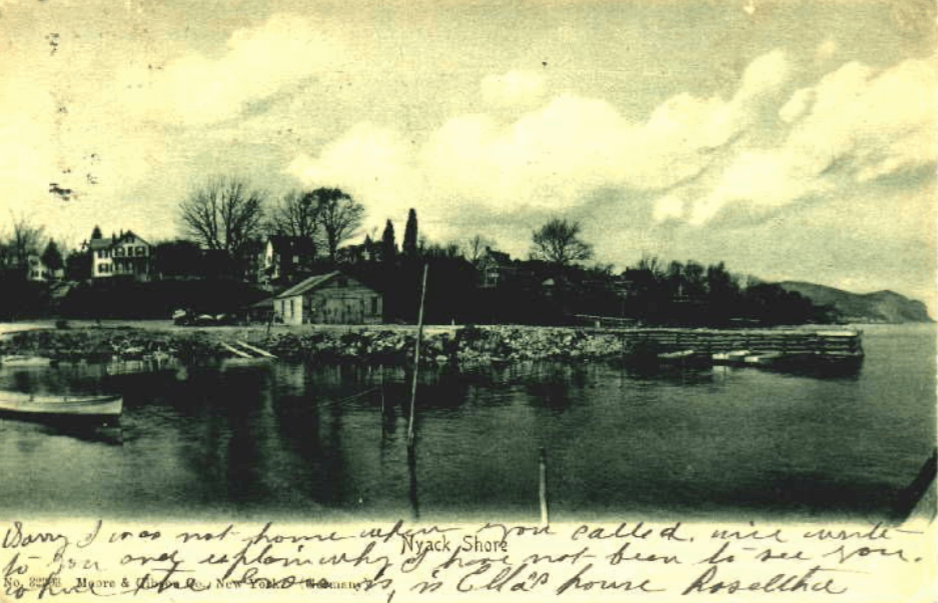 Robert seems to have inherited his grandfather's audacity. He made at least two proposals to expand Gedney Street. The first proposal, to extend Gedney Street to Ackerman Place, was enacted. The second, more complicated idea proposed extending Gedney St. along the riverbank from the shipyard at the northern end of Gedney St. to Peterson's boat yard in Upper Nyack. The newspaper went all in on the proposal touting a 60-foot-wide road that would exceed the beauty of River Road in Grand View. The same route was once suggested as an extension of the Northern Railroad from Nyack to Haverstraw.
The Village of Nyack was to fund the first half, the Village of Upper Nyack the rest. It would be interesting to know how quickly the village trustees tabled the idea, for the extension never happened.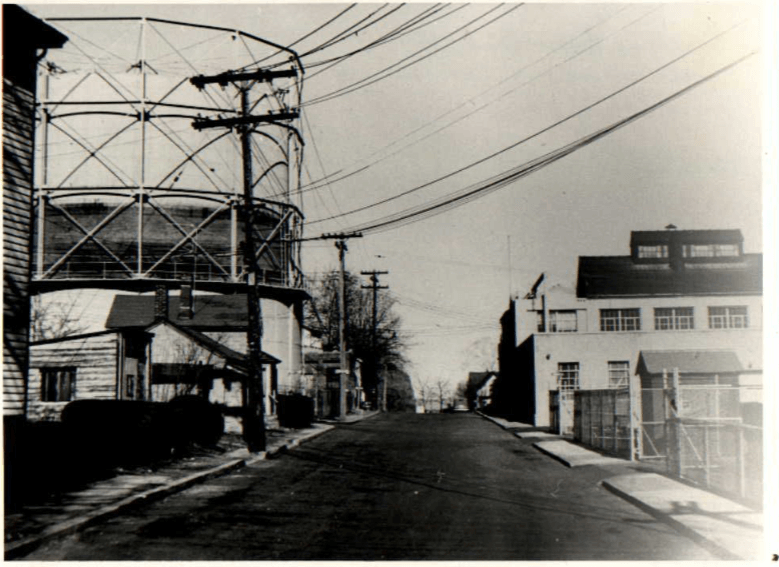 To Be Continued
For 50 years, the Gedney family dominated the near-north riverfront of Nyack. The stage is set for the mystery of a fatal fire in the Gedney Street lock-up.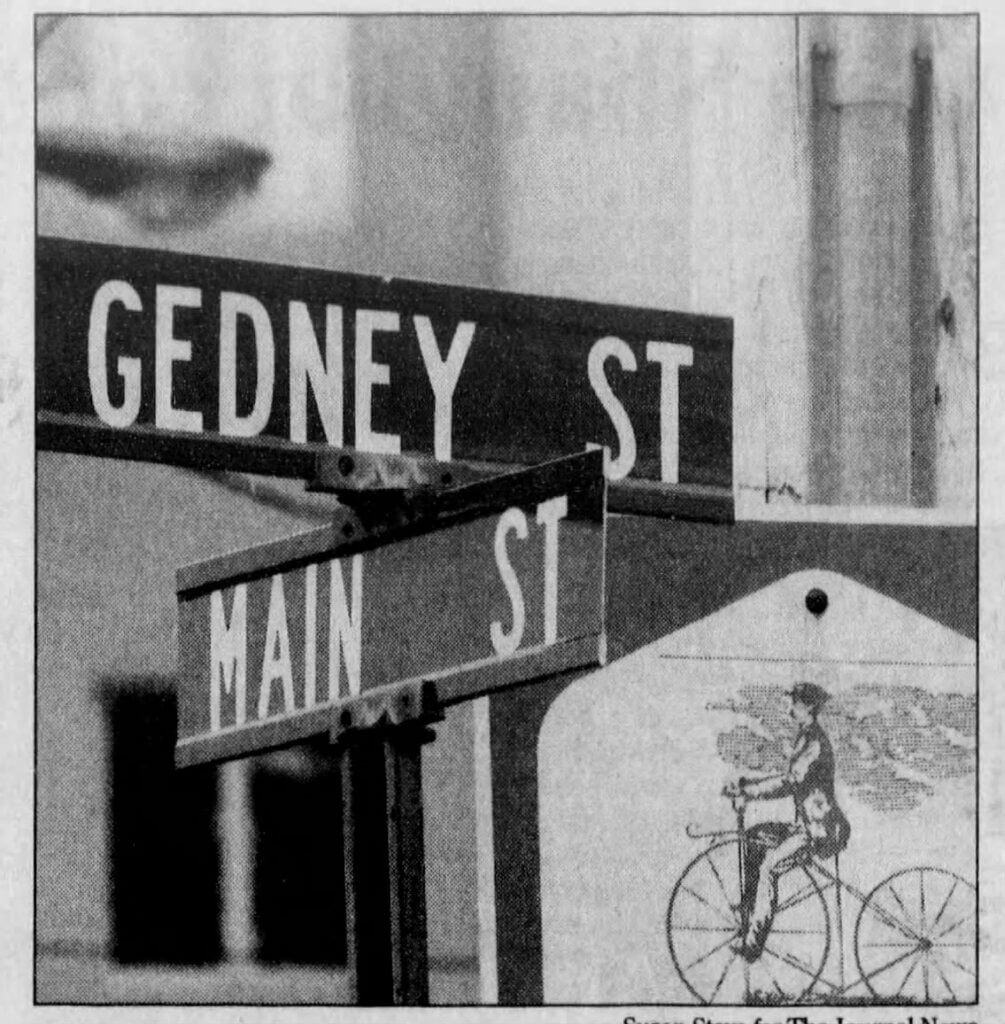 Michael Hays is a 35-year resident of the Nyacks. Hays grew up the son of a professor and nurse in Champaign, Illinois. He has recently retired from a long career in educational publishing with Prentice-Hall and McGraw-Hill. Hays is an avid cyclist, amateur historian and photographer, gardener, and dog walker. He has enjoyed more years than he cares to count with his beautiful companion, Bernie Richey. You can follow him on Instagram as UpperNyackMike.
Nyack People & Places, a weekly series that features photos and profiles of citizens and scenes near Nyack, NY, is brought to you by
Sun River Health
, and
Weld Realty
.