This week in the Villages: After a Black History Month Celebration slideshow, we dive into our first Villages-area election in 2023 — for the budget and board trustees of Nyack Library! Plus, other local news, a weather prediction, a Covid update, upcoming meetings and much more. Thanks for being here!
Slideshow: Shots from the Black History Month Celebration at Nyack Center on Saturday, Feb. 11.
Library election preview: things could get weird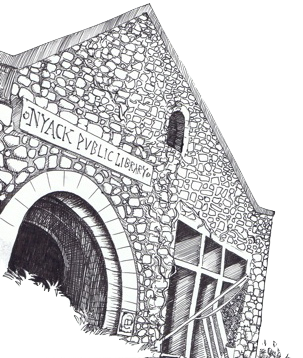 Sorry to ruin all the suspense, but here's a quick spoiler alert on Nyack Library's board election, which won't wrap up voting until well into Valentine's Day evening, when, hopefully, most of us will be somewhere snuggling with our sweethearts:
They all win.
Seriously. All of them will win.
There are six candidates vying for a total six Nyack Library board of trustee positions. So, yes, even though the election hasn't happened yet and life never ceases to pull the rug out from under us whenever we're sure of something, I feel 100 percent confident predicting: they will all win.
(Next stop: Atlantic City!)
Unless, of course, something weird happens, which, well, you never know.
Take last year's Nyack library board election.
Last year, the board voted on its budget and board on separate occasions. The budget was approved. But the board vote, which was much more competitive in 2022 (there were four candidates for three positions), ended downright bizarrely.
Soon after Board President Michael Growney called the annual meeting to order on January 10, he reported the results of the day's vote, which, unfortunately for Growney, showed the president coming in dead last with only 39 votes. In comparison, the top three all receive over 140. Awkward.
But this was when things got weird.
Sometime after the results were announced, one of the trustees, Tamara Jhashi, who was just re-elected by more than 100 more votes than Growney, abruptly resigned her position, expressing her "disappointment" with the results and saying she supported Growney's work on the board.
Shortly after that bombshell — it might shock you to hear this, but this kind of rash resignation is highly unusual — the board nominated Growney (surprise!) to replace Jhashi and then swiftly voted for him to take over the presidency of the board again.
At subsequent board meetings, election observers and library advocates wanted answers. This isn't how democracy is supposed to work, they argued, demanding more transparency about what went down.
Finally, last April, the library released a "statement of clarification" basically saying, yeah, it looked a little weird, but we didn't actually break any rules or laws.
It boiled down to this: because Jhashi made "a personal choice" to resign, regardless of when it happened, it was well within the board's right to nominate and then approve any replacement.
It just so happened that the board nominated a guy who had been resoundingly rejected, hours earlier, by an electorate of library voters. This, as you can imagine, did not satisfy the critics.
What I mean to say is, even if we think we're sure about a given outcome, you never know, things could get a little weird. Like, Nyack library election day weird.
Stay tuned and be in touch (email us at info@nyacknewsandviews.com) …
Here's a look at the six candidates and some basic voting information. Vote at the Nyack library or the Valley Cottage libary from 10 am to 8 pm.
Here's a copy of the library's proposed budget for the 2023-2024 school year.
We'll have post-election coverage on social media and next week in this space.
In other relevant news: Jordan Taylor Watch
It has now been a month since Spring Valley native Jordan Taylor disappeared in Manhattan. We broke down all of the latest developments in the Villages two weeks ago. The last known video footage of Taylor shows him walking around the financial district at 2:30 am on January 7.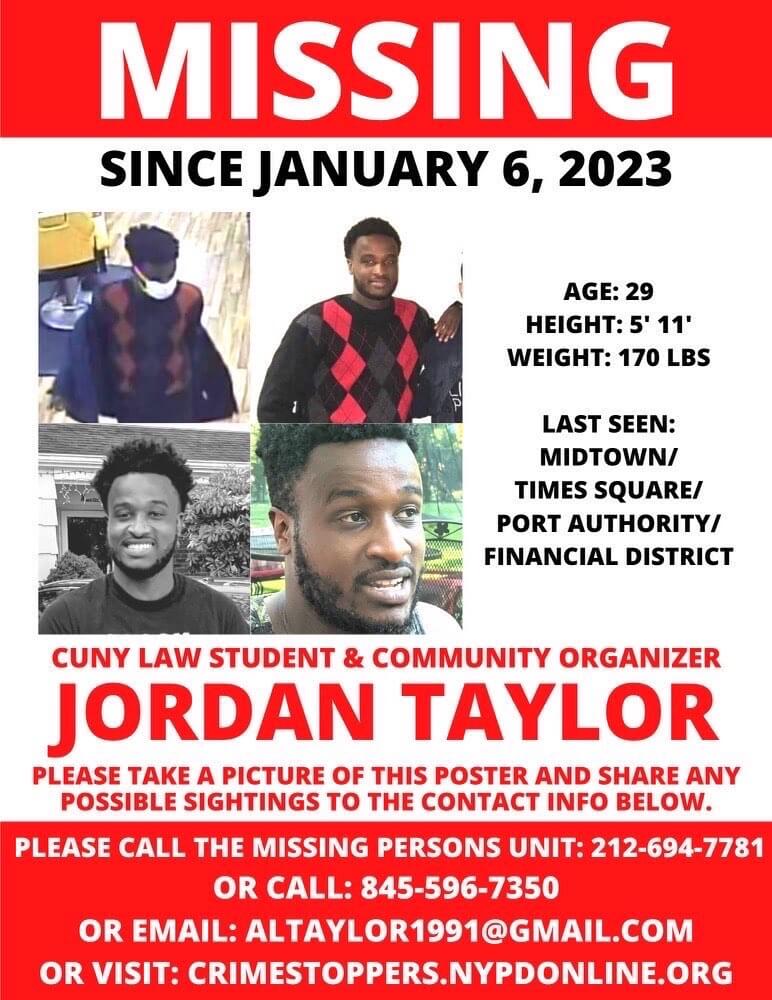 Quotes of the week
Meanwhile … our current Congressman appears to be calling for a return to the gloriously unfair and widely condemned American criminal justice system of the 1980s and 1990s.
Video of the week: Aramark Fallout
ICYM NNV's weekly features: Bill Batson's latest "Nyack Sketch Log"; Mike Hays' most recent "Nyack People & Places"; and our coverage in last week's "The Villages"; Jessica Goodman's latest Nyack Schools Report. If you haven't read it yet, please check our vision for the future of Nyack News & Views and how you can help build our coverage and capacity.
Weather prediction (through 2/19)
Sunny with clouds and temperatures in the 50s on Valentine's Day. Some rain expected at the end of the week. Then sunshine and moderate temps this weekend. [Click here for the National Weather Service's latest 7-day forecast for the Nyack area.]
Covid Update! (threat level: back down to a more manageable "Medium")
According to CDC data of recent hospitalizations and cases, Rockland's community threat level of Covid-19 is now considered "Medium" after spending 6 weeks over the holidays in the "high" range. With a medium designation, the CDC recommends getting tested if you have symptoms and wearing masks on public transportation. (CDC stats updated 2/2/23)
Village updates
Nyack
Here's the list of all upcoming meetings posted for the Village of Nyack.
If you could use help paying your water bills, click here.
Drop off humanitarian aid for victims of the war in Ukraine (including first aid, painkillers, blankets, baby food, diapers, non-perishable food, antibiotics and more, at Village Hall, 9 N. Broadway (or at the Orangetown town hall, 26 W. Orangeburg Rd.).
Upper Nyack
South Nyack
Due to reader request, we have re-added South Nyack, which dissolved as an official village earlier this year. Please send us info about what's going on in South Nyack at info@nyacknewsandviews.com.
Orangetown
Clarkstown
The Technical Advisory Committee, which "evaluates the technical adequacy of land development applications and decides their readiness for Planning Board review," meets most Wednesdays, including this Wednesday, from 10 am to noon, in the town hall's Historic Map Room.
For a calendar list of all Clarkstown meetings and events, click here.
Other Local Updates
South Nyack advocates have filed a petition with the town of Orangetown seeking to show support for a new Elizabeth Place Playground — the grassy play area and dog park just south of 87 and right off the Esposito trail. After South Nyack dissolved in March, the town found the playground equipment at Elizabeth Place was unsafe and not compliant with ADA regulations and removed it. A new ADA compliant park has been proposed and advocates want to see the proposal approved and implemented. Click here to read and/or sign the petition.
Nyack Schools
Rockland-wide
A rare polio case was recently discovered in Rockland County. Here's some info on how to protect yourself:
New Yorkers can pre-register for a free polio vaccination appointment here or call 845-238-1956 to schedule. Walk-ins will also be accepted.
Vaccines are also available through local healthcare providers, including Federally Qualified Health Centers.
For more information on polio including symptoms and spread, visit NYSDOH's page here.
New Yorkers can learn more about the polio vaccine available in the U.S. at CDC's page here.
The Reviving Rockland Restaurants Grant Program will reimburse businesses between $5,000 and $25,000 for past expenses or fund future expenses for eligible outdoor dining COVID-19 mitigation equipment. Eligible entities include restaurants, food stands, food trucks, bars, saloons, lounges, taverns, bakeries, delis, cafes, breweries, wineries, and other similar places of business. For more information and to download an application visit rocklandgov.com.
Fill out this survey to help the county provide better digital services.
Connect with Nyack News and Views
Note to readers: We want to hear from you and welcome your input! What do you think we should be covering in your Rockland County village? Let us know at info@nyacknewsandviews.com. Send us story ideas, issues to investigate, letters, reviews, photos, videos, feedback and news tips. And read about our vision for delivering high-quality, hyper-local journalism and how you can help us fulfill our mission going forward.