This week in the Villages: We take a deeper look into the mysterious disappearance of local activist Jordan Taylor, who was last seen January 6. Plus, other local news, a weather prediction, a Covid update, upcoming meetings and much more. Thanks for being here!
A look into the mysterious disappearance of Jordan Taylor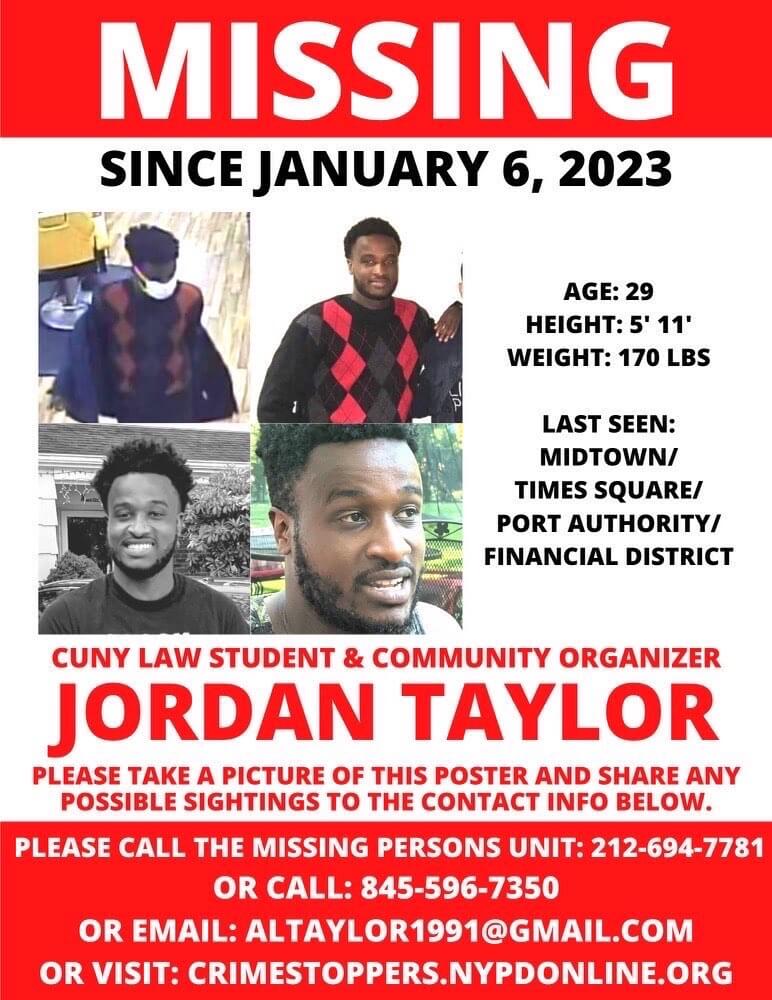 On December 1, Jordan Taylor, a talented, passionate 29-year-old activist and law school student from Spring Valley, was just one of many among a crowd of people in Nyack.
Well-known locally for his work on political and social justice campaigns, Jordan was in Nyack to see iconic activist and author Angela Davis speak to an enthusiastic audience of more than one hundred people inside the sanctuary of Pilgrim Baptist Church on Franklin Street.
A little more than a month later, Taylor mysteriously disappeared — he was last seen on January 6 — leaving behind his cell phone and his fully stocked wallet, separately, at two different locations in Manhattan.
No one, including family or close friends, has seen or heard from Jordan in more than three weeks. At this point, Taylor's family is working with the NYPD's missing persons unit to track him down and figure out what happened. On Sunday, January 29, there was rally to drum up more support for the search.
But so far, according to news reports, social media and his family, Jordan's disappearance continues to baffle everyone.
We'll break down everything we know about Jordan's disappearance and stick what we can confirm while also acknowledging some of the possibilities and conjecture.
First, the most important information. How to help if you know anything about Jordan Taylor's disappearance or whereabouts. This is information paraphrased for simplicity from the NYPD's missing person's page:
Please call 911 if you have immediate, urgent information about Jordan Taylor's condition or whereabouts.
If you know the whereabouts of, or have any information about, Jordan Taylor, call the Missing Persons Squad at 212-694-7781.
"The @NYPDMissing Twitter account features some of the latest information on missing persons in New York City." (Their last post was the one above from January 17, so nothing new from that end.)
In the clip below, NBC's Myles Miller takes an in-depth look at the timing and circumstances surrounding Jordan's disappearance, including an interview with his brother, Alton Taylor, who tried his best to stay positive and optimistic, but also couldn't rule out and some kind of "heinous" outcome.
The most interesting detail here is that his wallet and cell phone ended up several miles away from each other on the morning of Saturday, January 7. Alton Taylor said he learned about his brother's disappearance after he was contacted, at 9:30 am Saturday morning, by someone who had found Jordan's wallet. As we'll discuss later, Jordan was probably at both locations at some point during that night.
This piece below from PIX News goes into more details about Jordan's mindset and psyche in the hours leading up to his disappearance, which included stops at a barber shop in Queens, then a trip down to Port Authority for several hours leading up until around midnight and then, finally, some time near The Q nightclub, an LGBTQ-friendly spot in Hell's Kitchen, in the wee hours of Saturday morning, Jan. 7.
It's at The Q, where a connection to the most disturbing possibility is drawn.
Back in May of 2022, John Umberger, a 33-year-old political consultant from Washington, DC, visited The Q shortly before disappearing. He was later seen on video basically being carried out of the club, propped by a group of other men. Umberger was found dead four days later in a townhouse he was renting. Police and his family said he was killed by a drug overdose and his bank account was drained of $25,000.
Umberger was one of five men killed last year in Hell's Kitchen that were all, police say, victims of fatal narcotic overdoses. Police say they were most likely drugged, surreptitiously while partying at local bars and clubs, by thieves looking for a quick score.
While that seems like a worst case "heinous" scenario for Jordan, I've listened to enough true crime missing person mystery podcasts to know it's important not to jump to conclusions in cases like this.
For one, according to Alton Taylor, police reviewed video footage from outside The Q on the night of January 6 and the morning of January 7 and did not see Jordan enter or exit the club at any point, though it's possible he dropped his phone while walking around the area. We don't know what Jordan was doing around this time, but his connection to The Q, at least on the night he disappeared, appears remote.
Secondly, Taylor's wallet was found — cash and credit cards included — down in Battery Park, which throws cold water on the drugged and robbed theory. Plus, the previous Hell's Kitchen's victims bodies were all soon found after their deaths.
As far as we know — and this is what give us hope — the last images anyone has found of Jordan Taylor show him alive, walking by himself, without a coat in downtown Manhattan, near the Goldman Sachs building, at around 2:30 am, Saturday morning, January 7.
Here's a more detailed timeline of events and actions that we can confirm:
Around the time of his disappearance, Jordan was waiting on results after completing finals at the end of his first semester at CUNY Law School. Alton said his brother was living with him in Queens and described Jordan's experience finishing finals as "stressful" and "tough."
On January 6, sometime in around 4 pm, Jordan went to The Hustle barber shop in on Hillside Avenue in Queens. According to his barber that day, Raphael Padilla, Jordan "seemed a little off" and abruptly left in the middle of his haircut without paying. Padilla's boss told him to just let Jordan go. For around "5-10minutes", Padilla said he saw Jordan standing around outside of the barber shop.
At 4:18 pm, sometime soon after he left The Hustle, Jordan updates his Facebook profile with a selfie of himself wearing a white mask. (It would be Jordan's last communication on Facebook, a platform he posted on almost daily — mostly with re-posts of comedic quotes or memes; some recent public posts on his page concern politics, mental health, Black culture, trauma, equity and social justice issues; the post tail off at the end of the year and then the last public post is from January 1 at 11:28 am. It reads "I fought for people I should have just fought. [followed by three crying emojis]"
From Queens, again according to Alton's analysis of Jordan's phone records, Jordan (or at least his phone) makes it down to the Port Authority bus terminal, where it appears he spends around three hours, between the hours of 9 pm and midnight. From there, he over to the area near The Q nightclub in Hell's Kitchen (about a 7-minute walk from the bus terminal). Phone records show his phone being around this area from midnight to 1 am. This is also right around where Jordan's cell phone is discovered.
Meanwhile, Jordan's wallet, which still includes all his credit cards and some cash, ends up more than 4 miles away, outside of the Goldman Sachs building, at 200 West Street in Battery Park City.
Police told Alton there is video footage of Jordan, wearing a white mask, like he is in the Facebook photo (but, oddly, not his coat in the middle of winter night), walking around alone in this area at about 2:30 am on Saturday, January 7.
Alton says police are continuing to sift through video footage from this area downtown as they attempt to piece together where Jordan, wearing a mask and no coat, went next.
On Sunday, the Working Families party, organized a rally near the Port Authority to drum up support for the ongoing search.
The information about Jordan being seen alive at 2:30 am is encouraging. It's another sign of life. Hopefully there will be more forthcoming as police make more progress on this case and maybe people start coming through with more information.
In the PIX story, they discuss Jordan's background in politics and social justice — he studied political science and Black studies at SUNY New Paltz, according to his Facebook page.
At one point in the piece, Alton tells a reporter that Jordan, who worked on the campaign of Lieutenant Governor Antonio Delgado and was deeply involved in the Black Lives Matter movement, was "big into community outreach and grassroots efforts."
Let's all hope the community effort to find Jordan Taylor get to roots of what happened and where we can find him.
Stay tuned and be in touch (email us at info@nyacknewsandviews.com) …
In other relevant news:
On Saturday, police arrested a suspect in connection with a Friday night shooting at the Nyack Plaza apartment complex that resulted in one person being wounded, according to a Lohud report. Police have not identified the victim or released an update on their condition, but it is believed the injuries are not life threatening.
Democrat Joel Friedman, who manages a retail baking operation, was appointed to the Rockland County legislature last week, replacing Republican John Macgowan who won a spot in the state assembly in November. Democrats, who were able to use their slim 9-8 majority in the legislature to approve the appointment, increased that majority to 10-7 with the addition of Friedman. You need 12 votes to override or veto major decisions, like the county's budget.
Check out our latest Nyack Schools Report with notes from the most recent January school Board meeting.
Quotes of the week
Video of the week: More on Jordan Taylor
ICYM NNV's weekly features: Bill Batson's latest "Nyack Sketch Log"; Mike Hays' most recent "Nyack People & Places"; and our coverage in last week's "The Villages"; Jessica Goodman's latest Nyack Schools Report. If you haven't read it yet, please check our vision for the future of Nyack News & Views and how you can help build our coverage and capacity.
Weather prediction (through 2/5)
A warm (high 40s) and possibly wet Monday will be followed by a precipitous temperature drop throughout the rest of the week that could end up around zero on Friday night and Saturday morning. Still no snow in the forecast yet. [Click here for the National Weather Service's latest 7-day forecast for the Nyack area.]
Covid Update! (threat level: back down to a more manageable "Medium")
According to CDC data of recent hospitalizations and cases, Rockland's community threat level of Covid-19 is now considered "Medium" after spending 6 weeks over the holidays in the "high" range. With a medium designation, the CDC recommends getting tested if you have symptoms and wearing masks on public transportation. (CDC stats updated 1/26/23)
Village updates
Nyack
Here's the list of all upcoming meetings posted for the Village of Nyack.
If you could use help paying your water bills, click here.
Drop off humanitarian aid for victims of the war in Ukraine (including first aid, painkillers, blankets, baby food, diapers, non-perishable food, antibiotics and more, at Village Hall, 9 N. Broadway (or at the Orangetown town hall, 26 W. Orangeburg Rd.).
Upper Nyack
South Nyack
Due to reader request, we have re-added South Nyack, which dissolved as an official village earlier this year. Please send us info about what's going on in South Nyack at info@nyacknewsandviews.com.
Orangetown
Clarkstown
The Technical Advisory Committee, which "evaluates the technical adequacy of land development applications and decides their readiness for Planning Board review," meets most Wednesdays, including this Wednesday, from 10 am to noon, in the town hall's Historic Map Room.
For a calendar list of all Clarkstown meetings and events, click here.
Other Local Updates
South Nyack advocates have filed a petition with the town of Orangetown seeking to show support for a new Elizabeth Place Playground — the grassy play area and dog park just south of 87 and right off the Esposito trail. After South Nyack dissolved in March, the town found the playground equipment at Elizabeth Place was unsafe and not compliant with ADA regulations and removed it. A new ADA compliant park has been proposed and advocates want to see the proposal approved and implemented. Click here to read and/or sign the petition.
Nyack Schools
Rockland-wide
A rare polio case was recently discovered in Rockland County. Here's some info on how to protect yourself:
New Yorkers can pre-register for a free polio vaccination appointment here or call 845-238-1956 to schedule. Walk-ins will also be accepted.
Vaccines are also available through local healthcare providers, including Federally Qualified Health Centers.
For more information on polio including symptoms and spread, visit NYSDOH's page here.
New Yorkers can learn more about the polio vaccine available in the U.S. at CDC's page here.
The Reviving Rockland Restaurants Grant Program will reimburse businesses between $5,000 and $25,000 for past expenses or fund future expenses for eligible outdoor dining COVID-19 mitigation equipment. Eligible entities include restaurants, food stands, food trucks, bars, saloons, lounges, taverns, bakeries, delis, cafes, breweries, wineries, and other similar places of business. For more information and to download an application visit rocklandgov.com.
Fill out this survey to help the county provide better digital services.
Connect with Nyack News and Views
Note to readers: We want to hear from you and welcome your input! What do you think we should be covering in your Rockland County village? Let us know at info@nyacknewsandviews.com. Send us story ideas, issues to investigate, letters, reviews, photos, videos, feedback and news tips. And read about our vision for delivering high-quality, hyper-local journalism and how you can help us fulfill our mission going forward.