This week in the Villages: We take our first look at Nyack's new school superintendent and show you how Covid is storming its way back into Rockland's holiday season. Plus, more local news, your weekly weather prediction, health updates, upcoming meetings and much more. Thanks for being here!
Diving In: Meet the New Nyack Superintendent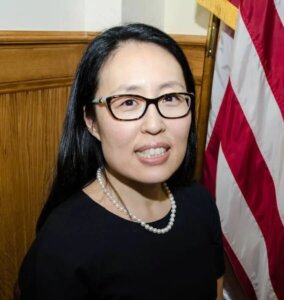 On Tuesday night, the Nyack school board officially appointed Susan Yom — a New York City native with a long history of school leadership who currently works as Clarkstown's assistant superintendent for curriculum and instruction, to be its next superintendent.
Nyack's choice comes ahead of the previously estimated January 2023 timeline and hopefully bring some stability after the previous superintendent left his post in June under questionable circumstances, despite recently signing a three-year contract.
We'll have more on this in upcoming editions of the Nyack Schools Report. For now, here's more information on Yom's background and how the board came to its decision from a press release posted last week:
"After engaging with our school community, the Board set out to identify a results-driven leader with deep knowledge in the areas of curriculum, facilities, personnel, pupil services, and—of course—diversity, equity and inclusion," said Board President Jen Marraccino. "Ms. Yom's experience, core values, and educational goals align with Nyack Public Schools — and both her knowledge of and enthusiasm for the work we are doing here in Nyack stood out immediately."

Ms. Yom emerged from a strong field of candidates. The Board retained Hazard, Young, Attea and Associates to conduct a confidential search, which included focus groups of about 65 stakeholders and a community-wide survey to which over 438 people responded. Twenty candidates from 4 states applied directly for the position, and HYA recruited 23 additional candidates from three states. After a screening and interviews, HYA presented a slate to the Board of Education. The Board conducted comprehensive interviews over several days, selecting Yom as its unanimous choice.

Ms. Yom is an experienced educator with nearly twenty-seven years of service to public education. She is currently the Assistant Superintendent of Curriculum and Instruction for the Clarkstown Central School District, where she has served since 2016. At Clarkstown, Ms. Yom centered her leadership practices on designing student-centered learning environments to support the whole child. She also led the District's strategic planning process, strengthened the K-12 curriculum, created innovative programs, implemented a robust K-12 Social Emotional Learning (SEL) program, and managed numerous grants and professional development initiatives.

Ms. Yom started her career as an elementary classroom teacher in the Fairfax County, VA Public School District. She then began what would become a 17-year stint at the City School District of New Rochelle, NY as the Assistant Principal of Jefferson Elementary School before moving to New Rochelle's central office administration. At the school and district level, Ms. Yom leveraged her considerable data and equity skills to meet district goals and lift outcomes. Over the next decade, she was promoted from Coordinator of Data Analysis, Assessment, and Accountability to Director of Research, Assessment, and Accountability and Chief Information Officer.

A proud graduate of the Bronx High School of Science in New York, Ms. Yom holds Master of Education Degrees from both Columbia University Teachers College and Harvard University's Graduate School of Education. She graduated with a Bachelor of Arts Degree from Smith College in Northampton, MA. From Nyack School District press release
Here's some more background on Yom in an article (with an unfortunate headline; in their defense headline writing is hard!) from the Clarkstown Daily Voice. We'll have more thoughts and analysis soon!
Stay tuned . . .
Quote of the week
Video of the week: Nyack Jazz!
Dan Cohen's lovely trip down into Maureen's Jazz Cellar for open mic night inspired this week's clip.
In other relevant news:
Lohud's Steve Lieberman reports on a new 161-page lawsuit filed against Rockland County's new legislative redistricting plan, which was recently approved by the legislature and County Executive Ed Day. According to Lieberman, the lawsuit, by Preserve Ramapo activist Michael Parrieti, claims: "The redistricting process was flawed from the very beginning and produced a blatantly gerrymandered map whose primary purpose is once again to grant a disproportional share of political power to Hasidic leaders and protect their favored incumbents." The county has until Dec. 20 to respond.
A Clarkstown judge is hoping to give local farms — there aren't many in Rockland — a boost by ramping up marijuana production through his company Green Justice. He's also hoping the state will ease cultivation limits, so he and the farmers can ramp up the revenue. Rockland Biz Journal's Tin Traster has the story.
Hudson Valley News 12 has a handy guide for local tree lighting and holiday events, including a "Family Hannukah Celebration" event in West Nyack on Wednesday night. Dec. 14.
ICYM NNV's weekly features: Bill Batson's latest "Nyack Sketch Log", Mike Hays' most recent "Nyack People & Places"; and our coverage in last week's "The Villages". If you haven't read it yet, please check our vision for the future of Nyack News & Views and how you can help build our coverage and capacity.
Weather prediction (through Dec. 18)
It's snowing as a write this on Sunday afternoon. Not really sticking. Could be a little more Monday. It's going to warm up later this week, and any potential snow will turn to chilly rain. [Click here for the National Weather Service's latest 7-day forecast for the Nyack area.]
Covid Update!!! (threat level: uh oh!)
According to CDC data of recent hospitalizations and cases, Rockland's community level of Covid-19 is now considered "High." With a high designation, the CDC recommends wearing masks indoors while in public and on public transportation. (CDC stats updated 12/7/22 — on 12/4/22 the threat level was considered "medium".)
Testing Info
More than 82.4% of eligible people in Rockland County are vaccinated with at least one dose. To schedule an appointment for a 1st dose, 3rd dose (for immunocompromised), or booster COVID-19 vaccine from any Rockland County Department of Health Clinic visit rocklandgov.com/departments/health/. To search for additional COVID-19 vaccination opportunities nearby visit vaccines.gov.
Find a COVID-19 testing site near you, by visiting coronavirus.health.ny.gov. Individuals who have questions regarding eligibility or access for testing should call the New York State COVID-19 Hotline at 1-888-364-3065 or visit the NYSDOH website covid19screening.health.ny.gov.
Village updates
Nyack
Drop off humanitarian aid for victims of the war in Ukraine (including first aid, painkillers, blankets, baby food, diapers, non-perishable food, antibiotics and more, at Village Hall, 9 N. Broadway (or at the Orangetown town hall, 26 W. Orangeburg Rd.).
Upper Nyack
South Nyack
Due to reader request, we have re-added South Nyack, which dissolved as an official village earlier this year. Please send us info about what's going on in South Nyack at info@nyacknewsandviews.com.
Orangetown
Clarkstown
The Technical Advisory Committee, which "evaluates the technical adequacy of land development applications and decides their readiness for Planning Board review," meets most Wednesdays, including this Wednesday, from 10 am to noon, in the town hall's Historic Map Room.
For a calendar list of all Clarkstown meetings and events, click here.
Other Local Updates
South Nyack advocates have filed a petition with the town of Orangetown seeking to show support for a new Elizabeth Place Playground — the grassy play area and dog park just south of 87 and right off the Esposito trail. After South Nyack dissolved in March, the town found the playground equipment at Elizabeth Place was unsafe and not compliant with ADA regulations and removed it. A new ADA compliant park has been proposed and advocates want to see the proposal approved and implemented. Click here to read and/or sign the petition.
Nyack Schools
Rockland-wide
A rare polio case was recently discovered in Rockland County. Here's some info on how to protect yourself:
New Yorkers can pre-register for a free polio vaccination appointment here or call 845-238-1956 to schedule. Walk-ins will also be accepted.
Vaccines are also available through local healthcare providers, including Federally Qualified Health Centers.
For more information on polio including symptoms and spread, visit NYSDOH's page here.
New Yorkers can learn more about the polio vaccine available in the U.S. at CDC's page here.
The Reviving Rockland Restaurants Grant Program will reimburse businesses between $5,000 and $25,000 for past expenses or fund future expenses for eligible outdoor dining COVID-19 mitigation equipment. Eligible entities include restaurants, food stands, food trucks, bars, saloons, lounges, taverns, bakeries, delis, cafes, breweries, wineries, and other similar places of business. For more information and to download an application visit rocklandgov.com.
Fill out this survey to help the county provide better digital services.
Connect with Nyack News and Views
Note to readers: We want to hear from you and welcome your input! What do you think we should be covering in your Rockland County village? Let us know at info@nyacknewsandviews.com. Send us story ideas, issues to investigate, letters, reviews, photos, videos, feedback and news tips. And read about our vision for delivering high-quality, hyper-local journalism and how you can help us fulfill our mission going forward.