An anonymous journalist determined that "Old Nyack" had passed away in a year-in-review article entitled "Nyack in 1872" in the Rockland County Journal. His focus wasn't on politics, the economy, technology, or human rights but on village "improvement", what we call today, real estate development. Farms, orchards, fields, woodlots, ponds, forests, and open lots begged for new buildings. Then as now, every inch was a target for builders not only downtown but even more so in Nyack's "suburbia". Developers were heroes for changing the village.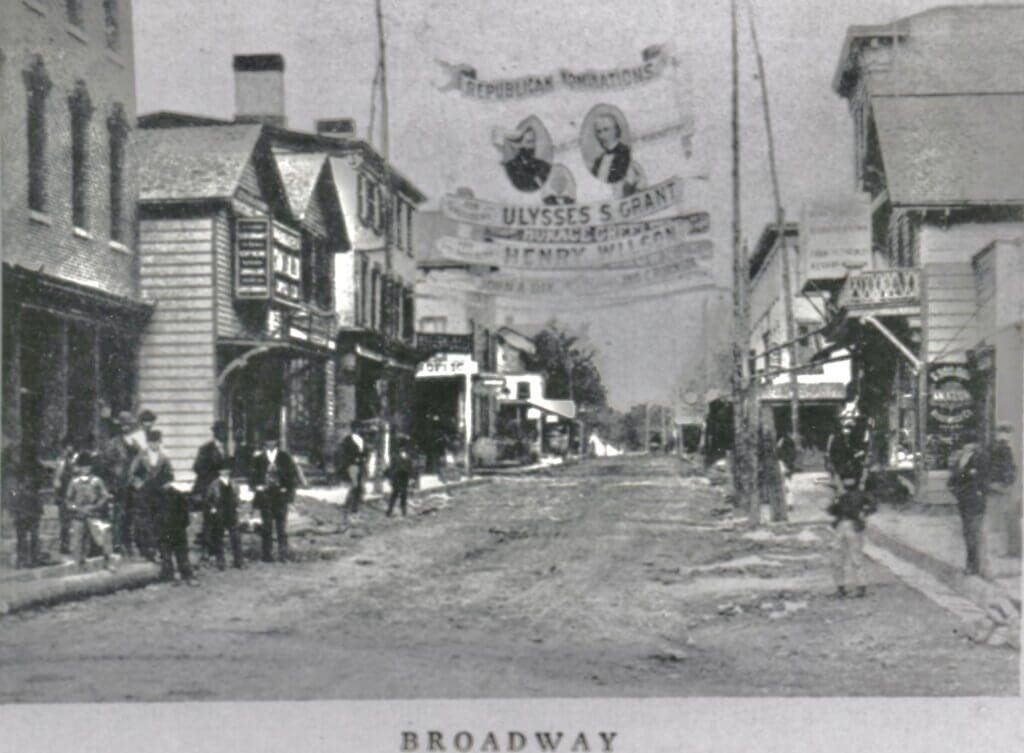 The author overlooked major local stories. In 1872, Upper Nyack broke off from Nyack and incorporated as a separate village. IN the presidential race, Grant easily won re-election beating Horace Greeley, a liberal Republican running as a Democrat who died in early December 1872. The election ended the democratic party's long-time dominance in Rockland County. Susan B. Anthony voted in Rochester, NY, then arrested, and charged with voter fraud. Nyack became electronically wired. The Nyack train station installed the first telegraph in Nyack in 1872. Thousands of immigrants entered the US. Some came to Nyack, soon to start new businesses.
Old Nyack Is Gone
A new energy was afoot in 1872. Nyack had thrown off the lethargy of five years ago way back in 1867, according to "Nyack in 1872". New improvements appeared all the way from Piermont to Hook Mountain and west to Clarksville (an old name for West Nyack). The author saluted the movers-and-shakers of Nyack's new "suburbs" and the new buildings downtown.
Top Of The List-William Voorhis
Voorhis was one of the most respected villagers of the 19th century whose biography would take up a small book. He grew up in Nyack from humble origins. For a time as a young man, he became a successful contractor of building materials in Brooklyn. He invented the double hull catamaran and earned the name Commodore. He purchased the old Hart farm, then constituting much of South Nyack.
Voorhis built several homes on Piermont Ave including his octagonal office building at the foot of the street named after him, Voorhis Ave. and, in his later years, a riverside estate called Edgewater. Later, the Missionary Training Institute purchased Edgewater and renamed i the Olsen Center. Today, the house is in disrepair and in danger of being demolished.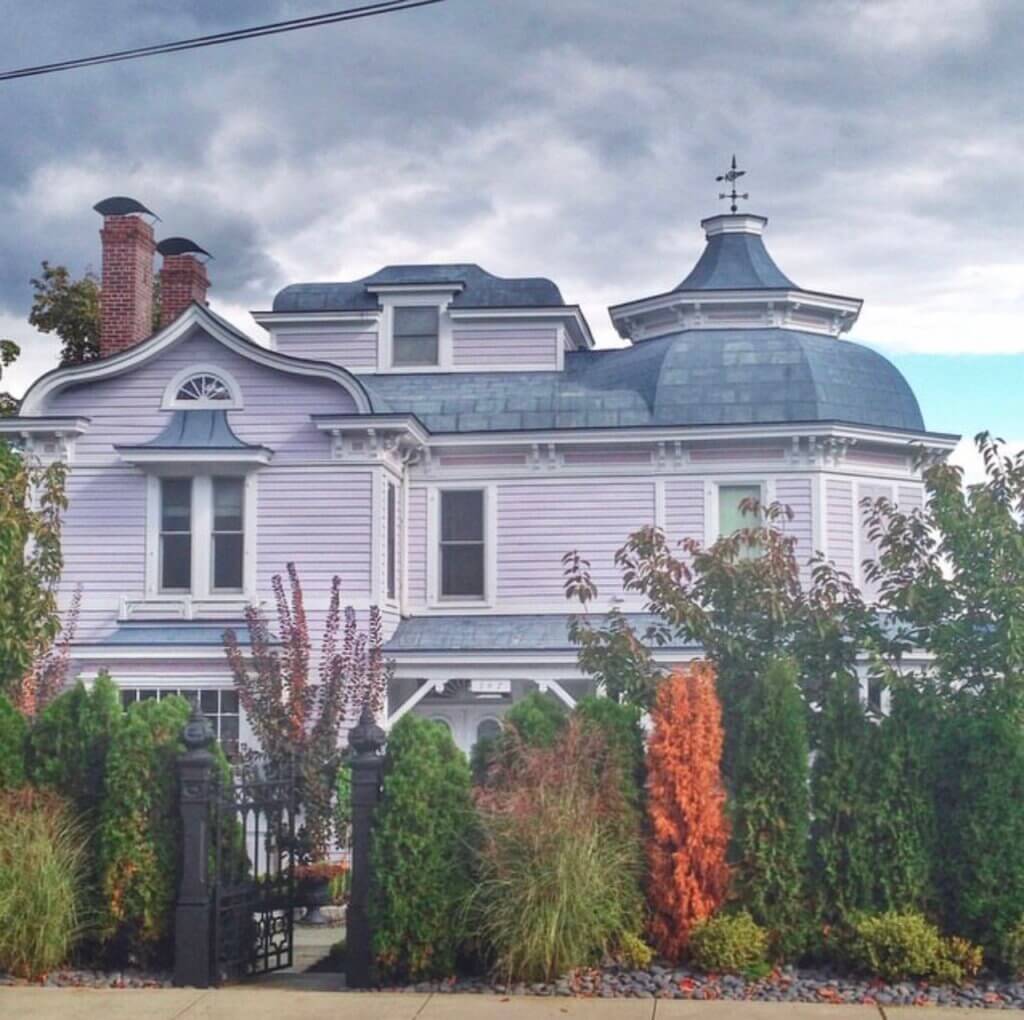 Why Was Voorhis Singled Out?
Voorhis started the Nyack Water Works as private company. Pure water was at a premium, most houses used wells on their property. Delivery of water was a major turning point in village growth. Voorhis built Rockland County's first public water reservoir in 1872 near spring-fed Perry's Pond in South Nyack. The reservoir is shown on the 1876 Nyack map, near the corner of Cedar Hill and Hillside Avenues. The reservoir measured 200' by 35' and 20' feet deep for a capacity of 1 million gallons. The reservoir proving insufficient, another was soon built near the Prospect House on Hillside Ave., and another near Nyack Brook on Main St.
Palmer House
Nyack's most famous Gilded Age hotel, the Palmer House, later named the Prospect House, was under construction in December 1872, ready to open on time for the 1873 summer season. Located near where a soccer field from the old Nyack College is located, the four-story hotel initially contained 135 rooms formed in a T-shape surrounded with a 12' wide piazza as porches were then called. The hotel opened as planned in June 1873, unlike may construction projects today. It cost $80,000 funded by a "company of capitalists". Gilded Age summer guests would soon flock to Nyack for the rest of the century.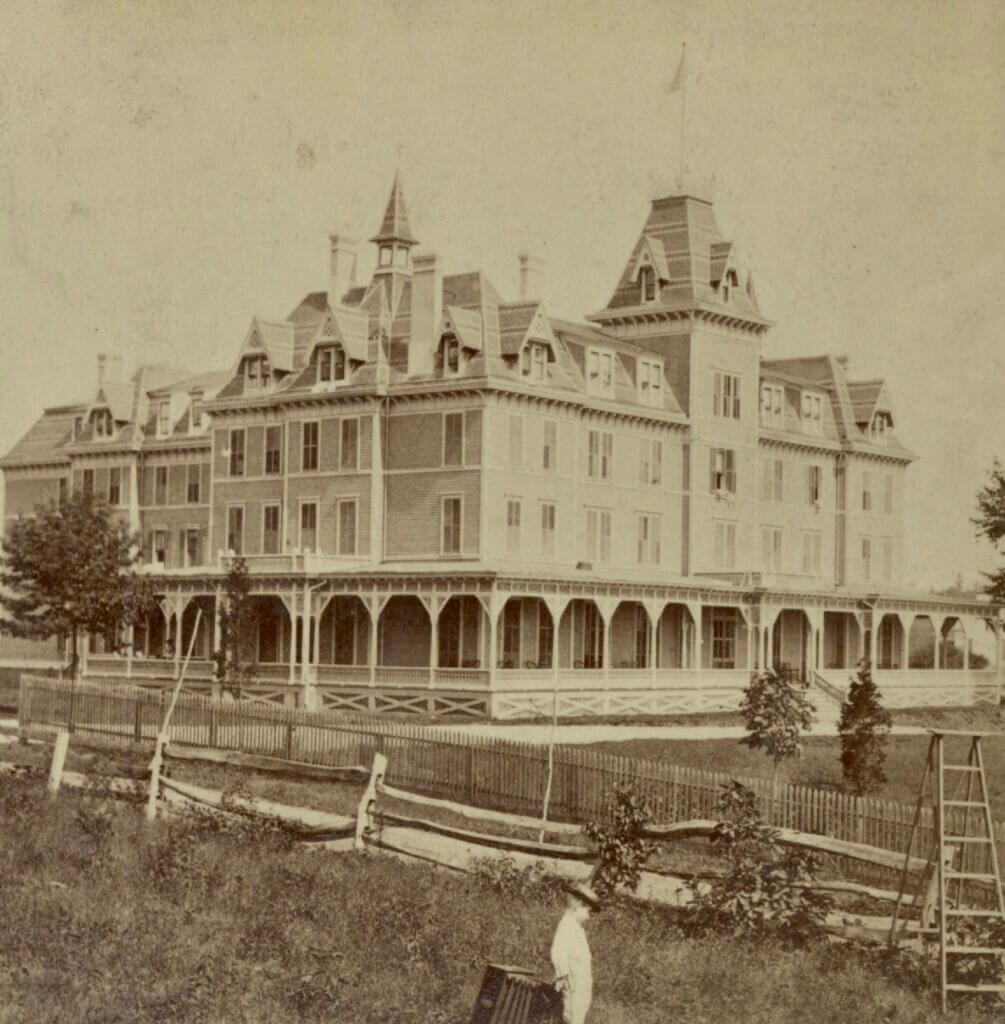 John Onderdonk, Builder Extraordinaire
John Onderdonk, who was later to have a checkered career in Nyack, is cited in "Nyack in 1872" for completion of a connected set of four-story buildings known as Onderdonk Row on Main Street just south of the Nyack Brook between Park and Bridge Streets. The mansard-roofed building housed retail stores on the first floor and apartments above just as it does now. It hasn't changed much in 150 years.

In the following year, Onderdonk would open a new street over the brook connecting Main and High Ave. naming it Bridge Street. Onderdonk went on to build a row of connected cottages that still stand. Also, around the same time, Onderdonk built houses on Washington Street, the southern end of which was called Onderdonk Street for a time.
Reverend L. Delos Mansfield, President, Rockland Institute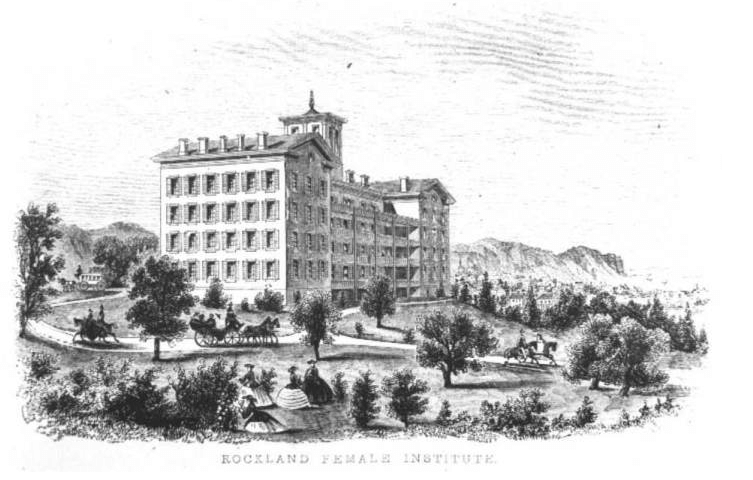 Rev. Mansfield served as President and Principal of the school. Elizabeth Mansfield, his wife, taught history and Nyack's famous composer, Grenville Wilson, taught piano. Opened as the Rockland Female Institute in 1856, the school had magnificent riverfront views from all four floors with wide-sweeping lawns. In 1872, Mansfield refurbished the riverfront school, now called the Rockland Institute, adding several cottages for families who wished to live on site. The school was located approximately at the end of Glen Byron Street in South Nyack.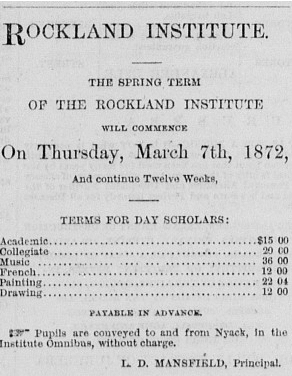 Other Developers Cited
John A. Tallman completed two new houses on his property at cost of about $10K. Robert Currie built four houses in South Nyack. The Currie home was a large estate on the north side of the Rockland Institute. D. D. Demarest, residing in a large riverfront house on Gedney Street, and owner of much of the open property in Nyack west of Broadway between 1st and 5th Avenues, sold lots on what had been the old Tallman farm and orchard.
Hazard and Gesner sold lots near the toll gate on the Nyack Turnpike, now Route 59 near the Nyack Rural Cemetery. West Nyack, as Central Nyack was then called, was just being opened to subdivided lots and new houses.
The Commercial Building, Largest Building In Downtown Nyack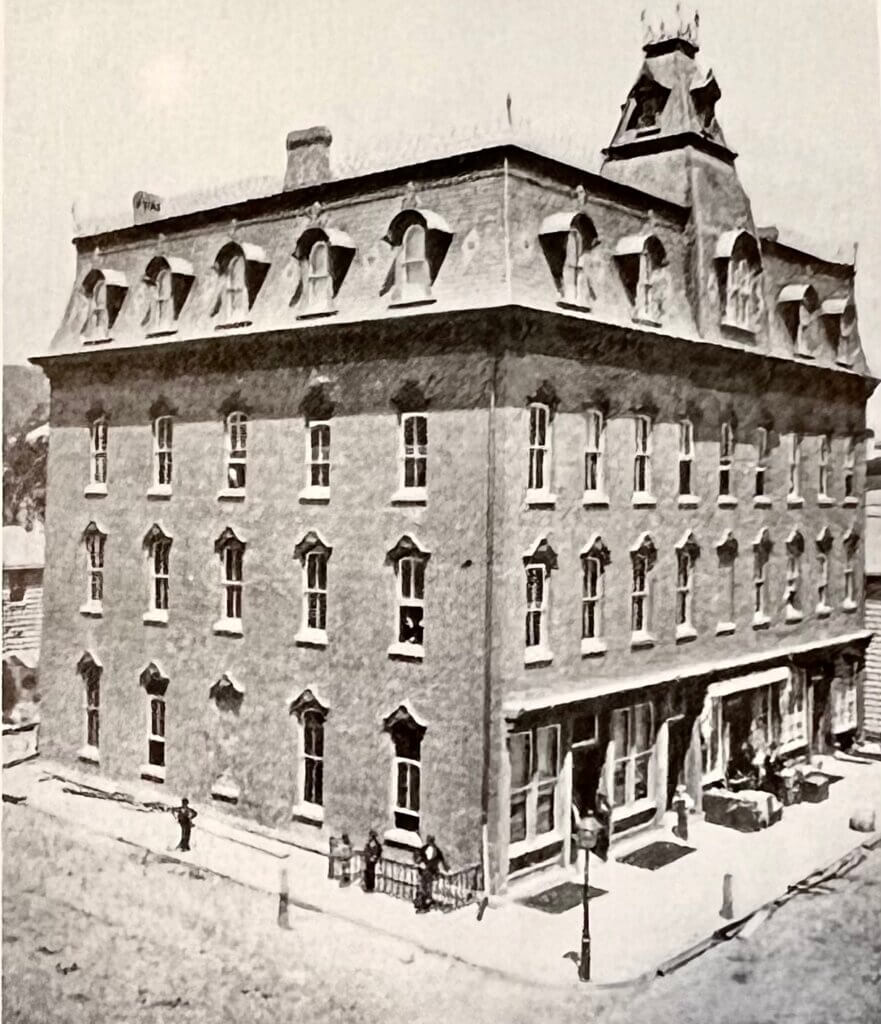 D. J. Blauvelt erected a four-story mansard roofed commercial building on the corner of Burd St. with retail floor level shop entrances at 12-14 South Broadway. The building towered over Nyack until its neighbor, the six-floor building now housing the Pickwick Book Store appeared many years later. The ground floor of the new building held the Rockland County National Bank. The second floor contained offices for real estate agents and insurers, the third floor, the office of the Rockland County Journal and the YMCA, and the fourth held a Masonic lodge and the Odd Fellows Hall.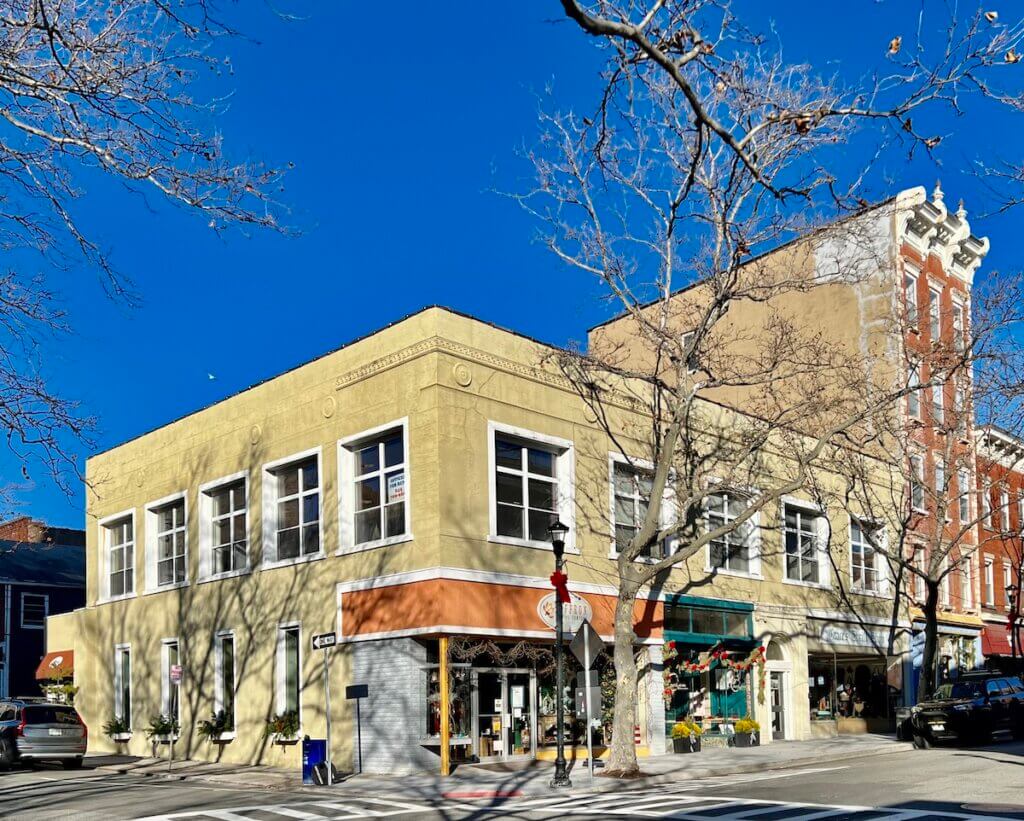 It is likely that the Commercial Building was demolished in the late 1920s and replaced by the two-floor Equity Building of today. 12 S. Broadway once housed Garret Hopper's (Edward Hopper's father) dry goods store. Today Grace's Thrift Shop and Saffron occupy the first floor of this 1872 building.
On Broadway
The commercial buildings across from the Commercial Building continued to march south on Broadway. Abram Merritt's dry goods store on the SE corner of Broadway and Main was the first. Under construction was the next building south in what would eventually be a solid row of three-story brick buildings between Main and Burd Street that still stand.
Then & Now
Today we are more concerned with preservation than improvements. Villagers lament that Nyack's character is changing too quickly usually citing new apartment buildings. Still, Nyack has preserved much of its past and found a way to connect with a vibrant future. The definition of the term "improvement" as used in the article Nyack in 1872 is an ever-changing one. However, we side on the balance between preservation and progress, we should take a moment to thank those builders of 1872 for providing the good bones of the village we enjoy today.
Michael Hays is a 35-year resident of the Nyacks. Hays grew up the son of a professor and nurse in Champaign, Illinois. He has recently retired from a long career in educational publishing with Prentice-Hall and McGraw-Hill. He is an avid cyclist, amateur historian and photographer, gardener, and dog walker. Hays has enjoyed more years than he cares to count with his beautiful companion, Bernie Richey. You can follow him on Instagram as UpperNyackMike.
Nyack People & Places, a weekly series that features photos and profiles of citizens and scenes near Nyack, NY, is brought to you by
Sun River Health
.