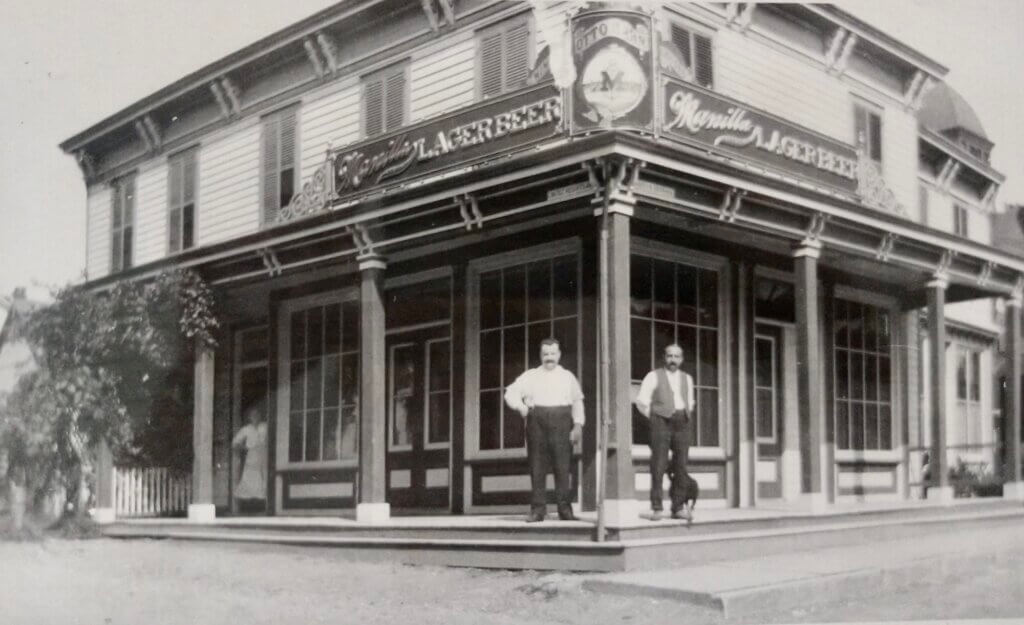 Around 1910, Saloon owner Otto Hahn posed for a photograph on his saloon porch beneath a large sign advertising Manilla Lager Beer. Nyack residents may recognize the building in the picture. It's now Upper Nyack's Village Hall. Upper Nyack's "downtown" was a bustling center in the early days, so the saloon, next door to the firehouse, was a convenient place to gather. Other taverns in Nyack, like J. R. Crowleys tap in South Nyack, carried the same Manilla ad.
Manilla lager was so popular that come winter, barrels would be shipped from Westchester to Nyack by sled across the frozen Ice Bridge on the Hudson River.
Manilla Lager is now a forgotten brand, leaving us with nothing but questions and memorabilia. Why was it Nyack's most popular brand at the time? If it was so popular, why did it disappear? What happened to Hahn's saloon?
Upper Nyack Village Hall
The early history of Upper Nyack Village Hall is difficult to trace. The building appears on the 1876 F. A. Davis map as a store owned by James P. Voorhis who may have lived on lower Castle Heights and who ran the boatyard that later became Peterson's boatyard. In 1896, R. Kinnier owned the store. A small building to the north contained the post office. Henry Rusche acquired the property as a hotel around the turn of the century. He named it the Empire Hotel.
In 1908, Otto Hahn moved to Upper Nyack and acquired the Empire Hotel. The name of his business is lost to time. He may have maintained rooms above the saloon, but the photographs show its true importance as selling beer. Otto Hahn's saloon disappeared during Prohibition. Ironically, Village Hall was a liquor store before the village acquired it in 1972.
When Did Lager Become Popular in America?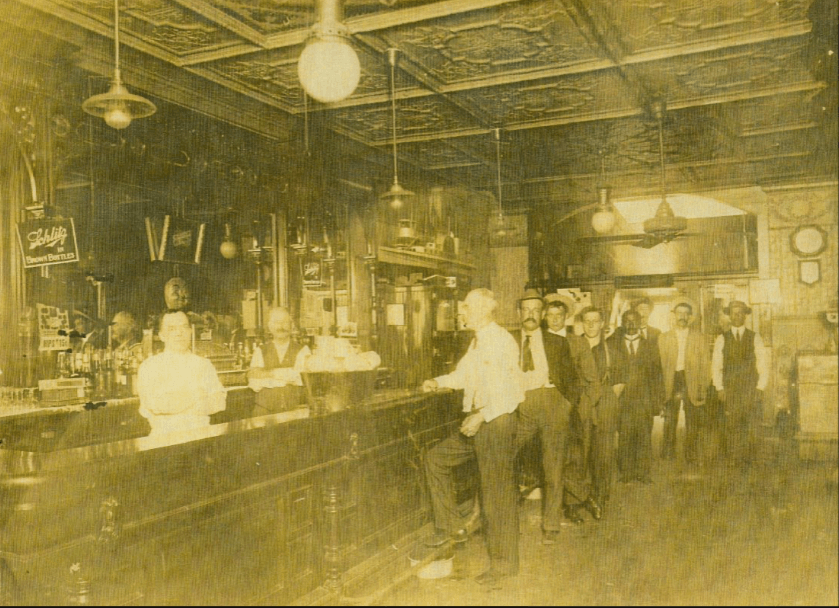 Early American immigrants drank a number of fermented drinks including whiskey, rum, cider, wine, and ale. Scientists have even uncovered evidence that the Pueblo Native Americans made a fermented corn "beer." Ale was preferred in colonial times since it is quick to make, tolerates higher temperatures, and travels well. Lighter, German-style lagers didn't appear until around the 1840s in Europe and in America. Prior to 1840, a steam-style of lagers were made.
Refrigeration made lager possible. German immigrants to America brought the lighter style technique to America, and soon lager was widely available as commercial refrigeration and pasteurization methods developed. By the 1890s, the light, fresh, and bubbly lager was more popular than ale. Railroads provided a quick avenue for distribution and lager became widely available.
Rockland Breweries in the 19th century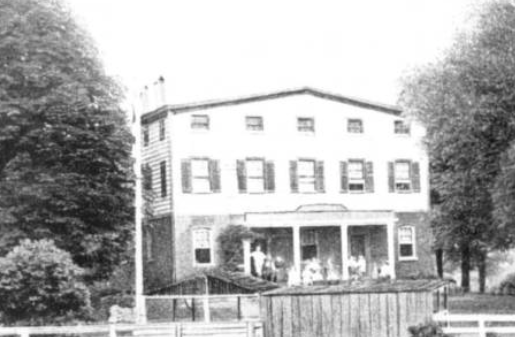 Rockland County was not known for its breweries in the 19th century. The Rockland Brewery was located on the eponymous Brewery Road in New City. It wasn't successful. By 1880, the building was a vinegar and wine factory; by the 20th century, it was a summer resort called the French Farm.
In Nyack, an 1852 map indicates that a very early brewery, The Firth of Forth Brewery, was located on the Upper Nyack Brook near present-day Nyack High School. It burned down soon after opening.
The Anchor Brewing Company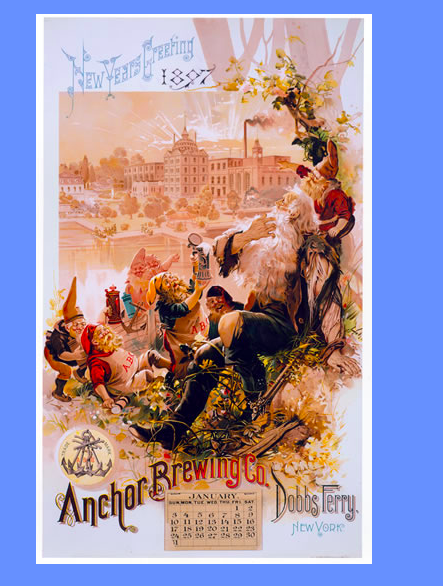 Brewing was a big business in Westchester by the mid-1800s, especially with the arrival of German immigrants. In 1856, Pieter Biegan started a small brewery in Dobbs Ferry, located at 145 Palisade Street. The brewery complex contained a pool, waterfall, and underground storage areas. Biegan Brewery lager became well known because the brewing water came from a Wicker's Creek collect pond that was of exceptional flavor and purity. The company became successful when it started winter shipment of beer to Nyack. By 1866, the Anchor Brewing Company had taken over and expanded the business.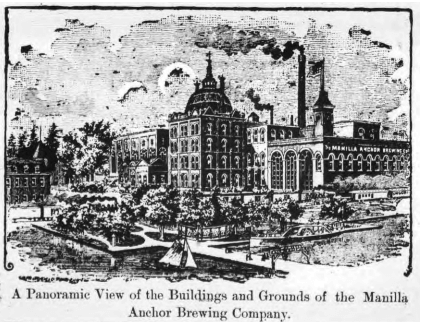 The Manilla Anchor Brewing Company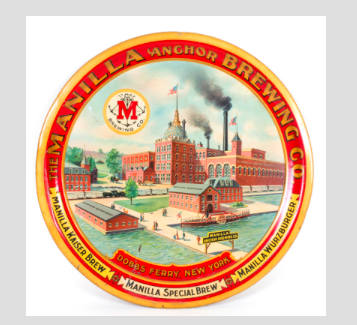 In 1900, the Anchor Brewing Company became the Manilla Anchor Brewing Company with a well-known brewer from Germany, Selig Manilla, as principal owner and president. The beer brand was renamed, as was the company name. The brewery grew to five stories in height, covering nine acres with a capacity of 100,000 barrels of lager beer. The opening of the plant was celebrated with a giant clambake attended by 1,500 people from New York and New England.
Selig Manilla–Businessman, Brewer, & Politician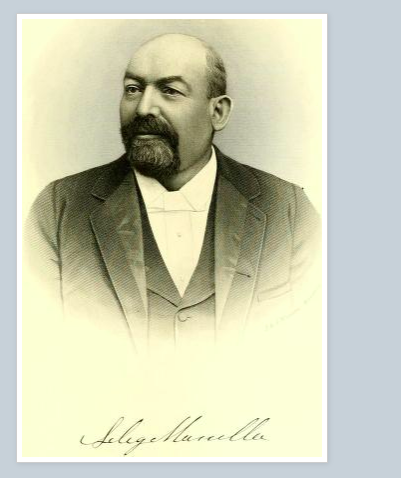 Selig Manilla was born in Germany to Jewish parents, and learned the brewing business In Berlin. He moved to New York City and started the Abbot Brewing company in Brooklyn, along with making Democratic party connections to Tammany Hall. By the late 1880s, he moved to Springfield MA, opening Springfield Brewing Company, the highly successful company that revolutionized the brewing process in New England while producing 70,000 barrels a year. During Manilla's stay in Massachusetts, he was elected as a delegate to the 1896 Democratic Convention that nominated William Jennings Bryan for President. By 1900, he was back in New York, forming the Manilla Anchor Brewing Company, which he managed until his death in 1907. The company didn't survive Prohibition; it closed in 1920.
Nyack's Favorite Lager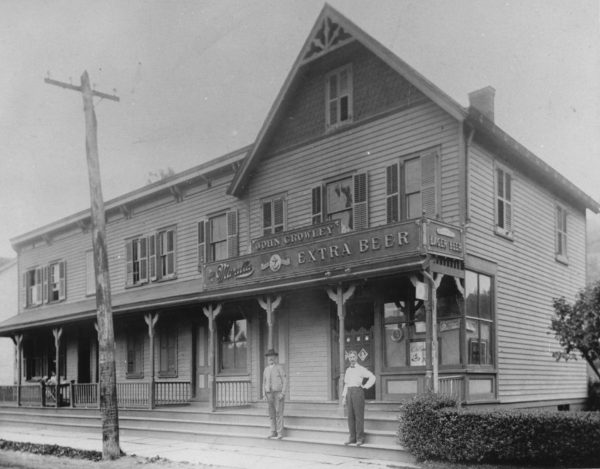 Otto Hahn wasn't alone in pumping Manilla lager in his Upper Nyack saloon. John Crowley's saloon in South Nyack, at the corner of Willow and Franklin streets (now located in the middle of the Thruway), also sported a large Manilla Lager sign above its front door. Manilla was the Hudson River's finest brew at the time.
Local beer lovers rue the loss of this once famous local lager that now exists in limited quantities of memorabilia prized by collectors. Undoubtedly, time has also changed the magical waters of Wicker Creek in Dobbs Ferry. Our local beer lovers can only dream that this once prized lager was now available in Nyack's current tap houses.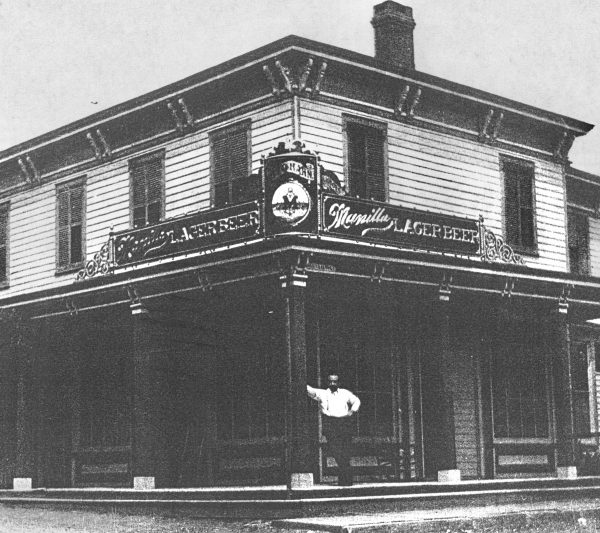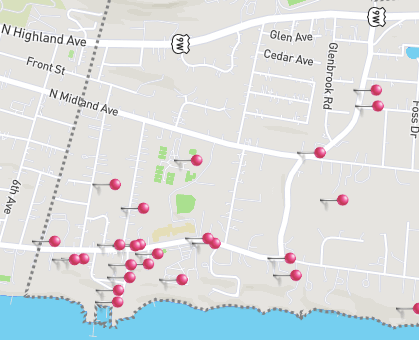 Michael Hays is a 35-year resident of the Nyacks. Hays grew up the son of a professor and nurse in Champaign, Illinois. He enjoyed a long career in educational publishing with Prentice-Hall and McGraw-Hill. He s currently president of the Historical Society of the Nyacks and vice president of the Edward Hopper House Museum & Study Center. Hays is an avid cyclist, amateur historian and photographer, gardener, and dog walker. He has enjoyed more years than he cares to count with his beautiful companion, Bernie Richey. You can follow him on Instagram as UpperNyackMike.
Nyack People & Places, a weekly series that features photos and profiles of citizens and scenes near Nyack, NY, is brought to you by
Sun River Health
, and
Weld Realty
.