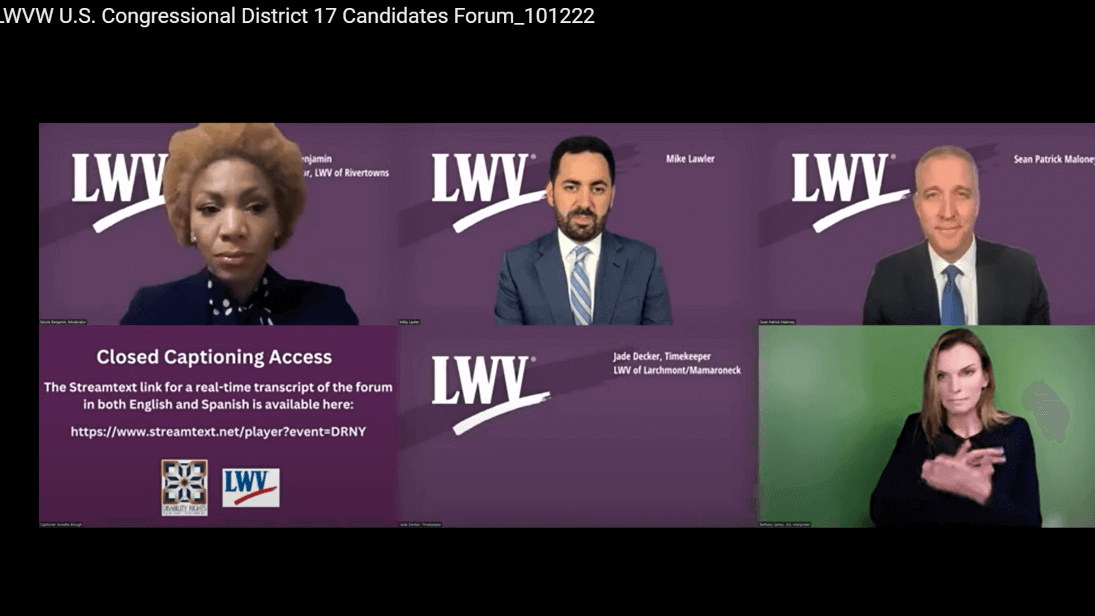 This week in the Villages: A brief but information-packed Rockland County midterm general election preview. Plus, we have and update on last week's community fridge story, the newly proposed Rockland County legislative district map, your weekly weather prediction, healthy updates, upcoming meetings and much more!
Note to readers: We want to hear from you and welcome your input! What do you think we should be covering in your Rockland County village? Let us know at info@nyacknewsandviews.com. Send us story ideas, issues to investigate, letters, reviews, photos, videos, feedback and news tips. And read about our vision for delivering high-quality, hyper-local journalism and how you can help us fulfill our mission going forward.
The Lede: It's time to start doing our midterm general election homework
More than anything, we here at Nyack News and Views aim to promote and inspire civic participation.
In many ways, that means we hope our coverage gets you out and about in Nyack (and all its surrounding environs), taking advantage of all of Rockland County's wonderful offerings, both natural and human made.
But in one very specific way, civic engagement means we want you to be an informed voter and participate in our county's (and our country's) democratic process.
In this public interest, we offer this early voting preview, complete with homework assignments.
First off, here's a link to Rockland County's Board of Elections, which includes all of the important Rockland voting information.
We'll repeat some of it here for fun and because repetition breeds good habits — and voting should be a good habit we all share! (Homework: find out whether you're registered and where you're going to vote by clicking here.)
Here's a link to all of the candidates you will have the option of voting for.
Locally, in Rockland, we should be paying close attention to the following races:
The heated NY-17 congressional race to replace Mondaire Jones between Democrat Sean Patrick Maloney (formerly of the NY-18) and Republican Mike Lawler (who currently represent the state's 97th assembly district, which includes part of Nyack). Keep scrolling below to watch a video of what I believe is their first live forum appearance together, hosted by the League of Women Voters last week. NY-17 is Rockland's only congressional district and the House will be decided by only a handful of competitive races, including this one. (Homework for all Rocklandians: watch this forum!)
The 38th and 40th state senate districts
The 96th, 97th, 98th and 99th assembly districts
Several village and town trustee and council positions
A Ramapo town justice seat
Those are your most local offices, but don't forget about state-wide races for governor and senate.
(Homework: figure out which senate and assembly district you live in and which candidates you have the option of voting for. Google them. Go to their websites and social media sites. Find out what they're all about and how they will represent you.)
The last chance to apply for an Absentee Ballot is Monday, October, 24. If you can't make it to vote, for a variety of reasons laid out here, you can apply by email or fax Here's a link to the Absentee ballot application form. Here's the Spanish language application.
Election day is Tuesday, Nov. 8. Polls will be open at your local poll site from 6 am to 9 pm.
Early voting, at a limited selection of poll sites, starts on October 29 and ends on Nov. 6. Hours for early voting are generally 9 am to 5 pm; except for Tuesday, Nov. 1, and Thursday, Nov. 3, when polls will be open later (noon) and close later (8 pm).
If you can, become a poll worker, who are badly needed. Plus, you get paid to do a good thing! (Homework: figure out if there's a way you can take the day on Nov. 8 and dedicate yourself to this invaluable public service.)
We'll do our best to dig into these candidates and help you do the rest of your candidate homework in the weeks ahead.
Stay tuned …
Quote of the Week
Clip of the Week (Do your NY-17 homework!)
In other relevant news
We're going to re-post this little update from a previous politics story. A little over a month ago, we reported on the redistricting effort underway at the Rockland County legislature. If you have thoughts or insight into these new district, which look similar-ish at first glance, but probably include some significant changes, please email us at info@nyacknewsandviews.com.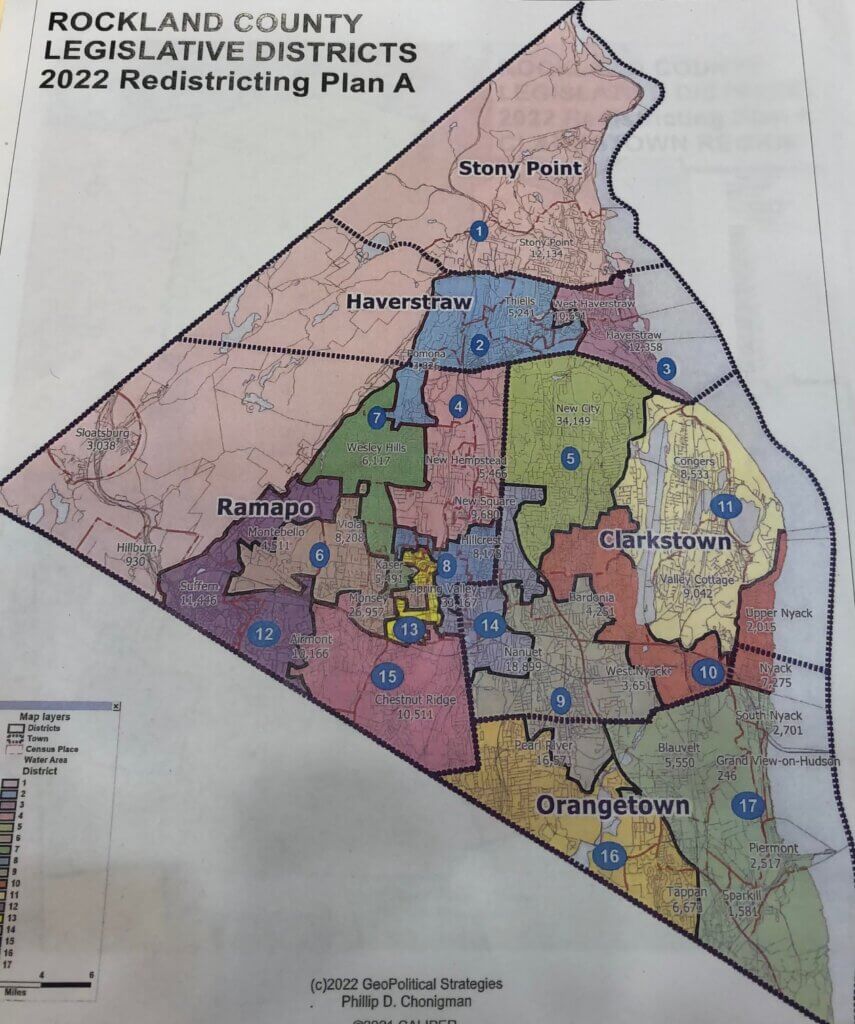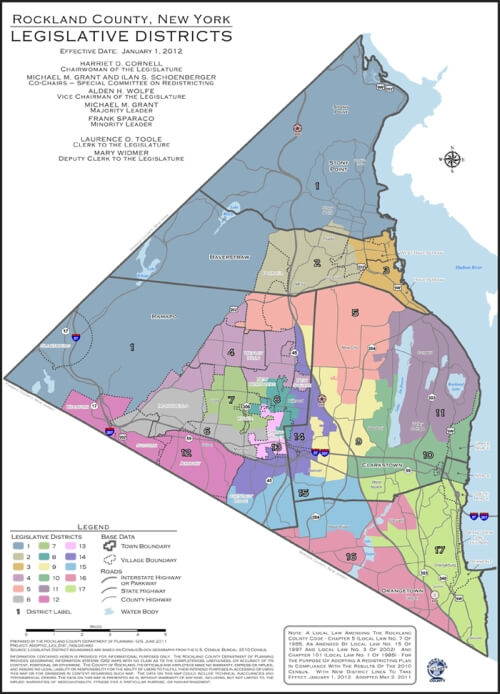 ICYM NNV's weekly features: Bill Batson's latest "Nyack Sketch Log", Mike Hays' most recent "Nyack People & Places"; and our coverage in last week's "The Villages". If you haven't read it yet, please check our vision for the future of Nyack News & Views and how you can help build our coverage and capacity.
Weather prediction
Showers possible on Monday, then temperatures drop into the mid-50s on Tuesday and Wednesday, before picking back up into the 60 for the end fo the week and this upcoming weekend. [Click here for National Weather Service's latest 7-day forecast for the Nyack area.]
Covid Update
Severe Covid cases and hospitalizations in the greater Nyack area have essentially leveled off and positive cases have dropped about 20%. As of Oct. 13, the CDC is classifying Rockland County as a "low" Covid threat level. 
Testing Info
More than 82.2% of eligible people in Rockland County are vaccinated with at least one dose. To schedule an appointment for a 1st dose, 3rd dose (for immunocompromised), or booster COVID-19 vaccine from any Rockland County Department of Health Clinic visit rocklandgov.com/departments/health/. To search for additional COVID-19 vaccination opportunities nearby visit vaccines.gov.
Find a COVID-19 testing site near you, by visiting coronavirus.health.ny.gov. Individuals who have questions regarding eligibility or access for testing should call the New York State COVID-19 Hotline at 1-888-364-3065 or visit the NYSDOH website covid19screening.health.ny.gov.
Village updates
Nyack
Powell Sensei of Karate Nyack has announced that his Karate School is offering an "Intro to Karate" program Thursday's & Saturdays. All are welcome! Seniors, Teens & Adults. For more info, text Powell Sensei at (917) 627 8199. Karate Nyack is located at 85 South Piermont Avenue, Nyack, NY. karatenyack.com.
Drop off humanitarian aid for victims of the war in Ukraine (, including first aid, painkillers, blankets, baby food, diapers, non-perishable food, antibiotics and more, at Village Hall, 9 N. Broadway (or at the Orangetown town hall, 26 W. Orangeburg Rd.).
Upper Nyack
South Nyack
Due to reader request, we have re-added South Nyack, which dissolved as an official village earlier this year. Please send us info about what's going on in South Nyack at info@nyacknewsandviews.com.
Orangetown
Clarkstown
The Technical Advisory Committee, which "evaluates the technical adequacy of land development applications and decides their readiness for Planning Board review," meets most Wednesdays, including this Wednesday, from 10 am to noon, in the town hall's Historic Map Room.
For a calendar list of all Clarkstown meetings and events, click here.
Other Local Updates
South Nyack advocates have filed a petition with the town of Orangetown seeking to show support for a new Elizabeth Place Playground — the grassy play area and dog park just south of 87 and right off the Esposito trail. After South Nyack dissolved in March, the town found the playground equipment at Elizabeth Place was unsafe and not compliant with ADA regulations and removed it. A new ADA compliant park has been proposed and advocates want to see the proposal approved and implemented. Click here to read and/or sign the petition.
Nyack Schools
Rockland-wide
A rare polio case was recently discovered in Rockland County. Here's some info on how to protect yourself:
New Yorkers can pre-register for a free polio vaccination appointment here or call 845-238-1956 to schedule. Walk-ins will also be accepted.
Vaccines are also available through local healthcare providers, including Federally Qualified Health Centers.
For more information on polio including symptoms and spread, visit NYSDOH's page here.
New Yorkers can learn more about the polio vaccine available in the U.S. at CDC's page here.
The Reviving Rockland Restaurants Grant Program will reimburse businesses between $5,000 and $25,000 for past expenses or fund future expenses for eligible outdoor dining COVID-19 mitigation equipment. Eligible entities include restaurants, food stands, food trucks, bars, saloons, lounges, taverns, bakeries, delis, cafes, breweries, wineries, and other similar places of business. For more information and to download an application visit rocklandgov.com.
Fill out this survey to help the county provide better digital services.
Connect with Nyack News and Views
We want to hear from you! Send thoughts, ideas, news tips, as well as meeting and events announcements to us at info@nyacknewsandviews.com.