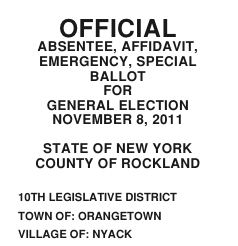 Nyack, Nov 8, 2011 — Polls are open from 6a to 9p today. To find out who is on the ballot, check out the sample ballots for  Nyack, South Nyack or Upper Nyack. To find out where you can vote, visit the Rockland County Board of Elections.

Here are links to Closing Statements provided by 14 of the candidates on the ballot in the Village of Nyack.
Rockland County
Family Court Judge: Paul Chiaramonte (R), Karen Riley (Working Families),  Sherri Eisenpress (D)
Sheriff: Louis Falco (D), Matthew Brennan (R),  Tim O'Neill (Working Families, Conservative)
Election results should be available from the Rockland County Board of Elections by 10:30p Tuesday night.