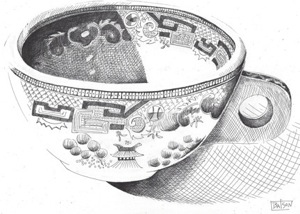 by Bill Batson
During his journey from Harlem to Martha's Vineyard to Nyack, Preston Powell has melded a teacup, Karate and a tradition of the African American church from his childhood into his holistic and locally based business, Teagevity.
"An Adam Experiment" a one-man play, written by and starring New York -based actor Michael Chenevert, that explores a day in the life of Powell's grandfather, Adam Clayton Powell, Jr., the first African American to be elected to Congress from New York State, will be staged at Rockland Community College on Sun, February 25, 3pm – 5:30pm.
The Nyack Sketch Log is sponsored each week by Weld Realty.