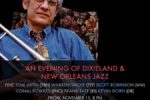 That was the week that was. Some of us are feeling jazzed, a lot of us are feeling the blues. Music has always been a great way to bring people together, and this weekend offers jazz and blues, classics and classical. Need to know more? You can hear the Stories Behind the Songs in the Carnegie Concerts Series with Joe D'Urso. Not your cup of tea? Escape with a play, a fiesta or even a Victorian tea. Still stressed? There's a Sunday lecture on how better breathing can power you through all of this. If all else fails, go for a guided night hike along the Palisades. This Rx for your Wknd is brought to you by The Arts Council of Rockland.
---
Get the
Nyack Weekender
in your mailbox auto-magically every Friday morning. Add your name to our mail list to get this weekly guide to weekend events. Visit our
online sign-up sheet to subscribe
.