This week in the Villages, with early voting under way, we tell you everything you need to know about casting your ballot in Rockland County leading up to election day on Nov. 7. Plus, other Nyack and Rockland-centric stories, links, notes, weather predictions, upcoming meetings, and more. Thanks for being here!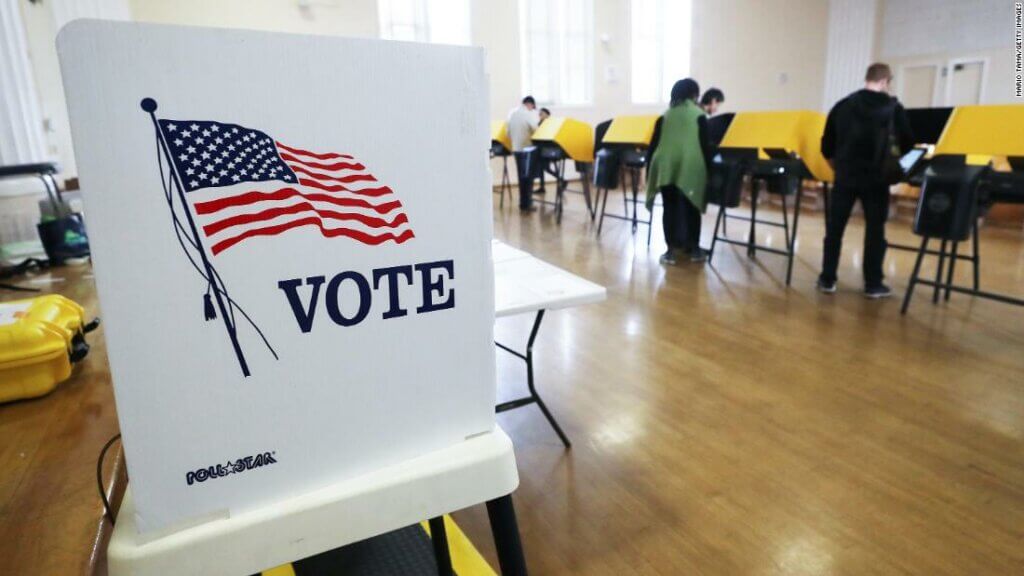 With one week left until the general election, we have all information you need to make a wise voting decision, including early voting details, how to find your voting site and links to information about the candidates. In some of these races, the winning total will amount to less than 2,000 votes, so every ballot will be important.
Find more information on how and where to vote at the Rockland County Board of Elections website.
Early Voting is Happening Now!
Election day is Tuesday, November 7. But early voting started on Saturday, October 28 and will run through Sunday, November 5. All votes will count the same, whether they are cast early or on election day. Here are the rest of the dates and times, when you can still vote early:
Thursday, November 2 (Noon until 8 pm)
Friday, November 3 (9 am until 5 pm)
Saturday, November 4 (9 am until 5 pm)
Sunday, November 5 (9 am until 5 pm)
Rockland will have seven "Early Voting Centers" for the General Election (Note: registered voters can choose to vote at ANY of these locations — this is not the case for election day, when you must vote at your assigned polling site):
1. Clarkstown Town Hall, 10 Maple Avenue, New City, New York 10956
2. Haverstraw Town Hall, 1 Rosman Road, Garnerville, New York 10923
3. Orangetown Town Hall, 26 West Orangeburg Road, Orangeburg, New York 10962
4. Ramapo Town Hall, 237 Route 59, Suffern, New York 10901
5. Stony Point Community Center (RHO), 5 Club House Lane, Stony Point, New York 10980
6. Fire Training Center, 35 Firemen's Memorial Dr., Pomona, NY 10970
7. Pascack Community Center, 87 New Clarkstown Rd., Nanuet, NY 10954
Election Day Voting Details
If you don't get a chance to vote early, don't fret, polling sites will be open from 6 am to 9 pm on Election Day, Tuesday, November 7.
Find your assigned polling site, by clicking here.
Absentee Ballots
You may vote by absentee ballot if you will be:
Unavoidably absent from your county on election day
Unable to appear at the polls due to illness or disability
You have duties related to the primary care of one or more individuals who are ill or physically disabled
A patient in a veteran's administration hospital
Detained in jail awaiting grand jury action or confined in prison after conviction of an offense other than a felony
You are disabled of permanently ill (see below)
Download an absentee ballot here: English | Spanish
Absentee application may be submitted via mail, email, fax, or via the State Board of Elections Electronic Portal. Drop in applications are also accepted. 
Voters can still request an absentee ballot in person at their county board of elections until November 6, 2023.
Submit your completed absentee ballots in the following ways:
Put it in the mail ensuring it receives a postmark no later than November 7th.
Bringing it to your County Board of Elections Office no later than November 7th by 9pm.
Bringing it to an early voting poll site in your county between October 28th and November 5th.
Bringing it to a poll site in your county on November 7th by 9pm.
Mail your absentee ballots to:
Board of Elections in County of Rockland
11 New Hempstead Rd, New City, NY 10956
A Look at the Candidates
Local Patch sites are doing a good job of putting together local candidate profiles: New City, Pearl River, Nyack/Piermont.
Lohud's Steve Leiberman highlights all of the Rockland County general election contests.
Below, you'll find the complete list of candidates running for every office in Rockland County.
In other news:
In the Rockland County Business Journal, Paul Adler, a long-time member of the Nyack NAACP and member of Rockland's civil rights hall of fame who, writes about the rise of anti-semitism in county from a real estate perspective, saying in "Rockland today, hate, prejudice, and fear mongering are used as socially accepted practices in matters of zoning and planning."  
Lohud reports on the Conservative Party's legal efforts to get two Democrats running unopposed for the Rockland County Legislature removed from their ballot line. (Candidates can run on any Party line if they get enough signatures, but they also must be certified by Party officials). It appears the Conservative Party's action has merit.
In another case that may have merit, lohud reports that Amer Zeda, who spent four decades in prison after being convicted of murdering 17-year-old Shirley Smith in Nyack back in 1979, is trying to have his conviction overturned. For anyone who has binged their share of true-crime podcasts (like your humble narrator), Zeda's conviction looks shaky at best. Lohud's Steve Leiberman does a great job of providing the whole backstory and context. Fascinating stuff.
ICYM NNV's weekly features: See Andrea Swenson's newest Photo Shoots; Bill Batson's latest "Nyack Sketch Log"; Mike Hays' most recent "Nyack People & Places"; past editions of "The Villages"; our latest Nyack Schools Report.
Weather prediction (through Nov. 6)
Cooler, with temperatures only getting up into the mid 50s. But no rain through the weekend! [Click here for the National Weather Service's latest 7-day forecast for the Nyack area. Click here for the latest Air Quality Index report for Nyack.]
5 Months Later: Still looking for answers in the death of Sean Harris
We continue to look into the case of Sean Harris, who died under suspicious circumstances after an hours-long standoff with police on May 30.
[Update: On October 30, a spokesperson for the Attorney General's office said they are still investigating Harris's case.]
Watch the video from Truth 2 Power below to learn more about what happened and why family, friends and police reform advocates say they want answers.
Here's our breakdown of what happened.
Here's Lohud reporter Nancy Cutler's in-depth piece on Harris and his mother's suspicions about her son's death here.
Village updates
Nyack
Here's the list of all upcoming meetings posted for the Village of Nyack.
If you could use help paying your water bills, click here.
Drop off humanitarian aid for victims of the war in Ukraine (including first aid, painkillers, blankets, baby food, diapers, non-perishable food, antibiotics and more, at Village Hall, 9 N. Broadway (or at the Orangetown town hall, 26 W. Orangeburg Rd.).
Upper Nyack
South Nyack
Thanks to reader request, we have re-added South Nyack, which dissolved as an official village earlier this year. Please send us info about what's going on in South Nyack at info@nyacknewsandviews.com.
Orangetown
Clarkstown
The Technical Advisory Committee, which "evaluates the technical adequacy of land development applications and decides their readiness for Planning Board review," meets most Wednesdays, including this Wednesday, from 10 am to noon, in the town hall's Historic Map Room.
For a calendar list of all Clarkstown meetings and events, click here.
Other Local Updates
South Nyack advocates have filed a petition with the town of Orangetown seeking to show support for a new Elizabeth Place Playground — the grassy play area and dog park just south of 87 and right off the Esposito trail. After South Nyack dissolved in March, the town found the playground equipment at Elizabeth Place was unsafe and not compliant with ADA regulations and removed it. A new ADA compliant park has been proposed and advocates want to see the proposal approved and implemented. Click here to read and/or sign the petition.
Nyack Schools
Check out our latest Nyack Schools Report, a new regular feature we will post bi-monthly.
Find out what else is going on in Nyack-area schools at Home Page – Nyack Public Schools (nyackschools.org)
Rockland-wide
A rare polio case was recently discovered in Rockland County last summer. Here's some info on how to protect yourself:
New Yorkers can pre-register for a free polio vaccination appointment here or call 845-238-1956 to schedule. Walk-ins will also be accepted.
Vaccines are also available through local healthcare providers, including Federally Qualified Health Centers.
For more information on polio including symptoms and spread, visit NYSDOH's page here.
New Yorkers can learn more about the polio vaccine available in the U.S. at CDC's page here.
The Reviving Rockland Restaurants Grant Program will reimburse businesses between $5,000 and $25,000 for past expenses or fund future expenses for eligible outdoor dining COVID-19 mitigation equipment. Eligible entities include restaurants, food stands, food trucks, bars, saloons, lounges, taverns, bakeries, delis, cafes, breweries, wineries, and other similar places of business. For more information and to download an application visit rocklandgov.com.
Fill out this survey to help the county provide better digital services.
Musical Outro
The Baklava Express play Maureen's on Friday. Here's a taste:
Connect with Nyack News and Views
Note to readers: We want to hear from you and welcome your input! What do you think we should be covering in your Rockland County village? Let us know at info@nyacknewsandviews.com. Send us story ideas, issues to investigate, letters, reviews, photos, videos, feedback and news tips. And read about our vision for delivering high-quality, hyper-local journalism and how you can help us fulfill our mission going forward.