Burd Street & the Birth of a Legend
In the late 19th century, the epicenter of Nyack's social scene was none other than the St. George Hotel. Founded in 1885 during Nyack's zenith as a sought-after summer refuge for affluent urbanites, this establishment boasted the epitome of fine dining, curated by the cosmopolitan George Bardin.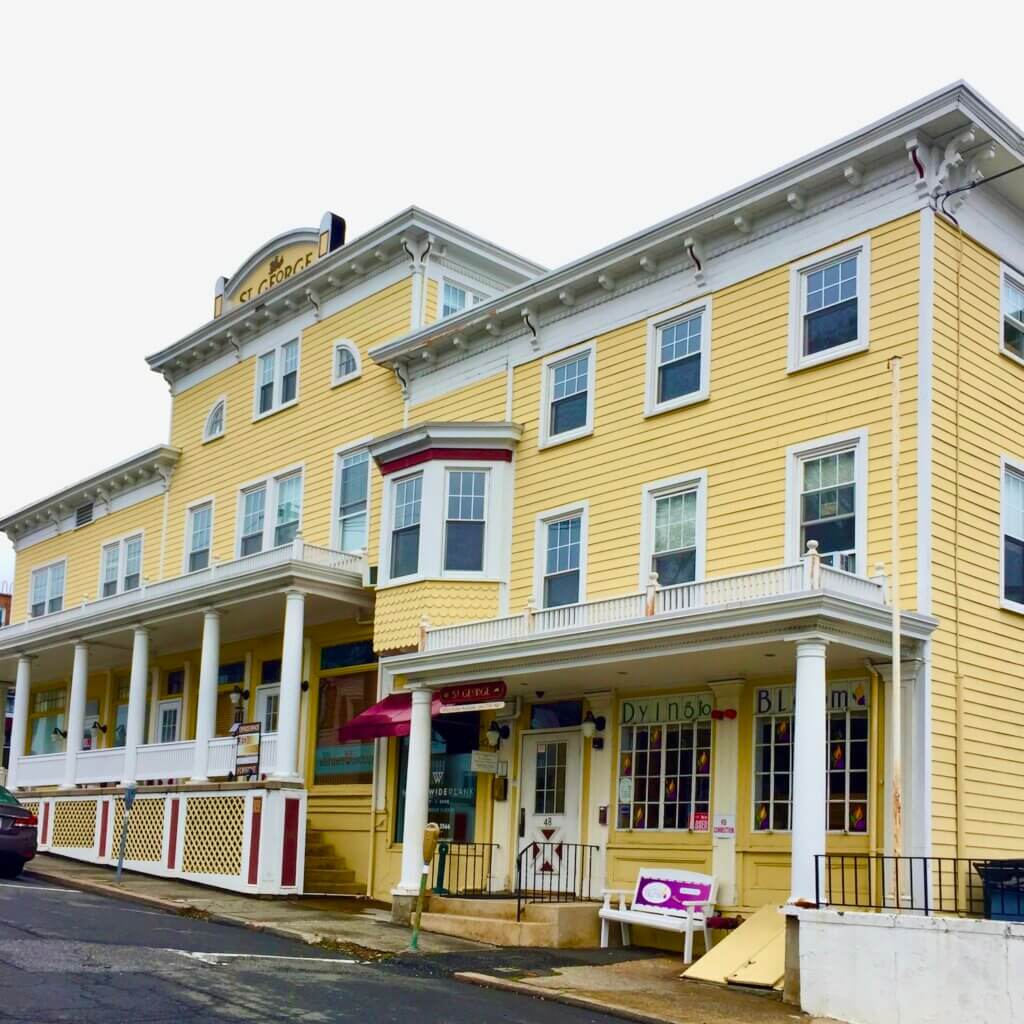 Positioned on Burd Street, a stone's throw from the Nyack Ferry, the St. George served as a cherished waystation for travelers journeying upstate and day-trippers from the city. Even into the 1960s, long after the hotel rooms had lost their former luster, the restaurant remained the hub for countless civic gatherings and banquets.
Subsequently refurbished in the 1980s, the hotel transformed into a haven for ten antique shops, aligning with Nyack's tenure as the antique capital of the Hudson River Valley. A Historic Preservation Merit Award honored the 2004 renovation that repurposed the space into offices and retail establishments.
Today, as the sole vestige of the Gilded Age's opulent accommodations, the St. George occupies a slightly removed position from the bustling core of Nyack's eateries and shops. However, in its heyday, lower Burd Street teemed with life. The elegant river-view porches and windows harbor countless untold tales, spanning from dignitaries to rogues. Herein lies its captivating narrative.
Burd Street: A Nexus of Activity
In the mid-19th century, Burd Street rivaled Main Street in activity. Named after Thomas Burd, who migrated to Nyack after marrying into the Tallman family, the town's original settlers, Burd was Nyack's premier house builder prior to the Civil War. His legacy included two grand Italianate-style edifices on Main Street and his own residence, an Italianate-style residence on High Street, adjacent to Franklin. His carpentry shop occupied a sizable parcel on Burd Street, central to the block flanked by Broadway and Court Street, eventually named Piermont Avenue.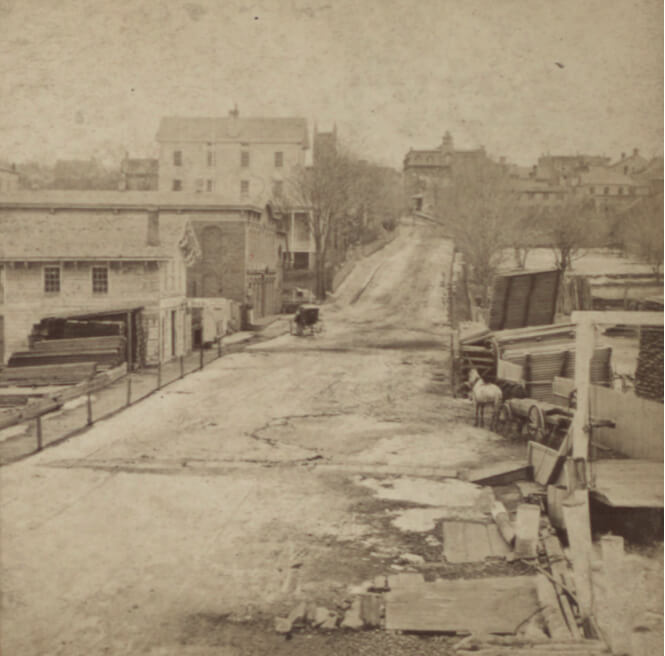 By 1884, as Nyack's center shifted westward to Broadway, Burd Street thrived even more. Establishments abounded, ranging from a shoe and hat factory to the Smithsonian Hotel, a three-story gem offering sweeping river vistas. At the juncture with Piermont Avenue (then Court Street), the Rockland County Hotel held court in the former Rockland County National Bank edifice, flanked by William White's general store and George Smith's confectionery and grocery. Progressing up Burd Street, Blauvelt's Livery and a beer bottling enterprise gave way to a pharmacy at the intersection with Broadway.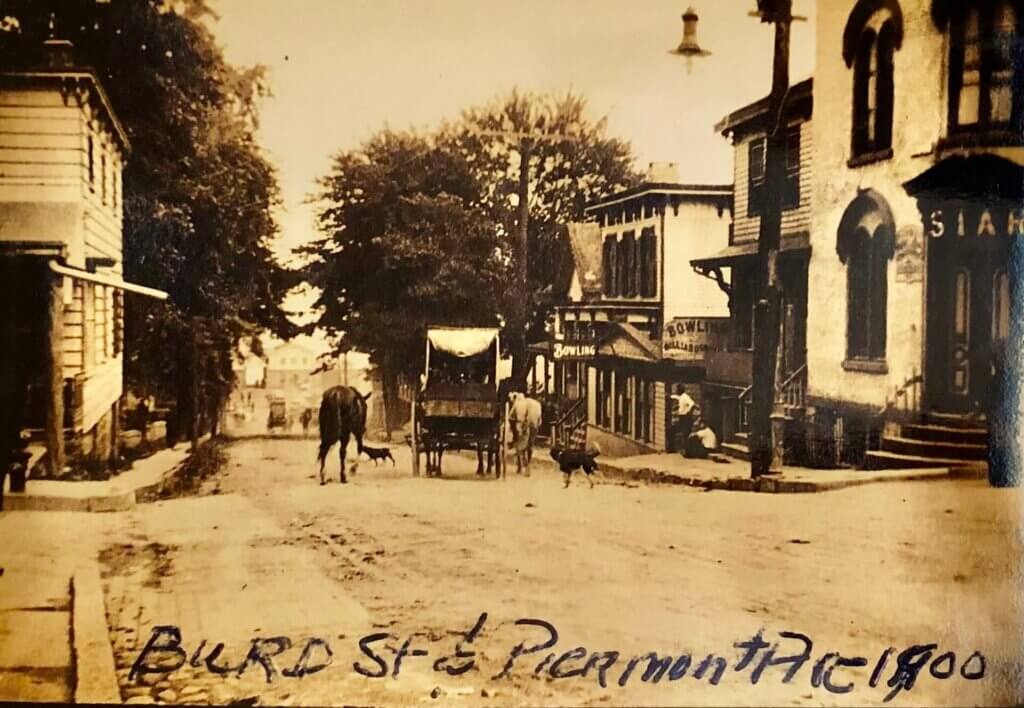 George Bardin's Vision: The Genesis of St. George Hotel
In 1885, George Bardin acquired two tall wooden structures, situated in close proximity, to birth the St. George Hotel. Likely erected in the 1870s, these buildings adjoined or possibly straddled some of the original Thomas Burd property. As was customary of the era, the ground floors of these buildings likely hosted retail enterprises, while the upper levels provided living quarters. Although historical records obscure their exact contents, references indicate various tenants preceding Bardin's ownership.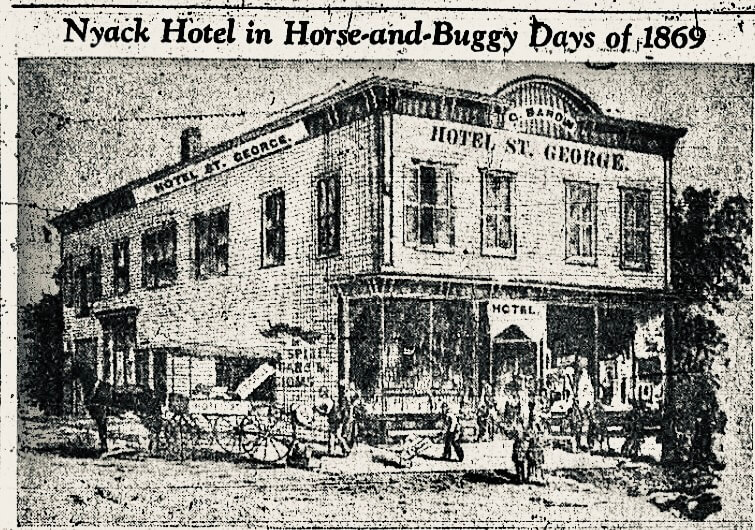 Bardin amalgamated these structures, forming the eastern two-thirds of the present-day St. George Hotel. A bay window adorned the front where the buildings joined, preserving a ventilation shaft in between. The hotel's entrance graced the eastern flank, with a taproom nestled in the southeast corner and the restaurant to the left.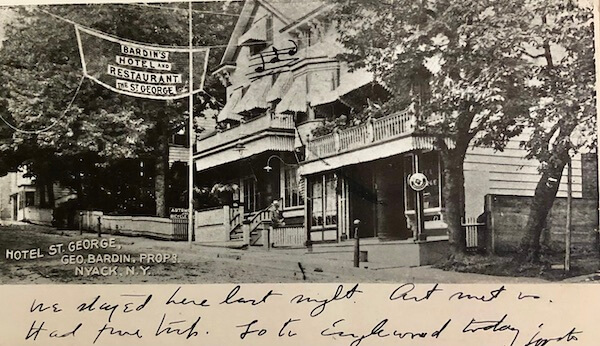 Over time, expansions ensued; by 1910, an additional building had been appended to the restaurant section. An auto park emerged around 1913 that opened onto Piermont Avenue. Though guest room counts remain ambiguous, an old reservation ledger suggests around 20 rooms, with the largest featuring baths and most offering scenic river views.
The Name: St. George Hotel's Moniker
The Gilded Age was replete with establishments bearing the moniker "St. George," and Nyack's eponymous hotel likely drew inspiration from Brooklyn Heights' grand Hotel St. George, inaugurated in 1885. It reigned as the city's largest hotel, boasting a staggering 2,632 guest rooms, a workforce of 1,000, and catering to 7,000 patrons. It's no surprise that George Bardin christened his establishment in homage to this colossal Brooklyn counterpart. Initially, the hotel was named the St. George's Hotel, soon after shortened to the Hotel St. George. This article chooses to use the name that it was mostly known by the St. George Hotel.
The Registration Desk: A Window to History
The St. George Hotel housed an oak registration desk, now preserved and on display at the Historical Society of the Nyacks. Once equipped with a bell for summoning assistance and a hidden cash drawer, the desk supported a large registration book. Its pages bear witness to a bygone era. Each guest, whether lodging for the night or merely dining, etched their name into the annals.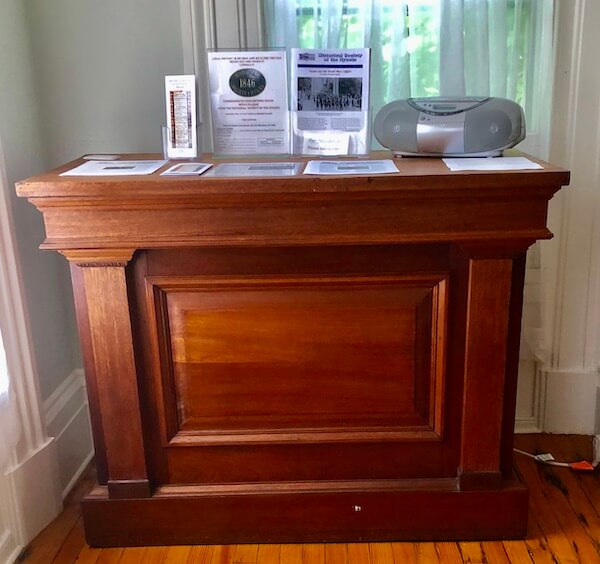 A column alongside room numbers noted stabled horses, with entries seldom exceeding two. On October 1, 1903, a significant milestone was marked as the first automobile was recorded. Thereafter, the register bore witness to a few automobile arrivals, chauffeurs included. Guests hailed from as near as New York and New Jersey and as far afield as Paris, Salt Lake City, and St. Petersburg, while local diners were conspicuously scarce, perhaps due to the restaurant's elevated pricing.
Noteworthy St. George Registrants
The existing remaining St. George registration books hint at the illustrious and interesting people who visited both the hotel and the restaurant. Many traveling groups like glee clubs and vaudeville performers signed the register. One group included Bill Bailey, from the Barnum & Bailey circus. Another group included Anthony Comstock, an anti-vice moralist, who signed as the "preserver of public morals". The Guggenheim signed in for a New Year's Day dinner. During a particularly bad winter in 1907, 93 people a sleigh party appeared for dinner. On an equally cold winter in 1905, five people arrived in a Packard automobile. The registry notes that they were the first car to cross the frozen Hudson River that winter.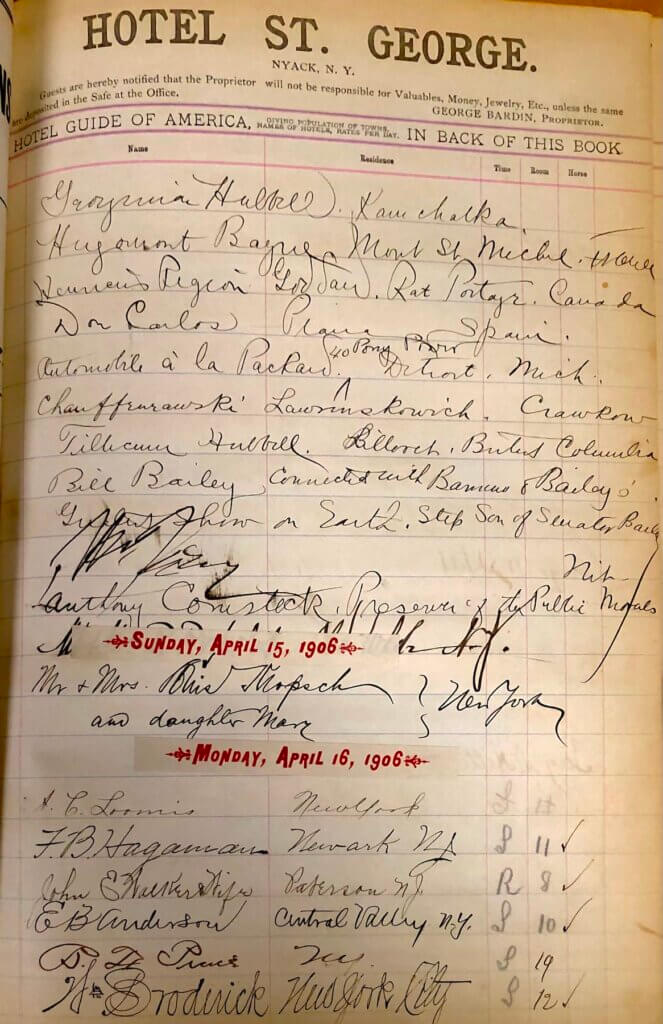 In November 1891, the illustrious cartoonist and caricaturist Thomas Nast, along with a group aboard a steamboat, graced Nyack. Their rendezvous took place at the St. George Hotel, where, it is said, Nast commemorated the event with a series of pen sketches, immortalizing the steamboat, its captain, and a celebratory champagne bottle.
Innovations: Air Conditioning, 1890s Style
Ventilation wasn't the establishment's forte. The original buildings sat close together with only a tiny airshaft between them. Interior long but small corridors provide little ventilation. In 1891, George Bardin introduced an electric fan, a marvel of its time, boasting a 10-inch diameter and an 8-hour battery life. While Nyack electrified in 1887, the St. George likely relied on gas lighting during its formative years.
Curiously, in a peculiar twist of fate, Helen Bardin, George's wife, fell victim to a rogue fan during a dining excursion in NYC in May of 1895. A year later, she continued to grapple with the aftermath, ultimately winning a $750 lawsuit through her Nyack attorney, Arthur Tompkins, who would later ascend to a seat on the New York State Supreme Court. As late as the 1940s, the restaurant boasted colossal wall-mounted fans, laboriously hoisted akin to antiquated timepieces.
The St. George Hotel: A Beacon of Hospitality
This architectural marvel, unveiled in 1885, swiftly established itself as the village's pulsating heart, beckoning guests from far and wide to savor its renowned culinary offerings. In the next episode of Rediscovering Nyack's St. George Hotel, we take a closer look at restaurateur George Bardin and an amazing presidential visit to the hotel.
---
Michael Hays is a 35-year resident of the Nyacks. Hays grew up the son of a professor and nurse in Champaign, Illinois. He has retired from a long career in educational publishing with Prentice-Hall and McGraw-Hill. Hays is an avid cyclist, amateur historian and photographer, gardener, and dog walker. He has enjoyed more years than he cares to count with his beautiful companion, Bernie Richey. You can follow him on Instagram as UpperNyackMike
Nyack People & Places, a weekly series that features photos and profiles of citizens and scenes near Nyack, NY, is brought to you by
Sun River Health
.