This week in the Villages we have fresh photos from the inaugural bike ride connecting Nyack native son Edward Hopper's two most influential locales — Manhattan and Nyack. Plus, other local stories, quotes and videos of the week, a weather prediction, a Covid update, upcoming meetings and much more. Thanks for being here!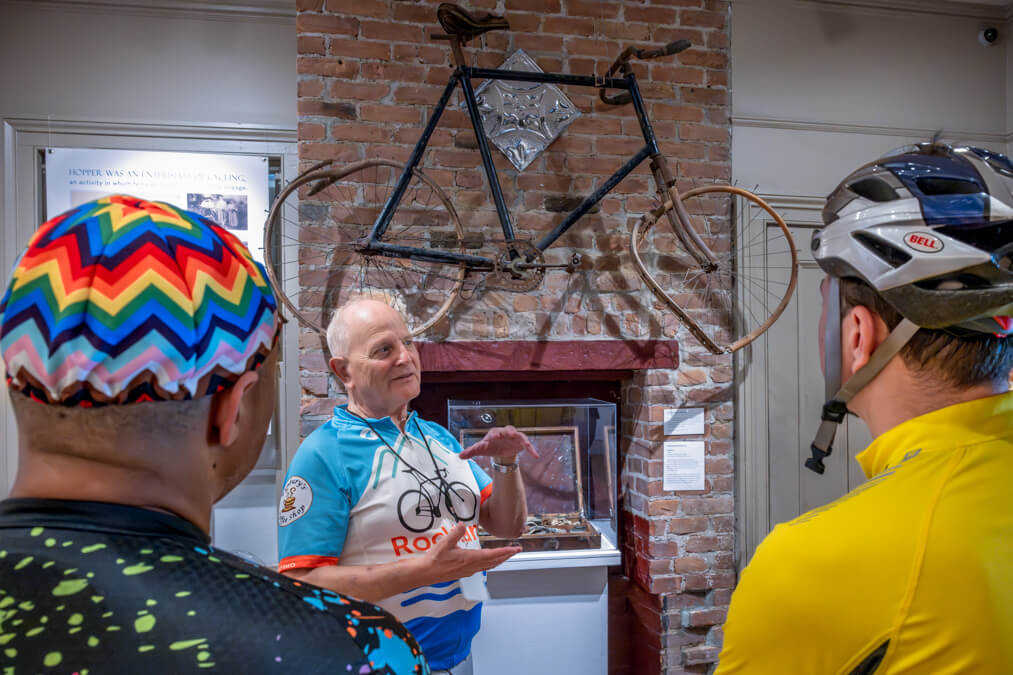 Biking for the Love of Art
We've officially reached the dog days of summer and the news cycle is slowing. Perhaps you could say it's falling back toward the peloton. So, as we take a break from the monotony, let's start with some birthday weekend fun!
This past Saturday, July 22, bike riders and art lovers celebrated their twin passions and Edward Hopper's 141st birthday during the inaugural Whitney-Hopper Ride. The ride, a partnership between the Hopper Museum in Nyack and the Whitney in Manhattan, took participants from the Meatpacking District, where Hopper lived and worked as a professional, to Nyack, where he grew up, and then back again.
Our own Andrea Swenson took in the action for Nyack News & Views. Check out here slideshow of photos below.
To read more about the bike ride's origins and objectives, click here.
Stay tuned and be in touch …
In other relevant news:
St. Thomas Aquinas College recently leased a 4-acre recreational area from the Dominican Sisters of Sparkhill to expand their athletic program, according to Rockland Biz Journal.
Last week, Spring Valley mayor Alan Simon railed against the state's takeover of the village's building and fire safety inspections, saying the village could do a better job. County Executive Ed Day begged to differ, saying Simon is ignoring the village's long, tainted history of lax safety enforcement. Read the whole story on lohud.
Quote of the week:
Videos of the week:
This next video is from a couple of weeks ago, but is still worth a watch, especially if you haven't heard about this story of heroism during the recent flooding near Stony Point:
ICYM NNV's weekly features: Bill Batson's latest "Nyack Sketch Log"; Mike Hays' most recent "Nyack People & Places"; and our coverage in our last edition of "The Villages"; Our latest Nyack Schools Report. If you haven't read it yet, please check our vision for the future of Nyack News & Views and how you can help build our coverage and capacity.
Weather prediction (through July 30)
[Click here for the National Weather Service's latest 7-day forecast for the Nyack area. Click here for the latest Air Quality Index report for Nyack.]
Covid Update! (threat level: still "low")
According to CDC data of recent hospitalizations and cases, Rockland's community threat level of Covid-19 is now considered "Low" and has been for six months now. With a low designation, the CDC recommends getting tested if you have symptoms or have contact with someone who tests positive. Otherwise, live your life. 
54 Days Later: Still waiting for answers in the death of Sean Harris
Until we receive answers from Clarkstown police or the state attorney general's office, we'll continue to highlight the lack of information in the case of Sean Harris, who died under suspicious circumstances after an hours-long standoff with police on May 30.
Watch the video from Truth 2 Power below to learn more about what happened and why family, friends and police reform advocates say they want answers.
Here's our breakdown of what happened.
Here's Lohud reporter Nancy Cutler's in-depth piece on Harris and his mother's warranted suspicions about her son's death here.
Where we're at: The Attorney General's office says it is still conducting a preliminary investigation into Harris' death and how Clarkstown police handled the whole situation. Meanwhile, Clarkstown officials say the case is an ongoing investigation and therefore will not release any information about it to the public — despite an ongoing demand from Harris' family and local police advocates.
This is what we still want to know:
Why were police called to the scene initially, given the discrepancy between Harris' mother's story and what police said they were told by social workers?
Why did police feel it was necessary to fire "less lethal munitions" at Harris, who was inside of his own home, posing no immediate threat to anyone, at the time police fired?
What effect, physically and psychologically, did getting hit with the munition have on Harris?
Why don't we have a cause of death or an official report from the medical examiner's office, almost a month after Harris' death? (You would think police would be eager to release this information because it would corroborate their story. Unless it doesn't.)
We will continue to search for answers and continue to follow up with the attorney general's office and Clarkstown police.
Village updates
Nyack
Here's the list of all upcoming meetings posted for the Village of Nyack.
If you could use help paying your water bills, click here.
Drop off humanitarian aid for victims of the war in Ukraine (including first aid, painkillers, blankets, baby food, diapers, non-perishable food, antibiotics and more, at Village Hall, 9 N. Broadway (or at the Orangetown town hall, 26 W. Orangeburg Rd.).
Upper Nyack
South Nyack
Due to reader request, we have re-added South Nyack, which dissolved as an official village earlier this year. Please send us info about what's going on in South Nyack at info@nyacknewsandviews.com.
Orangetown
Clarkstown
The Technical Advisory Committee, which "evaluates the technical adequacy of land development applications and decides their readiness for Planning Board review," meets most Wednesdays, including this Wednesday, from 10 am to noon, in the town hall's Historic Map Room.
For a calendar list of all Clarkstown meetings and events, click here.
Other Local Updates
South Nyack advocates have filed a petition with the town of Orangetown seeking to show support for a new Elizabeth Place Playground — the grassy play area and dog park just south of 87 and right off the Esposito trail. After South Nyack dissolved in March, the town found the playground equipment at Elizabeth Place was unsafe and not compliant with ADA regulations and removed it. A new ADA compliant park has been proposed and advocates want to see the proposal approved and implemented. Click here to read and/or sign the petition.
Nyack Schools
Check out our latest Nyack Schools Report, a new regular feature we will post bi-monthly.
Find out what else is going on in Nyack-area schools at Home Page – Nyack Public Schools (nyackschools.org)
Rockland-wide
A rare polio case was recently discovered in Rockland County last summer. Here's some info on how to protect yourself:
New Yorkers can pre-register for a free polio vaccination appointment here or call 845-238-1956 to schedule. Walk-ins will also be accepted.
Vaccines are also available through local healthcare providers, including Federally Qualified Health Centers.
For more information on polio including symptoms and spread, visit NYSDOH's page here.
New Yorkers can learn more about the polio vaccine available in the U.S. at CDC's page here.
The Reviving Rockland Restaurants Grant Program will reimburse businesses between $5,000 and $25,000 for past expenses or fund future expenses for eligible outdoor dining COVID-19 mitigation equipment. Eligible entities include restaurants, food stands, food trucks, bars, saloons, lounges, taverns, bakeries, delis, cafes, breweries, wineries, and other similar places of business. For more information and to download an application visit rocklandgov.com.
Fill out this survey to help the county provide better digital services.
Musical Outro
Ladies and gentlemen, it's Summertime! Enjoy! Stay cool! See you next week!
Connect with Nyack News and Views
Note to readers: We want to hear from you and welcome your input! What do you think we should be covering in your Rockland County village? Let us know at info@nyacknewsandviews.com. Send us story ideas, issues to investigate, letters, reviews, photos, videos, feedback and news tips. And read about our vision for delivering high-quality, hyper-local journalism and how you can help us fulfill our mission going forward.