Edward Hopper's famous painting Nighthawks is one of the most iconic American paintings of the 20th century. The question arises as to whether Hopper depicted an actual diner and whether his hometown, Nyack, had any influence on the creation of the painting. Hopper claimed in an interview that Nighthawks was "suggested by a restaurant on Greenwich Avenue in New York City where two streets meet." That diner has never been adequately identified.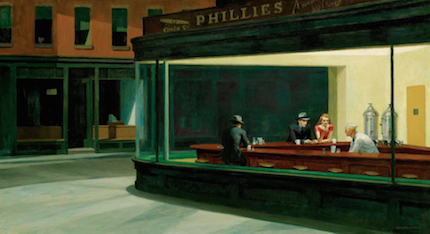 Hopper's boyhood in Nyack exerted a strong influence on his work, but it is unclear whether any diners in Nyack may have influenced his work. This article attempts to answer this never-before-asked question by providing a brief history of diners in America with a focus on the late-night diners in downtown Nyack in the first half of the 20th century.
What Defines a Diner?
As we will see, diners came about to serve people looking for quick food and coffee. Most of early diners were small horse-drawn wagons known as lunch wagons. Later, the wagons evolved into railroad dining car style structures. Once mobile, by the 1930s, diners became fixed in place on a foundation, often with rounded Art Deco stainless-steel trim.
The menu from the first was simple. Coffee made in an urn was a fixture. Each diner featured counter service with an open kitchen. A special diner jargon evolved between customer, waiter, and cook. A coffee, for example, was "a draw". Today's stainless steel diners are a far cry from those of the early 20th century yet retaining some of the same elements.
The Early History of Lunch Wagons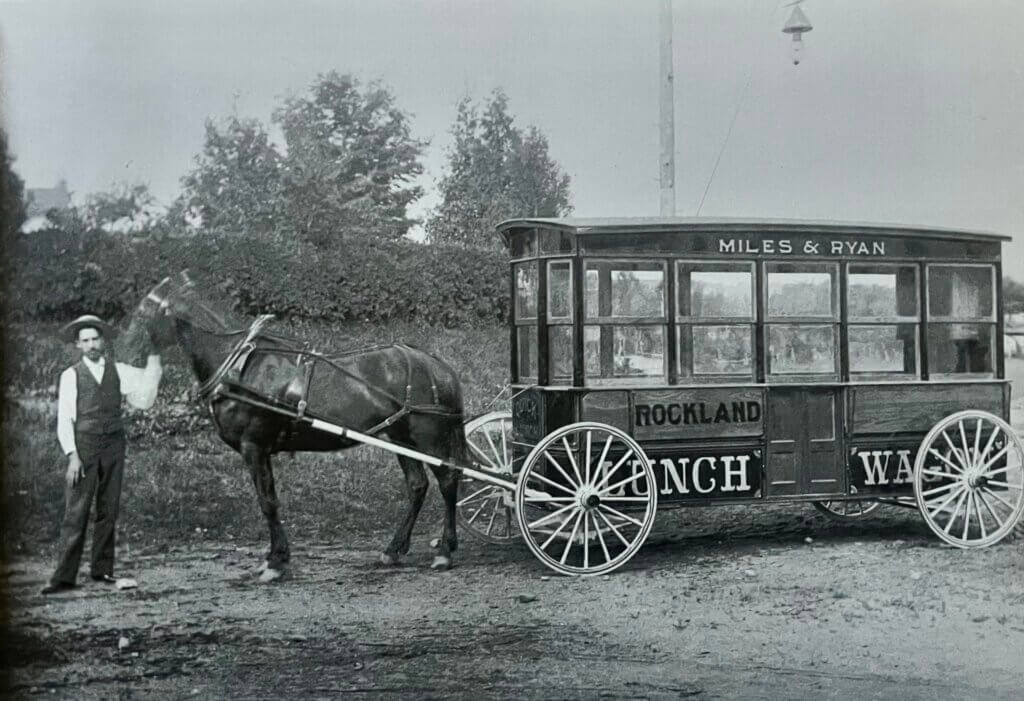 Lunch wagons, or food trucks as we call them today, originated in the northeast. The first lunch wagons opened in Providence, RI in the 1870s. Most were open from dusk to 4a. Because of their late hours, many were named the "Owl". Pulled by a horse, the wagons had windows on both sides, one for sidewalk orders and one for carriages on the street side. The menu was simple, consisting of ham sandwiches, boiled eggs, buttered bread, and a slice of pie that usually sold for five cent each.,
In 1891, Charles Palmer of Worcester, MA patented a popular lunch wagon design with indoor seating. Factories sprung up to meet increased demand for more lunch wagons. Styles and functionality evolved quickly. For example, T. J. Buckley's New England Lunch Wagon Company added new cooking options including boilers and stoves. Hamburgers and the like could then be made on the spot. Buckley's most famous model was the White House Café, painted a blinding white with murals on the side, frosted glass, and tile interiors.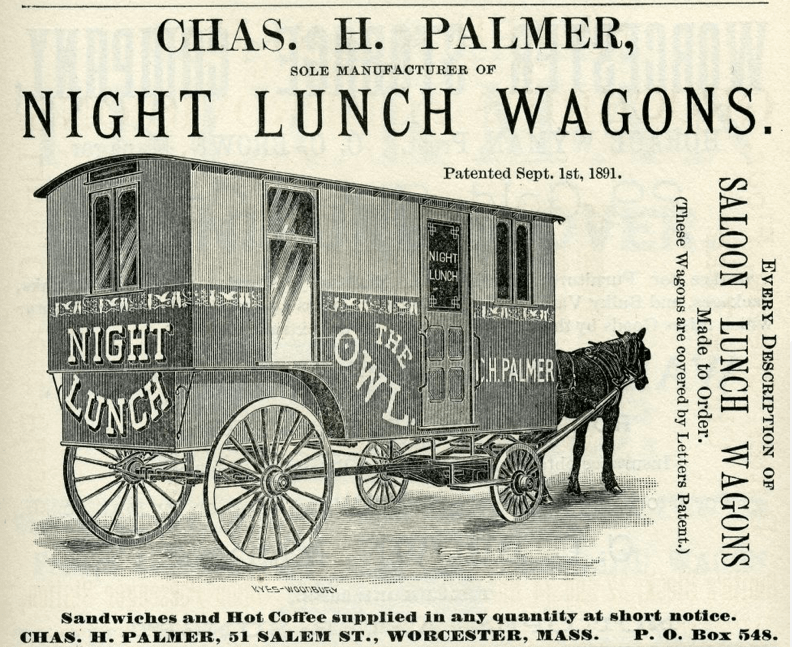 Why Lunch Wagons Lost Their Wheels
To increase business, many lunch wagons stayed open during the day creating traffic problems especially when automobiles appeared on urban streets in the early 20th century. Towns enacted legislation to restrict lunch wagons from parking in public right-of-way. The solution by the lunch wagon owners was simple. Since lunch wagons were small, they could lease a small slice of land and park the wagon permanently on a fixed foundation. Plus, they could be open 24 hours a day if they chose.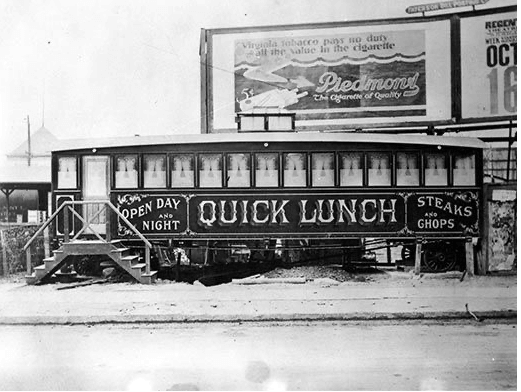 The Evolution of the Railroad Car Diner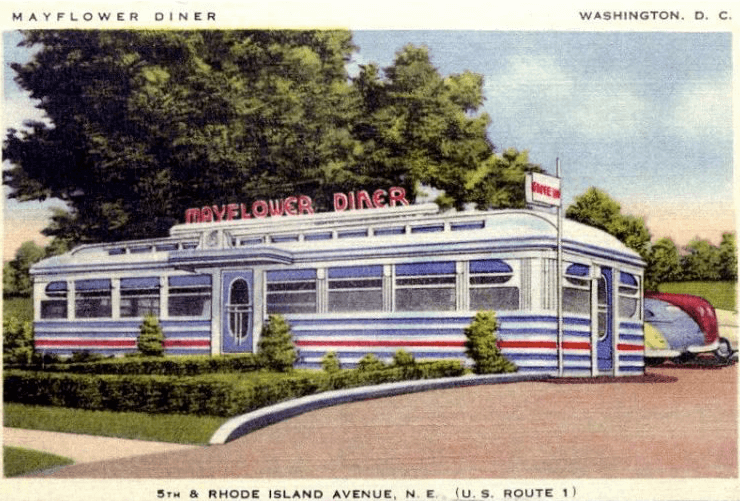 As a result of fixed foundations, lunch wagons grew larger with new cooking equipment.Coffee urns, griddles, ice boxes, and display cases became standard. The new lunch wagons kept the appearance of a railroad dining car (very few were made from railroad cars, most were not). Railroad dining was considered chic. Plus the narrow size could be easily shipped by rail or truck.
Many new lunch wagons sported the name "diner". Over time, the old term, lunch wagon, disappeared, and railroad car eateries became known collectively as diners. Their appearance evolved as well. The popular sleek art deco style with a tile interior became the new standard by the 1940s.
The First Lunch Wagons in Nyack
Tracking the history of lunch wagons and diners in Nyack is tricky and somewhat confusing. Ownership and names of lunch wagons and diners changed frequently. Photos of Nyack diners are rare. The first mention of a lunch wagon in the public record occurs in 1903 when a lunch wagon located at the corner of Main and Broadway had its operating license revoked.
From 1905 to 1918, George Barrett operated a lunch wagon in Nyack.It may have been located on a fixed property at 123 Main Street. His hours were 10a to 2a. In 1918, he closed for two hours, the first time the shop had been closed in 11 years.
The Royal Diner
In 1923, Walter Watson and Raymond Conway opened a lunch wagon on Park Street near Main named C and W Lunch that they acquired from a New Rochelle manufacturer. The owners promised home cooked food and coffee like mother used to make. They were always open.
Two deputy sheriffs, Raymond "Happy" Gray and Wilton Tromm, purchased the diner and renamed it the Royal Diner.
The Eight All-Night Diners in Downtown Nyack
By the end of 1928, eight late-night and all-night diners lit up Nyack nights. Four railroad-car diners and four traditional restaurants competed for the late-night, pie-and-coffee crowd who came after movies, dances, and vaudeville shows.
The 'New' Royal Diner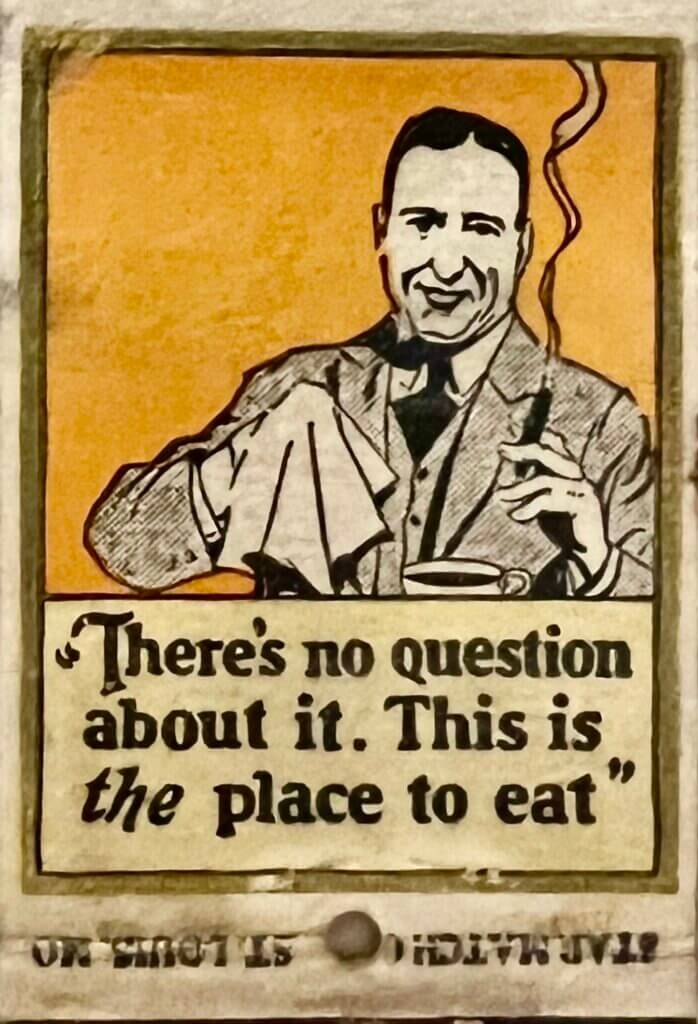 ---
Considered to be the finest diner in Rockland County the Royal Diner occupied the corner of Park and High Streets, formerly the location of Morris Koblin's barn. A counter with stools, tables, cigarette machine and two entrances, one on each street, attracted a wide market when it opened in 1928. One night in 1936, the diner overflowed with 300 people seeking hamburgers after a dance at the YMCA. In 1941, a new owner move the Royal Diner to North Bergen, NJ.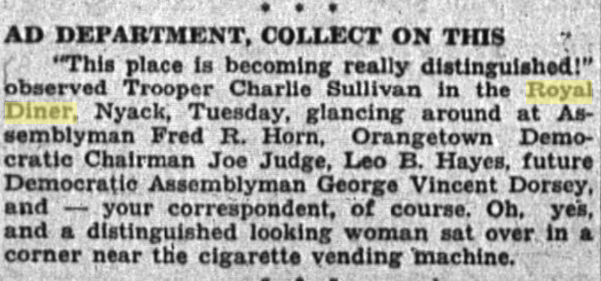 Brownie's Grill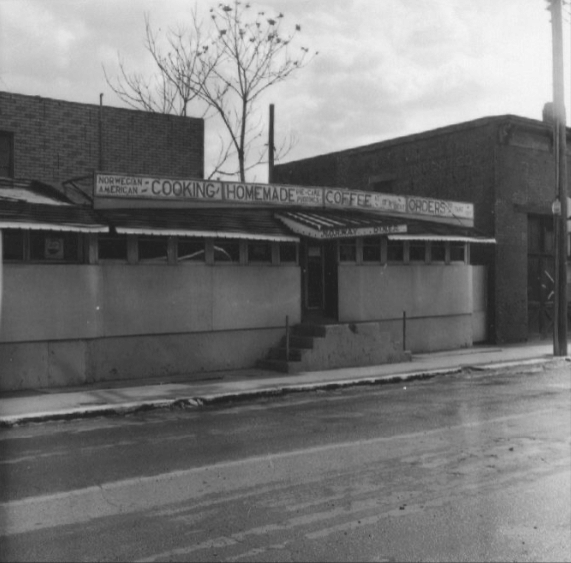 Brownie's Grill arrived in Nyack by truck in early 1928. Located at 10 S. Franklin Street near Main where M&T Bank is now located, Brownie served 267 customers his first day. The spacious diner included stools at a counter running around three sides as well as a main counter in the center. To attract customers, Brown installed one of the first electronic signs in Nyack. This diner operated under many different names over time. It was last known as the Norway Diner when it was demolished during urban renewal.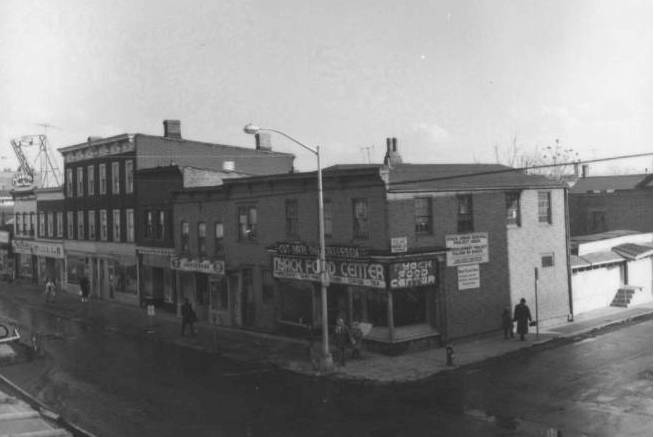 Fairview Diner
Little is known about the Fairview Diner located at 42 S. Broadway just north of the First Presbyterian Church, now the Nyack Center. The "wagon" arrived from the factory of P. J. Tierney in New Rochelle, NY. It wasmade of steel and tile and set on a brick foundation with stone steps leading to the front door. This railroad-style "diner" was 40 feet long, equipped with stools having backrests, and bathrooms.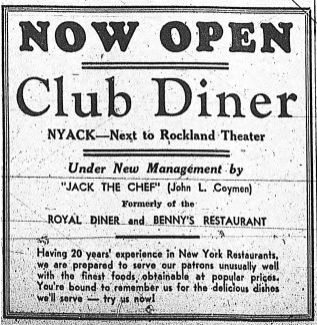 The Club Diner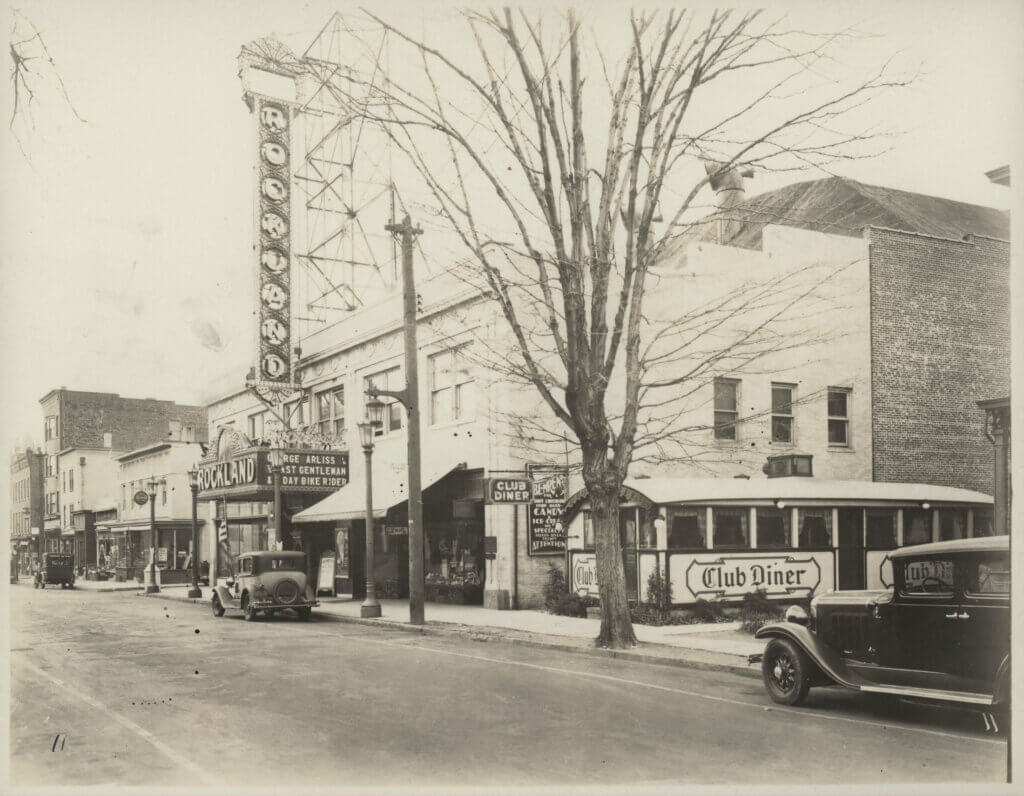 It is unclear exactly when the Club Diner opened. It likely opened in 1928 when its next-door neighbor, Nyack's famous art deco movie house, the Rockland Theater, opened. In 1934. The Club was a Silk City brand diner made in Paterson, NJ known for its family-style menu including blue plate luncheons. The diner likely closed some time before the theater closed in 1967.
Fixed Store-Front Late-Night Diners in 1928
The Rialto
The Rialto opened in 1924 at 5 South Broadway. Upstairs was a hotel. They claimed to be the most popular restaurant in town. Like oyster saloons of old, they served oysters fried, stewed, baked, and raw. During the depression a five-course lunch was fifty cents.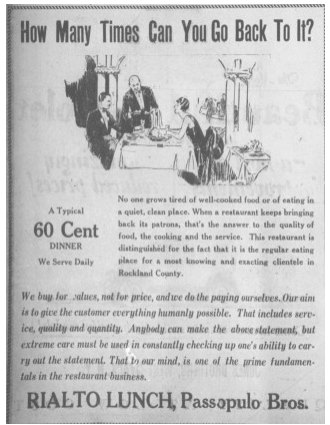 Dick's Lunch
Dick's Lunch opened in 1924 at 149 Main Street offered oysters, steaks, and chops. It was open until 2a.
American Lunch
Not much is known about American Lunch, later called John's American Lunch. It was another late-night eating option in 1928 located at 139 Main Street. A restaurant remained at the same location until the building was demolished during urban renewal.
Benny's Lunch
Known by several different names, little is known about this Cedar Street diner. It had a reputation for late night card games in the back rooms.
Diner Racism in the 1930s
We have a rosy sentimental view of a democratic diner life where politicians, workers, store owners, and policemen rubbed shoulders together. It wasn't always so. Diners were white men's clubs in the early days. By the 1930s women and Blacks were allowed in most diners. However, open hostility often greeted black families.
Lottie J. Swann, a Black woman, and Executive Director of Rockland County's Human Rights Commission in the 1980s, remembered the discrimination her family experienced in a Nyack diner in the 1930s. Her family (she was then known as Lottie Kane) finished dining when the owner came to their table and smashed their plates on the floor in front of them. "He said no white man should ever have to eat off plates used by colored people." What was he thinking? Black people probably washed the same dishes that the manager smashed.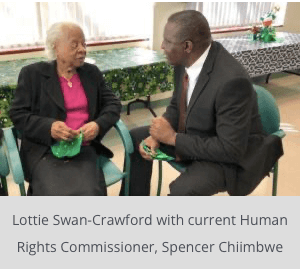 Diners After 1940
While diners like the Office, later the Skylark, hung on in downtown Nyack, the more car-friendly diners outside of downtown took over most of the market. In 1941, the all-night Nyack Diner on Route 9W just off Route 59 opened. In the 1950s the McDermott Milk Bar opened on Route 59 and in the 1960s the Wooden Indian and later Hogan's Diner opened.
But Wait, One Diner Remains Open in Downtown Nyack

In 1947, a new diner opened in the space vacated by Royal Diner on Park Street. The Koblin family retained a manufacturer's plaque from the diner showing that is was a Silk City brand diner built in Paterson, NJ in 1947. Known as the Central Diner and the Park Diner in its early days, it changed names, owners, and food styles frequently. By the 1980s it became a Mexican restaurant, Que Pasa, and since 1988, a series of Thai restaurants.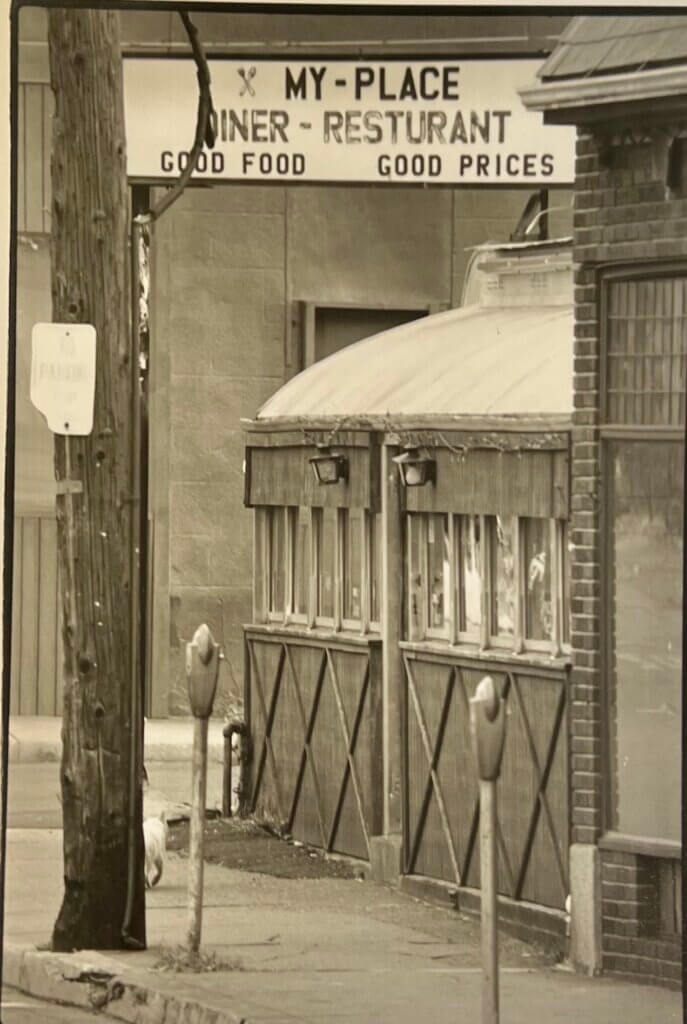 Was it ever a chrome diner? Probably. If so, its chrome exterior was replaced with wood. A kitchen was added to the rear of diner at some point. It is amazing that a diner has been in this location for 95 years hearkening back to the halcyon days when Nyack glowed at night with diners.
Did Edward Hopper Visit Nyack Diners?
But the mystery remains. Did Hopper ever dine at one of these Nyack diners, drawing inspiration for his masterpiece? Perhaps, he sat at a counter, sipping coffee and observing the details of the diner, just as he did when he visited the Dixie Kitchen on 5th Ave and 48th St. in New York City to observe the details of a coffee urn for his painting.
Doubtless, Nighthawks is a product of Hopper's imagination, an amalgamation of various diners he had visited throughout his life including those in Nyack.
He must have visited one of the early lunch wagons parked near his father's dry good store on South Broadway.
Art Gunther reports that Edward and Jo favored a Chinese restaurant at the corner of High Street and Broadway because they liked cheaper diner fare.
In 1939, two years before he began work on Nighthawks, the Hoppers visited Nyack for several days while Hopper made sketches for a commissioned painting of Helen Hayes' home, Pretty Penny. They arrived by bus at the Cedar Street bus stop. They surely passed one of the existing diners.
Without doubt they passed the Club Diner next to the theater just one block from the family home on N. Broadway, now the Edward Hopper House Museum.They enjoyed movies. Perhaps they went to a movie and ate at the Club Diner.

Nyack an Incubator for Nighthawks?
Regardless of its origins, we can conjecture that seeing the Nyack diners may have provided one of the seeds for his greatest painting, just as the the row of brick buildings in Nyack provided the seed for the painting, Early Sunday Morning. Too big of a stretch you say? Maybe, but take a walk past Bangkok Station in the old Park Street diner at night. Interior lights stream out of the row of windows. It is Hopperesque, a reminder of the diners that inspired Edward Hopper to paint Nighthawks.
---
Michael Hays is a 35-year resident of the Nyacks. Hays grew up the son of a professor and nurse in Champaign, Illinois. He has recently retired from a long career in educational publishing with Prentice-Hall and McGraw-Hill. Hays is an avid cyclist, amateur historian and photographer, gardener, and dog walker. He has enjoyed more years than he cares to count with his beautiful companion, Bernie Richey. You can follow him on Instagram as UpperNyackMike.
Nyack People & Places, a weekly series that features photos and profiles of citizens and scenes near Nyack, NY, is brought to you by
Sun River Health
, and
Weld Realty
.