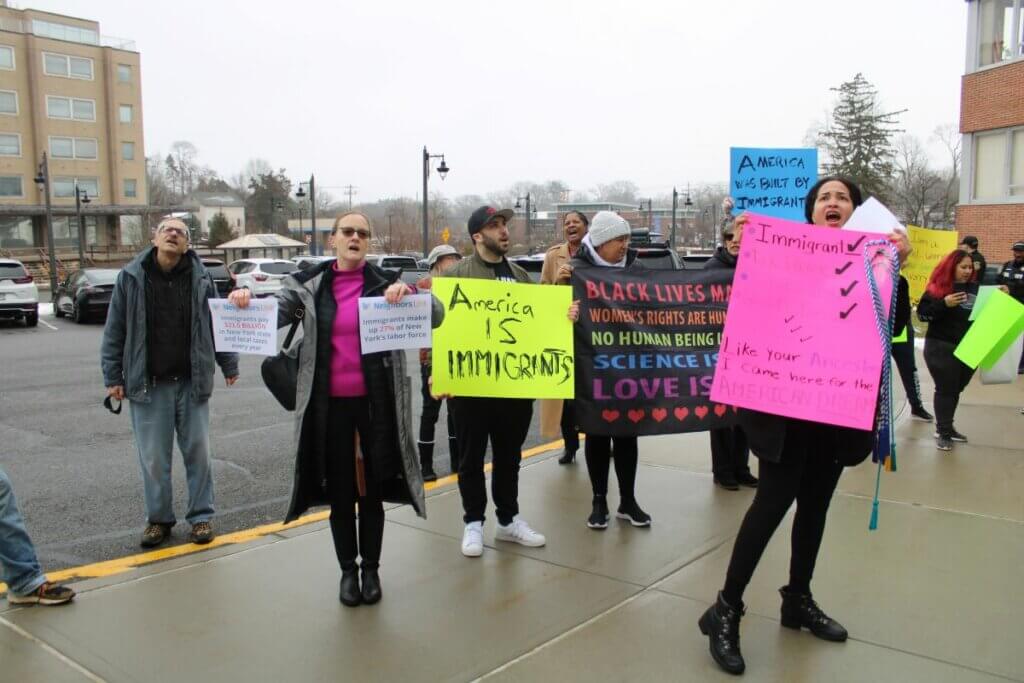 As pro-immigrant advocates railed loudly against them from outside of a building in New City last week, Congressman Mike Lawler and County Executive Ed Day hosted an exclusive press conference to bring the national conversation about immigration to Rockland County.
The two politicians, both Republicans, spoke about the effects of immigration in Rockland County, called for more resources from the federal government and advocated for bipartisan immigration reform.
"The influx of migrants is doing a number of things — it's straining our schools and straining our food pantries," Day said, without offering much in terms of specific details. "Our housing stock and social services are being strained at a breaking point."
As Day spoke, chants could be overheard in the background: "Say it loud, say it clear! Immigrants are welcome here!"
Day was unable to share an exact number quantifying the number of those who have recently immigrated to Rockland or provide specific details on how housing and social services were being burdened by immigrants.
However, Day said that over 1,000 new students, many of them recent immigrants and English Language Leaders, have enrolled in the East Ramapo Central School District, which has struggled to provide adequate funding for its students for years.
Day also noted a 35 percent increase of children in Rockland foster care and local food pantries being strained by increased demand, although it was unclear how immigrants contributed to those issues.
A group of protesters gathered outside the Rockland County Office Building in New City where the press conference was being held, chanting in support of immigrants in Rockland.
"Immigrant issues are American issues because the foundation of this nation is the immigrant labor and dedication to building a new nation," said L'Tanya Watkins Esq., who was among the protesters. "How do we blame the immigrant population for the economic challenges that exist now?"
Despite a lack of evidence, Day and Lawler were quick to blame local and national problems on immigrants and decried the lack of an effective federal immigration policy.
"We have a broken immigration system that does not work," Lawler said. "It is broken and it needs to be fixed, and that is why I, along with several of my freshman colleagues, will be sitting down in a bipartisan working group to come up with a plan to tackle this crisis."
Although he didn't discuss ideas for possible legislation, Lawler listed Congressman Robert Garcia, a progressive Democrat representing California's 42nd District, as one of his partners in developing a comprehensive plan.
During the press conference, Day introduced Rockland's Commissioner of the Department of Social Services Joan Silvestri. She explained that a lack of funding from the federal government prevents the local government from best supporting those who have immigrated to the Hudson Valley.
"We have very limited funding through the federal government for folks that are migrants," Silvestry said. "We are prohibited from using federal dollars to help support them in so many ways, so we rely on our nonprofits to do that on our behalf. We attempt to fund them for that, but they're at the point where they're stretched."
In order to relieve the stresses currently faced by these nonprofits and to support migrants in becoming self-sufficient, Congressman Lawler said there are multiple steps in creating a solution.
First, Lawler said, we need to stem the flow of illegal immigration at the southern border.
After that, he said, "For those that are here undocumented, there has to be a pathway to legalization. And then obviously, we need to fix the legal immigration system so that people who want to come here can do so and can contribute to our society, our economy and our culture, as immigrants have and always will."
–Reporting by Amaya McDonald