This week in the Villages: On its 25th birthday, we take a look at the potential demise of Palisades Mall in West Nyack. Plus, other local news, a weather prediction, quotes and videos of the week, a Covid update, upcoming meetings and much more. Thanks for being here!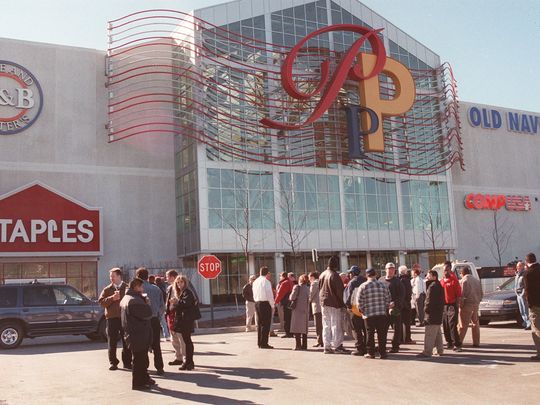 Palisades Mall Finances
Even though I became an adolescent in the early 1990s, I never considered myself a mall rat.
Malls are fine, especially when you forget the natural landscape destroyed to make way for their particularly gluttonous form of American consumerism, which we almost never do. On top of jobs, malls also provide entertainment, convenience, a ridiculously wide variety of shopping options and a place to take the kids when it's raining. Malls are fine.
The Palisades Mall, one of the largest in the entire northeast (it's now considered the 12th largest in the United States, although it's now dwarfed by the monstrous American Dream mall just down the Jersey turnpike) opened during the mall boom of late 1990s.
Exactly 25 years later, the West Nyack mega mall is now my 12-year-old daughter's favorite place to spend time and facing a possible death sentence.
Last week, Lohud's Nancy Cutler reported that the mall's owner, Eklecco, the local branch of Pyramid Management Group, is overdue in paying of a $418 million mortgage and their creditors want their money. In February, they filed a motion in court asking for the mall to be placed into receivership and sold off in pieces. That would probably mean the end of the Palisades Mall.
Elected officials say they're concerned and hoping the parties will work out a deal to keep the mall open. But neither side — Eklecco or the creditors — are talking, at least publicly, for now.
This could be a sign they are working things out privately (or not).
From a financial standpoint, the ground appears shaky for Eklecco. They took out the $418 million mortgage in 2016 when the mall was estimated to be worth around $800 million.
But the pandemic, and other factors like online shopping, have clearly taken a serious toll. Last year, in tax filings, Eklecco estimated its value to be around $172 million. Town assessments value it at around $518 million.
In either case, it's clear the mall's value has declined precipitously and is not bringing in as much cash flow as before. In 2022, it was estimate that a quarter of the retail spaces were empty. Back in 2016, only about 5 percent of stores were unused.
On a recent Friday night, the mall looked anything but empty or on the verge of bankruptcy. It was downright bustling with lines of families and couples snaking outside of several restaurants and the comedy club. It was definitely the busiest I'd seen it since before the pandemic hit almost exactly three years ago (and remember, I'm the father of a mall-rat of a 12-year-old, so I'm coming from a place of deep, Chipotle-obsessed knowledge).
While it's too early to tell how close we might be to its ultimate demise, like all things, we may have to face the end of our super mall.
Stay tuned and be in touch …
In other relevant news:
Lohud's obituary of Sam Colman, Rockland County legislator, engineer and Holocaust survivor. Fascinating life. Born in Poland in 1933, survived the concentration camp that killed Anne Frank, Bergen Belson, during World War II. Eventually made it to New York City as a 21-year-old. Worked as an engineer in Rockland during the 1970s before winning a seat in the Rockland County legislature, representing Ramapo.
The deadly Spring Valley blaze that killed five members of an extended family launched New York state into the lead for most fire-related deaths out of any state in the union.
Tweets of the week:
Video of the week: More Tweets!
Saw this last weekend. Absolutely brilliant!
ICYM NNV's weekly features: Bill Batson's latest "Nyack Sketch Log"; Mike Hays' most recent "Nyack People & Places"; and our coverage in last week's "The Villages"; Our latest Nyack Schools Report. If you haven't read it yet, please check our vision for the future of Nyack News & Views and how you can help build our coverage and capacity.
Weather prediction (through 3/12)
Possible snow Monday night and into Tuesday, then it's supposed to warm up into the 50s by Wednesday. Looks, sadly, like mostly clouds until Sunday. [Click here for the National Weather Service's latest 7-day forecast for the Nyack area.]
Covid Update! (threat level: "low")
According to CDC data of recent hospitalizations and cases, Rockland's community threat level of Covid-19 is now considered "Low" after spending 6 weeks over the holidays in the "high" range and then dropping to medium throughout January. With a low designation, the CDC recommends getting tested if you have symptoms or have contact with someone who tests positive. Otherwise, live your life. (CDC stats updated 3/9/23)
Village updates
Nyack
Here's the list of all upcoming meetings posted for the Village of Nyack.
If you could use help paying your water bills, click here.
Drop off humanitarian aid for victims of the war in Ukraine (including first aid, painkillers, blankets, baby food, diapers, non-perishable food, antibiotics and more, at Village Hall, 9 N. Broadway (or at the Orangetown town hall, 26 W. Orangeburg Rd.).
Upper Nyack
South Nyack
Due to reader request, we have re-added South Nyack, which dissolved as an official village earlier this year. Please send us info about what's going on in South Nyack at info@nyacknewsandviews.com.
Orangetown
Clarkstown
The Technical Advisory Committee, which "evaluates the technical adequacy of land development applications and decides their readiness for Planning Board review," meets most Wednesdays, including this Wednesday, from 10 am to noon, in the town hall's Historic Map Room.
For a calendar list of all Clarkstown meetings and events, click here.
Other Local Updates
South Nyack advocates have filed a petition with the town of Orangetown seeking to show support for a new Elizabeth Place Playground — the grassy play area and dog park just south of 87 and right off the Esposito trail. After South Nyack dissolved in March, the town found the playground equipment at Elizabeth Place was unsafe and not compliant with ADA regulations and removed it. A new ADA compliant park has been proposed and advocates want to see the proposal approved and implemented. Click here to read and/or sign the petition.
Nyack Schools
Check out our latest Nyack Schools Report, a new regular feature we will post bi-monthly.
Find out what else is going on in Nyack-area schools at Home Page – Nyack Public Schools (nyackschools.org)
Rockland-wide
A rare polio case was recently discovered in Rockland County last summer. Here's some info on how to protect yourself:
New Yorkers can pre-register for a free polio vaccination appointment here or call 845-238-1956 to schedule. Walk-ins will also be accepted.
Vaccines are also available through local healthcare providers, including Federally Qualified Health Centers.
For more information on polio including symptoms and spread, visit NYSDOH's page here.
New Yorkers can learn more about the polio vaccine available in the U.S. at CDC's page here.
The Reviving Rockland Restaurants Grant Program will reimburse businesses between $5,000 and $25,000 for past expenses or fund future expenses for eligible outdoor dining COVID-19 mitigation equipment. Eligible entities include restaurants, food stands, food trucks, bars, saloons, lounges, taverns, bakeries, delis, cafes, breweries, wineries, and other similar places of business. For more information and to download an application visit rocklandgov.com.
Fill out this survey to help the county provide better digital services.
Connect with Nyack News and Views
Note to readers: We want to hear from you and welcome your input! What do you think we should be covering in your Rockland County village? Let us know at info@nyacknewsandviews.com. Send us story ideas, issues to investigate, letters, reviews, photos, videos, feedback and news tips. And read about our vision for delivering high-quality, hyper-local journalism and how you can help us fulfill our mission going forward.