Whether it is Nighthawks in the Diner, Early Sunday Morning, New York Movie, or Morning Sun, Edward's Hopper's grip on America's imagination only gets stronger over time. How did such a cantankerous, elusive man create works of art that continue to intrigue people of all ages? One answer is to look at his upbringing in Nyack and how his boyhood influenced his mature works. A current exhibit at the Edward Hopper House Museum, Edward Hopper's Boyhood on the Hudson River, does exactly that.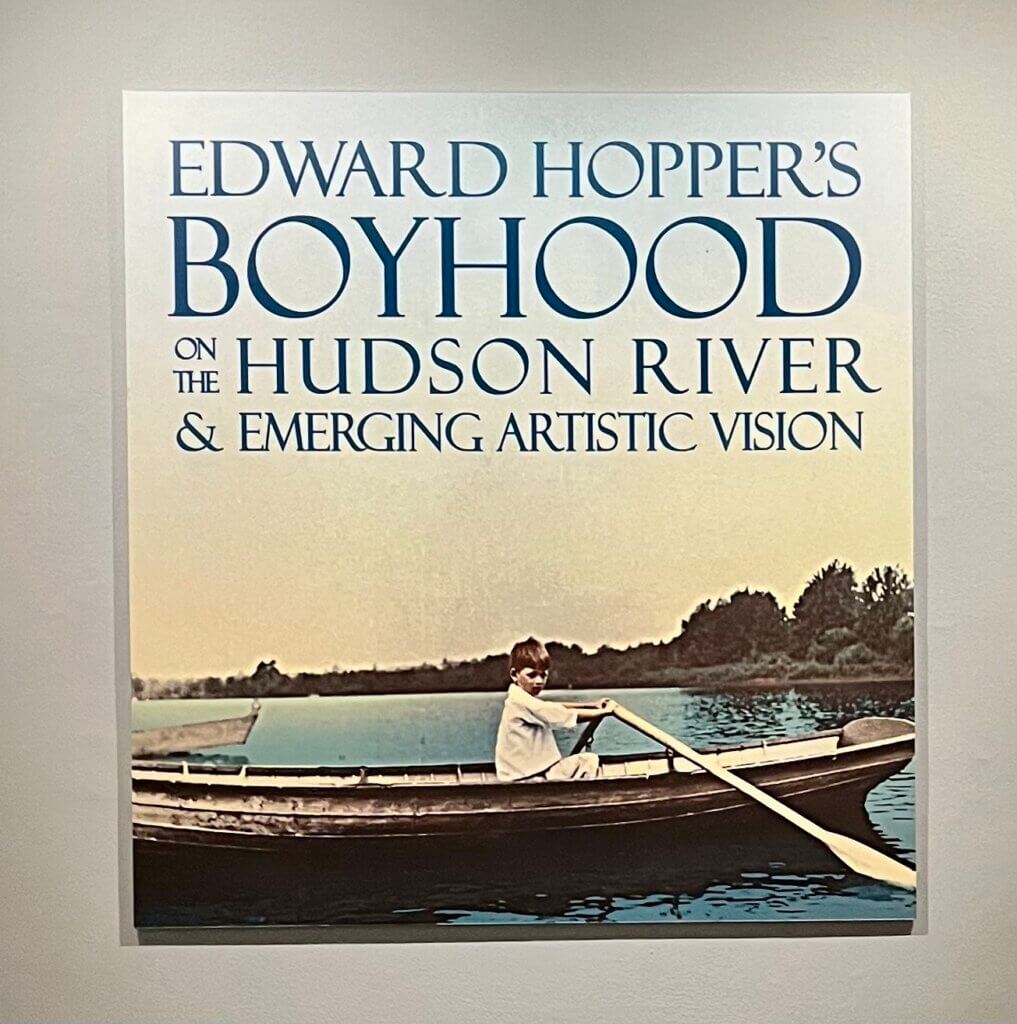 The exhibit explores how his family, his environment, and his many boyhood interest influenced his mature paintings. It was as if at an early age he knew he would be one of America's favorite painters. With enough grit, determination, and practice, the goal was in his grasp.
Location, Location, Location
Check out the hallway map to ground yourself in Hopper's Nyack, the time between his birth in 1882 and his move to NYC in 1910. Several things stand out in this 1891 map, how many Nyack buildings remain from his boyhood days to now and how close home, church, shopping, shipyard, and his father's business were to each other. If you are from the area, you probably walked in Hopper's boyhood footsteps many times without giving a thought to the fact that you are looking at much of what he looked at or where he chose to make a drawing when he was a boy.

In the main exhibit room, the first panel displays three postcards with views taken from the corner of Broadway and Main Street in Nyack, the"'center" of Nyack's downtown at the turn of the century. One view looks north on Broadway toward Hopper House, one east toward the river, and one looks west up Main Street. Even the postcard views are 'Hopperesque'. They capture Hopper's love of architecture, an empty cityscape, and a few isolated individuals in a streetscape. You may even recognize some of the buildings as ones you know today.
Family Is Family
Tucked away in the back corner of the second smaller gallery is a fabulous riff on his family. The museum has brought out its delicate, Gilded Age dress worn by Hopper's mother. His mother had a sensibility above and beyond the tight and narrow Nyack culture of the time. She was an artist and examples of her work are on view.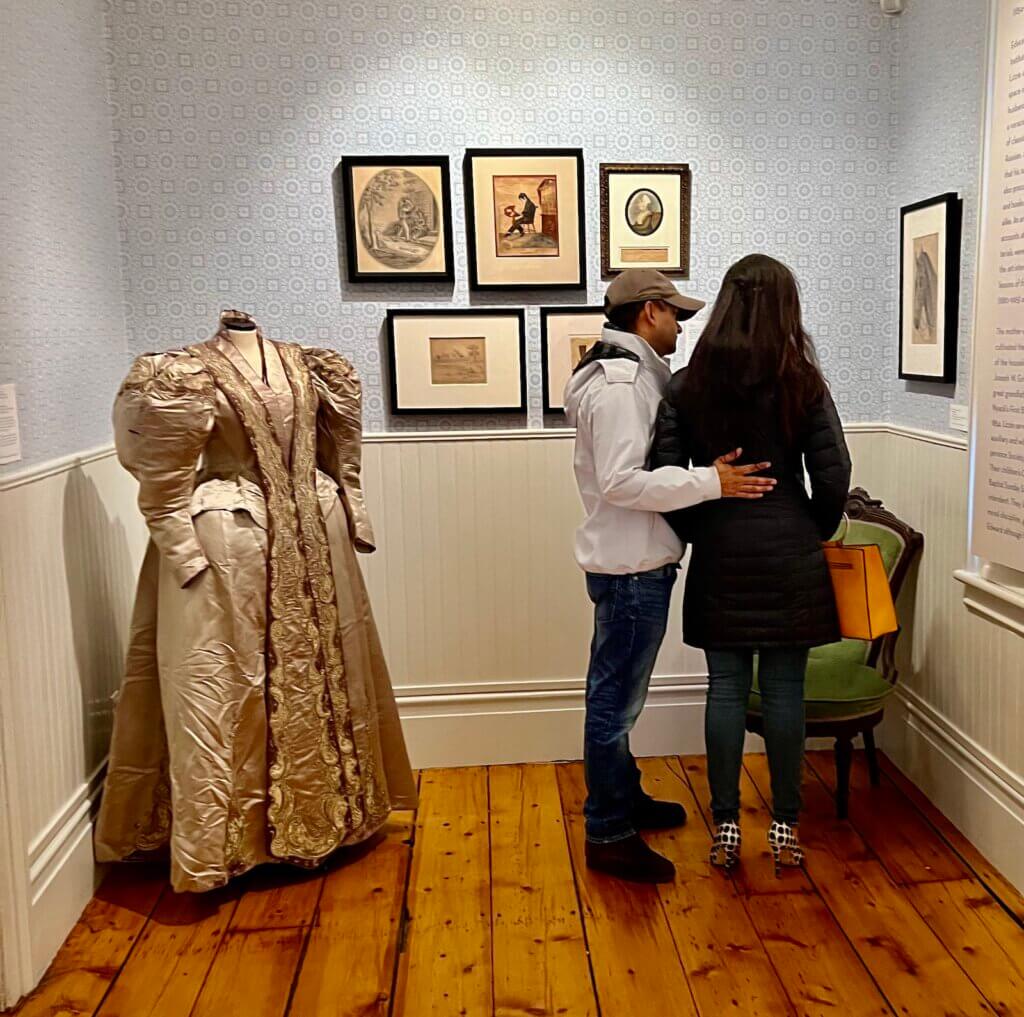 Hopper's sister Marion was also an artist. Her drawing of a horse at age 12 is as skilled as Edward's. The piece de resistance here is Hopper's pen, ink and graphite drawing (one of ten works on loan from the Whitney Museum) of his sister made at age 17. This drawing is not only precise and detailed, but it also portrays the emotional intimacy of his mature work. She is frozen in motion. having just hung her hat and wrap. She gazes at something that has caught her attention. It is a stunning drawing.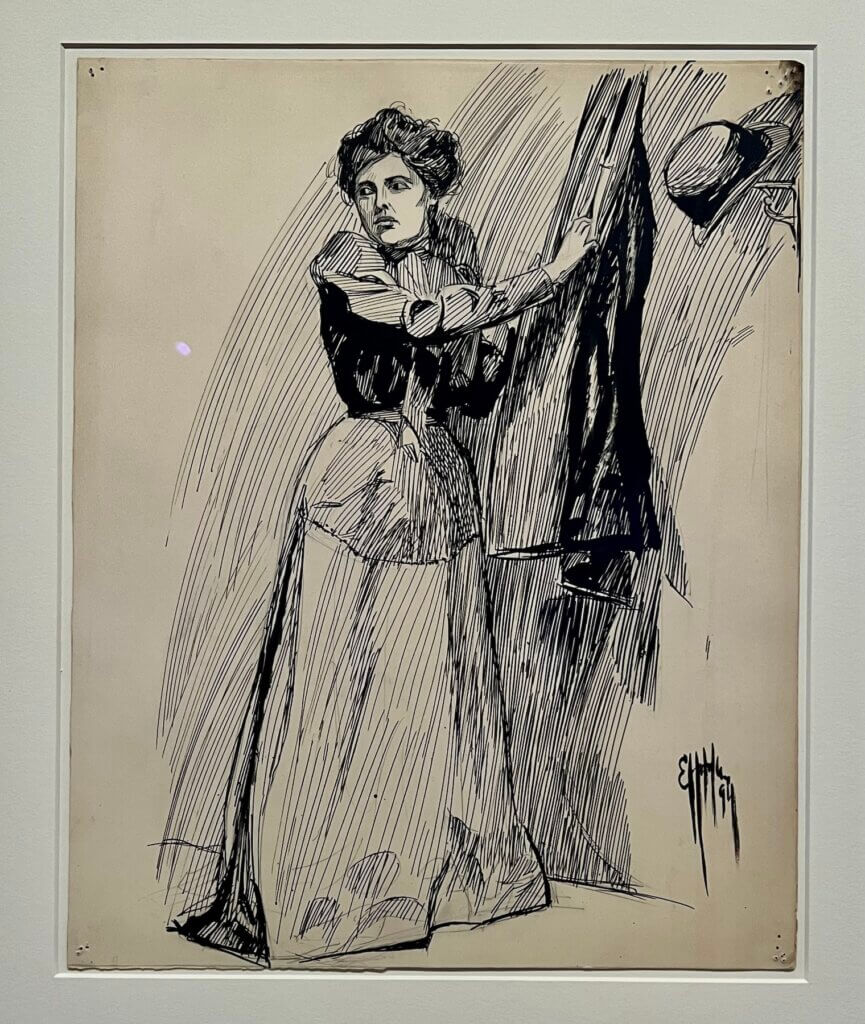 Hopper House
The Edward Hopper House Museum is sacred territory for 'Hopperites'. Docents will tell you the difference between floorboards and fireplaces. His upstairs teenage bedroom with its views of the Hudson River and its strong morning light are breathtaking.
The exhibit presents two early views built in 1854. The first is a photograph of the exterior of the house from the early 1880s, shortly after Hopper was born. His family added on a new single floor wing to the north side of the house to make room for a growing family. Wisteria vines climb up the porch columns just as it does today. It is winter snow has recently fallen. It must be cold because Two windows are shuttered on the second floor of the main house. A small picket fence separates the tiny front yard from the sidewalk. Snow has recently fallen.
Hopper's Drawing of his House
Contrast this one-of-a-kind photograph with Hopper's drawing of the back of the house made about age 12. The drawing could easily pass for a preparatory work for a mature painting. Hopper's fascination with doors, windows, and architectural detail is already on display. He includes a downspout, a barrel, and a diagonal walkway that directs our eye to the back door. Later, the Hoppers added a second floor addition with a high-peaked-roof, an attic room, and window that Hopper liked.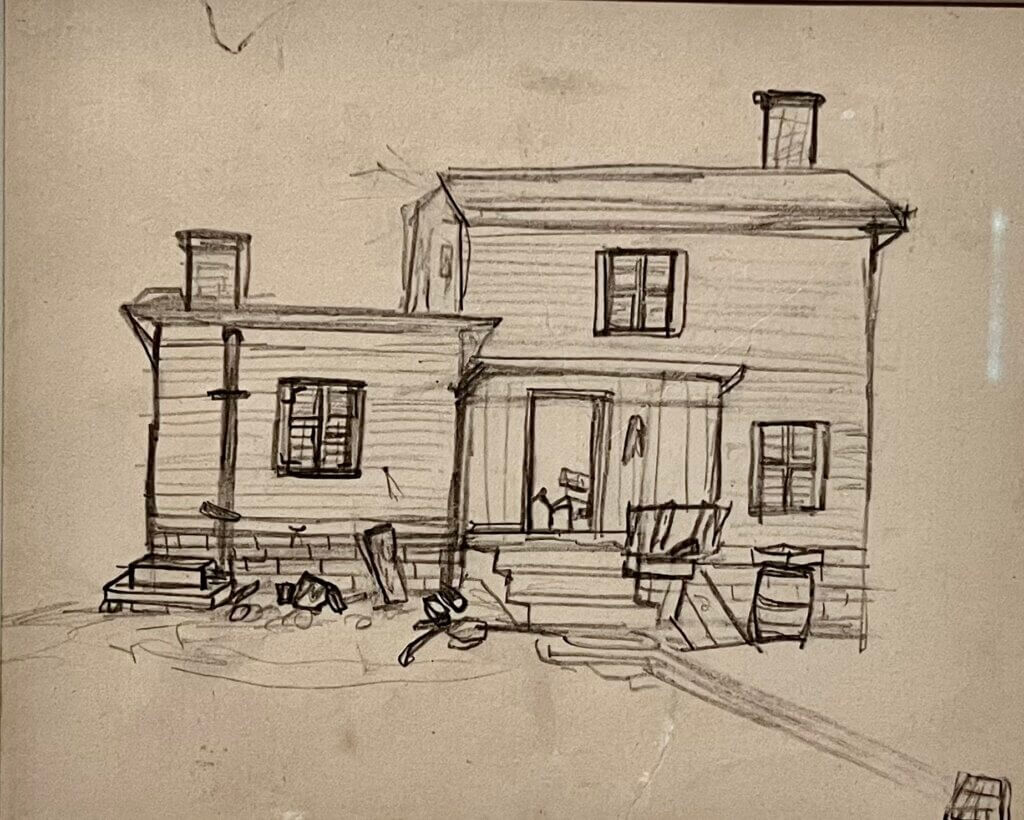 The Three R's Included Art
Hopper attended grade through high school in what is now known as the Liberty Street School in Nyack, graduating for the "Union School" district in 1899. The exhibit makes the point that the school hired an art teacher during Hopper's time in high school. The principal emphasized drawing. The museum displays several of Hopper's notebooks from their collection.
An open zoology textbook tells us much about Hopper. One page shows perfect penmanship. Hopper writes each letter carefully on a straight line. The word "Order" and the numerals beside in are in outline fonts. His drawing of a bluebottle fly and a crayfish are near letter perfect in detail. Hopper shows an intense interest in the detail of the eye of the fly and its geometric shape. Just like his mature work, each pen stoke, each brush stroke is precise. Clearly, this is no Jackson Pollack in the making.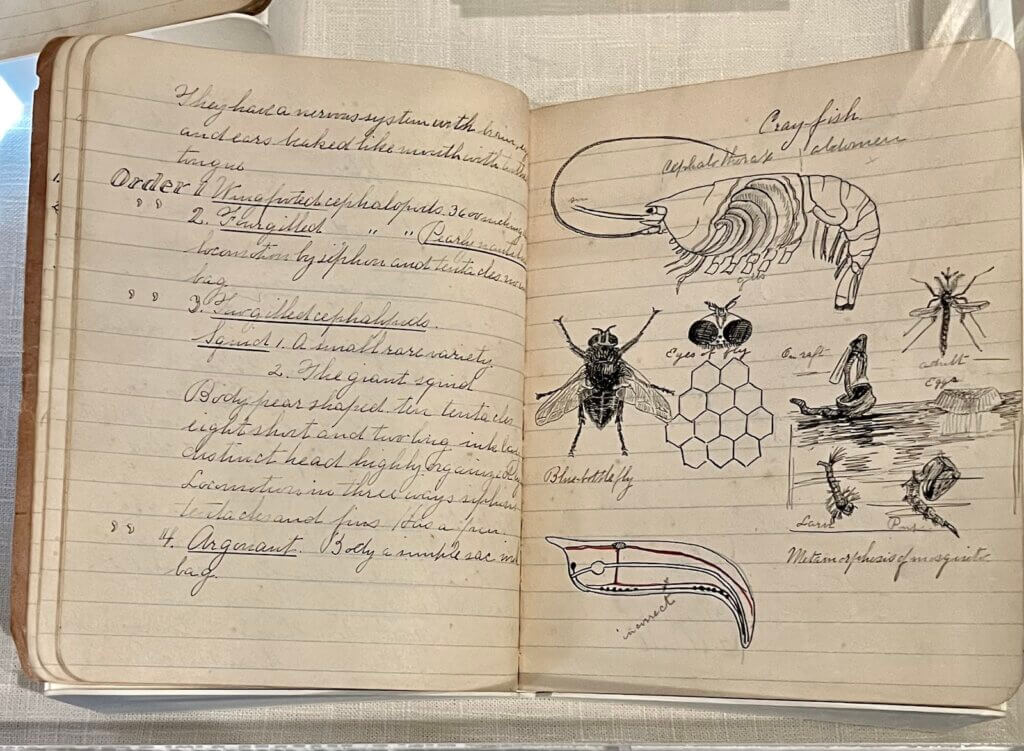 Boating, Biking, & Firefighting
Hopper 'stood out" in school. He was over 6' tall when he entered high school and 6' 5" he graduated. Nicknamed "grasshopper" for being so tall and lean, Hopper spent much time outdoors, bicycling, at the shipyards, and on boats. Like most boys he was interested in firemen and fire engines, trains, and the theater, several drawings of which are one view in the exhibit.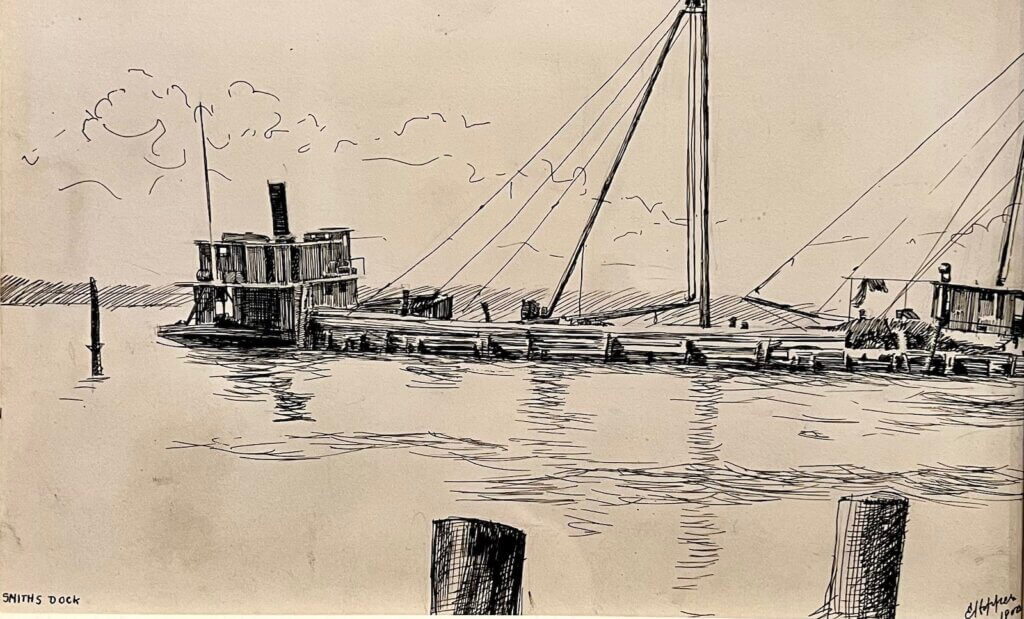 His love of boats, docks, and the Hudson River appear in two carefully rendered drawings from around the time he graduated from high school. Smith's Dock circa 1900 depicts the dock that was just a little over a block away from his house. The drawing shows a set of pilings in the foreground, and two sailboats tied up on the other side of a distant dock. In this case the focus is on the dock and its buildings, the sailboats form a backdrop. The linear composition is striking.
Riverboats of Nyack
Harbor View – Riverboats of Nyack, circa 1900, depicts Hudson River much different than today. The river is alive with boats. Hopper puts names on two boats. A sailboat on the right is named Ray N Ham, either a name for a town in MA or some private joke. The names Nyack and Erie appear on a small steamboat in the center heading away from the viewer. Perhaps, Hopper is depicting a work boat used by Erie railroad that stretched from Piermont to Erie, NY and a northern branch that ran from Nyack to Jersey City.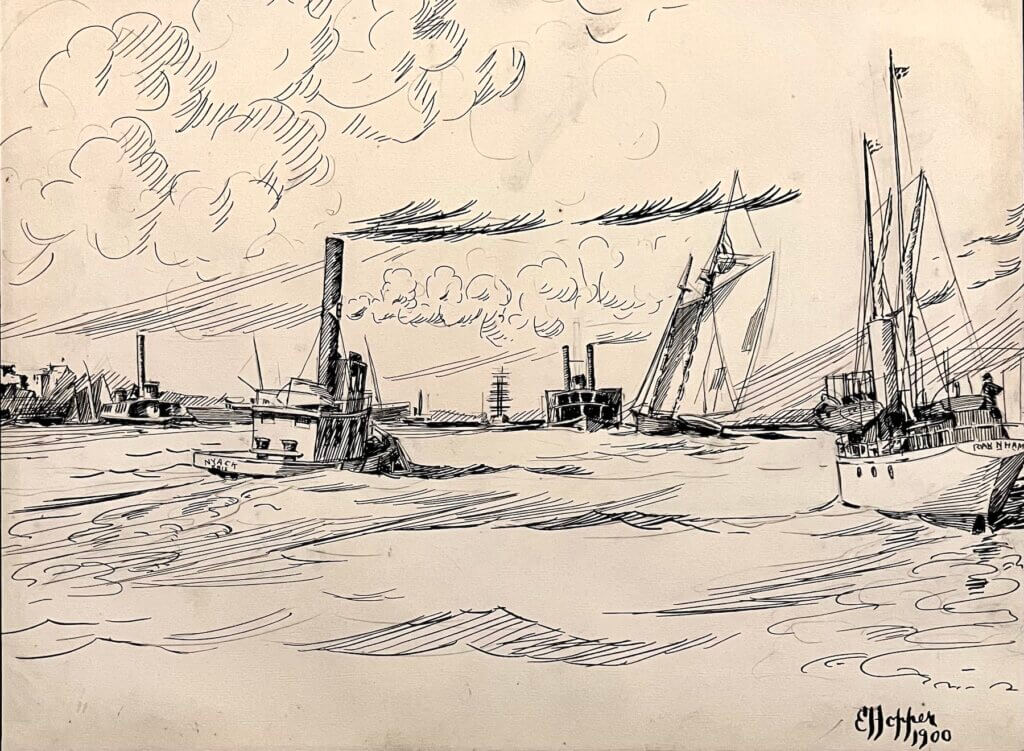 Tied up at the dock is the Nyack Ferry. The Rockland was a propellor-driven steamship with a wide rear entrance for boarding of wagons and later cars. It ran back and forth to Tarrytown, except when the river was frozen. Hopper's love for boating and water became a lifelong subject for paintings.
Artist's Studio, 1900
Artist's Studio, a pen and ink drawing circa 1900 on display from the Whitney Museum is like an album of his boyhood interests and influences. The scene is likely from his bedroom window overlooking the Hudson River. A bit of the Tarrytown hills across the river can be made out in the distance through the window. An easel focuses the eye on one of his own oil paintings, a copy of a Ben Crane work, and itself a painting much discussed in the art world in 2021.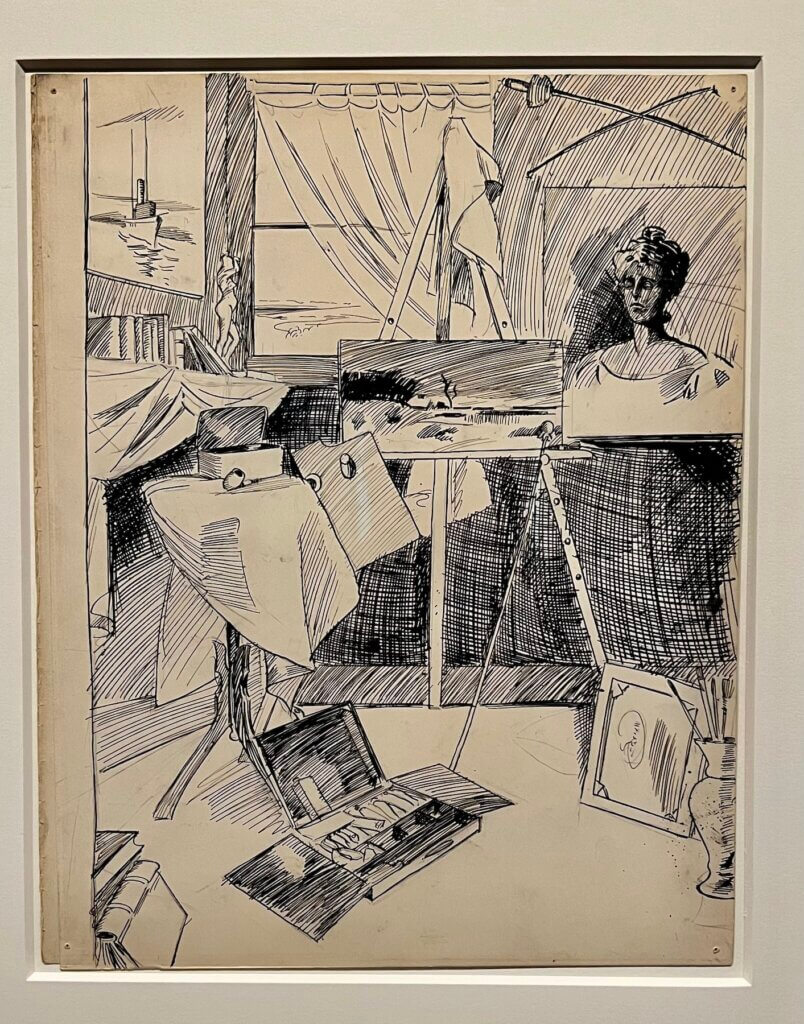 Ready To Paint
His paints are open and ready to use, several books are casually stacked in the lower left corner, and one is partly open. In the top third of the painting, we see a drawing of a boat, a nude female statue, two swords crossed, and a portrait of a woman that could be his mother or sister. While a Freudian might have a field day with this drawing, it is the perfect capstone to this exhibit showing how Hopper's boyhood shaped his mature works.
Edward Hopper's Boyhood
Take a good look at the house before you enter because you will look at it differently when you leave. Take some time to walk in Hopper's footsteps with this intimate view of Hopper's boyhood at this extraordinary exhibit.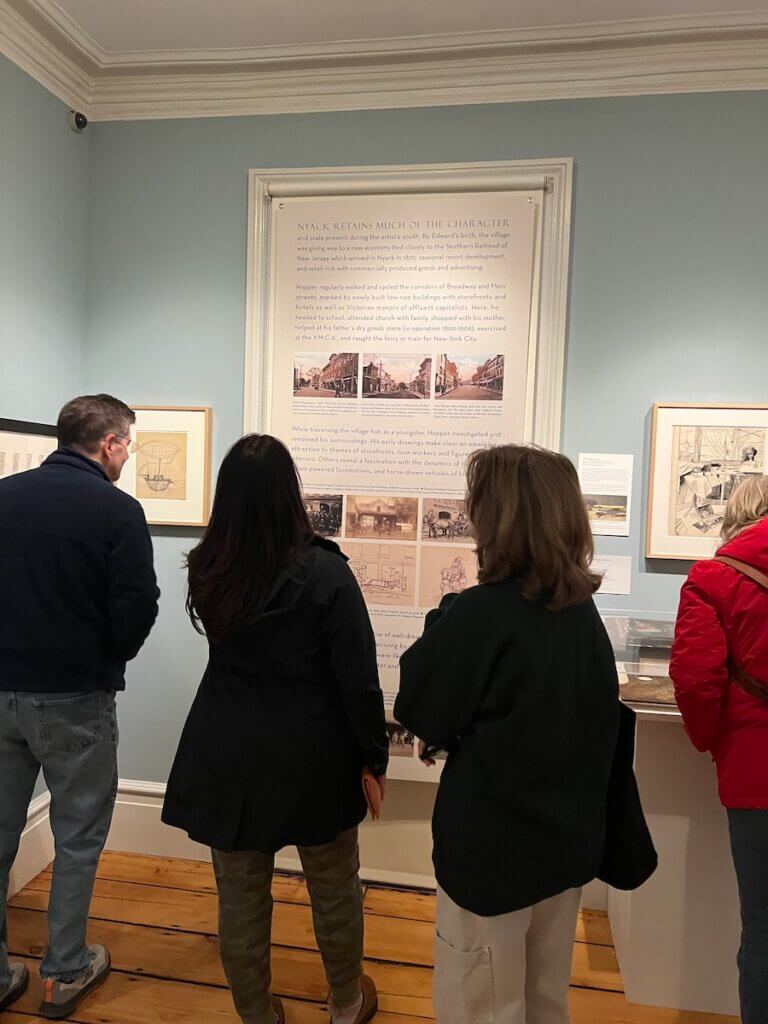 Michael Hays is a 36-year resident of the Nyacks. Hays grew up the son of a professor and nurse in Champaign, Illinois. He is retired from a long career in educational publishing with Prentice-Hall and McGraw-Hill. He is an avid cyclist, amateur historian and photographer, gardener, and dog walker. Hays has enjoyed more years than he cares to count with his beautiful companion, Bernie Richey. You can follow him on Instagram as UpperNyackMike.
Nyack People & Places, a weekly series that features photos and profiles of citizens and scenes near Nyack, NY, is brought to you by
Sun River Health
, and
Weld Realty
.