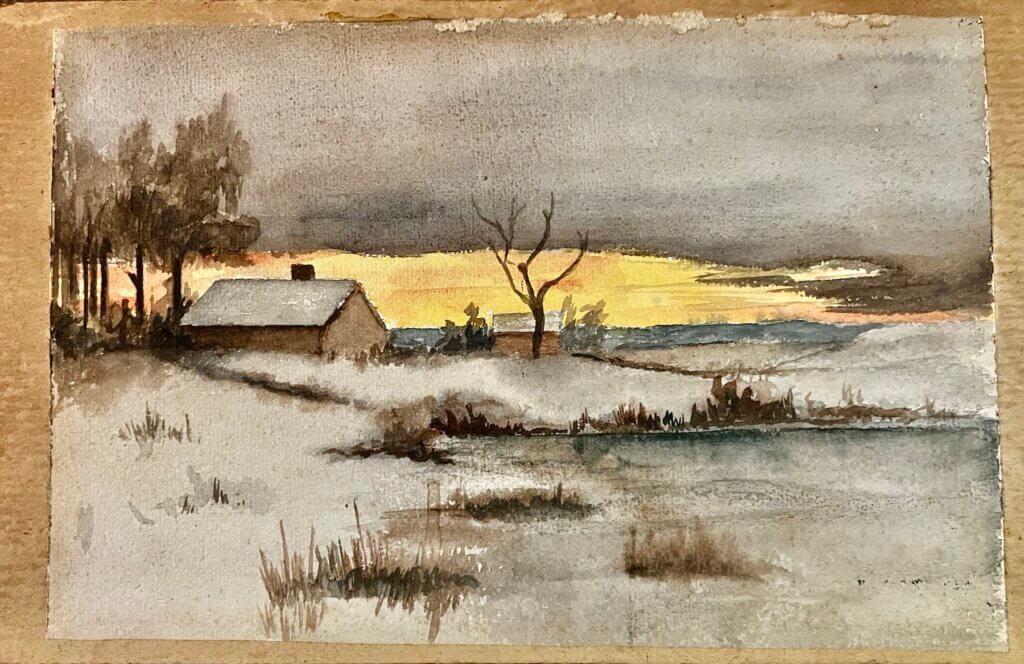 "Holy Smokes!" said the amateur art historian upon seeing a framed watercolor hanging on the wall of an exhibit at River Hook's Arbor Day celebration. The watercolor looks exactly like a boyhood Edward Hopper oil painting, itself a copy of another artist's work. Uncovered in boxes of memorabilia, the River Hook watercolor was hung as just one more piece of interesting art, photographs, and artifacts found on the estate. Could the watercolor be an original Hopper? How else might one explain an old original watercolor of the same subject found at the Edward Hopper House only a mile away?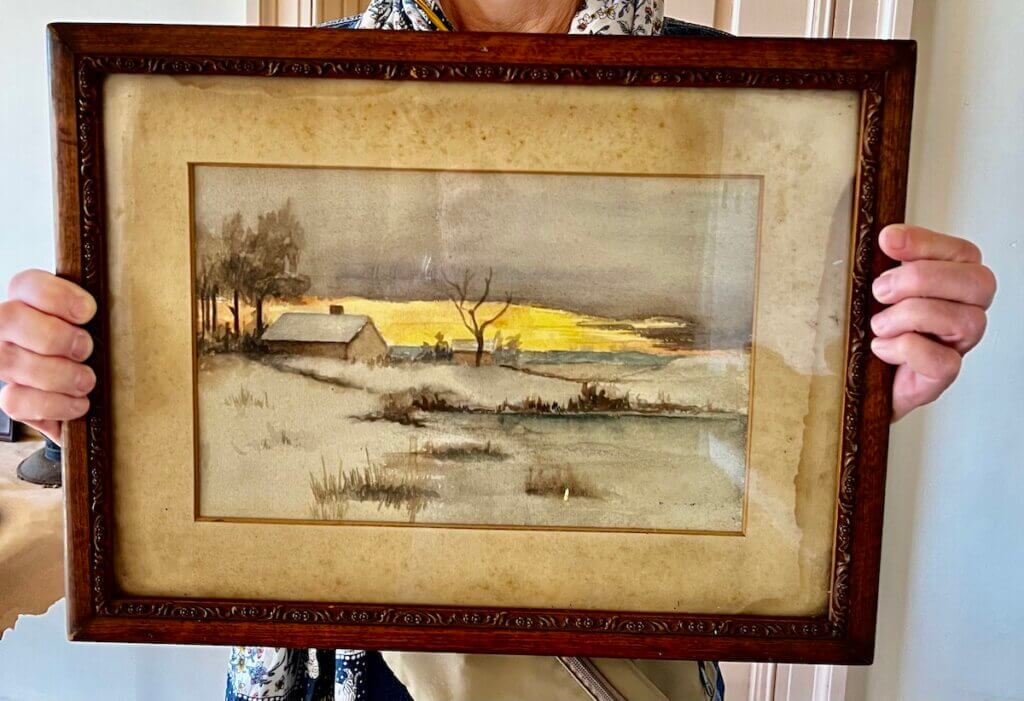 The possible explanations for such a mystery are almost endless, the probabilities less so. Was it painted by young Edward Hopper? If not painted by Hopper, then by whom? Was it painted by Hester Haring Cason who grew up in the house and studied art? Was it copied from Hopper's work? Could the painting have been made in a local private art class with Hopper's painting as a model? Could it have been a purchased piece of art by the Haring family? The amateur art historian turned art sleuth got busy investigating the "Haring watercolor".
Edward Hopper's Painting, Old Ice Pond at Nyack (1897-1900)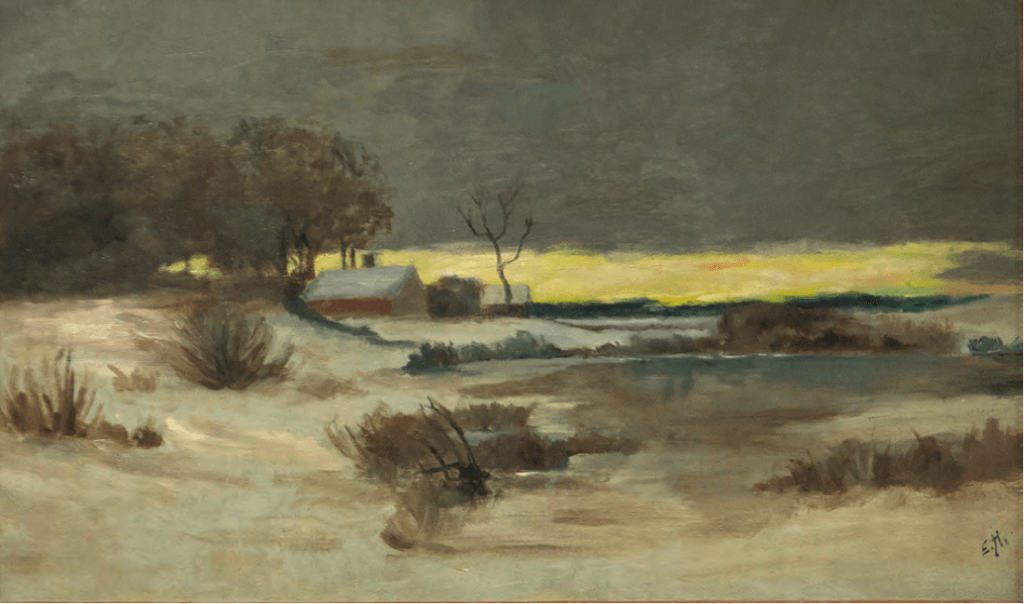 The oil painting of a winter scene signed by Hopper "E.H." around age 15-18 was thought to be of Nyack's iconic ice pond (also called the skating pond). In actuality, the image bears no resemblance to Nyack's ice pond. Long thought to be an example of a gifted, self-taught prodigy, the painting was among the items left at Edward Hopper's boyhood home after his (and Jo Hopper's) death and acquired by Arthayer Sanborn, a Nyack Baptist minister and family friend. The penciled-in title, Old Ice Pond at Nyack, on a matte, was almost certainly an addition after the fact and not so named by Hopper.
Hopper himself was extremely proud of the painting. It appears in the very center of a sketch he made circa 1900 titled Artist's Studio that shows a view, probably from the attic window of his boyhood home in Nyack. Art historians opined that Old Ice Pond at Nyack was evidence of Hopper's self-taught boyhood genius.
But Wait, It Is a Copy
The painting of the old ice pond hung for many years at the Edward Hopper House Museum and Study Center on loan from the Sanborn family. In 2019 the Sanborn family put the painting on the market with a sales estimate of $300-400K. In 2020, in an art world shocker, Louis Shadwick, an art history student in England, ran across the same painting titled Winter Sky by Bruce Crane in the 1890 issue of an art magazine, Art Interchange. The article included instructions on how to paint it.
Shadwick had an 'Eureka' moment. What was once thought to be an example of Hopper's early genius is in fact a copy (as was likely with several other early Hopper oils) of Crane's watercolor, Winter Sky. According to Gail Levin, Hopper biographer, Hopper received books and magazines of drawing instructions from his mother, Elizabeth Griffiths Smith. The Hoppers were an art family. Hopper's mother and sister Marion were amateur artists. Undoubtedly, Art Interchange was one of the magazines given to Hopper at age 12 to 15.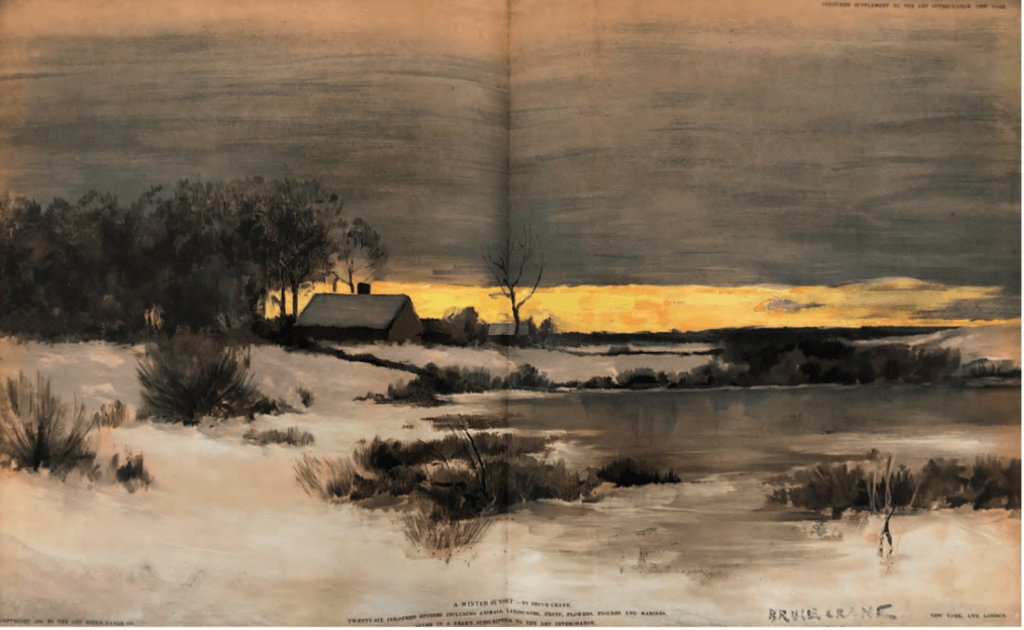 The media had a field day with Shadwick's discovery making much of Hopper's copying. Hopper wasn't the 'American Originalist" that everyone thought. Truth was, like many young artists were taught to do, Hopper copied other paintings to learn how to paint. Hopper, just after all, was in his mid-teens and was yet to graduate from high school and attend art school. Even as a copy, the painting is pretty darn good.
Bruce Crane 1857-1937
Like Hopper, Bruce Crane was determined to be an artist an early age. Crane studied at the Art Student League in NYC and later studied in Paris. He painted in his studio in Bronxville and as a member of the Lyme Art Colony in Lyme, CT. He is known as a Tonalist, a style of painting popular in American art around 1890 that also described the works of Whistler and George Inness. The style focused on landscapes done in a misty or atmospheric style. The terms intimism and quietism were also used to describe this style.
Crane focused on fall and winter scenes and was known for his strong use of yellow. He was extremely popular from the late 1880s into the 20th century. The auction prices of his oils have ranged from $3-18,000.
The Haring Watercolor
The unsigned Haring watercolor is an original watercolor not a print in a small, decorated oak frame with a wood backing. The watercolor is glued to a thin carboard backing. The bottom edge of the painting is trimmed unevenly but is otherwise in good shape. The colors, especially the yellow, are still bright.
On the back of the cardboard is written, "Haring, Will Call, Premium" and "oak $0.75" and "mat $0.75" indicating the cost for framing. A label for Hilton Hughes & Co., New York & Paris is affixed to the backing. Now we have a significant clue about the "Haring watercolor". Who was Hilton Hughes & Co.?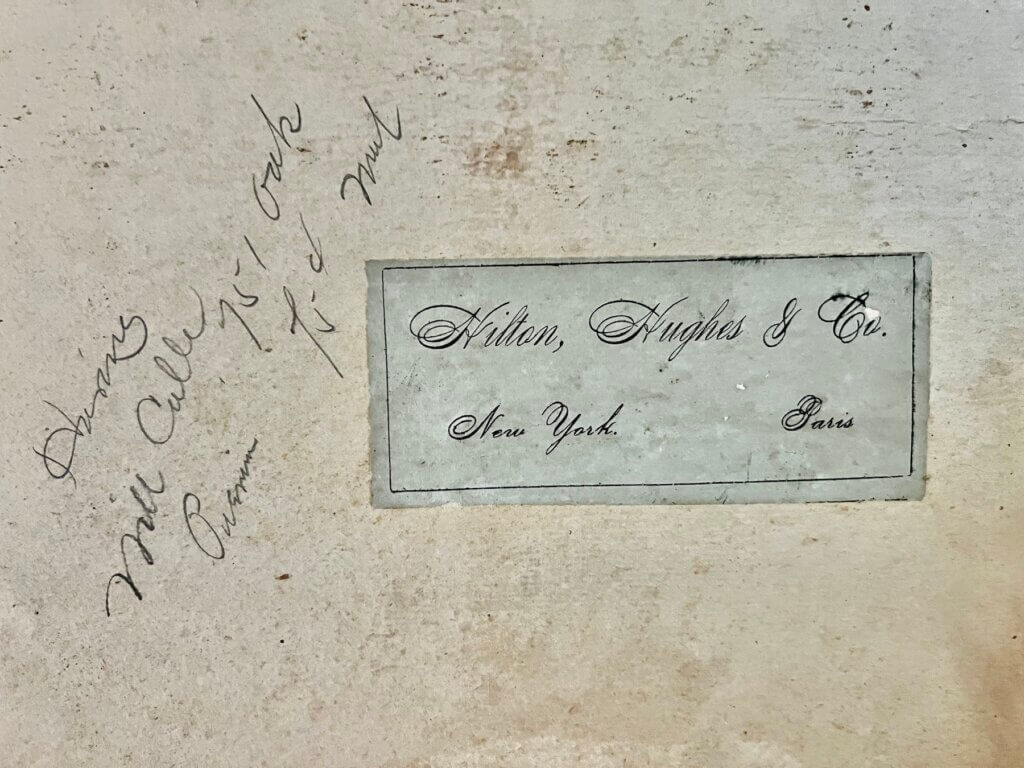 Hilton Hughes & Co.
Hilton Hughes & Co. was the quintessential es BuGilded Age New York City department store. Begun by retailer Alfred St &ewart around 1823, the store, known as the Marble Palace, was located at Broadway and E. Ninth in New York City. It was the largest retailer of its time. There was nothing else quite like the store. The building evoked luxury and wealth and the company held sales and fashion shows to attract business. It was a go-spot for the Gilded Age elite, featuring women's and boy's clothing, upholstery, and home furnishings.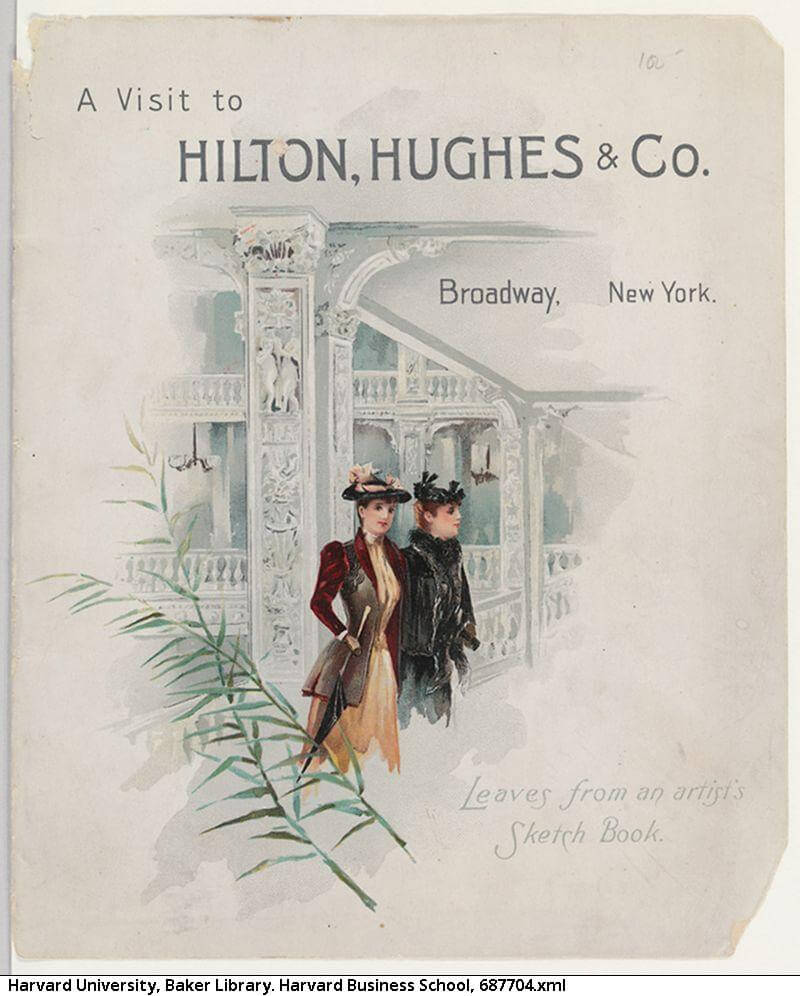 Hilton & Hughes lasted but four years from 1892-1896 going through a spectacular bankruptcy in 1896. The store was taken over by Wanamaker (Ninth St. here is now called Wanamaker Place) and expanded into an adjoining block. In 1954, Wanamaker closed the complex and the building was sold with plans for a new apartment building. As demolition was underway in 1956, where a huge fire broke out. The Wanamaker Annex survived and for many years was a K-Mart.
The fact that the store closed in 1896 means the Haring watercolor was framed sometime between 1892-96.
Was the Haring Watercolor Painted by Hopper?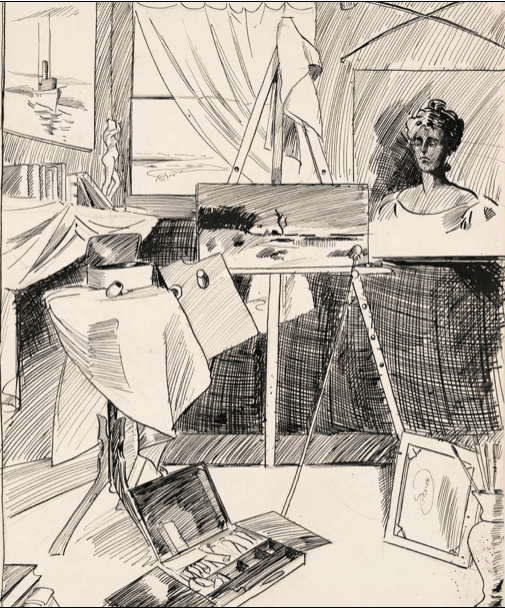 The art history sleuthing was near an end. The initial "Holy Smokes" upon first viewing had changed into the words of Ernest Hemingway, "isn't pretty to think so?" The watercolor is not likely a Hopper for two reasons. The work is unsigned and even at an early age Hopper signed most of his work. Second, Hopper would have just reached the age of 14 in 1896 when the Hilton & Hughes closed, much earlier than the assumed date for his oil painting copy. Likewise, the watercolor could not have been done by the young art student Hester Haring, it was framed some 35 years before her birth.
The Harings
So, who was the "Haring" who purchased at least the frame at Hilton Hughes and who did the work? The reference is to Hester Haring Cason's grandparents, William Post Haring Sr. and Gertrude "Gitty" Haring. Haring (1860-1935) started work as a telegraph operator in Sparkill for the Northern Railroad and later became chief dispatcher. The family lived in Piermont, in an historic house known as the Onderdonk House, famous for a meeting between General Washington and his British counterpart to discuss the Revolutionary War armistice. Haring's mother was Catherine Onderdonk.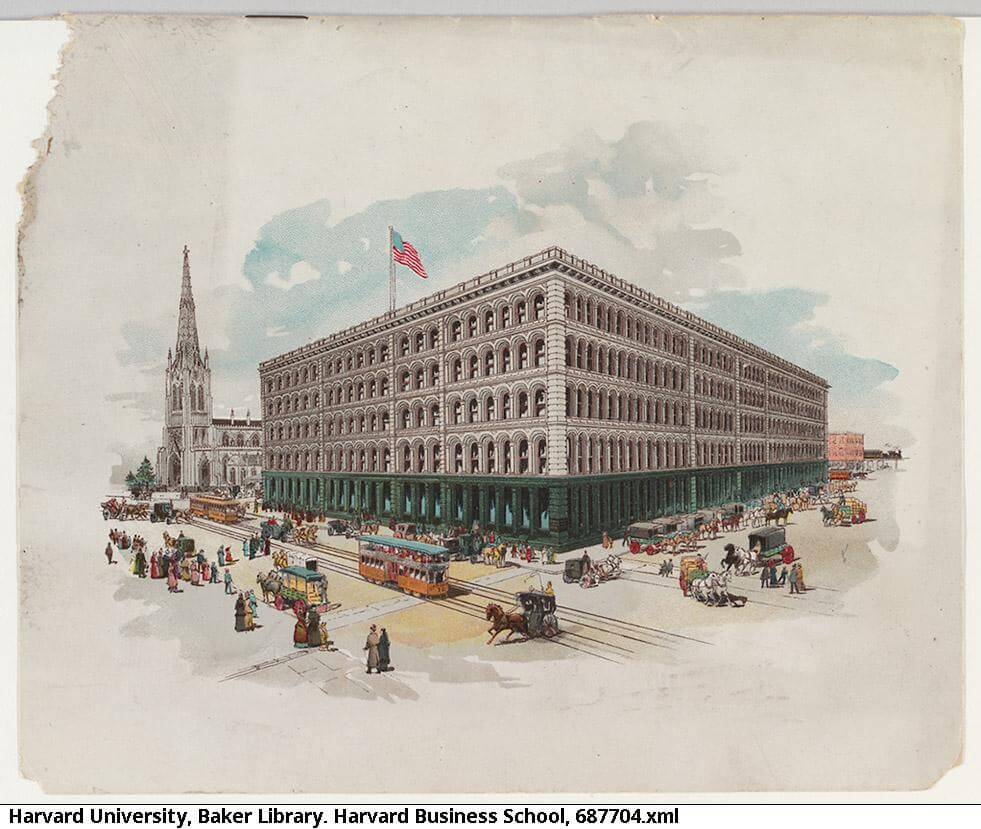 Now, imagine for a moment, the Harings taking the train from Piermont to Jersey City, then into the city on the Chambers Street ferry for some shopping at fashionable Hilton Hughes. Did they find the watercolor there and have it framed? Did they already have the watercolor and just have it framed there? Was the painting bought by William as a gift for Gitty, and have it framed at Hilton Hughes? We don't know. Whether a gift, or a purchase decision by one or both, surely, this expensive framed work would have hung in the Onderdonk House in Piermont for many years.
William Haring Jr. born in 1896 would have grown up with the painting. In 1934 he acquired River Hook and built the estate house that still stands on N. Broadway. Hester Haring Cason lived at River Hook for the rest of her life. Did William Haring Jr. hang the painting in the estate house, or was the painting moved with other memorabilia from his family home to the River Hook stable in a cardboard box? Once again, we don't know.
Much Ado About Nothing?
Comparing the three works, Hopper, Crane, & Haring watercolor
Imagine an artist, much like the young Edward Hopper, copying Bruce Crane's work in watercolors whether for personal satisfaction or for resale some 130 years ago. Perhaps, the artist was working for Hilton Hughes. Perhaps the work was signed in some way, and the signature was removed during framing as evidenced by the uneven bottom trim. Crane was extremely popular at the time and other copies of his work have been found. Shadwick reports three such copies in addition to Hopper's.
The long journey of the amateur art history detective reached an end. The story of how the "Haring watercolor" made its long journey from New York City to a home about a mile from where Edward Hopper made his copy of the painting in oil would be a good feature on Antiques Roadshow. Its value may not be much, but it is priceless in telling the story of the Nyacks, River Hook, and Edward Hopper. Without the preservation of River Hook by the Village of Upper Nyack, the painting would have been by now consigned to the trash heap.
In the words of Joni Mitchell, "you don't know what we got till it's gone." In this case, the story lives on.
Michael Hays is a 35-year resident of the Nyacks. Hays grew up the son of a professor and nurse in Champaign, Illinois. He has recently retired from a long career in educational publishing with Prentice-Hall and McGraw-Hill. He is an avid cyclist, amateur historian and photographer, gardener, and dog walker. Hays has enjoyed more years than he cares to count with his beautiful companion, Bernie Richey. You can follow him on Instagram as UpperNyackMike.
Nyack People & Places, a weekly series that features photos and profiles of citizens and scenes near Nyack, NY, is brought to you by
Sun River Health
, and
Weld Realty
.