by Mike Hays
Buried cannonballs, barred windows, and sheep are distant memories in Upper Nyack, but they are all bound together in the history of River Hook, The Hester Haring Cason Preserve. One of the last remaining large open spaces in Upper Nyack, the park is not only a natural, community-owned space but an historical preserve as well. The property ownership can be traced from the beginnings of Upper Nyack: It was owned by a Revolutionary War hero, a Confederate general, a Wall Street money manager, and then, by Hester Haring Cason who lived on the property from 1934 to 2013.
Cannonballs
Cannonballs once landed with some regularity on Upper Nyack farms from British naval gunners as British ships maneuvered on the Hudson River during the Revolutionary War. Nyack was a favorite target, especially the residences of Henry Palmer, who lived near where the Old Stone Church would be built, and Major John Smith, whose property included River Hook and whose riverside home was quite visible from the water. Both were prominent patriots hated by the British.
Large cannons would fire from vessels in the main channel near Tarrytown nearly 1 ½ miles from the western shore. Most cannonballs missed their targets. British raiders would attempt to land on rowing barges or small sloops launched from the ships to capture what they could of food, money, and patriots. The local militia, the Nyack Shore Patrol, was especially effective in warding off these raiders. Skirmishes occurred at the Sarvent quarry, the Palmer House, and the Smith residence.
The raiders were usually discovered and greeted with rifle fire or Major Smith's swivel cannon at his home before they could land. Even so, the sloops would fire small cannons at close range. Mrs. Palmer once had to run from her house with a baby in arms as British shells fell on the house. During another raid, a cannonball hit a stone wall on which a patriot stood. An attack on the Smith house was finally successful and it was burned to be rebuilt on a foundation that can be found today on private property.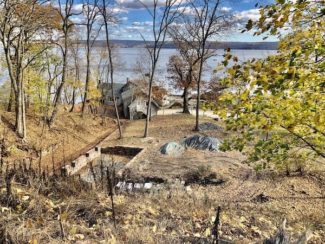 Cannonballs were once found on the Snedeker farm next to River Hook. Have all the stray cannonballs been found? Are there cannonballs buried in the River Hook meadows? Quite possible. In a small irony, William Haring, who built the current River Hook estate house, once owned a British cannonball dug out of family property in Piermont. The cannonball was made a part of Rockland County's exhibit at the New York World's Fair of 1939.
Barred Windows
250 years after the Revolutionary War, 32 acres of Major John Smith's property was still intact. Piermont-born and self-made money manager, William Post Haring, purchased the property, removed an old Victorian house, and built a Georgian Revival brick mansion. People are surprised that the house is not bigger than it is. It is some 3,500 sq. ft. and is somewhat hidden on a ledge between two large River Hook meadows.
Hester Clark Haring, so named from her grandmother, Hester Clark Folsom, was born in 1930. She was a child when the family moved into the new house built on land they acquired in 1934. An early memory of Hester, as related by her future husband Jim Cason, was that her parents put bars on her windows. Putting bars over your daughter's windows may seem medieval, but the Harings were not trying to keep Hester from escaping, they were trying to keep people out. The Lindbergh kidnapping case was on everyone's mind. Charles Lindbergh was a famous American figure and the kidnapping and murder of his child in 1932 was a national tragedy. Reporters followed the story through the years with many false leads until the kidnapper was found about the same time as the Harings moved into River Hook. The trial commenced in early 1935 and the killer, Hauptmann, was put to death in 1936.
The grisly story would be on any parent's mind especially to parents with a small child who has just moved into a relatively remote area far from police protection. In addition to bars, the Harings had an alarm system in the master bedroom just for the purpose of notifying them if the nursery windows or door had been breached. The bars were not removed until she was 16. According to Cason, Hester was thrilled when she had her first unobstructed view of River Hook animals and hay fields.
Sheep Farm
Hester Haring worked at Lamont-Doherty as an assistant after she earned an M.A. in arts from Bennington in 1954. One of her tasks was to help Maria Tharp in plotting depth points from soundings of the Atlantic ocean floor. Hester used an old-fashioned ink pen to precisely mark a recorded sounding. It sounds like a boring task, but the results would change scientific thinking. The final maps clearly showed the ridges and valleys made by tectonic plates grinding against each other or moving apart. As a result of the mapping, continental drift, once considered a crackpot theory, became widely accepted. Hester had a hand in that 'earth shattering' time according to local resident Bill Ryan.
After her return from college and while working at Lamont Doherty, Hester lived alone in the big house. Both of her parents died by 1960. The property shrunk to 11 acres, the upper 2/3 of the property was sold off in 1960 in a process began by her mother before her death. The small suburban enclave today around Kuyper Ave. is on the upper 2/3 of River Hook.
In 1968, Hester took passage on Lamont-Doherty's annual spring marine expedition aboard Duke University's marine research vessel the Eastward. At the time, James Cason was the marine supervisor at the Duke University Marine Lab in Beaufort N.C. They met onboard and by 1971 they married and were living at River Hook.
On the remaining 12 acres of River Hook there was plenty of room for two people to raise animals and maintain a market garden. They raised chickens, ducks, geese, white turkeys, and Hester's pony. They had a pet cemetery up on the hill, for their animals became 'pets". They could not bear to sell them or kill them for food. It was a lot of work for two people plus a part time caretaker. According to Cason, "River Hook farm was beautifully landscaped, we would work until 9:30 each night mowing, trimming, planting tomatoes, corn, and other fresh kitchen vegetables, and loving the land." The meadows, once potato fields, became hay fields
At the same time they were spending so much time as suburban farmers, Jim owned a blue corvette with wool seat covers and a group of antique cars.
By chance in 1979, they adopted a black ewe they saw in at a wool-spinning demonstration in the Paramus Mall. Then they bought a ram. A stray house dog later killed the ram, but the ewe gave birth to twins. They later purchased Pudge, their best ram. The herd grew from that point on, numbering a total of 35 in 1984. For Jim, the sheep were easier than mowing, once the back meadow was cropped, they were turned lose in the Broadway meadow. Strollers on N. Broadway would stop and rub their eyes in amazement (as they now do with the Summit School goats). For those who hadn't heard of the name River Hook, it was called the sheep farm.
"Loving the Land"
As the Casons aged the farm fell into disrepair. Hester died in 2013 at the age of 83 having lived at River Hook for 79 years. In 2018, Jim Cason, then in his 90s, sold the farm to the Village of Upper Nyack. The tradition of loving the land at River Hook is carried on by the village, the Friends of River Hook, and by all those who walk through the numerous and different outdoor spaces in the preserve, listening to the sound of a pileated woodpecker, the view of the Hudson River in the cooler months, and feeling the wind sweeping the meadows amid the ghosts of cannonballs and sheep.
See Also
Nyack People e& Places: The Daylight Ride of Major John Smith
Nyack People & Places: Hooked on River Hook
Nyack People & Places: River Hook Farm's Winding Saga
Michael Hays is a 35-year resident of the Nyacks. He grew up the son of a professor and nurse in Champaign, Illinois. He has recently retired from a long career in educational publishing with Prentice-Hall and McGraw-Hill. He is an avid cyclist, amateur historian and photographer, gardener, and dog walker. He has enjoyed more years than he cares to count with his beautiful companion, Bernie Richey. You can follow him on Instagram as UpperNyackMike.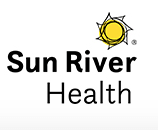 Nyack People & Places, a weekly series that features photos and profiles of citizens and scenes near Nyack, NY, is brought to you by
Sun River Health
, and
Weld Realty
.