I have had so much fun writing Nyack People & Places columns this year. I thank all of you who have found some of my journey of interest. Your comments and feedback have been a true inspiration. To close the year, I am sharing how seven of this year's stories came about.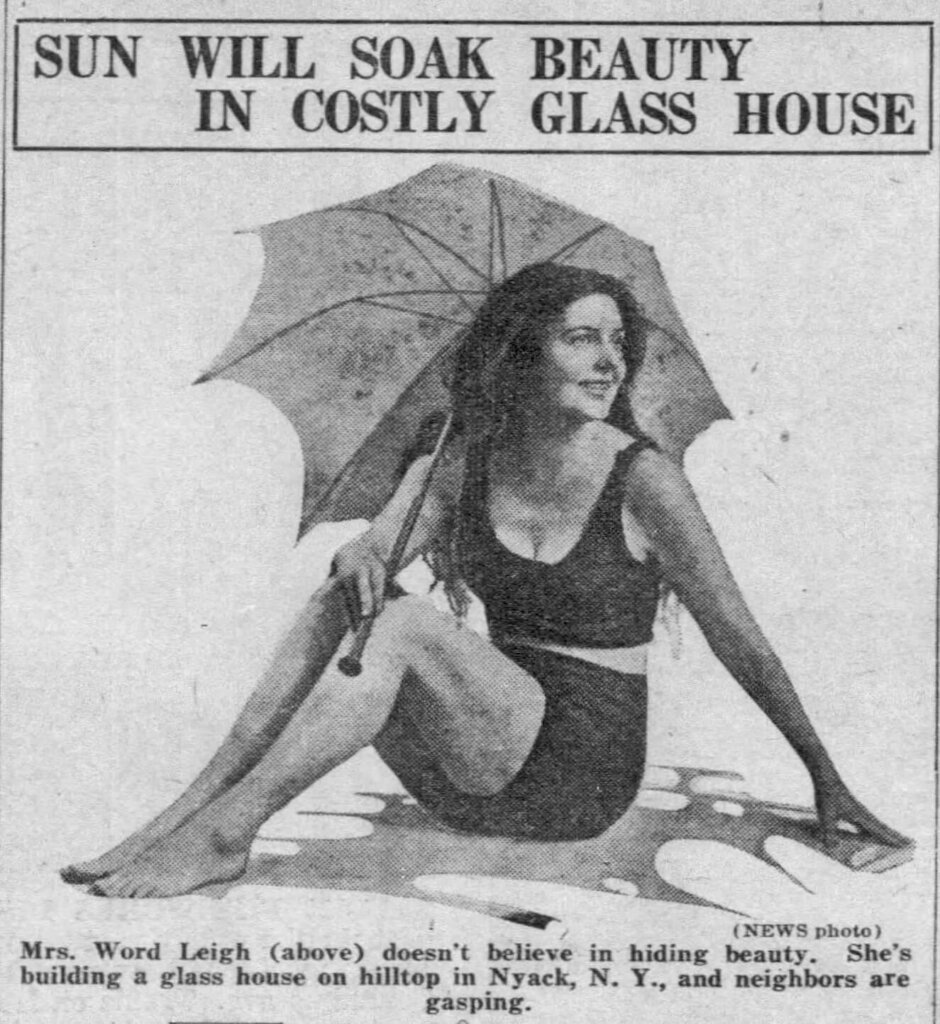 While researching the history of Nyack Beach, I ran across a 1930 article describing a swimmer and sunbather named Lady Leigh who lived in a glass house in Nyack. Wow, I thought. I researched Lady Leigh's background including her au naturelle philosophy, how the village mistreated her, and where the glass house was located. I couldn't find a photograph of the house. Finally, after hours of searching, I found a photo in a NYC newspaper, and then, much to my surprise, film outtakes from a documentary showing Lady Leigh and her glass house.
I can't seem to get enough of Gilded Age Nyack. The thought of Nyack as a summer vacation playground is like a dream especially when compared to 21st century Nyack. I have written about many of the houses built in that era and some of the famous hotels, but I really enjoyed putting together in a single story the history of the eight major hotels operating between 1870-1900.
I ran across a newspaper story about how a few costumed Missionary Alliance students were mistakenly thought to be a Klan demonstration. Having never thought much about it, I decided to investigate local Klan activities. I was shocked to see the depth of the Klan in Rockland in the 1920s. It was a painful story to write.
Everybody loves a good mystery. Tom Perry, from the eighth generation of Perry's in Upper Nyack, asked my opinion about a photograph showing a train in front of a hill in Sparkill. Where was it, he asked. I investigated the history of Sparkill, the Erie Railroad, and the hill named Sugar Loaf Hill. Tom supplied the geology, and we located where the hill was once located. Along the way we figured out what happened to it. It was amazing to think an entire hill was removed in the 1890s but so it was. Mystery solved.
Back in the day, everyone wished for extremely cold weather like we are having this week. For a time, harvesting of Rockland Lake ice by the Knickerbocker Ice Company was big business. I became interested in how Rockland Lake ice was harvested and how it got from the lake into NYC cocktails and ice boxes. It is a fun story of a mostly forgotten world.
I have written before about the Lyceum, the Broadway, and Rockland Theaters, but identifying the name and location of Nyack's first move theater eluded me. This year, I decided to try once more. I learned much about early cinema and community get togethers as the 21st century dawned. I was amazed to come up with a list of ten early places where moving pictures were shown.
Bernie and I have Hal Parker's work in every room of our house. Hal has framed art for us since we arrived in Nyack in 1986. What makes Hal unique is not just what he does to enhance art, but that he is also Mr. Nice Guy. The community got to celebrate his 50 years as a shopkeeper in Nyack this year. Once again, here is to you, Mr. Nice Guy.
Michael Hays is a 35-year resident of the Nyacks. Hays grew up the son of a professor and nurse in Champaign, Illinois. He has recently retired from a long career in educational publishing with Prentice-Hall and McGraw-Hill. He is an avid cyclist, amateur historian and photographer, gardener, and dog walker. Hays has enjoyed more years than he cares to count with his beautiful companion, Bernie Richey. You can follow him on Instagram as UpperNyackMike.
Nyack People & Places, a weekly series that features photos and profiles of citizens and scenes near Nyack, NY, is brought to you by
Sun River Health
, and
Weld Realty
.