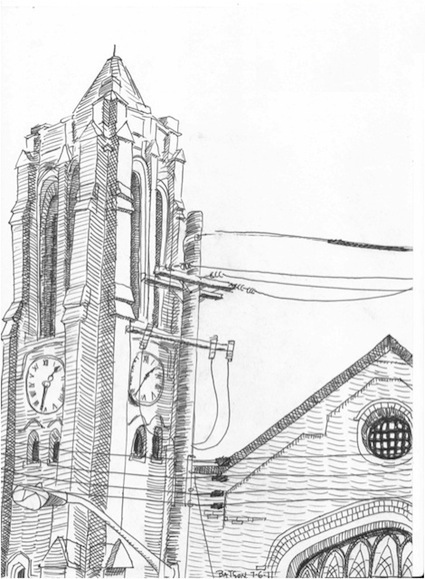 For the hungry, the First Reformed Church tower on South Broadway is a beacon of hope. Inside this building that almost scrapes the sky, an organization called the Soup Angels provides food and comfort to the needy two nights each week. This Wednesday from 4 – 7p, Soup Angels is expected serve a free takeout Thanksgiving dinner to over 450.
In a history of Soup Angels that accompanies their 2016 cook book, the mission of the organization is described as "an all-volunteer, non-sectarian venture, where food was cooked with attention to quality, healthiness and flavor…there would always be table clothes, candles and music during meals. Guests would be served restaurant-style by volunteer waiters, using china plates and flatware."
Despite the fact that the global pandemic precluded the sit-down service Soup Angels has none for "we never missed a meal." Sesti reports. Their numbers have more than doubled every Monday and Wednesday—from approximately 100 to over 200 meals per night during COVID.
Packaging the hot, freshly prepared meals in reusable containers plus groceries from local stores, handed out twice a week in paper bags, consumes more than 40% of their weekly budget.
A loyal corp of 300 volunteers have guided founding members Katie Berry, Kathleen Myers and Katherine Rife's vision to fruition.  Diane Sesti has been a volunteer since their first Thanksgiving meal 11 years ago. "Personally, I liked the idea that it was completely ecumenical," Sesti said."We are not involved with a church or any agency. We have always been open to everyone. I think that's the most amazing thing about Soup Angels.  What is done is completely done through the generosity of the community."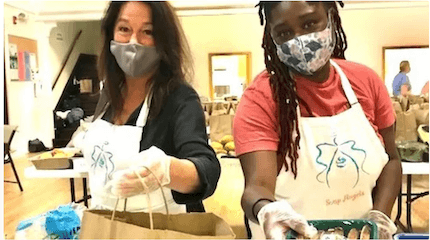 Here is the impact of Soup Angels in October 2021:
750 guests served
1,600 meal distributed
13,000 pounds of pantry items distributed
1,500 volunteers engaged in this important work
Sesti runs the monthly volunteer orientation on the first Wednesday of every month at 5p. Volunteers should enter the First Reformed Church on Church street, a few yards up from South Broadway. The entrance for guests seeking a meal and pantry items is on the Burd Street side Monday and Wednesdays at 4:30p.
"Each week, we share 120 servings," Sesti reports. "Our volunteers can be high school students seeking community service credit members of the Chamber."
Volunteers shop for the food, assist various chefs from the community who create meals, prepare hearty soups, entrees and salads and bag the food for safe distribution.
The doors of this food program opened in the fall of 2005 when another local program closed theirs. Since 2005, national and regional economic decline has driven a greater need for food programs like Soup Angels. According to the United States Department of Census, more than 1 in 10 Rockland County residents — 33,000 of our neighbors — live at or below the poverty line.
An anonymous benefactor provided initials funding and supports the annual Thanksgiving meals. Local business like Porky Products, of Northern New Jersey and World of Food from Valley Cottage supply additional food.
Yet despite the longevity and depth of the volunteer and philanthropic commitment, hunger persists and grows.
Since these angles took flight, they have not missed a meal, showing up to serve during winter storms, summer heat wave and even Hurricane Sandy, where they provided meals to first responders, and through COVID.
If you are feeling angelic yourself, you can go to their SoupAngels.com and click on Support Us to make a contribution.
They could use dry goods like cereal, pasta and canned goods for the take home bag of groceries that they provide in addition to the meal.
Donations can be dropped off at the Soup Angels volunteer entrance at the First Reformed Church, 18 South Broadway Monday through Wednesday from noon until 6 p.m.
Soup Angels distributes every Monday and Wednesday at 5:30p.  Everyone is welcome, no questions asked.  The entrance is on Burd St. between Cedar and South Broadway and is accessible to the disabled. To donate or volunteer visit SoupAngels.com.
An artist and writer, Bill Batson lives in Nyack, NY. Nyack Sketch Log: "Nyack Sketch Log: This Thanksgiving, Soup Angels To Serve 400 Souls"  © 20212B ill Batson. Visit billbatsonarts.com to see more.
The Nyack Sketch Log is sponsored each week by Weld Realty.