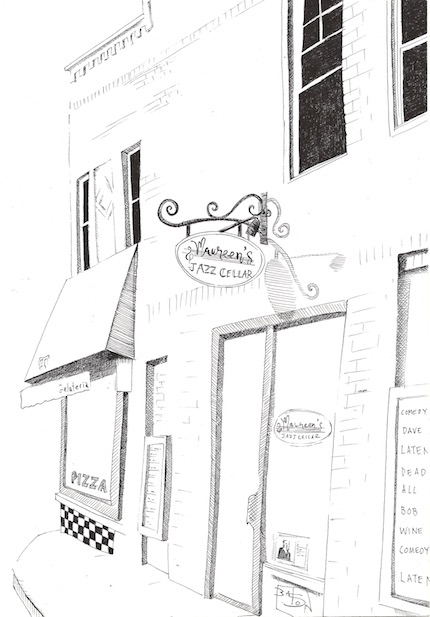 Maureen's Jazz Cellar is a cozy, subterranean music venue reminiscent of the great New York City jazz clubs like the Village Vanguard. Thanks to Dave Budway and his wife Brianne Higgins, you don't need to leave Nyack to hear world class jazz, you just need to walk down a flight of stairs behind a door just north of Turiello's Pizza Parlor.
A yellow sign offering the schedule of upcoming gigs is mounted in a frame outside the club. Booked acts range from jazz to folk to stand-up comics and drag shows.
If you find anything on their calendar that you dig, move quick, seats are always limited and often sold out. This husband and wife team of impresarios have built an oasis for traveling jazz legends, while also honoring the memory of a late sibling and brilliant musician, Budway's sister, Maureen. Nyack Sketch Log recently spoke with David Budway and Brianne Higgins:
Who was Maureen Budway?
Maureen Budway, David's sister, was a one of a kind Artist. She was a master of jazz, classical, rock, blues, gospel, and world music. She was an extraordinary improviser. She could sing in over 7 languages: English, French, German, Portugese, Arabic, Japanese, Spanish, Russian. She was an Educator, Performer, College Professor, Humanitarian, and friend to all that knew her. She taught Jazz and Classical Voice at Duquesne University and Carnegie Mellon University in Pittsburgh, PA. Her very last CD "Sweet Candor" was recorded when she was battling cancer. A listener would never know because of her amazing pitch, tone, phrasing, and style. The recording received 5 stars in Downbeat Magazine.What brought David Budway to Nyack?
David Budway fell in love with Brianne Margaret Higgins, and followed her to Nyack in 2005. He married her in 2006.
Why is jazz so popular in Nyack?
There are many Artists living in Nyack, and they appreciate the skills that are needed to create music through improvisation.
What was the inaugural performance at Maureen's?
The first performance at Maureen's Jazz Cellar was a concert featuring her brother, (and former accompanist), David Budway. The first performance was the David Budway Trio.
I understand you have a listener award?
The Jazz Cellar gives the listener of the Month is awarded to those Patrons who most frequent our shows! It's just our way of thanking them for their ongoing support of our shows and events. Ray Wright was our first recipient.
The Jazz Office in the 80's used to have the distinction of bringing the brightest lights in the jazz universe to Nyack. Who are some of the heavy weights that have graced your stage?
We have featured: Hubert Laws, Sheila Jordan, Bucky Pizzarelli, Dave Liebman, Jeff "Tain" Watts, Joe Locke, The Kingston Trio, Karrin Allyson, Geoff Keezer, Victor Lewis, Hendrik Meurkens, Alan Broadbent, Andy Laverne, Roseanna Vitro, Mike Longo, Dave Stryker, Roni Ben-Hur, Hal Galper, Dave Kikoski, Hal Galper, The Rockland Youth Jazz Ensemble, under the Direction of Peter Furlan, and countless Grateful Dead Bands.
Tell us about open Mic, we hear its a great jam session
Our Open Mic is like no other! Artists perform in every/any style the choose. Patrons listen attentively, so it can be a bit intimidating for some. We've featured, Original singer/songwriters, Rock, Jazz, Folk, Classical Music, Tap-Dancing, R&B, Reggae, World Music, Belly Dancing, Opera, Art Songs, Comedy, and Spoken Word. Artists and patrons alike enjoy the gathering because the evening is presented as a show! Many patrons come just to listen to the extraordinary range of talent. It must be experienced to be believed!. Every Tuesday beginning at 8:30pm. Some nights it runs as late as 1:30am.What else can some one see on the stage at Maureen's? Was it my imagination, of did I see a famous actor outside your club one Saturday morning?
What's the best way to get a seat at Maureens?
The best way to get a seat at Maureen's Jazz Cellar is to call in advance for Reservations: 845-535-3143
What is Brianne's art form. What is she up to?
Brianne is the co-creator of Maureen's Jazz Cellar along with her husband and pianist, David Budway. Prior to opening Maureen's Jazz Cellar she was the manager of Mexicali Blues- a live music venue in Teaneck, NJ.
Her roots in the arts stem from comedy and theater. She has performed in over 50 theatrical productions throughout Florida, New Jersey and New York and numerous stand up appearances at Caroline's, New York Comedy Club, Comic Strip Live, Gothem Comedy and Levity Live. She also was the co-creator of Antics Road Show- the touring sketch comedy troupe that was based out of the Nyack Village Theater. Through these experience she also developed a passion for set design and construction.
"In theater, where months are spent building 'magic' with sets, costumes, characters and casts, the inevitable always came; the curtain would fall, the set would strike, the props laid to rest and the costumes folded."
She decided it was time to build something that would last.. and that's how Maureen's Jazz Cellar came to be.
Maureen's Jazz Cellar is located at 2 North Broadway. You can learn more by visiting maureensjazzcellar.com. The best way to get a seat at Maureen's Jazz Cellar is to call in advance for Reservations: 845-535-3143
Jazz sketches by Bill Batson
Bill Batson is an activist, artist and writer who lives and sketches in Nyack, NY. Nyack Sketch Log: "Maureen's Jazz Cellar" © 20122 Bill Batson.  To see more, visit billbatsonarts.com