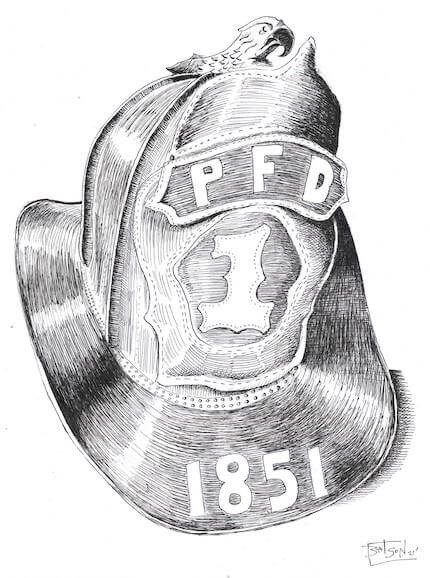 Daniel Goswick, Sr., Ex-Chief of the Piermont Fire Department is on a mission to properly commemorate a 19th-century firefighter named Thomas Pomplin. "Pomp," as he was called by friends and family, died in August 1854 at the age of 28, a few days after collapsing at the site of a fire in Nyack. He and his brothers at the Piermont Firehouse had responded to a call from Nyack for mutual aid. Goswick believes this death should have been recorded as the first in-service loss of life in Rockland County. But Pomplin, who was Black, was denied the distinction.
A monument to Pomplin will be unveiled in Flywheel Park on Saturday, September 17th at noon.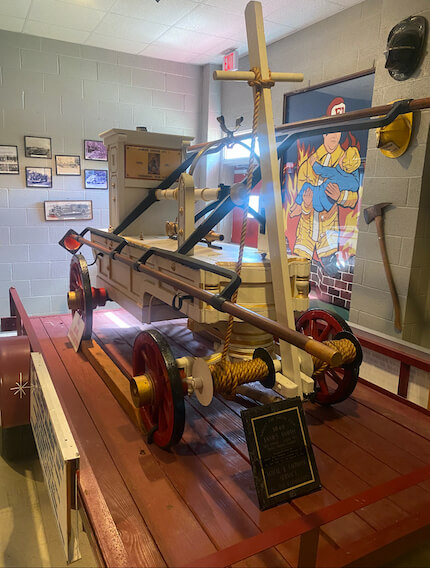 The tragic events of August 1854, and Pomplin's heroism, have come to light thanks to the research of Brian Duddy and Nyack firefighter and historian Jim Liner. Here is the story of river village heroism they have reconstructed.
Smoke and flames were sighted at the Storm's Cedar Tub and Pail factory located in what is now Nyack's Memorial Park on a hot summer day in 1854. Arthur and Henry Storms operated the wooden factory using water power from the Hudson River to produce products that sold throughout the world. Their facility was a converted sulfur match factory.
Initially, members of the Orangetown and Mazeppa fire companies responded to the blaze. Details of the fateful night emerge from a letter to raise support from a Pomplin memorial circulated by Goswick Sr. "While the Nyack firefighters directed their efforts toward saving the brick buildings opposite the main Storm's structure, a man on a horse was dispatched to Empire Hose Company #1 in Piermont to request mutual aid," Goswick recounted.
In the 1800s, firefighters manually pulled and pushed their engines from the fire stations to fire emergencies. For Pomp and crew, the three-mile distance from Piermont to Nyack was covered in 50 minutes. The Piermont reinforcements were applauded upon their arrival when the inferno was at its height. The additional equipment and manpower helped prevent further spread of the fire to other buildings. "By 9pm that evening, the main factory collapsed in a pile of smoking rubble, but the fire was fully extinguished" described Goswick's letter.
Pomplin died a few days after the fire. The Rockland County Journal from August 12, 1854 noted that "Tom (Pomp) Pomplin, the colored man who came with the Piermont Engines the night the Storms' factory was burned, died last Friday at Piermont from the effects of getting overheated and exhausted."
When volunteer firefighters race into danger, they do so without hesitation. As a society, the least we can do is swiftly provide them with every benefit, dignity and distinction when, in the course of their selfless, uncompensated duty, they meet an untimely end.
More than a century and a half after racial discrimination robbed a brave man the public and permanent recognition he was due, the time to honor Thomas Pomplin is now..
An activist, artist and writer, Bill Batson lives in Nyack, NY. Nyack Sketch Log: "Piermont's Forgotten Fallen Firefighter Thomas Pomplin" © 2021 Bill Batson. Visit billbatsonarts.com to see more.