When Life Magazine published a cover story after the March on Washington, they did not feature Dr. Martin Luther King, Jr., who hypnotized the nation with his I have a Dream speech, but two of the event's organizers. On Thursday, June 9 at 6pm, Jackson Avenue from South Franklin Street to North Mill Street will be re-named Bayard Rustin Way for the lead organizer of one of the most pivotal protests in United State's history. If Rustin's name is not familiar, it is because this instrumental leader of the American Civil Rights moment was marginalized because of his sexual identity. With the upcoming release of a Netflix biopic, more people can gain inspiration from one of the most brilliant activists in American history.
Naming a street in Nyack for Rustin acknowledges our historic connection to the legendary leader through the Fellowship of Reconciliation. FOR, a nondenominational peace organization was located in Upper Nyack from 1917 until 2018 and provided significant support to the Southern Civil Rights Movement. Rustin worked for FOR from 1941 to 1953.
Rustin's contemporary connection to Nyack is through the Rockland County Pride Center, an LGBTQ+ organization with an anti-racist, social justice mission. For many years, Pride staff have been in dialogue with NAACP and community members to name a street in Nyack for Rustin, since Rustin had always championed people of all identities.
When the Pride Center moved to their Nyack location in 2018, the idea took deeper root. Their Jackson Avenue location was once a part of a vibrant middle class black community that was displaced by Urban Renewal in the 1960s. Their building was once home to an Elks Lodge that was an important black social club.
"Being able to include Bayard Rustin's name every time we address a letter or send an elevates the anti-racist, social justice vision of the Pride Center," said Pride Director Brooke Malloy.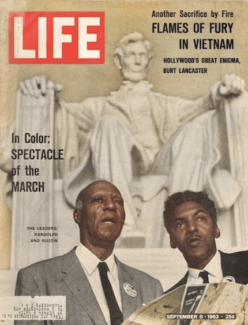 A Life of Activism
Born in 1912 West Chester, Pennsylvania, Rustin was raised by his maternal grandmother who was active in the Quaker Church, the African American Methodist Zion Church and the NAACP, organizations that led the racial justice movement in America. NAACP leaders such as W.E.B. Du Bois and James Weldon Johnson were frequent guests in the Rustin home.
While the American laws and customs were hostile to gay lives, when Rustin shared with his grandmother that he preferred the company of boys to girls, she observed, "I suppose that's what you need to do."
After attending Wilberforce college and a training program conducted by the American Friends Service Committee (AFSC), Rustin moved to Harlem in 1937.
Rustin, a devout pacifist, was convicted of violating the Selective Service Act and was imprisoned from 1944 to 1946 in Kentucky, and later the Lewisburg Federal Penitentiary, in Pennsylvania.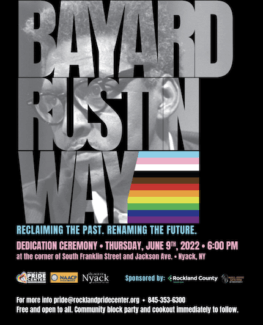 During his tenure with FOR, Rustin played a critical role in actions to end segregation in public accommodations. He was one of the strategists and participants in the first Freedom Ride, 1947's Journey of Reconciliation. As a result, he served time in North Carolina. His reporting on his barbaric treatment in jail in the south for the NY Post led to the end of chain gangs in practice in North Carolina.
Rustin is best remembered as the lead organizer for the 1963 March on Washington. Life Magazine featured Rustin on the cover of the September 6, 1963 issue, recognizing his critical role in mobilizing a quarter of a million protestors to the nation's capital to demand an end to Jim Crow laws.
Despite being the target of attacks from the floor of the Senate from Strom Thurmond for his sexual identity, Civil Rights Leaders like Dr. King and labor leader A. Philip Randolph continued to give Rustin organizationals roles.
If Rustin had been born today, when social acceptance and legal protections for the LGBTQ+ have continued to improve, a person of his talents would not have been a behind the scenes advisor, but an out front leader.
Rustin died on August 24, 1987. He was survived by Walter Naegle, his partner of ten years. President Ronald Reagan issued a statement on Rustin's death, praising his work for civil rights.
On November 20, 2013, President Barack Obama posthumously awarded Rustin the Presidential Medal of Freedom.
Please join the Nyack NAACP,Rockland County Pride Center, and the Village of Nyack to announce the Street Dedication of Bayard Rustin Way on Thursday, June 9, 2022 at 6:00pm, immediately followed by the Annual Block PartyCelebrating the Black LGBTQ+ Community at Hezekiah Easter Square.
On June 12, 2022, from 12pm to 5pm in Downtown Nyack streets will be closed for Rockland Pride Center's PRIDE festival. This free, family-friendly event will feature live music with Frankie D and The Boys, David Budway and special guest performers, Drag Queens, the Crowning of Mx. Rockland County Pride, outdoor dining, shopping, vendors, and more!
Stay tuned for the Netflix film on Rustin's life. Nyack's own Bill Irwin is cast as the FOR leader A.J. Muste
An activist, artist and writer, Bill Batson lives in Nyack, NY. Nyack Sketch Log: " Bayard Rustin Way" 2022 Bill Batson billbatsonarts.com to see more.