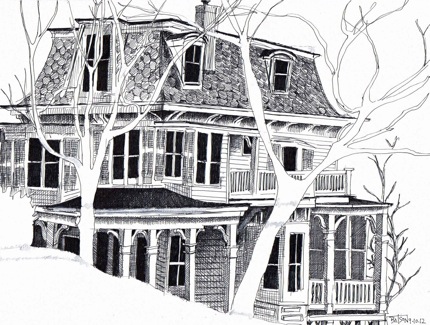 Carson McCullers came to Nyack in 1945 to convalesce and create. For 22 years she found a place to do both, completing The Member of the Wedding, The Ballad of the Sad Cafe and Clock Without Hands. On September 29, 1967, her heart and vascular system, weakened by a litany of ailments and the strain from the kind of despondency that often afflicts great artists, finally surrendered.
McCullers moved to the village five years after the publication of her acclaimed first novel, The Heart is a Lonely Hunter.
Through the generosity of her physician and friend, the late Dr. Mary Mercer, the literary legend's legacy in Nyack will endure as her one-time home will soon become a part of Columbus State Universities' Carson McCullers Center for Writers and Musicians.
The years that McCullers lived a few steps from downtown Nyack were divided between periods of productivity and infirmity. In his forward to Virginia Spencer Carr's definitive biography of the author, playwright Tennessee Williams wrote, "I hope that with increasing study of Carson McCullers it will be recognized, generally, that despite the early onset of her many illnesses, she was, in her spirit, a person of rare and luminous health."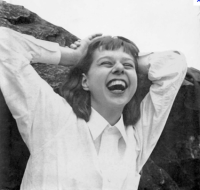 Ironically, it was the early onset of illness that both shortened her life and led her to literature. She first considered becoming a writer during a bout of pneumonia, her first serious health scare, when she was 15 years old.  McCullers identified with Eugene O'Neill, an author who was himself inspired to become a playwright during his recovery from tuberculosis. Her frail health deprived McCullers of the stamina required to pursue her dream of becoming a concert pianist. In 1936, during another doctor-ordered respite in her hometown of Columbus, Georgia, she pieced together the characters and circumstances that would become The Heart is a Lonely Hunter.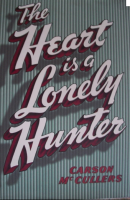 Richard Wright, author of Native Son, was deeply moved by the transcendent quality of McCullers prose. In a 1940 review in the New Republic, he proclaimed that "the most impressive aspect of The Heart Is a Lonely Hunter is the astonishing humanity that enables a white writer, for the first time in Southern fiction, to handle Negro characters with as much ease and justice as those of her own race." (Wright and Carson would later spend time together in the legendary apartment house in Brooklyn where such important artists as Leonard Bernstein, W. H. Auden, Gypsy Rose Lee, and Paul Bowles lived. Frequent visitor writer Anais Nin dubbed the artists haven February House because many of the tenants, like McCullers, were born in the second month of the year.)
In Hunter, McCullers delves deeper than the murders and riots that are the usual medium for exposing race and class injustice in literature, to plumb the internal landscape of the human soul twisted by prejudice and intolerance. She also manages to dedicate an equal amount of attention to the lives of every inhabitant of the fictional town that she creates: black and white, male and female, young and old.
Marianne Faust, who moved into the house a year after the author's death, observed that McCullers' tenants were as diverse and complex as the characters in her first novel. Faust and her husband, illustrator Jan Faust, shared the building from 1968-72 with a Haitian minister, a doctor, an actor and a rock musician. McCullers subdivided her house into apartments to defray the significant cost of her on-going medical expenses, with funding for those renovations provided by her friend Tennessee Williams.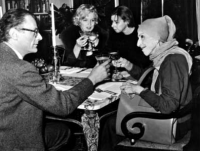 During her life, the writer hosted some of the most famous and talented artists in the world. This photo captures a dinner party that included actor Marilyn Monroe, Monroe's  husband at the time, playwright Arthur Miller and author Isak Denizen.
"I was always homesick for a place I had never seen, and now I have found it," McCullers wrote about Nyack. "It is here, this house, this town."
We should take great comfort in the fact that the author's lonely heart found some relief in our village. If we were to fail to incorporate, advance and celebrate her legacy in our future plans for the village, that would be down right heartless.
Thanks to Marianne and Jan Faust, Courtney George, Mia Leo, Judith Martin, John Papastathis, John Shields and Diana Wilkins for providing material and inspiration for this column. And special thanks to Jack Dunnigan of Pickwick Books.
An activist, artist and writer, Bill Batson lives in Nyack, NY. Nyack Sketch Log: "Celebrate Carson McCullers" © 2022 Bill Batson. Visit billbatsonarts.com to see more.