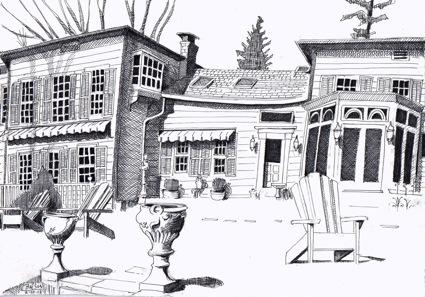 What do Muhammad Ali, Helen Hayes and James Baldwin have in common? They were all guests when Sam Waymon and his creative partner, Bill Gunn lived in this house in Nyack in the 1970s.
Daniel Perry built the home in the 1830s that would eventually shelter Waymon and Gunn. Perry operated a boat building business from the property. A wooden model that Perry used to construct his steam launches, an important industry in 19th century Nyack, is currently on exhibit in '€œFrom Shore to Shore: Boat Builders and Boat Yards of Westchester and Long Island" at ArtsWestchester.
Perry's descendants sold the property to screen writing legend, Ben Hecht in 1929.  Hecht came to Nyack to be close to his writing partner Charles MacArthur. In a confluence that foreshadowed the activities of Waymon and Gunn, Hecht divided his time between cultural and political activities. Hecht was a major supporter of the Zionist cause and used the home for fundraising events and strategy meetings.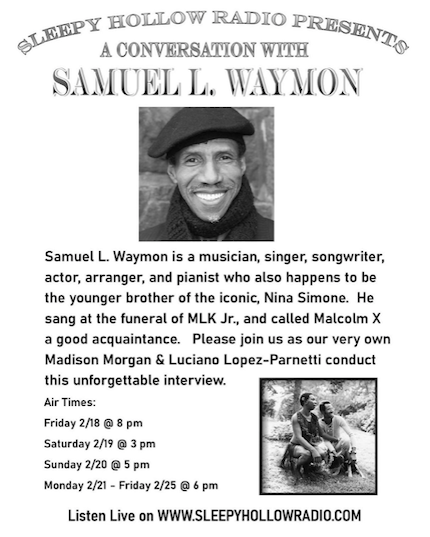 When Waymon and Gunn arrived in 1969, one of their first visitors was Charles MacArthur's wife, Helen Hayes, who regaled the newcomers with stories of pool parties held by the former occupants. Hayes' welcoming gesture is remembered fondly by Waymon as one of the most meaningful days at the residence, on a par with their audience with the President of Nigeria and literary gatherings that included Toni Morrison, Amiri Baraka, and Gunn's closest friend James Baldwin.
But the most memorable and certainly most choreographed visit was from the heavy weight champion of the world. In 1975, Minister Elijah Muhammad, the founder of the Nation of Islam, learned that Gunn was being considered to write the script for an autobiographical film of the life of his disciple, Muhammad Ali. Before a deal could be struck, Gunn and Waymon were flown out to Chicago to meet with Minister Muhammad. Upon their return, they got a call from the boxer.  Even though the spiritual leader had given his blessing, Ali would not agree until he met Gunn at his home. The visit was a success and work on the project proceeded.
During this period,  Gunn wrote and directed Ganja and Hess, a film that was honored at the Cannes Film Festival in 1973 as one of the best American films of the decade. Waymon's multidisciplinary talents are on display in the film in which he performs and composes the score.  As a low budget effort, many of the props and furnishings, including the Rolls Royce and the Jaguar, belonged to Waymon. Gunn's prolific career as a playwright, novelist, actor and film director ended in 1989 when he passed away at Nyack Hospital.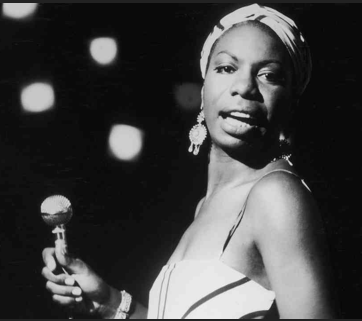 Waymon developed as an artist along side his sister, celebrated songstress Nina Simone. Sam and Nina (Born Eunice Kathleen Waymon) were raised in Tyron, North Carolina with six other brothers and sisters. Their parents, Mary Kate and John Divine were both ministers of the gospel. Both Sam and Nina started piano lessons at the age of three.
The Klu Klux Klan was active in Tyron. As a young man, Waymon remembers witnessing cross burnings and savage beatings.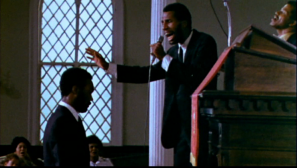 Simone recorded 40 albums and has influenced artists as diverse as Cat Stevens and Alicia Keys. During their partnership, Waymon was her manager and organist.  They traveled the world performing, but they also found time to lend their talents and efforts to the civil rights movement. Waymon still has scars from a march where non violent demonstrators were set upon by a mob with bricks and batons.  Sam and Nina performed at Martin Luther King Jr.'s funeral in 1968.
Nina Simone died in 2003 in France.  As a surviving sibling, Sam has been an outspoken critic of a recent Hollywood production based on his sister's life. He has been particularly critical of the casting of Zoe Saldana as Simone. Over 10,000 people signed an on-line petition that echo his objections.  For Waymon and others, Simone's dark skin and African features defined and circumscribed her life.  They are incredulous that actors of Simone's racial identity were passed over for a performer who is reportedly using facial prosthetics and skin paint to portray the singer.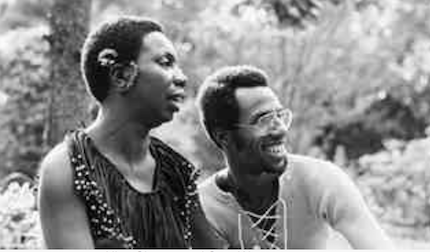 Over the last 7 years, Waymon has been on a roll. Here are a few more of Waymon's recent triumphs:
Da Sweet Blood of Jesus
In February 2015, Spike Lee's remake of Ganga and Hess titled Da Sweet Blood of Jesus premiered. The reboot featured Waymon's song, "You've Got to Learn." Ganja & Hess, released in 1973 and directed by Bill Gunn, contains Waymon's music and his performance in a scene shot in the Nyack Center when it was an active church. Ganja & Hess is the story of a black vampire. The film was honored as 1 of the 10 best American films of the 1970s by the Cannes Film Festival.
Hell-bound Train, Heaven-Bound Travelers, and Verdict: Not Guilty
In July, 2015, Waymon wrote the music for the new Library of Congress/Kino Lorber released restoration of these pioneering African American films, made by an evangelical Christian couple James and Eloyce Gist from the 1920s through the 1940s.
Personal Problems
Billed as the first all-black soap opera and shot in the 1980s, Bill Gunn and Ishmael Reed's Personal Problems had its first U.S. theatrical release in March, 2018. Waymon stars as a character described in a review as a "smooth-ass musician"with mellifluous tunes and dapper charm.
Ganga & Hess released
Strange Disc records proudly presents a deluxe color vinyl edition the Soundtrack for the cult classic Ganga & Hess, with insert containing exclusive liner notes & rare photographic materials, exclusively for Record Store Day 2018. Curated and supervised by composer Sam Waymon himself, this release is strictly limited to 1000 copies worldwide.
Improvisational Jamming: The Process and Production of Personal Problems by Nicholas Forster was published by Metrograph in July, 2020. The essay argues that Personal Problems, "confounded the lines distinguishing documentary and fiction and in doing so undercut the widely held misapprehension that black art was sociological first and aesthetic second."
Bill Batson is an activist, artist and writer who lives and sketch logs in Nyack, NY. Nyack Sketch Log: "Sam Waymon" © 2022 Bill Batson.  To see more, visit billbatsonarts.com