by Bill Batson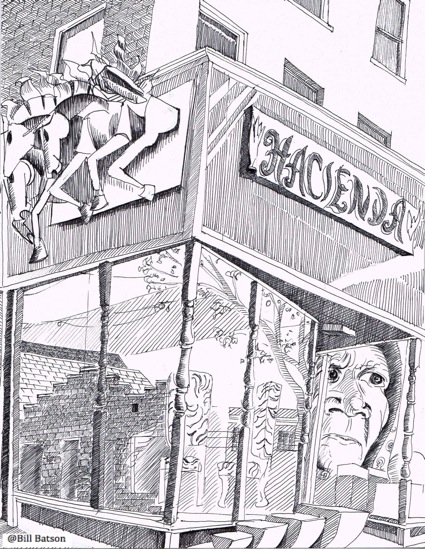 Nyack lost a pillar of our community on January 24, 2022 when Karim Deen passed away unexpectedly. For nearly five decades, Karim has launched businesses, designed fashions, and supported the retail sector in the village. This drawing depicts Hacienda, a previous venture that Karim operated on Main Street, down the block from the bespoke furniture store, Crossroads USA, that he opened in 2022. Long after the curb appeal of his store fronts fade into memory, hundreds of homes and hearts are warmed by the artifacts that Karim lovingly shared from around the world
Karim Deen came to this village 48 years ago to join his mother, Philis, who was a supervising night nurse at Nyack Hospital.  His mother worked double shifts to fund an English Boarding School education for Karim and his sister Fatima. Mrs. Deen who was from Jamaica, was determined that her children would get the world-class education that was promised to citizens of the British Commonwealth.
The shop keeping tradition of Great Britain must have rubbed off on Karim.  He opened his first store, Afrique Curiosity, the year he arrived in Nyack.  His neighbors in the ground floor of the  Presidential Life building were Trudy and Irv Feiner of Squash Blossom.  Since then, Karim has owned and operated three businesses in Nyack.
In addition to his mercantile instinct, the impulse to create is in Karim's DNA.  "My grandmother sewed, my mother sewed and I sew.  We all make clothes," he told me when describing his second business, a design studio he ran with his sister called 'Simply Us.' He went on to become the first African American to run a major clothing line in New York's garment center.  One of his lines, '€œLive in Color,'€ adorned the Fly Girls, the back up dancers on the iconic 1980's sketch comedy sensation 'In Living Color.'€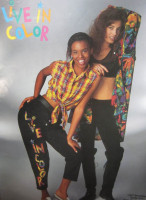 While working in the fashion industry, Karim traveled the world  visiting factories and buying raw material.  By 1994, Deen was tired of the corporate politics of the fashion trade, so he decided to return to Nyack full-time and open his third store: Hacienda.  And like a modern day Marco Polo, Karim returned from his expeditions with a treasure trove of artifacts from around the world.
A global cultural ambassador greeted visitors to Hacienda and his most recent store, Crossroads.  If you inquire about any of the objects in his store, Karim can tell you about the artist who made it or the antique dealer who discovered it.  He has personally traveled from Mexico to Morocco and China to India to procure every item.  He is particularly proud of his collection of antique African art.   All of his pieces, having been tribally used, are very rare.  There are only limited known examples of a certain pieces.  In some of those cases, Karim has one, the Metropolitan and British Museums have the others according to Deen.
We lost a man of extraodinary taste, talent and tenacity, who will be missed by all who knew him.
Bill Batson is an activist, artist and writer who lives and sketch logs in Nyack, NY. Nyack Sketch Log: "Karim Deen" © 2022 Bill Batson.  To see more, visit billbatsonarts.com