by Bill Batson
This Veterans Day, November 11, at 9:30am, The Village of Nyack will rededicate the community space at the corner of Main and Cedar Streets Hezekiah Easter Veteran's Memorial Square.
The rededication permanently commemorates the life work of Hezekiah Easter, Jr. — Nyack native, WWII veteran, Rotarian, public servant and champion of civil rights and social justice.
In 1965, when Easter won a seat on the Village of Nyack Board of Trustees, he became the first Black person elected to public office in Rockland County.
A ceremony marking the new designation will include speakers amply representing a cross-section of the Nyack and broader Rockland communities, including Nyack Mayor Don Hammond, Rockland County Legislator Toney Earl and representatives of American Legion Post 310, VFW Post 9215, the Nyack Rotary Club, Friends of Mount Moor Cemetery Nyack Branch of the NAACP and African American Historical Society of Rockland County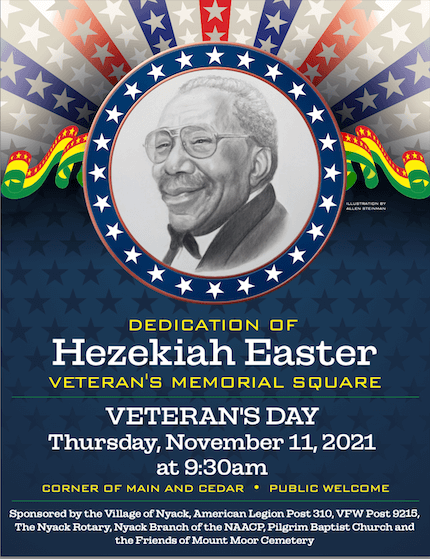 A Public Space Gets the Easter Name
The square has been dedicated to veterans since 2005, when the gazebo and surrounding seating areas were donated to the village by a group of local organizations, including the American Legion and the VFW and individuals that were led by the Nyack Rotary Club.
"It is with great pride that we memorialize the contributions Hezekiah Easter made to our village, our county and our nation, said Nyack Mayor Dr. Don Hammond. "His love of country and passion for public service impacted many lives and changed our community for the better in fundamental ways."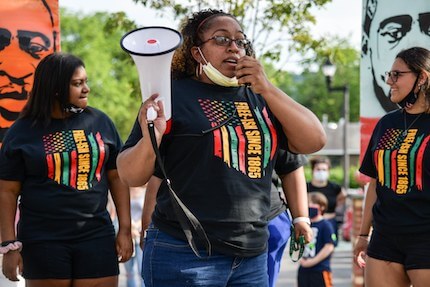 "We're grateful to the Rotary Club, along with the VFW and American Legion, for beginning this process 16 years ago and for choosing this spot," added Hammond. "The square is central to Nyack by virtue of its physical location. But it's also a gathering place for celebration, sharing beginnings and endings, and bringing together friends and families. It's a place for art events, live performances, and holiday lights. It's a place where candidates for public office launch campaigns, and yes, a place where people can come to protest. It's at the heart of Nyack and a perfect place to honor one of our most eminent civic leaders."
A life of Major Milestones
In his career and in the history of the Rockland community, Hezekiah Easter was often the first. He became the first Black person elected to public office in Rockland County in 1965 when he won a seat on the Village of Nyack Board of Trustees. He also served as Deputy Mayor, and was later named Police Commissioner for the village, another first as a person of color in Rockland County.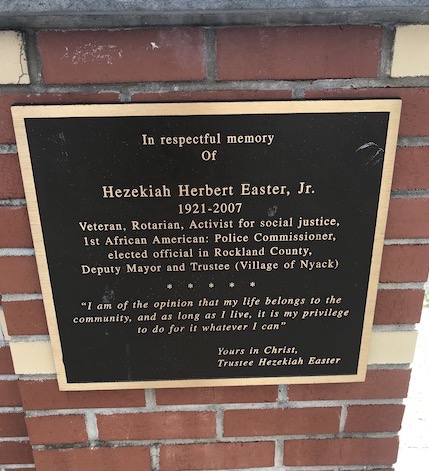 Easter's military service is emblematic of his love of country. Despite near-universal segregation across all branches of the U.S. military during his deployment, Easter found ways to bring his skills to the fight while serving as a corporal in the U.S. Army from 1942 to 1945.
Easter spoke fluent German, thanks to classes he took during his years at Nyack High School. That skill proved to be pivotal for the young corporal. Rather than being relegated to scullery duty, grave-digging or other menial tasks as were many soldiers of color, he was put in command of German prisoners and given the additional task of using his language skill — and ability to mingle — to pick up bits of military intelligence.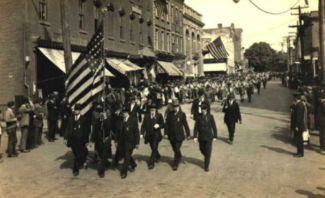 "Easter was a proud veteran, and was always available to mentor younger veterans," said Nick Del Pizzo, Past Commander, American Legion Post 310, Nyack. "When I was a kid, Nyack had a huge Memorial Day parade. By the 1980s, it had lapsed. In 2001, we looked around for a prominent veteran to be the first grand marshal to revive the tradition. We chose Hezekiah Easter."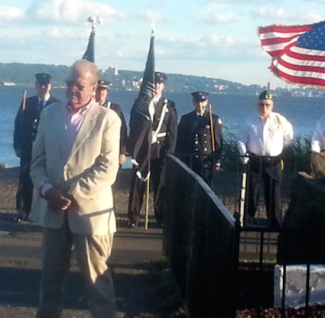 Easter was honored with the Buffalo Soldier Award for the tireless support he gave to veterans organizations and causes, in addition to his own wartime service. Presented annually by Rockland County and by many municipalities across the nation, the award recognizes Black veterans for their outstanding contributions to the community.
The term "Buffalo Soldier" dates back to the 1800s, and comes from the name given by Native Americans of the great plains to Black soldiers.
Easter was the first recipient of Rockland's Buffalo Soldier award, newly instituted in 1993 by the late Jerry Donnellan, retired director of the county's Veterans Service Agency and native of Piermont.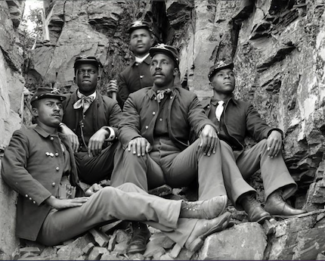 Easter was a friend to local veterans, particularly those returning from Vietnam with both physical and emotional scars. Donnellen was one of the wounded who came home to a country divided by a controversial and brutal war.
In a piece published by Lohud in 2018, Donnellan said "I came home a little dinged up. One of the first people from the old neighborhood to come see me was Hezekiah Easter. …Easter received the newly minted Rockland County Buffalo Soldiers Award that I was happy to present. "
Beyond military service, Easter was a public servant remarkable for his tenacity and productivity.
"Easter never ignored an opportunity to serve, whether through the military, elected office or board duties for the five non-profits he served," said Toney Earl, Legislator, Rockland County Legislature. "He held a position for a number of years in the NY State Department of Labor, and was one of the longest-serving legislators in the history of the county." Easter served five terms, from 1970 to 1992 — a total of 22 years,"
Savior of Mount Moor
Easter was president of the Mount Moor Cemetery Association for three decades until the end of his life. He led the effort to preserve the cemetery, located next to the Palisades Mall, when the Mall was under construction and bulldozers threatened to destroy the sacred ground.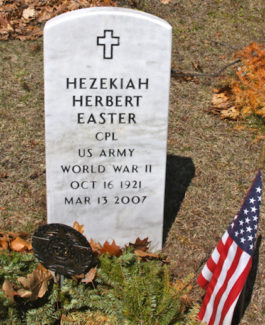 Deeded in 1849, Mount Moor is the final resting place of approximately 300 Black Rocklandites, including 30 veterans of every U.S. conflict since the Civil War. Easter's father, a WWI veteran, is buried there alongside Easter's brother.
In a life marked by many milestones, the final one came at Easter's death in 2007 at the age of 85. He was the last person to be interred at Mount Moor.
Easter's own words track the arc of his life: "I am of the opinion that my life belongs to the community, and as long as I live, it is my privilege to do for it whatever I can." And that's exactly what he did.
Thanks to this Nyack Sketch Log's co-author, Nancy Phillips, Nyack's unofficial publicist
Special thanks to Brian Jennings, the Local History Librarian at New City Library.
See also: Nyack Sketch Log: Our Segregated Cemetery
An activist, artist, writer and candidate for the 97th District of the New York State Assembly, Bill Batson lives in Nyack, NY. Nyack Sketch Log: "Hezekiah Easter Veteran's Memorial Square" © 2021 Bill Batson. Visit billbatsonarts.com to see more.