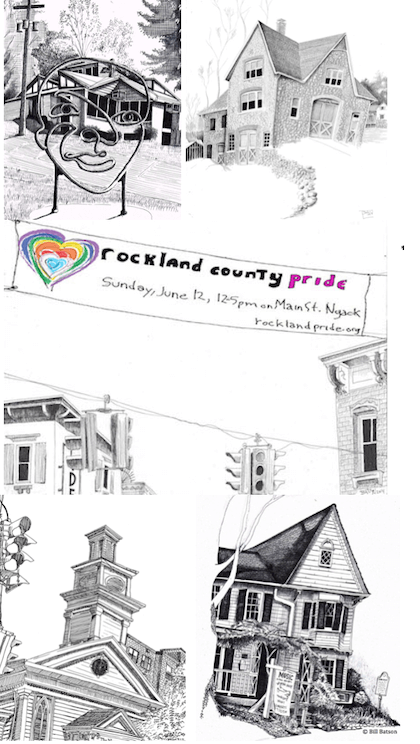 by Bill Batson
The last week in November has three days with nicknames that reflect the recent evolution of American culture. First came Black Friday, a frenzied footrace of shoppers seeking sales. Then came Cyber Monday, a digital hunt for bargains accomplished without leaving home. But Giving Tuesday, founded in 2012, at the 92nd Street Y and its Belfer Center for Innovation & Social Impact in New York City redirects the materialistic impulse towards a charitable, more thanksgiving-like purpose.
If you are one of the 34.8 million people who participated in Giving Tuesday 2020, a 29% increase over 2019, here are eight Nyack Sketch Logs that I have published over the last decade featuring  groups that are worthy of your largess. They are, in alphabetical order, Center for Safety & Change, Hopper House Museum and Study Center, Nyack Center, River Hook: The Hester Haring Cason Preserve, Rockland Center for the Arts, Rockland County Pride Center, Rockland County YMCA and Soup Angels.
It's Giving Tuesday, please give local.
Nyack Sketch Log: Center For Safety & Change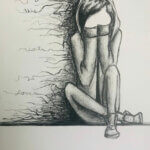 July 30, 2019
Do you know the origin of the phrase "rule of thumb?" It was the maximum thickness of an object that a man in 18th century England could use to legally assault his wife. Yes. That is how pervasive violence against women is on our planet. It is a part of our language.
In 1979, a group of volunteers launched the Rockland Family Shelter, now known as the Center for Safety & Change, to protect women and children from the devastation of domestic violence.
I was honored to meet an incredible group of advocates, tour their facilities and interview their Chief Executive Officer, Elizabeth Santiago on the occasion of their 40th anniversary.
Read more or click here to give now
Nyack Sketch Log: The Hopper House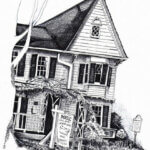 February 2, 2016
This house was saved from destruction in the early 1970s by an ad-hoc coalition that included neighbors, Rotarians, labor unions, students and artists. Not many causes can assemble such a vast cross section of humanity, fewer can inspire the kind of contributions that were necessary to restore a structure that was literally a few signatures away from condemnation. The family that once lived in this home at the intersection of North Broadway and Second Avenue provided the motivation. This is the childhood home of one of America's greatest visual artists, Edward Hopper.
Nyack Sketch Log: Nyack Center Is Aptly Named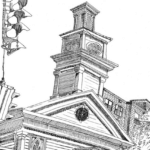 November 5, 2019
On November 2, 2019, Nyack Center honored Steve Canal and Tracie McLee at their annual Legacy Gala. The Earth, Wind and Fire inspired "Shinning Star" theme was reflected in the decor and music, personified in the honorees. Canal and McLee thanked Nyack for embracing them as young people, launching careers that encompass brand architecture and motivational speaking for Canal and fundraising and public relations for McLee. In the prime of their professional lives, Canal and McLee are already leaders in philanthropy. Read more to learn how your end-of-year gift to the Nyack Center can leverage a generous matching grant and more about upcoming events at this organization that is so aptly named.
Read more or click here to give now
Nyack Sketch Log: River Hook: The Hester Haring Cason Preserve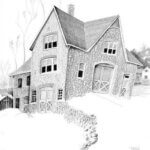 September 28, 2021
For all of its resplendent beauty, there is one thing that the Village of Upper Nyack lacks: a place for residents to gather. Now, thanks to the foresight of the village and a group of residents, a 12-acre parcel known as River Hook: The Hester Haring Cason Preserve, is being cultivated as a new public amenity.
Read more or click here to give now
Nyack Center Log: Rockland Center for the Arts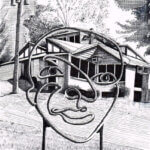 August 17, 2021
In the contest to draw an audience for the arts, Rockland County is David to the Goliath of New York City. But when it comes to attracting artists to take up residence, the region has assembled a pantheon of American cultural deities worthy of Mount Olympus. Figures like actor Helen Hayes, composer Aaron Copland, painter Edward Hopper and writer Ben Hecht, to name a few, made their home in our neck of the woods. Fortunately for us, a few of these important creative artists combined their efforts to leave us a living institutional legacy: Rockland Center for the Arts.
Read more or click here to give now
Nyack Sketch Log: Rockland County Pride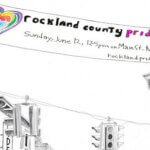 May 24, 2016
Over 1,000 people gathered for the first Gay Pride Rockland event in Nyack in 1999. As if to prove the positive force that this public affirmation of sexual identity can have, a Village of Nyack Trustee named John Shields, who would later serve four terms as Mayor, publicly came out of the closet that day. This year's Rockland County Pride celebration will be held on Sunday, June 12 in Nyack.
Read more or click here to give now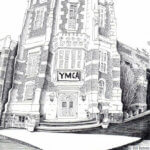 Nyack Sketch Log: Rockland County YMCA
December 25, 2018
The Y gained global name recognition by opening over 2,500 branches across the United States since 1851. But one could argue that a disco song, celebrating its 40th anniversary this year, gave the ubiquitous institution a greater toe-hold on the ownership of four letters of the alphabet. Who among us can honestly assert that we've never spelled out the letters YMCA in choreography.
I am honored to be attending the Rockland County YMCA's Night of Magic honoring Kim Coons, James Marshall and Chuck Maze on Friday, December 3rd at the Nyack Seaport.
Read more or click here to give now
Nyack Sketch Log:Soup Angels To Serve 400 Souls This Thanksgiving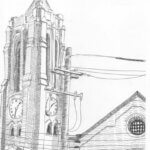 November 23, 2021
For the hungry, the First Reformed Church tower on South Broadway is a beacon of hope. Inside this building that almost scrapes the sky, an organization called the Soup Angels provides food and comfort to the needy two nights each week. This Wednesday from 4 – 7p, Soup Angels is expected serve a free takeout Thanksgiving dinner to over 400.
Read more or click here to give now
An artist and writer, Bill Batson lives in Nyack, NY. Nyack Sketch Log: "Giving Tuesday"  © 2021 Bill Batson. Visit billbatsonarts.com to see more.
The Nyack Sketch Log is sponsored each week by Weld Realty.